Entrepreneurship, the word is alluring enough to fascinate a significant number of youngsters; the growing number of startup companies in recent years is more than enough to signify the popularity of startups in Nepal. The freedom to create something on your own, seeing your crazy ideas come into reality, and above all, the wonderful success stories of people who we see as idols; entrepreneurship certainly justifies all the reasons to top the list of aims of every individual.
But, what most of the people have failed to realize is the hard work and stress that goes through a team while creating their startup. The challenges, hurdles, crisis, stress that ripens a startup. There are times when people have to worry about so many things that they get deprived of their main aim.
M&S Next Venture Corp is one of the companies that aims to support entrepreneurs to set up and grow their business. It helps the startup with all the necessary resources, guidance from senior entrepreneurs and expert help.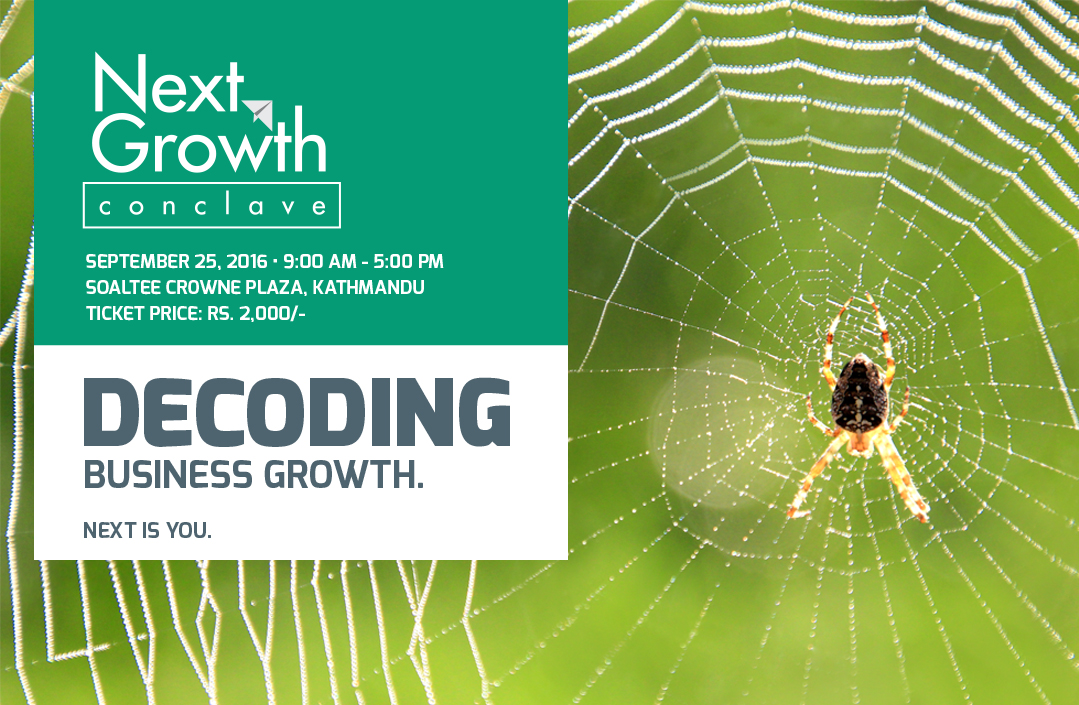 NEXT Growth Conclave is an initiative of M&S Next Venture Corp that aims to develop the startup ecosystem of Nepal. It is the meeting place for Nepal's disruptive startups, small businesses and the entrepreneurs and investors.  It is first of its kind event that targets to showcase Nepal's growing startup community and cater to its unique needs.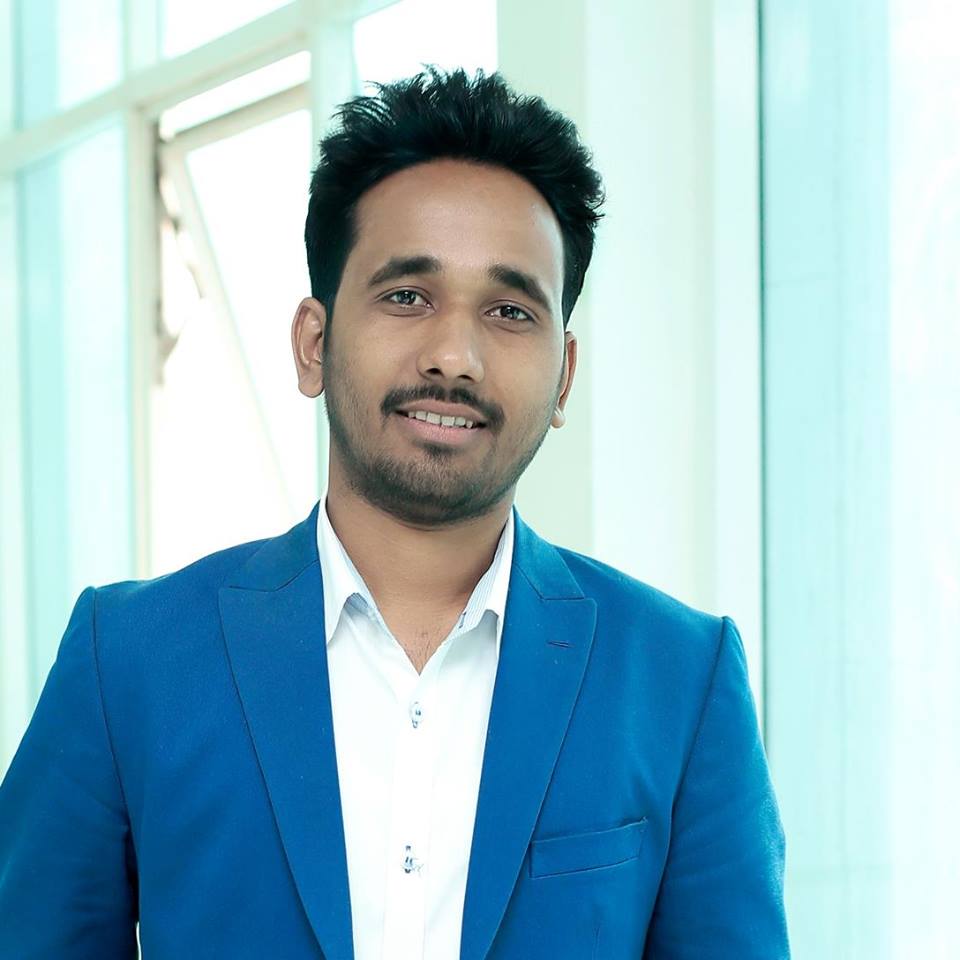 Mr. Kavi Raj Joshi, MD of Next Venture Corp, regards this is an ideal time to take the startups of Nepal to a whole new level. He says that the startups in Nepal are at their most positive phase, the startups are getting recognized in the international market. It is the most suitable time to present startups to international investors and inspire the future entrepreneurs.  He describes NEXT Growth Conclave as a complete package for the startups to foster their companies.
"Though most of us are seeing instability of government and lack of proper rules and regulations as the biggest hurdle for startups, what we have failed to realize is  that we can actually take advantage of this situation. If we can prove our worth and future to the government and international market, we can take the startup culture to whole next level", he added.
Thus he describes this event as both challenge and opportunity to showcase the potential of startups in Nepal.
Let's hear from Mr. Kavi Raj Joshi about the NEXT Growth Conclave:
Next Growth Conclave is a one-day event that has five main features: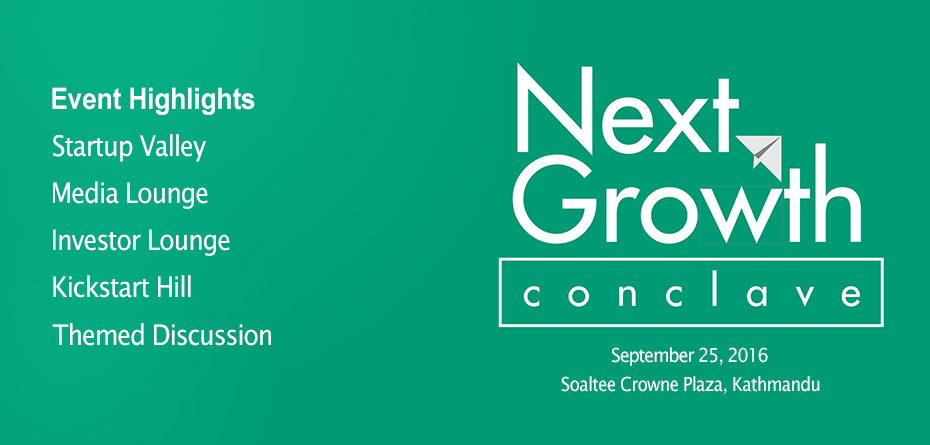 Startup Valley:  Startup Valley is a showcasing platform where startups with viable product/service will exhibit themselves to the attendees, potential investors, customers, senior entrepreneurs, startup enthusiasts, and network with fellow founders. The main aim of the part is to provide the right media and investment exposure to the startups. The participants will have the opportunity to pitch their products to  potential investors. The registration cost for startup valley is Rs. 2000.
Kickstart Hill: Kickstart Hill is a part of the 'Startup Valley' and is a platform where new startups can launch themselves or their products and get media coverage. Since the whole event will bring together the startup enthusiasts, investors, industry experts, mentors and media from all over Nepal and abroad. It can be excellent platforms for the startups to launch their new products.
Investors Lounge: Investor lounge provides an opportunity for both startups and investors to explore possible partnerships and build powerful relations.  Investor's lounge aims to provide a platform where the some of the most active investors can meet and build profitable relationships with some of the best startups in Nepal.
Media Lounge: The aim of Media Lounge is to provide startups at Startup Valley with media expose aimed at increasing their brands' and products' market engagement and attention. The lounge will bring together national and international media bloggers, journalists, program producers, and personalities from the renowned media houses.
Themed Discussion: Themed discussion will concentrate on growth leaders from Nepal and abroad sharing their stories and inspiring the next generation entrepreneurs.
Some of the renowned speakers of the event are:
Aditi Chaurasia, Co-founder, EngineerBabu, India
Amarit Charoenphan, Group CEO and Founder of HUBBA, Thailand
Ajeet Khurana, CEO of Society for Innovation and Entrepreneurship (SINE), IIT- Bombay
Bhupendra Khanal, Co-founder and Former CEO of Simplify360
Deepak Raj Joshi, CEO, Nepal Tourism Board
Joseph Jeong, Oracle Strategies Cyberport, Hong Kong
Minhaz Anwar, Head, Grameenphone Accelerator, Bangladesh
Sneh Sharma, Founder & CEO, Ittisa, India
Vinay Singhal, Co-founder and CEO, WittyFeed, India
Shahil Agrawal, MD, Shankhar Group, Nepal 
Mahesh Murthy, Managing Partner, Seedfund, Mubai, India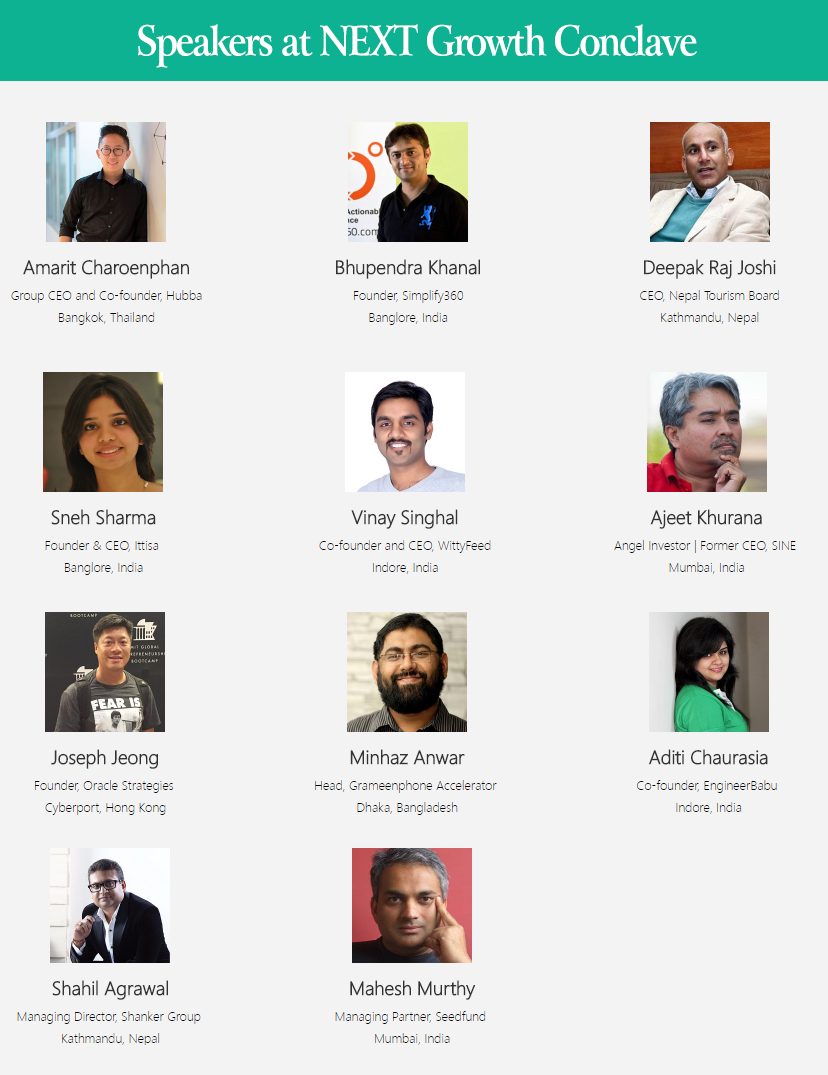 My take
Being a part of a startup, I am personally very excited about the event. The event has been planned to help the startups in every way possible. The concept of Startup Valley and Investors Lounge are really innovative can really be beneficial for the startups. This is really a must-attend event for the startups who have a product ready and are looking for an investment for taking their company to next level. This event can certainly be turning point in startup culture of Nepal.
Event Details
Date   : September 25, 2016
Time   : 9:00 a.m – 5:00 p.m
Venue: Soaltee Crowne Plaza, Kathmandu