After giving +2 exams, most of the students start preparing for the entrance exams of the MBBS and Engineering. These students prepare day and night for the entrance exams. But they don't know how hard they should study to get the scholarships or how much they rank among the students who are preparing for the entrance exams.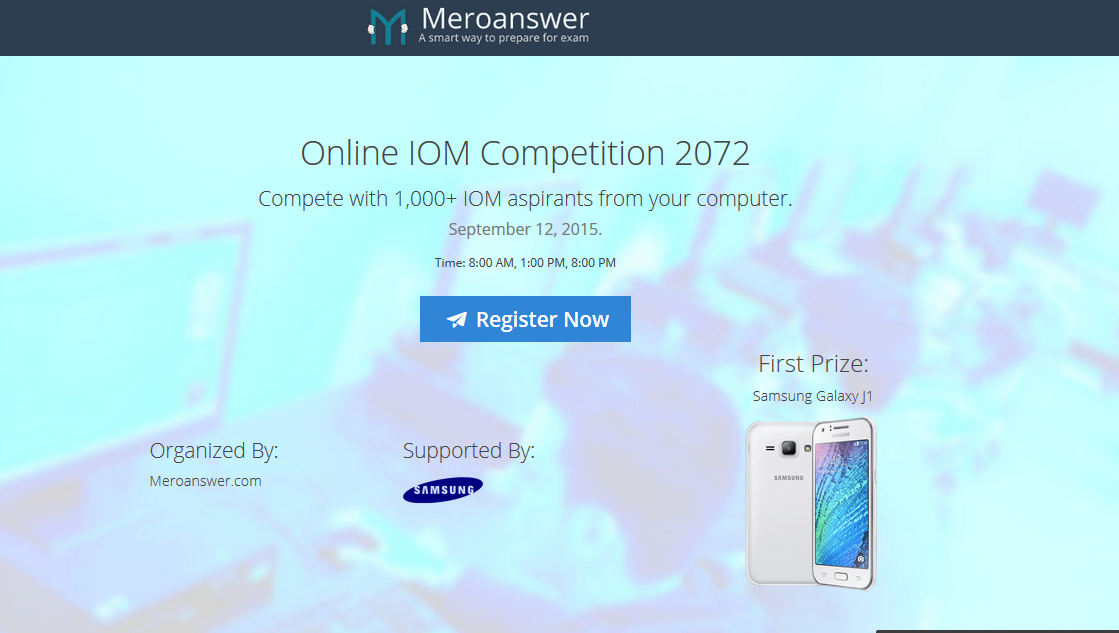 They might know their rank in the institute they study, but they will not be able to know their overall rank among students all over Nepal. To puzzle out this ill and to revive the feeling of competition among students, "Online IOM Competition 2072" is being organized by MeroAnswer on 12th September, 2015. MeroAnswer is a web and mobile platform to help students prepare for entrance exam preparation. This competition is supported by Samsung. The main attraction of this competition is that the winner will get a brand new Samsung Galaxy J1.
You need to register your account earlier than the competition date on meroanwser.com in order to participate for the competition. You can register for the competition using the following link: http://meroanswer.com/competition/.
The main purpose of this competition is to give a common platform to the students, so that they can compete with each other before giving the entrance exam. Students will be able to find out how much added effort they need to spend on their studies to gain the scholarship.
Some of the rules and information about the competition are as follows:
The exam will be conducted in three time slots: 8:00 AM, 1:00 PM and 8:00 PM on 12th September, 2015.
A student can only appear in a single exam. Appearing in two or more slots (even with different accounts) will automatically disqualify the student.
The duration of the exam is 2 hours.
The question pattern will be based on that provided by the Institute of Medicine (IOM).
In case of ties in score, the one who submitted the exam earlier will be given priority.
The merit list and winner will be announced on 13th September, 5:00PM.
In case of any conflict, MeroAnswer will reserve the right for final decision.