Pros
Near-infinite contrast ratio
True 1ms response time
Wide viewing angle
Perfect black levels
Easy to use interface
4k 120Hz support on all HDMI port
Cons
Risk of permanent burn-in
Not bright enough for a sunny room
LG Nepal launched the LG C1 4k OLED TV in Nepal last year. These are high-end 4K OLED TVs ranging from 48 inches to 65 inches screen size.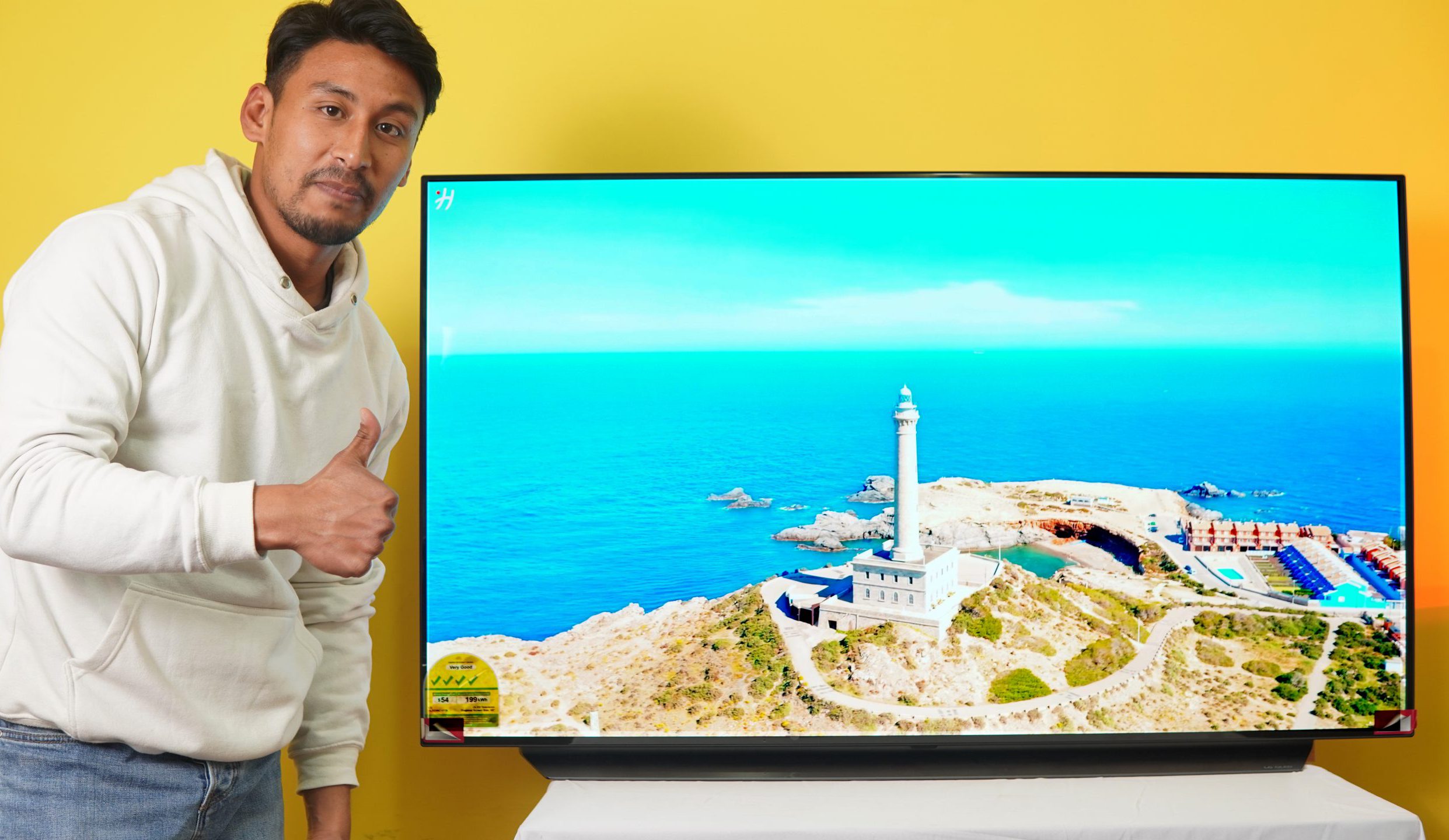 LG C1 OLED price in Nepal starts at Rs. 2,43,990 for the 49-inch model, Rs. 2,66,990 for the 55-inch model, and Rs. 4,45,990 for the 65-inch model.
These are no doubt the best OLED TVs that exist right now. But why are they so good? In this article, I'll share my experience of using the 55-inch version of the LG C1 OLED.
LG C1 Specifications
Body:

48″: 14.88kg (with Stand), 18.92kg (without Stand)

with Stand (WxHxD): 107.19 x 65.03 x 25.15 cm
without Stand (WxHxD): 107.19 x 61.73 x 4.58 cm
Stand width: 83.82 cm

55″: 23kg (with Stand), 18.92kg (without Stand)

with Stand (WxHxD): 122.69 x 73.92 x 24.15 cm
without Stand (WxHxD): 122.69 x 70.62 x 4.6 cm
Stand width: 99.83 cm

65″: 32.62kg (with Stand), 24kg (without Stand)

with Stand (WxHxD): 144.78 x 86.11 x 24.15 cm
without Stand (WxHxD): 144.78 x 83.06 x 4.58 cm
Stand width: 99.83 cm

Display: 48-inch/55-inch/65-inch OLED panel, 4K UHD, 3840 x 2160 resolution, 120Hz
HDR Formats: Dolby Vision, HDR10, HLG
Response Time: >1ms
Video Processor: α9 Gen 4 AI Processor 4K
HDMI Standard: HFR, VRR, FreeSync, G-Sync, ALLM, CEC
Audio: 2.2 Channel 40W Down Firing speaker (w/Stand Front Firing), Dolby Atmos, WiSA Ready, OLED Surround, HDMI ARC, HDMI eARC
OS: webOS 6.0
Ports: 4 x HDMI 2.1 ports (4 x [email protected], 1 x eARC/ARC), 3 x USB-A 2.0 ports, 1 x RF Connection Input (Antenna/Cable), 1 x Ethernet Input, RS-232C Input (Mini Jack), 1 x Digital Audio Output (Optical), 1 x Headphone Out
Connectivity: Wi-Fi 5 (802.11ac), Bluetooth 5.0
Other Features: AirPlay 2, HomeKit, HGiG
Built-in Voice Assistants: Google Assistant, Alexa
Streaming Services: Netflix, Prime Video, Disney+, Apple TV, Hulu, CBS All Access, Peacock, YouTube TV, Spotify, iHeartRadio
Remote: LG Magic Remote
LG C1 Price in Nepal: Rs. 2,43,990 (48″) | Rs. 2,64,990 (45″) | Rs. 4,45,990 (65″)
LG C1 Review
Slim Design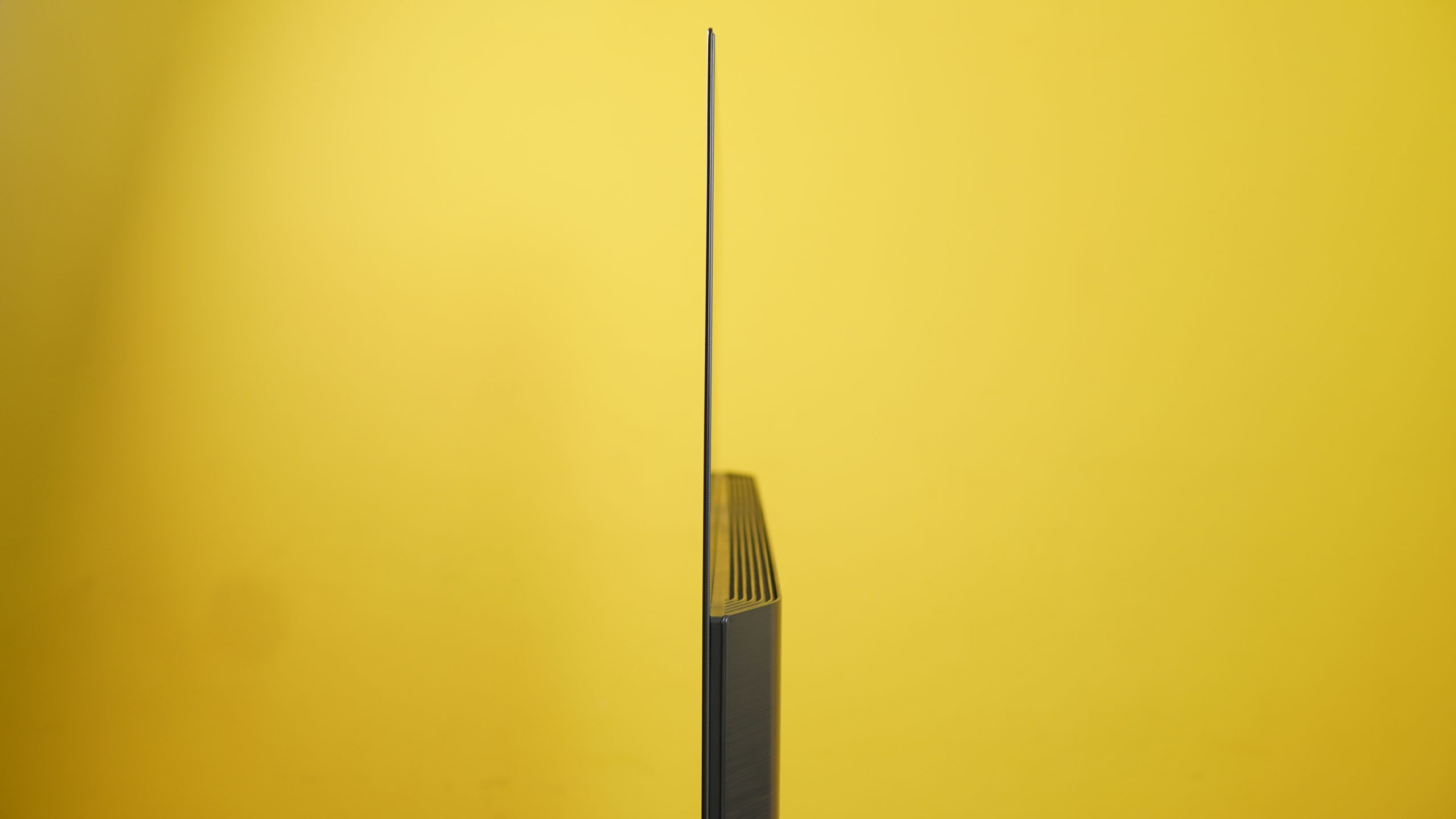 LG C1 OLED is designed with simplicity and elegance in mind. There are no weird design choices as it looks neat. The top half of C1's body is very thin at just 4.6 cm but the bottom half is thicker as it houses most of its working parts.
While the stand takes up a bit of space, it looks great and unique from other TV stands, and it does a great job of supporting the TV. The base of the TV and the stand connects very low, so placing a soundbar in front could block some part of the screen. However, you can also mount it on the wall using VESA compatible mount.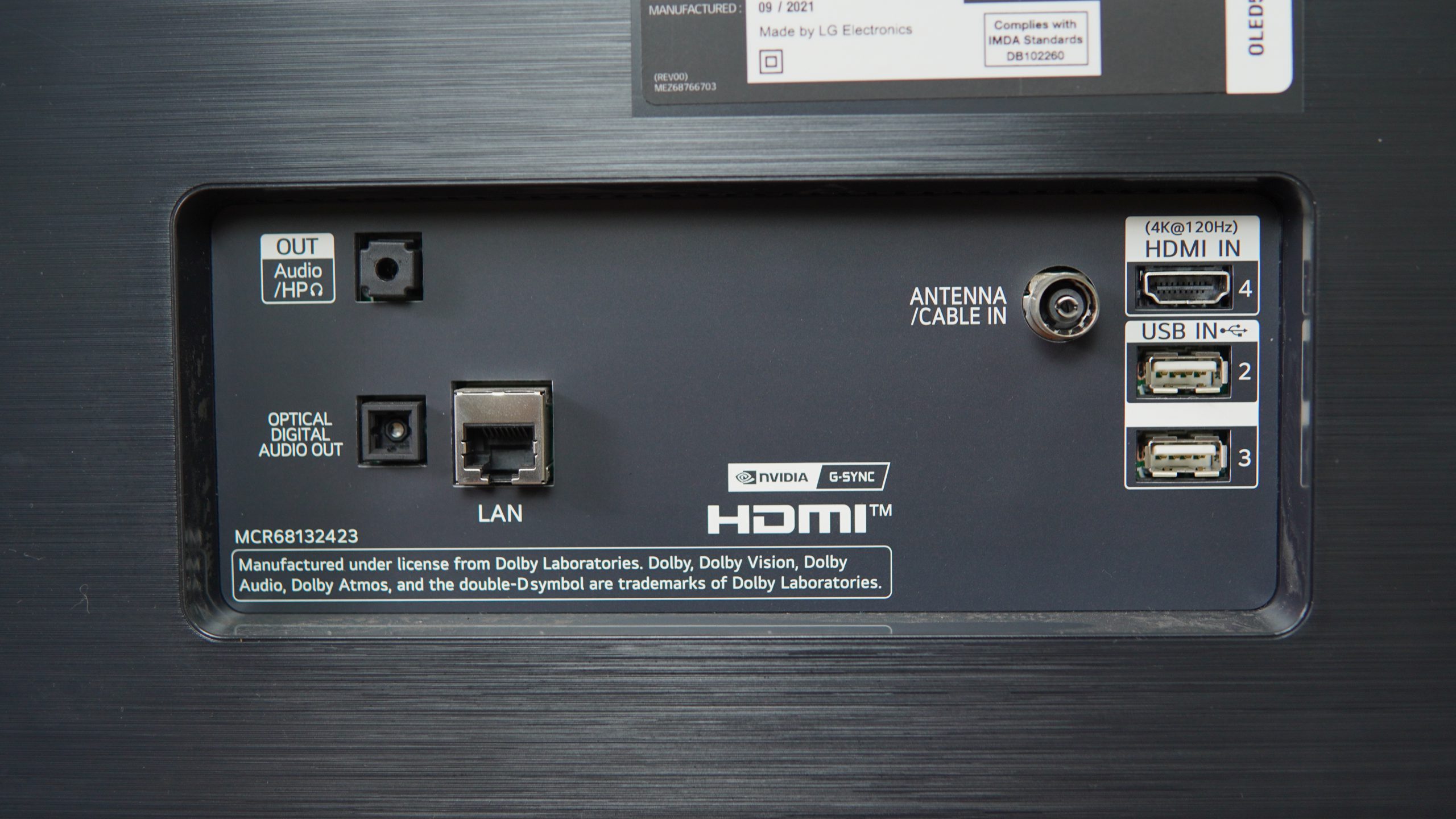 On the back, the bottom half is made of plastic, and the top half is made of metal. There's a bit of texture on the plastic back and the back of the stand also has a slot for cable management. As for ports, you get 4X HDMI 2.1 ports that support 120Hz 4K, 3X USB 2.0 ports, 1X RF Connection Input (Antenna/Cable), 1X Ethernet Input, RS-232C Input (Mini Jack), 1X Digital Audio Output (Optical), and 1X Headphone Out.
LATEST: We Tested Samsung 2021 5-in-1 Convertible Hot & Cold AC in Detail
The overall build quality of the LG C1 OLED feels solid and it feels incredibly well made. The metal on the back and metal stand gives it a premium and sturdy feel. The bottom half made out of plastic doesn't feel cheap though there's a bit of flex around the input area.
Awesome Picture Quality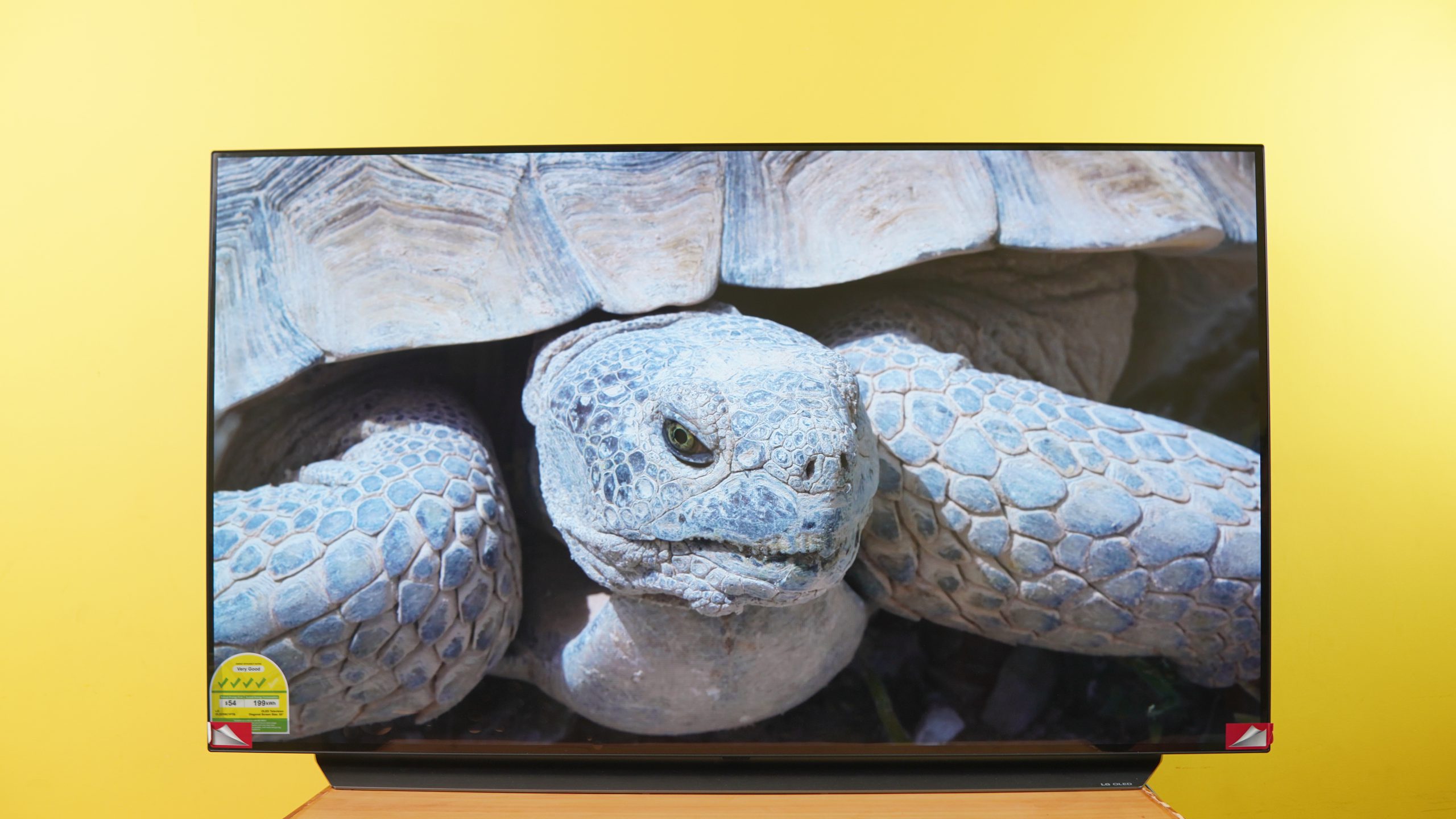 The best thing about OLED panels is their near-perfect contrast ratio. Like all OLED TVs, LG C1 OLED can completely turn off the individual pixels which help to deliver deeper and inkier blacks than any other non-OLED TV. If you are watching dark scenes on Netflix, the pitch-black dark level of LG C1 with blow your mind away.
Moving on, this 55-inch 4K OLED panel uses a WRGB setup as opposed to a normal RGB setup. In this setup, each pixel consists of 4 sub-pixels (White, Red, Green, Blue) instead of just Red, Green, and Blue. This helps to increase the overall brightness of the TV while compromising on the color accuracy as the white part of the images gets more bright. In my experience, the LG C1 OLED had quite good colors and due to the 4K resolution, the extra White pixel didn't affect the overall picture quality.
The 4K content looks perfect and the 1080p content also looks as good as native 4k. LG C1 OLED upscales the 720p content without any issues and it can also upscale 480p content.
Brightness, HDR Capability, Color Accuracy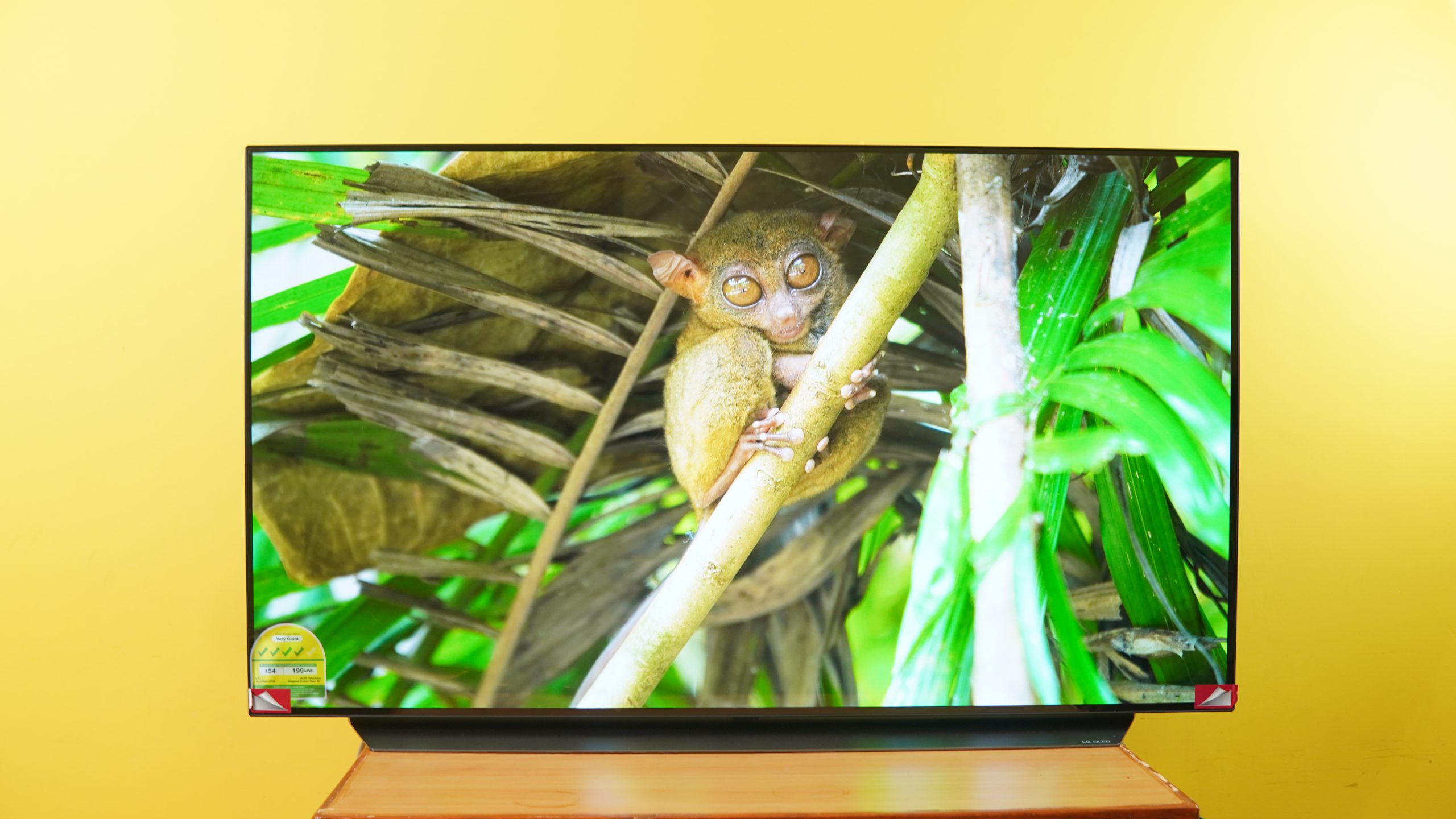 Along with excellent contrast and vibrant colors, LG C1 OLED also has a very good viewing angle. The image stays accurate even when you move off-center, making it great for wider seating arrangements. But, it doesn't excel in brightness level. Unlike LED TVs, OLED TVs have low brightness levels but the perceived brightness of OLED panels due to rich colors are pretty good. However, if you use this TV in a very bright room, you will have issues with reflections due to low brightness. Also, it uses a glossy finish which makes it more reflective.
The brightness level is just decent in SDR mode and it goes up to 500 nits while using the 'Vivid' Picture Mode. The brightness level improves a bit in HDR mode as it can hit a peak brightness of 700-800 nits. The HDR content looks good on LG C1 OLED with good detail in highlights but it is far from what LCD panel can provide.
LG C1 OLED covers 100% of the DCI-P3 color gamut which is very good and OLED TV. But, the color accuracy is not great out of the box. We found that the color accuracy was much better in Expert Picture Mode with slight adjustments.
Perfect Gaming TV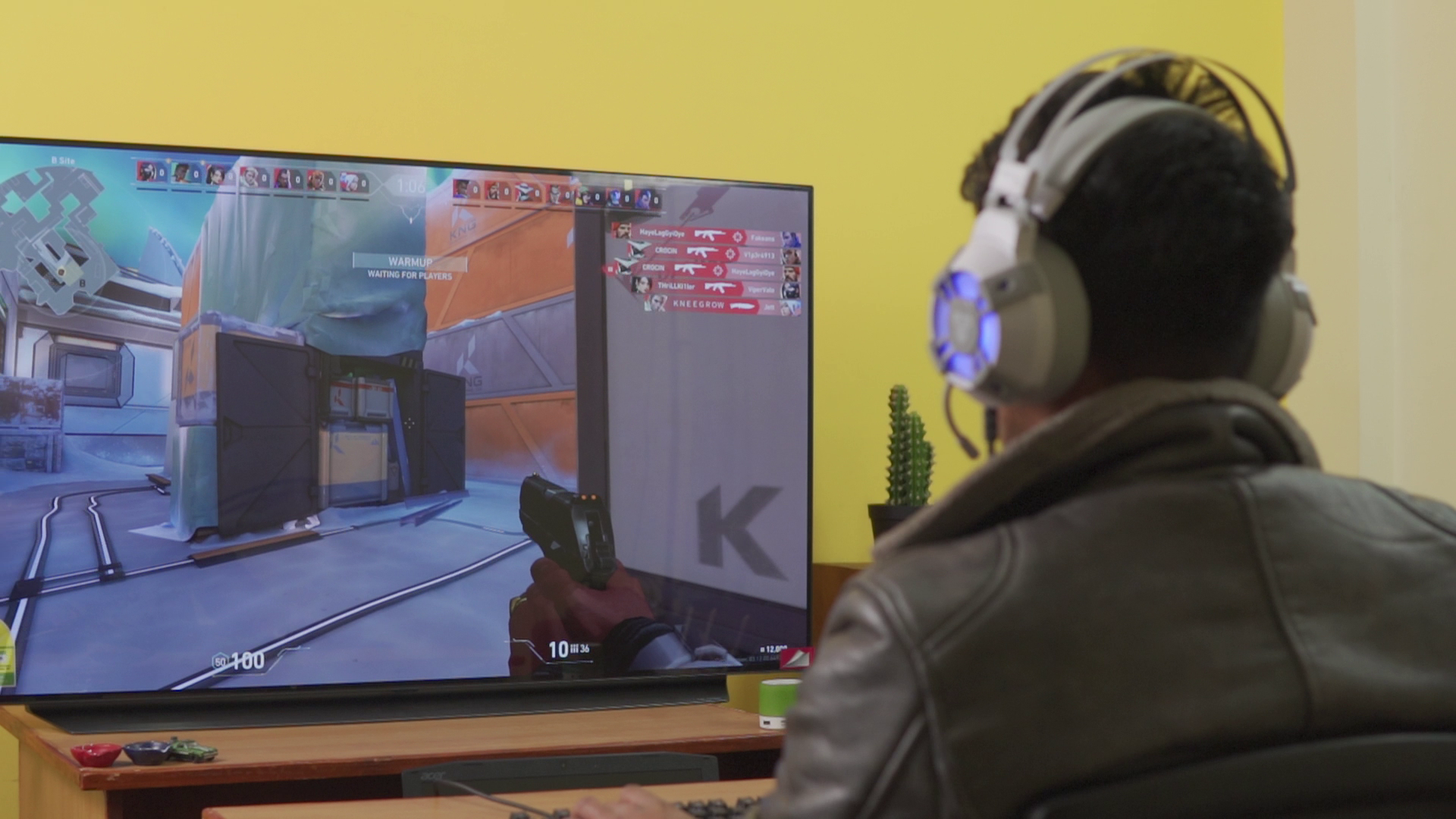 If you want to use the LG C1 OLED as your gaming monitor then it's definitely the best one out there. First, being an OLED TV, it boasts a true <1ms response time. Second, as it is a 120Hz panel, it can pull the frame so fast that you will notice judder and motion blur. For this, LG C1 has an optional BFI (Black Frame Insertion feature) that will make the motion smoother. To enable this, you will need to enable TruMotion and enable OLED Motion Pro. This feature will help if you play fast-paced games like FPS.
LG C1 also has a dedicated gaming mode called 'Game Optimizer' which lets you toggle various options such as VRR (Variable Refresh Rate), G-Sync, and FreeSync. It is highly recommended that you enable the game optimizer mode if you are playing games on this TV. This will let you enjoy the 120Hz gaming with good response time and low motion blur.
LATEST: Xiaomi Pad 5 Review: An Affordable iPad for the Android Space
Also, as it uses HDMI 2.1, you will need the PS5 or Xbox series X to get the most out of it. Or, you will need the NVIDIA RTX 3000/AMD RX 6000 series cards to enable LG C1's full potential.
Sound Quality
LG C1 OLED has a 2.2 Channel 40W down-firing speaker which is situated on the bottom of the TV. If you use the TV on the stand, the stand will help the speaker to direct the sound towards your direction. If the TV is wall mounted the down-firing speaker won't be a problem.
As for the loudness, the LG C1 OLED will provide you with a mini-theater-like experience if you have a medium-sized room. The sound profile is fairly balanced resulting in clean dialogue but there's a lot of compression at higher volumes.
UI, Remote, Voice Assistant, and Others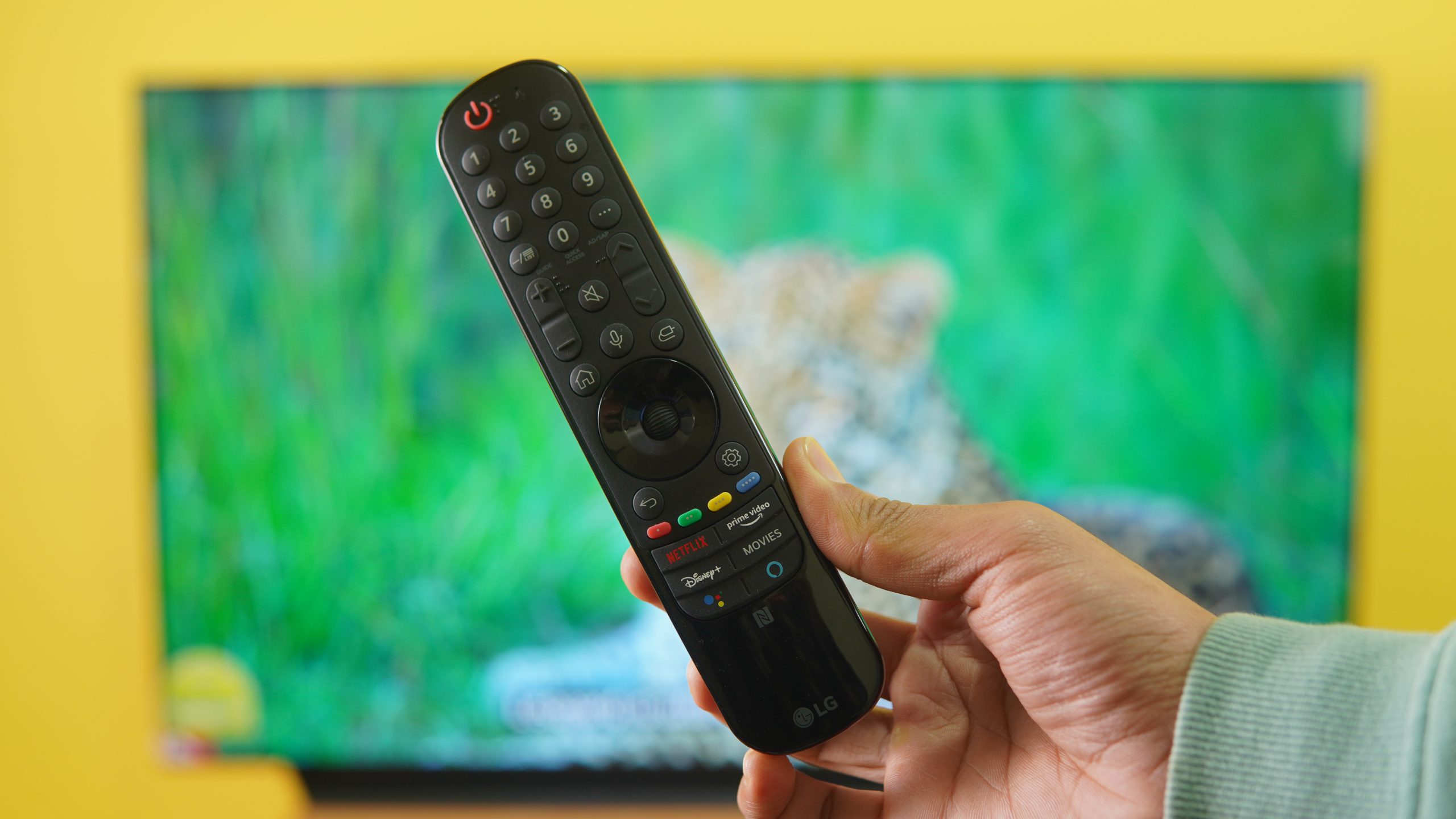 LG C1 uses WebOS v6.0 which is very easy to use and the overall experience is smooth. It has a tile-based home page where you can access most of your apps, dashboard, trending section, and other information.
As for app selection, it is not as good as the Android store but the LG app store has a decent amount of apps. Something that makes LG TVs unique is their Magic Remote. You can motion control the remote which triggers a mouse cursor on the screen. It may take some time to get used to the motion control cursor but it works really well. Except that, the remote includes customizable shortcut buttons for various apps. It also features dedicated buttons for Netflix, Disney+, Prime Video, Google Assistant, and Alexa. I also like the scroll wheel integration on the center button.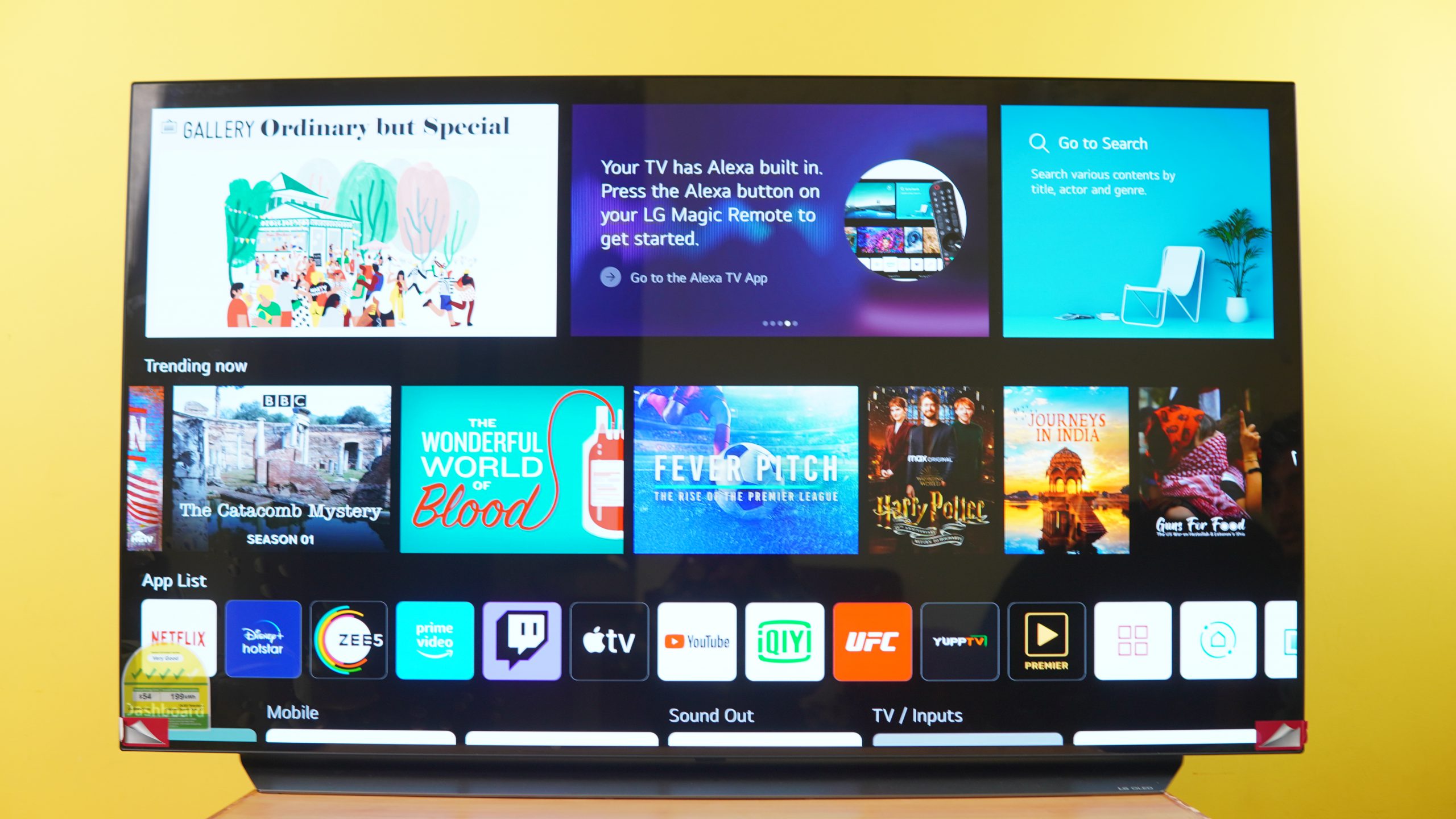 If you want to use this TV in Nepal, I highly suggest you set your region as 'India' while setting up your TV for the first time. When the TV was set up with the region set to 'Others', we were not able to access Netflix and some other features.
Furthermore, you can also use the LG ThinQ app to use the TV via your smartphone. You can do almost everything with the mobile phone via the ThinQ app.
Should You Buy LG C1 OLED TV?
If you are looking to buy a 4K OLED TV with top-notch gaming capability then you should definitely buy the LG C1 OLED TV.
LATEST: Realme GT Neo 2 Review: The Best Premium Mid-Range Phone?
This is literally the best 4K OLED TV you can get in Nepal for the price. It has awesome picture quality, 120Hz works really well, and it has a very good response time for gaming as well. LG C1 OLED is good on all fronts from content viewing to gaming. But, it is not the best in terms of brightness and HDR picture quality.
Unless you have a very bright room, LG C1 OLED is the best 4K OLED TV to buy right now.
---
Also, check out our review of the Samsung 5-in-1 convertible Hot & Cold AC.