Kaymu, one of the largest online shopping websites in Nepal is organizing a Black Friday sale from 25th of November to 28th of November. Kaymu, registered as a computer software industry, describes itself as "a website platform that connects buyers and sellers from all over Nepal and facilitates smooth transactions." The Black Friday sale is the first of its' kind to be held in Nepal.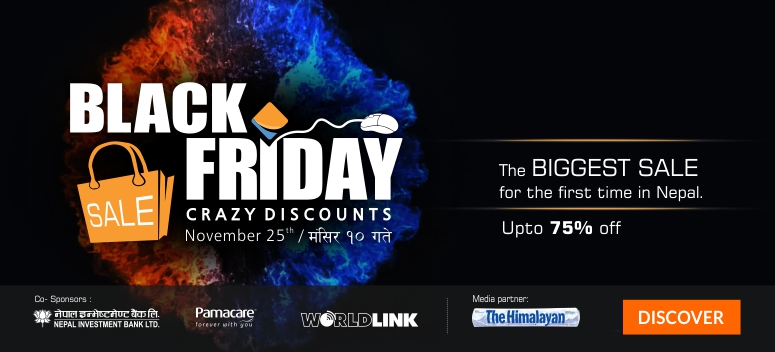 Black Friday is the day following Thanksgiving Day in the United States (the fourth Thursday of November). On this day, most major retailers open very early (and more recently during overnight hours) and offer promotional sales. The popularity of Black Friday has grown in many countries and Nepal is also catching up with the trend.
Also Read: Yu Yunicorn Launched in Nepal on Kaymu's Black Friday Sale, Discount Price Rs.24,500
As to the question behind the name, "Black Friday", Wikipedia writes, "Many retailers report some of their highest profits on Black Friday. The black portion of the name, "Black Friday" relates to businesses recording their losses in red ink and gains in black. This tradition lives on in modern accounting software, hence the name."
Regarding this grand event, Kaymu posts, "For the first time ever, you will be able to join in the madness and craze of Black Friday in Nepal. Prepare yourself for the biggest sale of the year. 25th November, 2016 is the date for this amazing event and you surely do not want to miss out on the thousands of craziest Black Friday deals in Nepal!"
Kaymu has also created a Facebook event page named, "Kaymu Black Friday 2016" to promote its Black Friday sale online. As of now, the event page has 9.3k shares and is still increasing.
Also Read: WorldLink Offers 5Mbps (Unlimited) Internet Packages on Kaymu's Black Friday Sale
The sale is being sponsored by Nepal Investment Bank, Pamacare and Worldlink. Its media partners are The Himalayan and Discover.
We hope the event is a grand success.
For more details, click the link below
http://www.kaymu.com.np/black-friday/