The Good
Impressive AMOLED display
Classy design and durable build
Impressive battery
Decent performance
Good fitness tracking
The Bad
No third-party app support
No Wi-Fi
A smartwatch can be many things but its core strength should be a seamless connection, compatibility, tracking, battery life, and display. Well, there are lots of watches with all of those things. Then there's Huawei Watch GT2 that does all of does things without looking like a smartwatch.
Huawei Watch GT2 is one of the classic looking smartwatch that comes in two sizes: 46mm and 42mm. It has a leather strap and also comes with a rubber strap in the box.
I have used this smartwatch for more than 2 months and I know that this is one of the best smartwatches to buy. Let's see why!
Huawei Watch GT2 Specifications
Body: 46mm: 45.9 x 45.9 x 10.7 mm, 41g/ 41mm: 41.8 x 41.8 x 9.4 mm. 29g, 5ATM water resistance
Display: 46mm: 1.39 inch AMOLED 454 x 454 HD, AMOLED / 42mm: 1.2 inch AMOLED 390 x 390 HD, AMOLED
Processor: Kirin A1 chipset
RAM: 2GB
Storage: 4GB
Connectivity: BT5.1, BLE / BR / EDR
Battery Capacity: 46mm: 14days / 42mm: 7 days
Sensors: Accelerometer, Gyroscope, Geomagnetic, Optical heart rate, Ambient light, Air pressure, Capacitive
Software: Lite OS
Charging Port: Magnetic charging thimble
Huawei Watch GT2 Price in Nepal: Rs. 29,900 (46mm) / Rs. 29,900(42mm)
Huawei Watch GT2 Review
Classic Design
If there's one thing that I absolutely like about the Watch GT2 then it will be its design. It doesn't look like a smartwatch, it looks like a simple and classy wristwatch at first glance.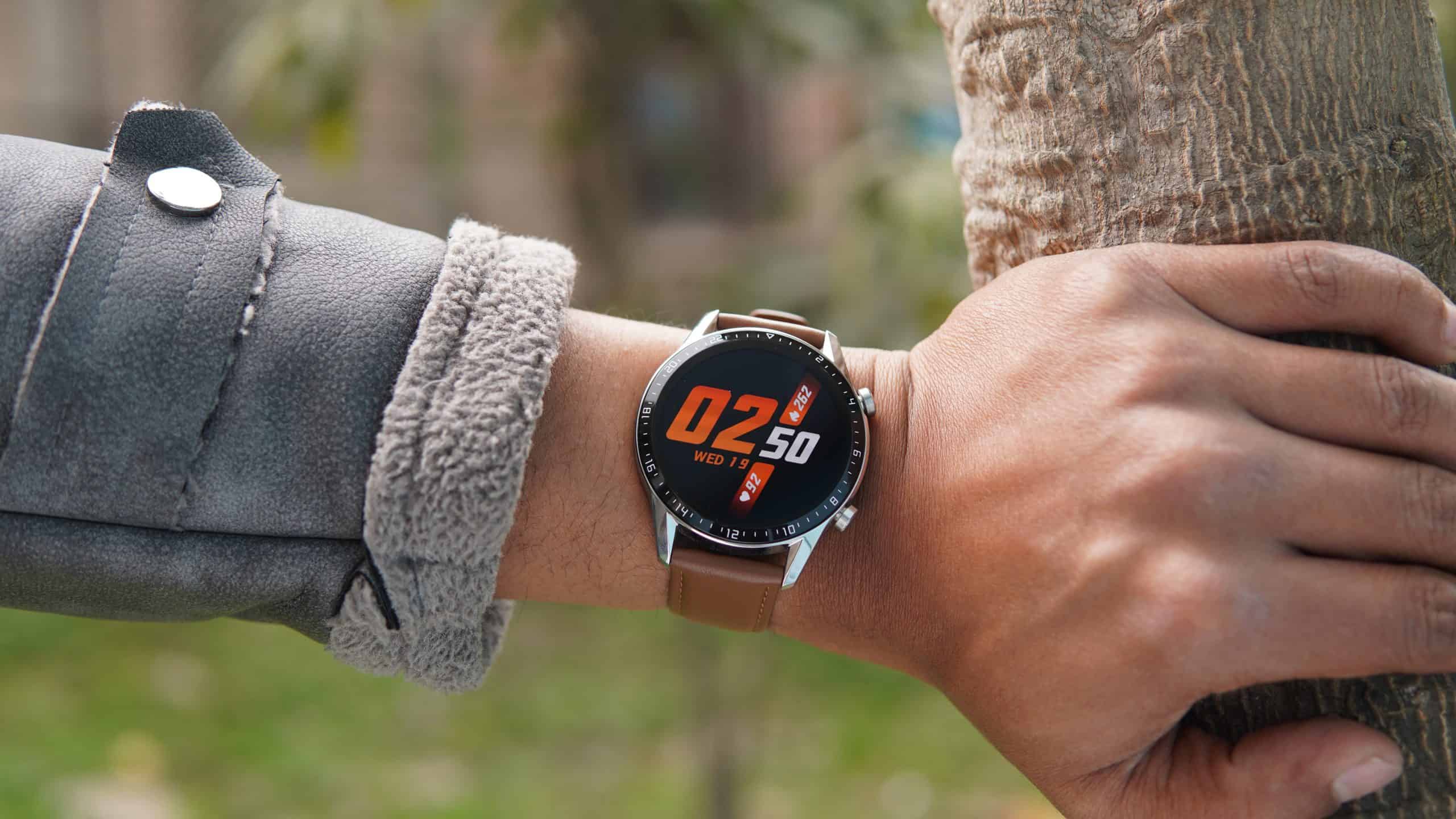 In Nepal, we get the 46mm variant which has a big buckle made out of stainless steel and a brown leather strap. The leather strap feels premium and looks luxurious.
It goes really well with smart outfits. But, you can roll with the leather straps if you're hitting the gym. It's more comfortable than the leather strap.
ALSO READ: Mi Band 5 Finally Launched in Nepal: Quite a Lot of Improvements
The stainless buckle can handle nudges as I didn't find single scuffs on it even after a week of heavy outdoor usage during hiking. I was skeptical about the wear & tear at first as well but it's built really well.
It looks good with a solid build and it can handle water as well. The Huawei Watch GT2 is 5ATM water-resistant which means that it can handle 50 meters deep water. So, you can wear it while swimming or taking a shower without any worries.
Display
The 46mm version of the Huawei Watch GT2 has a 1.39 inches AMOLED display. The display is really good with ample brightness and good color reproduction.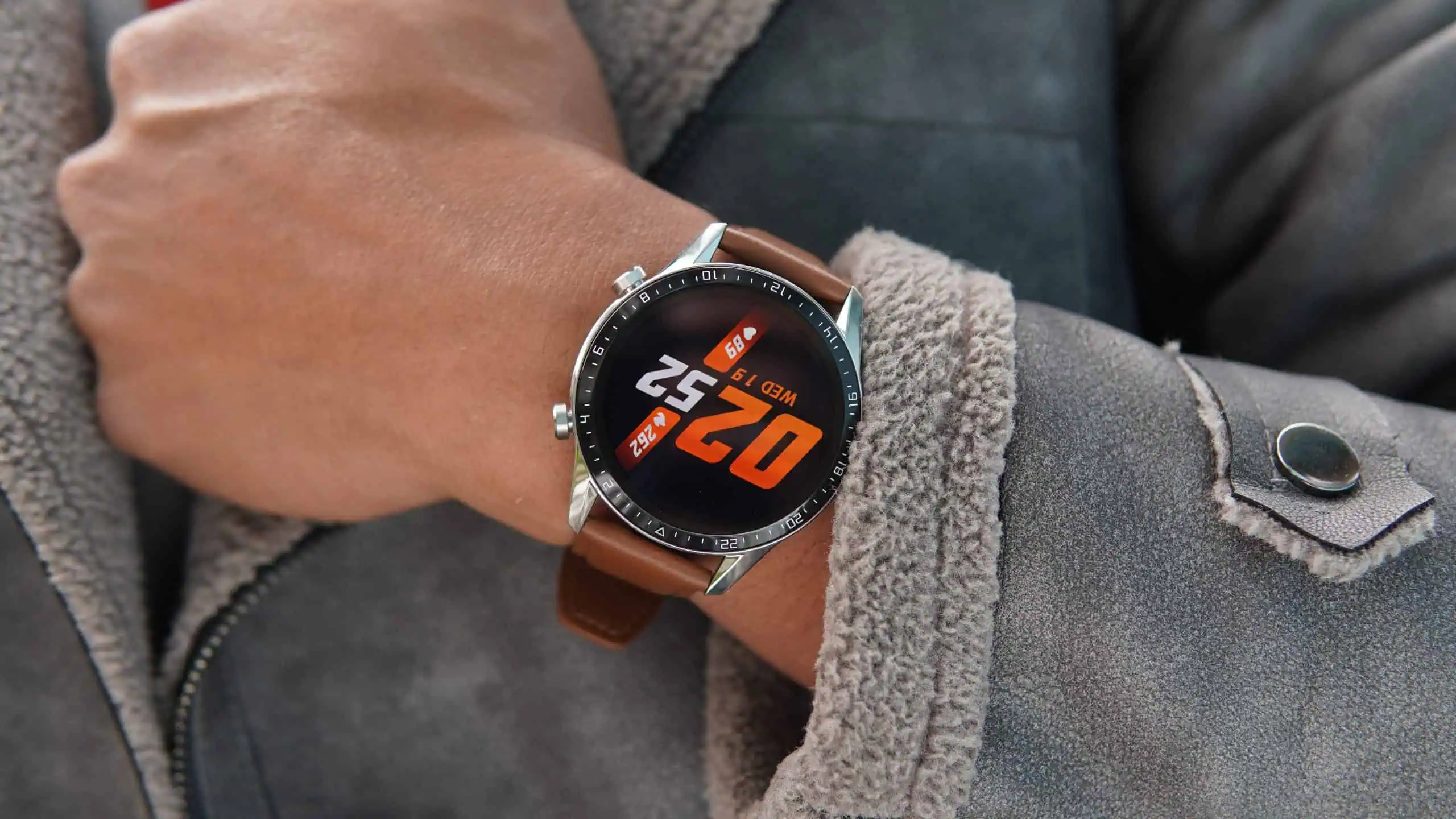 The brightness is more than enough. You will have no trouble using the Watch GT2 outdoors under sunlight. Since it's an AMOLED display, it does have the always-on feature as well. But, I didn't use it because that would almost halve the battery life of the Watch GT2.
Fitness Tracking
Huawei Watch 2 might look like a simple wristwatch but its fitness tracking is outstanding. It can track various workouts like Running, Climbing, Cycling, Elliptical Training, and much more.
Among those, it can automatically detect 6 workouts like Outoodr Run/Walk, Indoor Run/Walk, Elliptical, and Rower.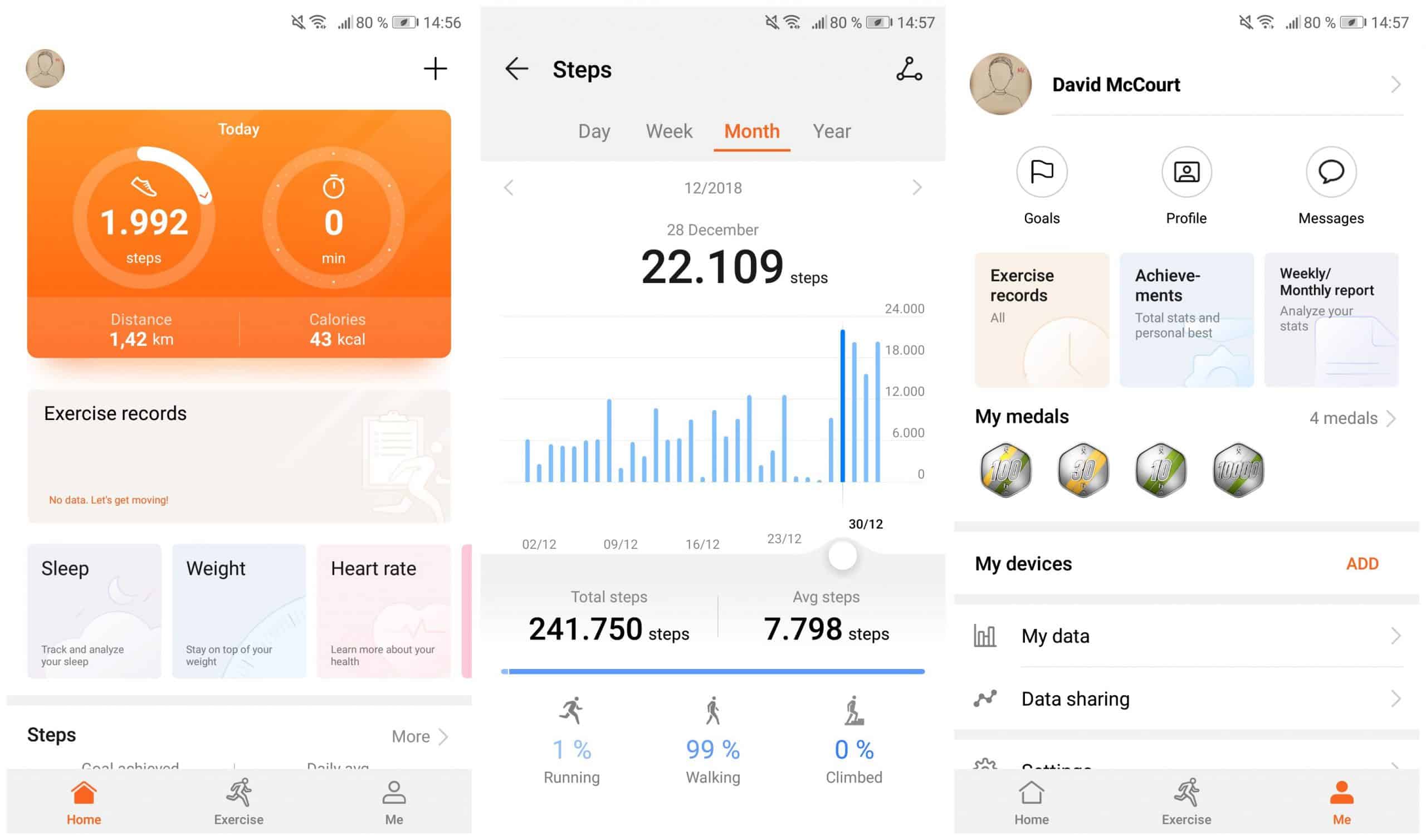 The Watch GT 2 also has a built-in GPS, so it tracks your location and distance you've covered when you're running outside. Furthermore, it can detect the intensity of your training from warmup to aerobic, anaerobic, and extreme. This helps me to achieve my preferred state and actually measure the performance of my HIIT cardio (High-Intensity Interval Training).
ALSO READ: Samsung Galaxy Watch 3 is Now Available in Nepal, Price Starts at Rs. 53,999
Watch GT2 boasts continuous heartbeat tracking and it comes equipped with a SpO2 sensor as well. So, it keeps on tracking your heartbeat automatically at a regular interval. Then it comes with a SpO2 sensor that detects the oxygen level in the body. HUAWEI WATCH GT 2 supports single-time SpO2 level measuring5, helping you detect the level of oxygen in the blood whenever and wherever you need.
All of these tracked workouts can be viewed in the watch itself or the Huawei Health app.
Sleep Tracking
With the Huawei Watch GT2, you can effectively track your sleep and find a comprehensive sleep analysis as well. You will need to wear the watch while you sleep to track your sleep ofcourse. It is very accurate when it comes to sleep tracking and I found its sleep analysis very helpful.
It can track Deep sleep, Light sleep, and REM sleep. With daily sleep tracking, I realized I was not getting continuous deep sleep. While the amount of deep sleep is important for proper rest and recovery, deep sleep continuity is more effective. Thus, these kinds of analytics help you reach your goals and I found these really helpful and progressing.
You can easily view your sleep data in the Huawei Health app. There you will get each and every detail like your sleep score and it will also give you suggestions to improve your sleep.
Hardware & Performance
Huawei uses the Kirin A1 chipset which is specifically tailored towards Huawei's wearables. The chipset is great for performance but is mostly designed to focus on battery and Bluetooth connectivity. It also comes with 2GB RAM.
The previous Huawei Watch GT was a bit sluggish when moving around the menus. While Huawei Watch GT2 improves on that with a more fluent performance but it is still not totally smooth.
Watch GT2 also has 4GB of internal storage. Out of 4GB only 2.2GB of storage is usable and can be used to store songs.
Connectivity
Huawei Watch GT2 uses Bluetooth V5.0 so it has a very stable connection within the 10m range. However, it doesn't have Wi-Fi connectivity.
You can stay connected to your mobile phone and still connect to a pair of earbuds or any other Bluetooth audio source. So, you can listen to music directly via the watch even if you do not take your mobile phone to the gym. And, the Bluetooth earbuds can also be used for taking calls.
About taking calls, it comes with a built-in speaker and a mic. So, you can easily take phone calls via the Watch GT2 itself. The audio quality from the speaker is quite good and the microphone also does a decent job. So, if your phone is connected to the smartwatch, you don't need to take out the phone for phone calls.
Software
Huawei Watch GT2 uses Huawei's own Lite OS. The software is light and I mean it when I say light. It does have most of the features you would need but it does lack something as well. It lacks third-party app support so you do not get apps like Spotify on the Watch GT2.
ALSO READ: Realme Watch Launched in Nepal: An Affordable Smartwatch!
About customization, you can change the watch faces but there's not a huge library of watch faces like Samsung's. You get limited choices but it was enough for more.
Furthermore, it can show app notifications and call notifications. But you cannot respond to the notifications.
Battery
Now what's more impressive is its battery. Huawei Watch GT2 provides you up to 2 weeks of battery life. There are few smartwatches that can boast this kind of battery life.
Well, the battery life will drop down to 1 week if you use the always-on display but it is still impressive. Smartwatches from Samsung can hardly last more than a day.
Should You Buy Huawei Watch GT2?
Huawei Watch GT2 is a really good smartwatch. However, it's not as smart as some other smartwatches in the market. The biggest thing it lacks if Wi-Fi connectivity and the fact that you cannot respond to the notifications. Along with this, it doesn't support third-party apps.
But it does everything else better than most of the smartwatches out there. It has really good fitness tracking along with sleep tracking. You can take calls remotely via Bluetooth and you can listen to music from the watch itself as well. And, more than that its endurance level is unlike any other smartwatches.
A smartwatch that can last for two weeks is really rare. And, this why I think you should buy the Huawei Watch GT2. It's a no-nonsense smartwatch that does the basics right.