Hour of Code II​ is a coding workshop facilitated by the winner of our ​EmpowHER 2015​: Young Aspiring Women Leader, Ms. Binita Shrestha under her service impact project called "Girls in STEM" in association with Ujyalo ​Foundation and Women in STEM​.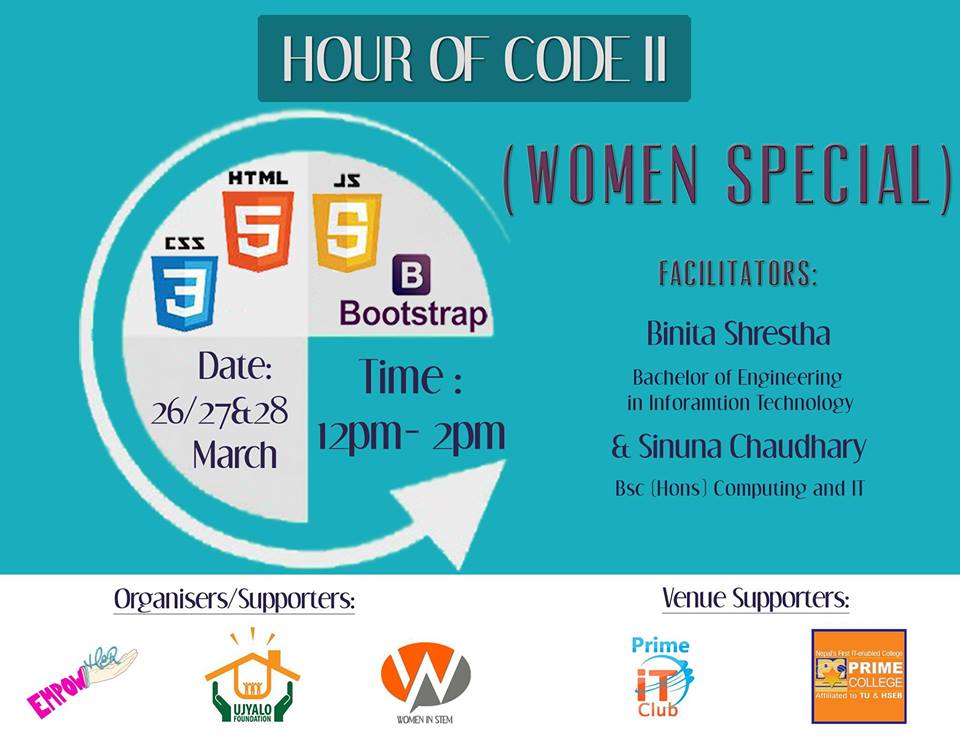 Hour of Code​ is a Mentoring & Coding workshop program that focuses on introduction to computer science, designed to demystify code and show that anybody can learn the basics in an hour. HOUR OF CODE is 2 ­hours long training Workshop targeted to the college students of age ­group (15­-29) where they will be taught about any output based programs on different programming languages like PHP & WORDPRESS, JAVA, ANDROID, PYTHON , JAVASCRIPT etc.
The goal of the Hour of Code​ is not to teach anybody to become an expert computer scientist in one hour. One hour is only enough to learn that computer science is fun and creative, that it is accessible at all ages, for all students, regardless of background. The measure of success of this campaign is not in how much Computer Science (CS) students learn ­ the success is reflected in broad participation across gender and ethnic and socio­-economic groups, and the resulting increase in enrollment and participation we see in CS courses at all grade levels.
The training program is focused on the quick market substitute training and programming projects targeting from the basics of any languages. The training will help the students (especially women) to learn the programming base and develop the confidence to code. The more they are into it, the more they can learn and code.
Event Details
Type of EVENT: FREE
Dates: 26th ,27th and 28th​ March,2016
Venue: ​Prime College​, Naya Bazar(Khusibu)
Days: 3 days (6 hours in total)
TOPIC: HTML5, CSS, BOOTSTRAP & JS
Venue Supporters: ​Prime College​ &; ​Prime IT Club
Facilitators: Binita Shrestha & Sinuna Chaudhary
FORMS ARE OPEN, FCFS & LIMITED FOR 20 Girls only. HURRY UP Now.
And register yourself at ​Google­Forms.
The Time Schedule of the HOUR OF CODE includes :
Time
Activity
Details
12:00 to 12:15 pm
INTRODUCTION
Mentoring Program on HOUR OF
CODE
12:15 to 1:45 pm
WORKSHOPTraining/
Table
mentoring
WEB DESIGNING/JS
1:45 to 2:00 pm
WRAP UP Program &
Tea/Coffee/cookies
Feedbacks/Networking Session
We have conducted ​Hour of Code I​ at Nepal College of Information & Technology​ on JAVASCRIPT WEB APPLICATION DEVELOPMENT on 13th December,2015 facilitated by Anton Fjodorov where we could impact 3 young ladies more who were dedicated, kept their hard work. And congratulations to these Kalpana Karn, Preya Ghimire & Shreya Upadhay for winning gift hamper from HOUR OF CODE and will be handed over in the new Session (Hour of Code II).
The article is written by Binita Shrestha who has completed Bachelor of Engineering in Information & Technology from NCIT. She is also CEO/Co-Founder at WomeninSTEM and also been one of the Winner at EmpowHER2015 (Young Aspiring Leader).