Hour of code is mentoring & coding workshop program that focus on the basic of certain programming language. It generally is a systemic way to prove that people can learn coding in a few hours if they stay focused. Hour of code II was successfully organized by Women in STEM. It was held on 20-23rd March, 2016 and was supported and managed by Prime IT Club. It was 3 days event 2 hours each day, where students of 1st semester (BSc.CSIT and others) were given the training/workshop focused on HTML/CSS, Bootstrap which is highly demanded these days.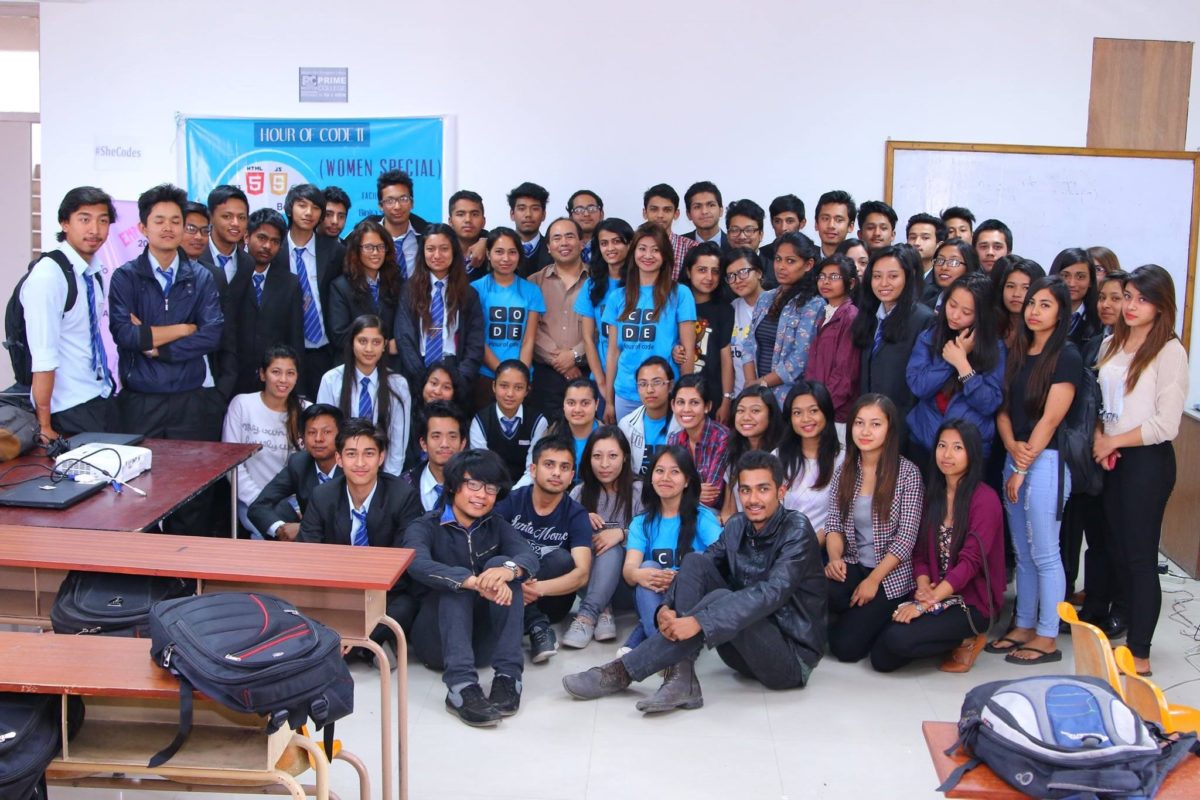 As a FACILITATOR, we had Ms. Bineeta Shrestha (B.E .IT, NCIT College) and Ms. Sinuna Chaudhary (Bsc (HONS) Computing & IT from Islington College). Ms. Sinuna Chaudhary is a Graduate in Bsc (HONS) Computing & IT from Islington College, currently working as a Freelance Web Developer and has designed and developed websites for different companies. Ms. Bineeta Shrestha has completed Bachelor of Engineering in Information & Technology from NCIT. She is also CEO/Co-Founder at Women In STEM and also been one of the Winner at EmpowHER2015 (Young Aspiring Leader).
Women In STEM (Science, Technology, Engineering and Management) is an organization to set an example that every girl in each sector can lean perform, archive and stand out in their respective field. This organization attempts to encourage and motivate young and dynamic female students who have chosen their future in STEM. With the motive of adjusting more girls into the changing technology which is also the part of the STEM field. With the same motive  "HOUR OF CODE II" has been successfully conducted under the premises of Prime College in the supervision of Prime IT Club. There was a massive positive feedback from the students who participated in the event.
There were totally 58 attendees which included the students of BSc. CSIT 1st semester and other girls from different college (since it was a women special and also was an open program). On the very first day,   sessions started with the basic knowledge about the HTML and CSS tags, whereas particles were more focused on HTML tags. On 2nd Day, the session started with the revision of the 1st day (i.e. HTML) and ended with the various CSS tags and a little more creativity. In this day attendees were taught about the attachment, use and different tags used in CSS. On the 3rd and final day, the attendees were taught how to use bootstrap and edit a certain template. The overall event concluded with everyone knowing about the basics of programming languages and coding concepts.
The venue was supported by Prime IT Club in Prime College, Nayabazar, Kathmandu. This event was especially focused on girls who have chosen their career path in information technology field. The event was also hugely supported by Ujyalo Foundation, an organization that focuses on women empowerment and development. Prime IT Club, currently in its 5th year is one of the most active clubs of Prime College that encourages IT students and has been continuously providing training's and workshop on various areas related to computers as well as management field. With the same continuous support Prime IT Club is organizing 1 day hackathon  on  Html/ CSS and Bootstrap specially focused on Prime College student to see the effectiveness of the event  "Hour of code".
The club is also set to organize an ICT Meet Up V4.0 on May 21-22, 2016 with the theme of industrial-Academia Collaboration that endeavors to bridge the gap between the students' skill level and professional workplace.
Guest Author
Sudeshna Pradhananga is President at prime IT club. She is currently studying BSc.CSIT and is in 7th semester of her studies. She acquires good programming skills in JAVA and PHP. She can be reached on facebook.