Pros
Muscular Pickup Styling
New and Refined Engine
More Power, More Torque
Revamped Interior Quality
Increased Ground Clearance
Value for Money Offering
Cons
Stiffer Gear Shifting
Jumpy Suspension Feel for Rear Passengers
Room for Improvement in Braking Feel
No Apple CarPlay, No Android Auto
Still Room for Improvements
This is a detailed review of the new Foton Tunland E Plus.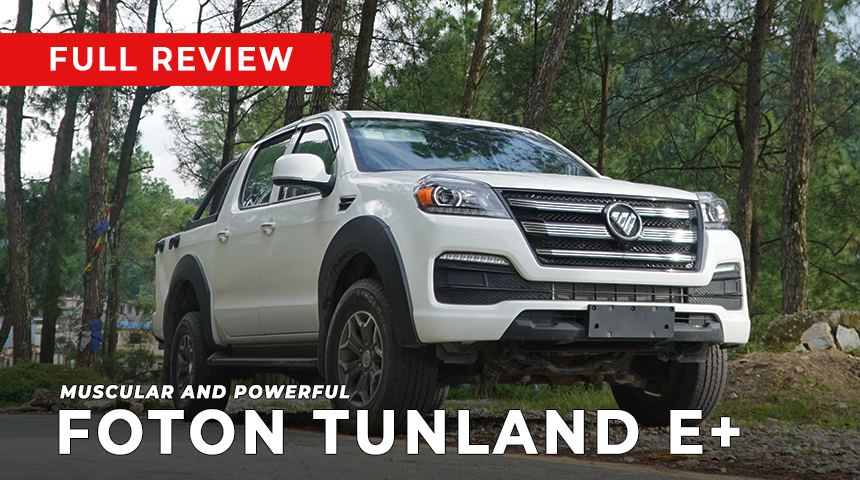 Foton Tunland E+ changed the game for the pickup segment. It introduced all the enticing features of a pickup at an aggressive price point.
Imagine getting a muscular design, uncompromising performance, and practical features for a reasonable price.
That is precisely what the Tunland E did! However, there were a fair bit of sacrifices to keep the aggressive price tag.
After the immense success of its predecessor, the next generation Tunland is here. It addresses the shortcomings of its predecessor, while bringing in new improvements and changes.
These new changes should improve the overall value of the truck.
Do these changes set themselves as an undeniable offering? More importantly, are these changes enough to justify the new price?
Talking about the pricing, the Foton Tunland E+ price in Nepal is Rs. 60.90 Lakhs.
We tested out the new Foton Tunland E Plus for more than a week. And, this is the full review.
Foton Tunland E Plus Specifications
Engine: 2.0L, 4 Cylinder, Common Rail, Turbo Intercooled Diesel
Displacement: 1999cc
Dimension: 5310 x 1880 x 1860 mm
Wheelbase: 3105 mm
Max Power: 149.55 PS @ 3600 rpm
Max Torque: 320 Nm @ 1800-3000 rpm
Transmission: 6-Speed Manual
Drive Type: 4WD
Top Speed: 160 Kmph
Fuel Tank Capacity: 76 liters
Mileage: 10 kmpl
Front Tyre: 245/70 R16 – Disc
Rear Tyre: 245/70 R16 – Drum
Tubeless Tyres: Yes
Safety System: Dual Airbags, ABS, EBD
Suspension Setup: Double Wishbone with Coil Springs and Leaf Spring with Shock Absorber
Seating: 5-Seater
Payload Capacity: 1000 kg
Ground Clearance: 220 mm
Kerb Weight: 2115 kg
Colors: Black, Red, Blue, Gray, Silver, and White
Foton Tunland E Plus Price in Nepal: Rs. 60,90,000
Foton Tunland E Plus Review
Masculine DNA
Foton Tunland E+ sports the same muscular elements as seen in Tunland E.
The overall aesthetics and dimensions remain the same. Moreso, the muscular pickup feel is also still there.
The front section sports a large three-lined chromed grille with the "Foton" logo at the center.
The Projector headlamp and Indicators are integrated into the same housing. It gets an all-new LED DRLs as an additional new change.
There are additional spots for the fog lamps. However, it does not come as standard.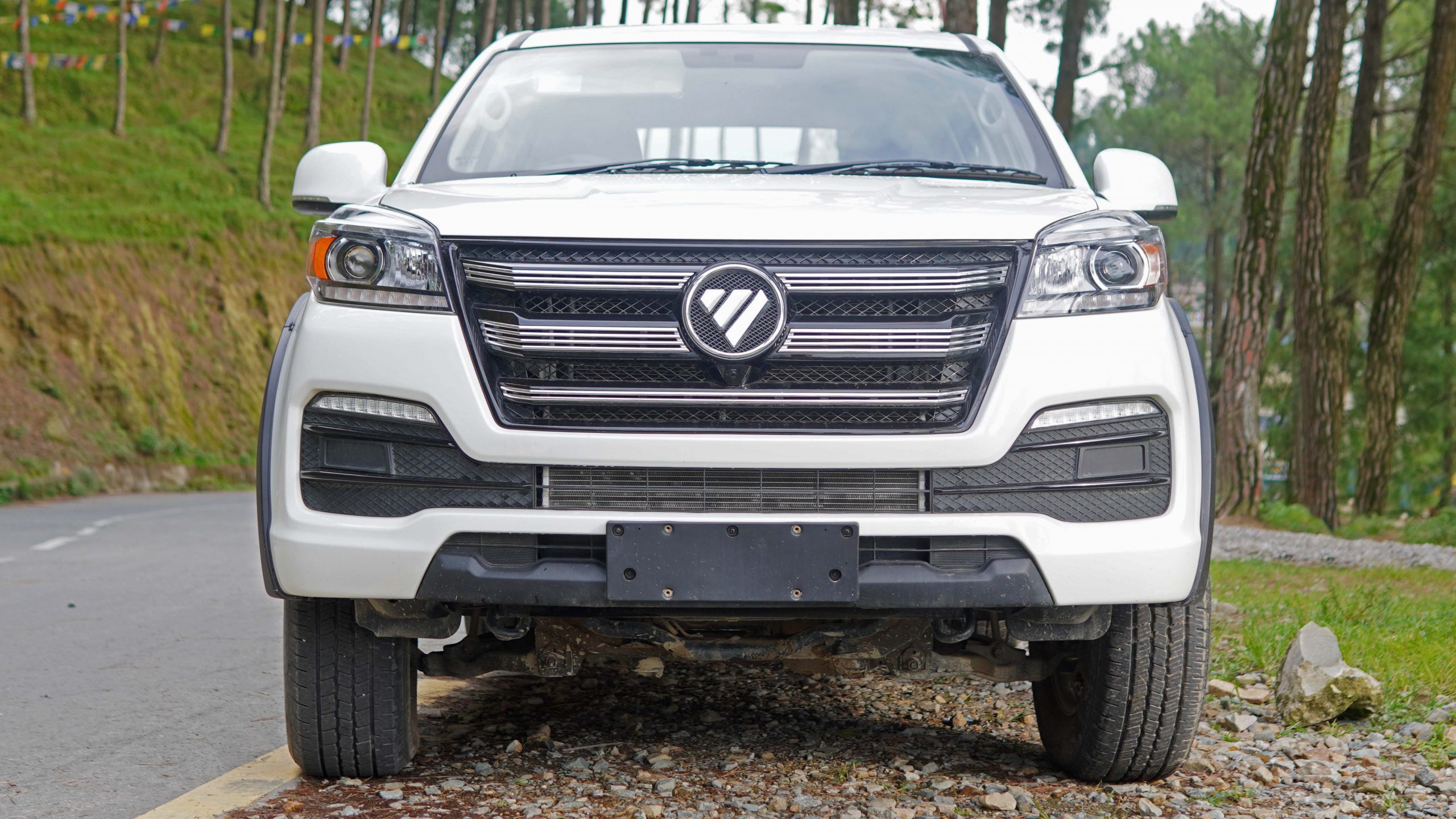 The side profile gets subtle lines and creases on the door panels. Like before, the blacked-out padding on the wheel arches is still present.
Talking about the new changes, the alloy wheels are completely new.
Plus, it comes with nifty chrome lines around the window borders. These changes add a bit of modernity and premium to the pickup truck.
Furthermore, the standard accessories include running boards, clampers, anti-rollover bars, and bed liners.
Moving on, the rear section remains unchanged.
The standard halogen setup is still here, but the rear badging now reads Tunland E+.
Furthermore, there is a slight 10mm bump in ground clearance. And, the kerb weight has also increased.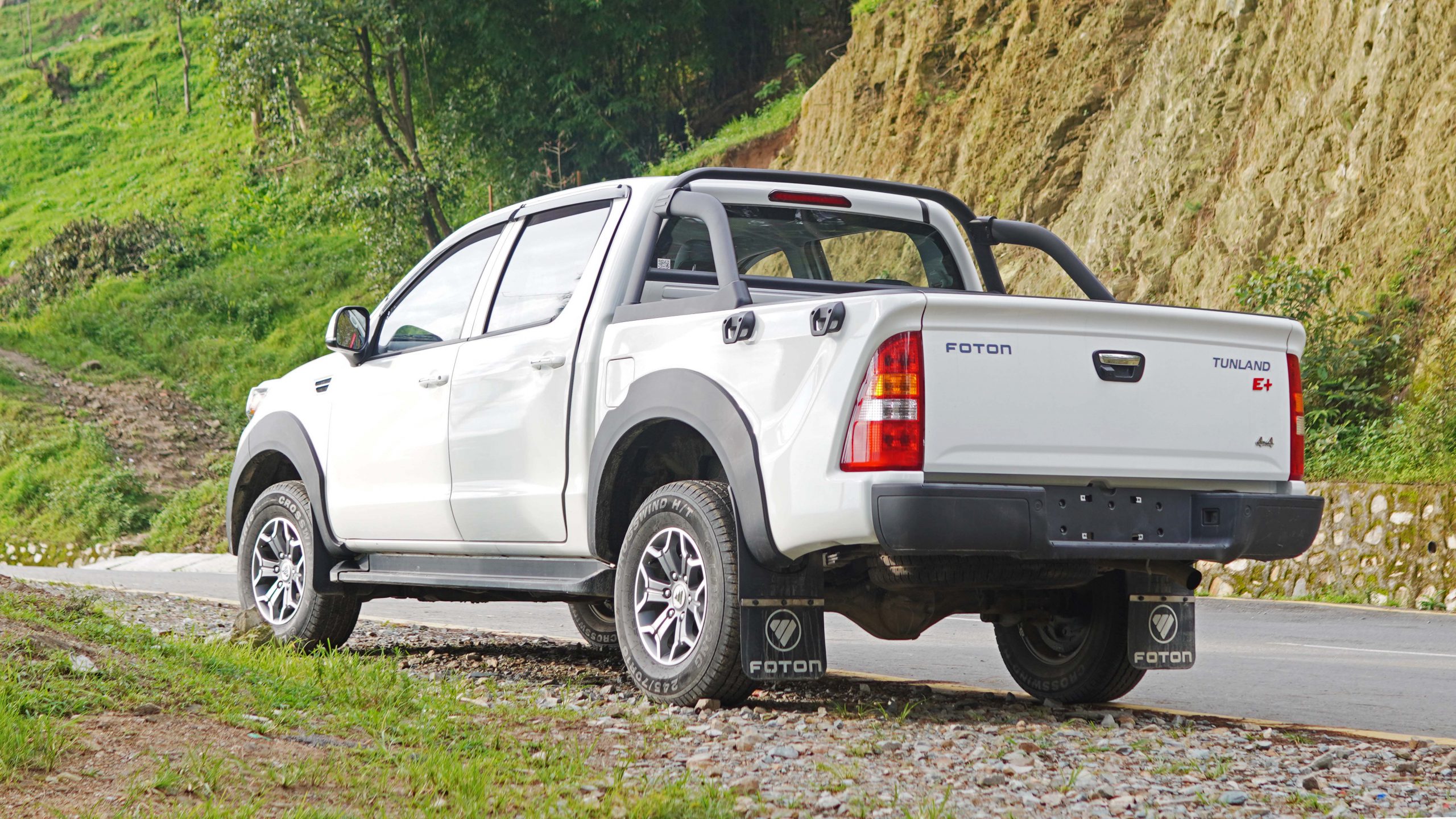 Additionally, Foton Tunland E+ will be available in six different colors: Black, Red, Blue, Gray, Silver, and White.
Revamped Interior
The most interesting change has been reserved on the inside.
Foton has focused on three important interior elements: Instrument Meter, Controls Mounted Steering Wheel, and Leather Seats.
It comes with a large Touch Screen Infotainment System.
The new Infotainment System is company-fitted on, which genuinely has a modern aesthetics to it. It gets a sufficient amount of physical buttons.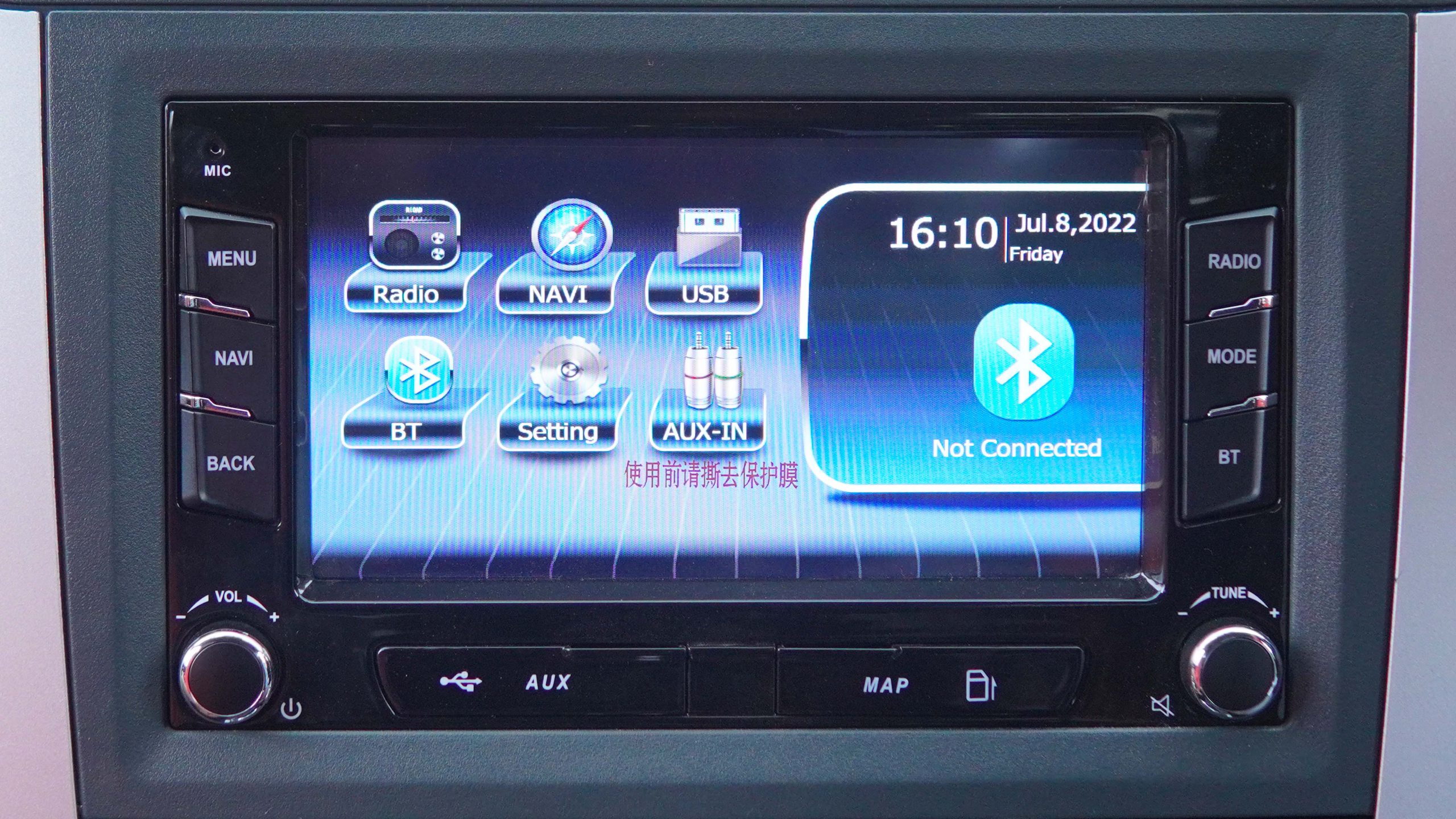 And, it supports Bluetooth Connectivity, SD Card, and AUX input. However, it misses out on Apple CarPlay and Android Auto.
Talking about another change, it comes with a brand-new Steering Wheel.
The Steering Wheel gets a glossy-black finish along with added media controls. It is so much better than the one in Tunland E, which felt like an afterthought.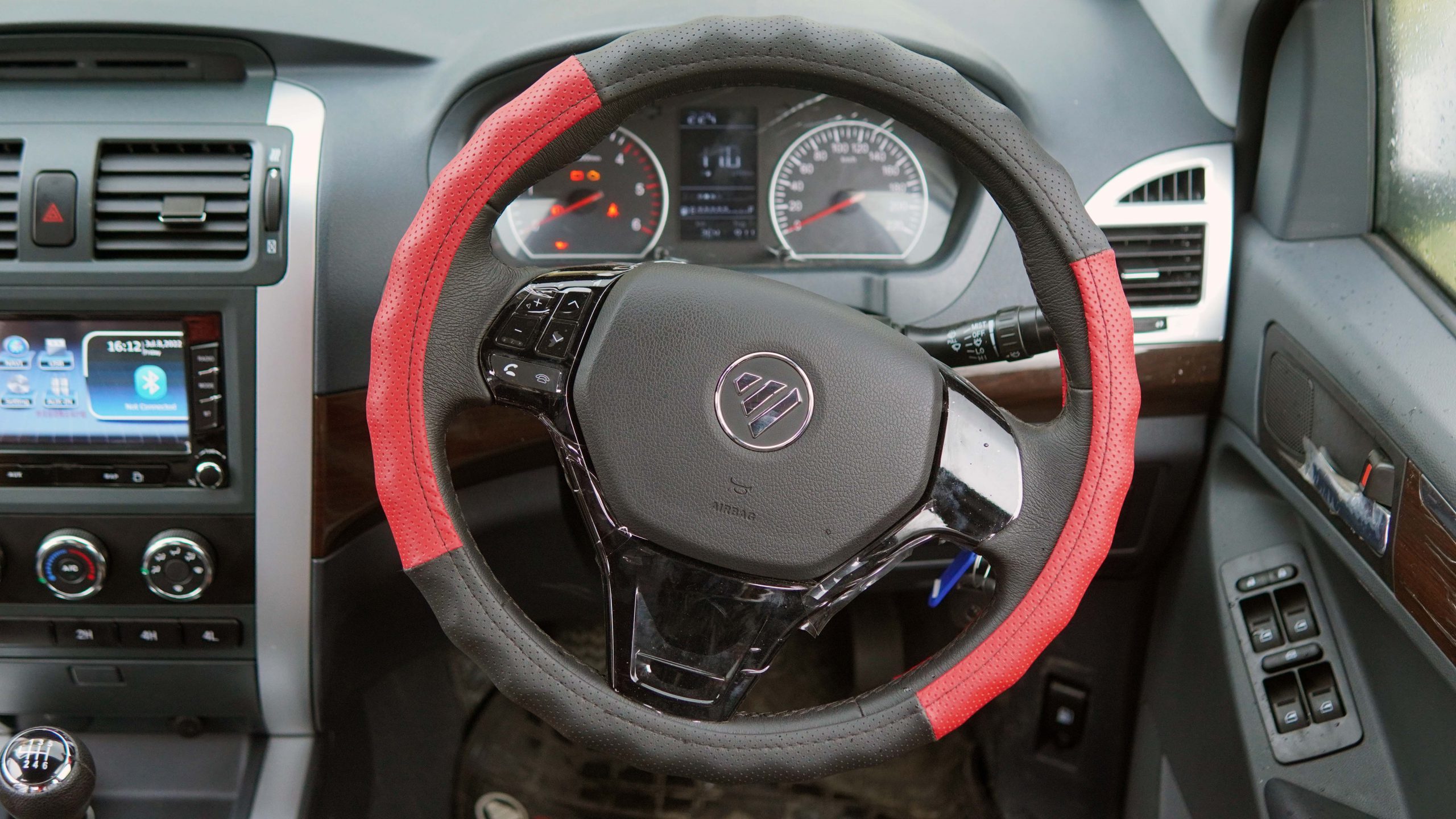 Finally, the third new change includes Leather Seats. It comes with ultra-premium stitching and gets a decent amount of cushioning.
Interesting enough, these changes are enough to create a fresh new experience.
The interior is entirely different, further enhancing the overall experience.
The entire build is still a mix of hard plastic and wood-like finish. Nevertheless, the fit and finishing have greatly improved.
Powerful New Engine
The new Tunland E+ brings in an all-new 2.0L engine. Here, the brand new engine directly addresses the lack of power in the older E model.
Foton Tunland E+ is powered by a 2.0L, Inline 4-Cylinder, Common Rail with Turbocharger Diesel Engine. It can generate a max power of 149.55 PS at 3600rpm and a max torque of 320 Nm at 1800-3000rpm.
Moreover, it is mated to a 6-speed Manual Transmission with a 76-liter fuel tank capacity.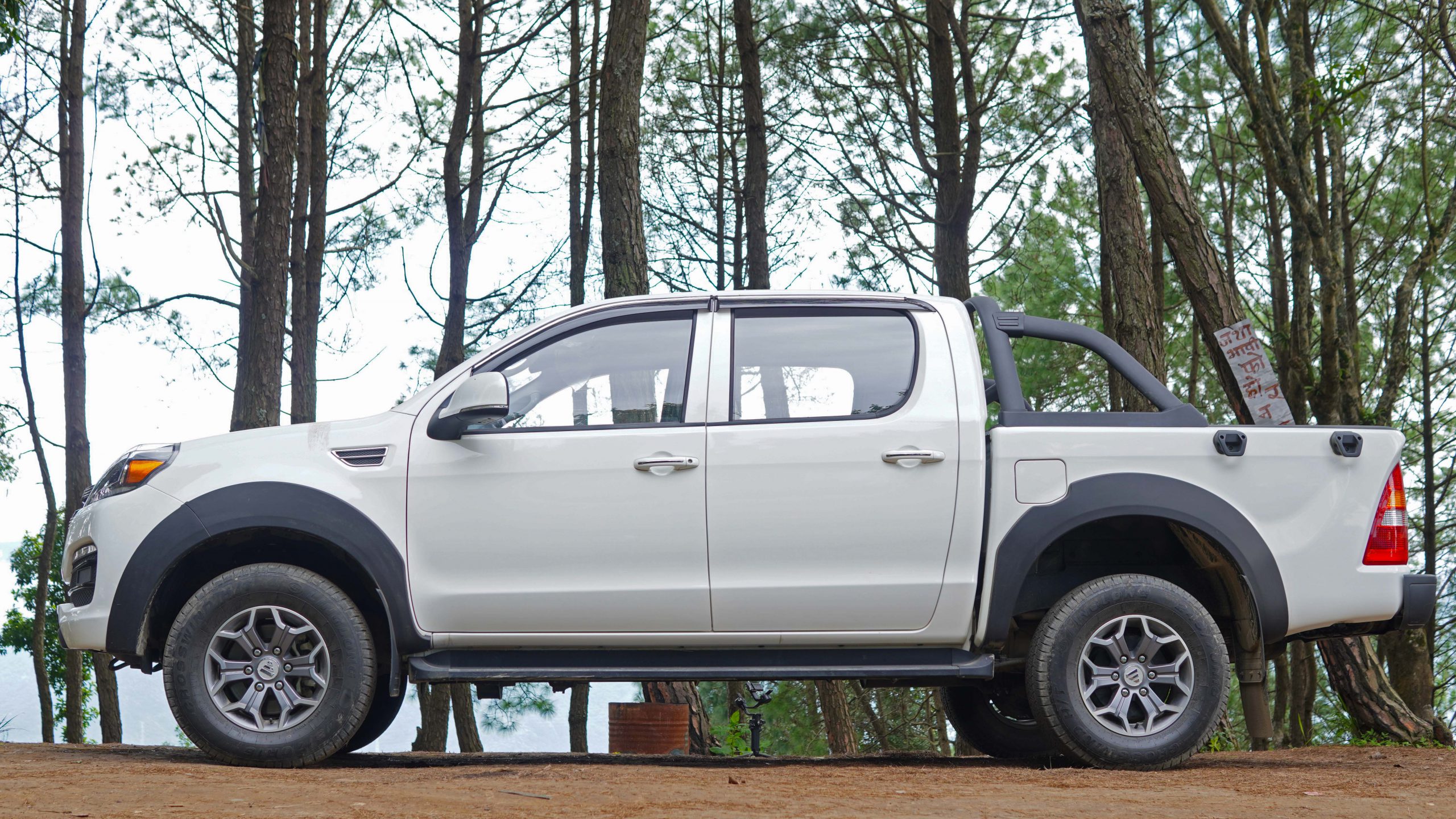 The newer E+ gets a reduced engine displacement.
However, it generates more powertrain than before.
It produces 35PS more power and 40Nm more torque. Additionally, it also features a 6-speed transmission instead of a 5-speed.
Moreover, it is equipped with 4WD capabilities: 4 High and 4 Low.
Practical Features
Foton Tunland E+ hasn't changed the feature list by much.
Except for the visual and mechanical changes, the feature list remains the same. However, the mechanical changes have introduced slight variations in the braking and suspension.
This is a complete detail of the feature list in the Foton Tunland E+.
Braking
Foton Tunland E+ gets Two Discs at the front and Two Drums at the rear. It includes ABS and EBD as standard.
It is the same braking configurations as before.
The braking performance is great, providing an excellent braking experience. However, it does require additional effort as the driving goes on.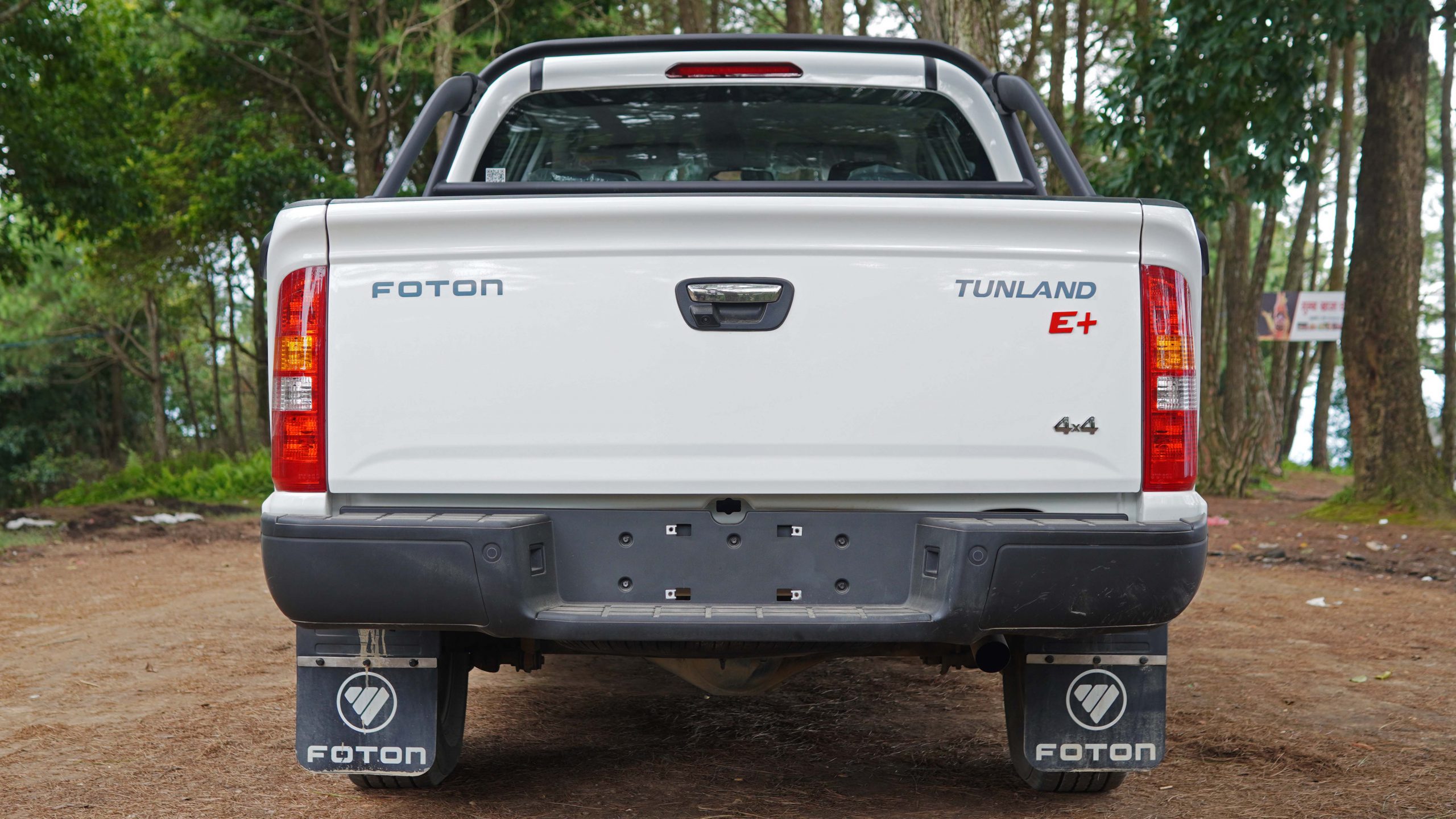 So, the driver has to adjust to the additional force required to press on the brakes.
This is more apparent while going downhill during off-roading conditions.
Suspension
The same setup handles the suspension duties.
It gets Double Wishbone with Coil Spring at the front and Leaf Spring with Shock Absorber at the rear.
The suspension gets a mix of a stiffer and softer feel.
It has enjoyable driving in both off-road and on-road conditions.
However, the suspension is a bit jumpy for the rear passengers. The off-road conditions might not be enjoyable for the rear passengers. It was annoying at times.
However, it isn't the case for the front passengers. Rather, the front passengers will find the experience more enjoyable.
Off-Roading Capabilities
Foton Tunland E+ is 4×4 capable, coming with 4 High and 4 Low as standard. However, it does miss out on Locking Differential.
These 4H and 4L switches are directly below the AC controls. Moreover, it gets additional two blank switches for future use.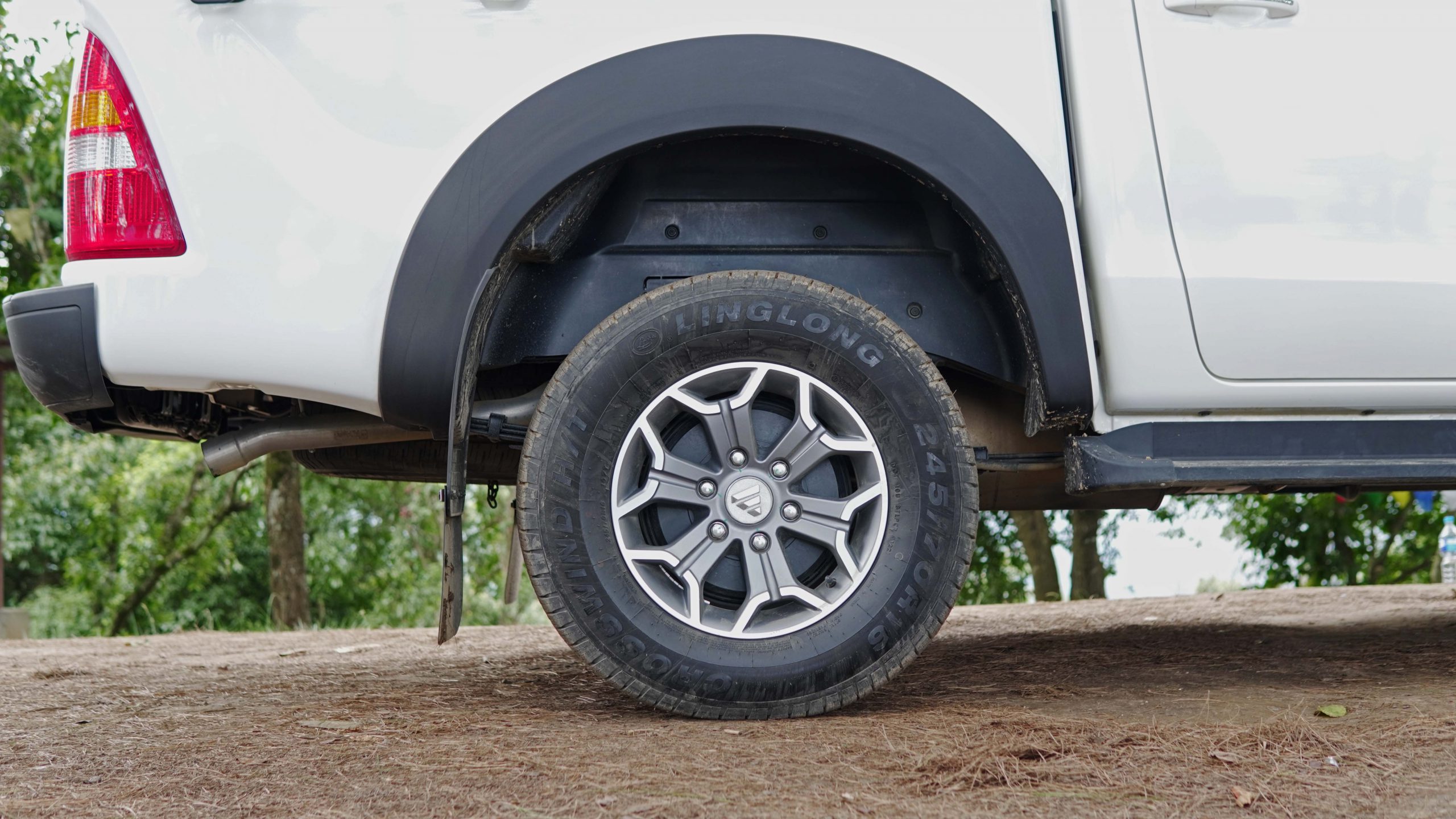 I would have preferred a nifty Dial Switch (like the one in a more premium vehicle).
And, this is where the cost-cutting is apparent. Nonetheless, it does not take away from the high-end feel set by the interiors.
The off-road performance is satisfying.
Despite the missing Locking Differential, Tunland E+ was able to handle the muddy roads of Kakani. The 4H and 4L are enough to handle most off-roading conditions.
Leather Seats
Foton Tunland E+ is rejuvenated with the interiors with the new leather seats.
The leather-like treatment along with the color combination enhances the comfort. It gets a decent amount of stitching with an adjustable headrest.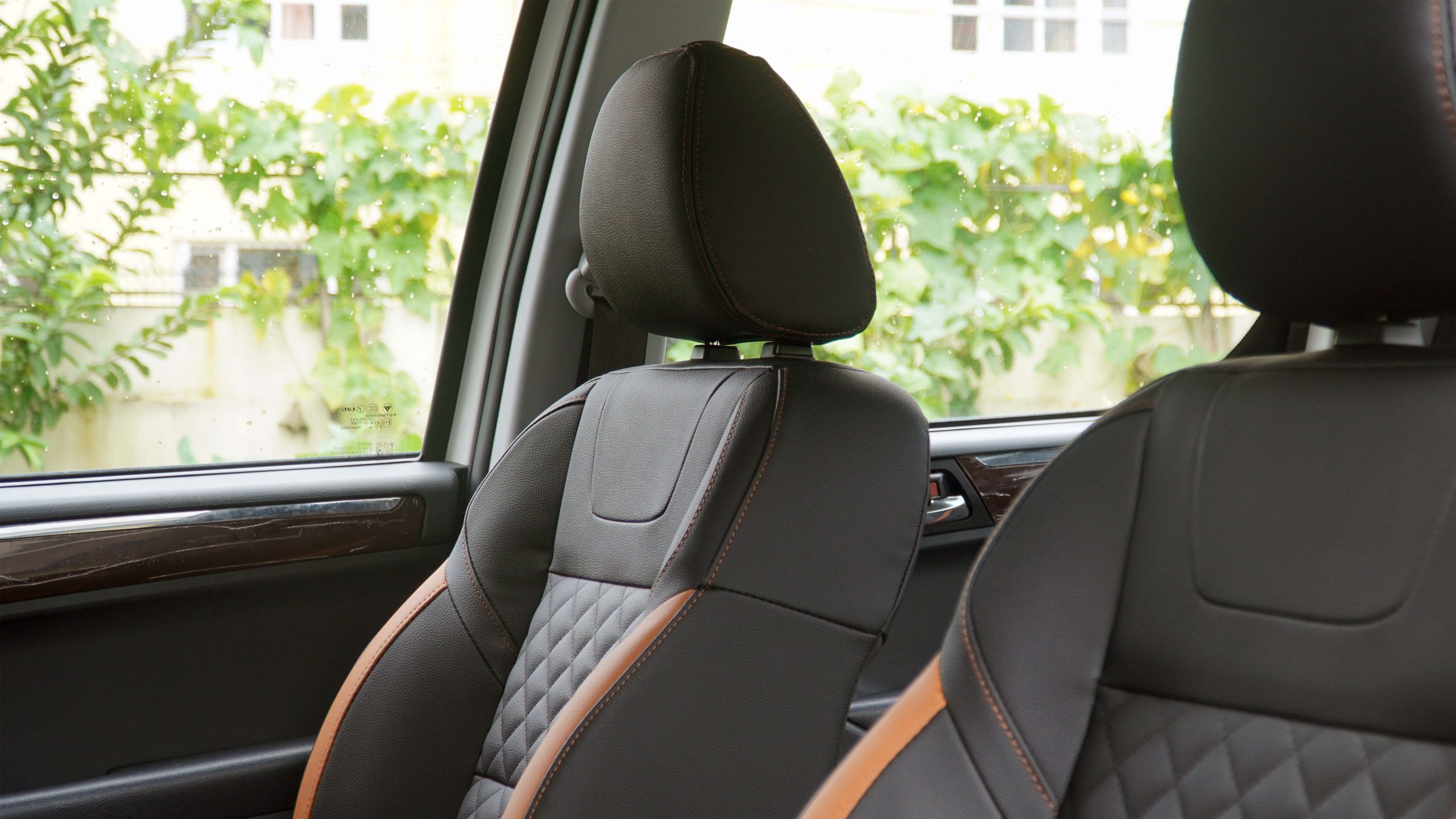 It comes with enough headroom and legroom. And, the thigh support is also excellent.
Interestingly enough, the rear passenger also gets similar seats.
While the rear passengers get a spacious room and an adjustable headrest, the thigh support is only subpar.
Storage Spots
Fortunately, there are significant storage spots spread throughout.
It sports a storage spot below the armrest, two cup holders, a bottle holder at the doors, and a few others along the dashboard.
The glovebox finishing has improved, but the size is still small.
Unfortunately, the rear passengers do not have that many storage spots at their disposal. There are magazine holders and an unpractical small spot at the center.
Moreover, there are no AC vents, but the front AC does reach the rear seats. But, there is a light switch for convenience.
Fuel Tank Capacity and Mileage
Foton Tunlan E+ holds a large 76-liter fuel tank capacity.
Being a Turbo engine, please do not expect a great fuel economy.
Nevertheless, it got around an average mileage of 10Kmpl. During the test, the Tunland was driven in both city and off-road in low AC mode.
Theoretically, the drivers should get a 760-912Km range in a full tank.
Cargo Capacity
Foton Tunland E+ features a cargo box with a dimension of 1520 x 1580 x 440.
It comes with an Anti-Roll bar and a Blacked-out Bedliner. Like the interiors, the cargo box feels spacious, capable of holding about 1000Kg payload capacity.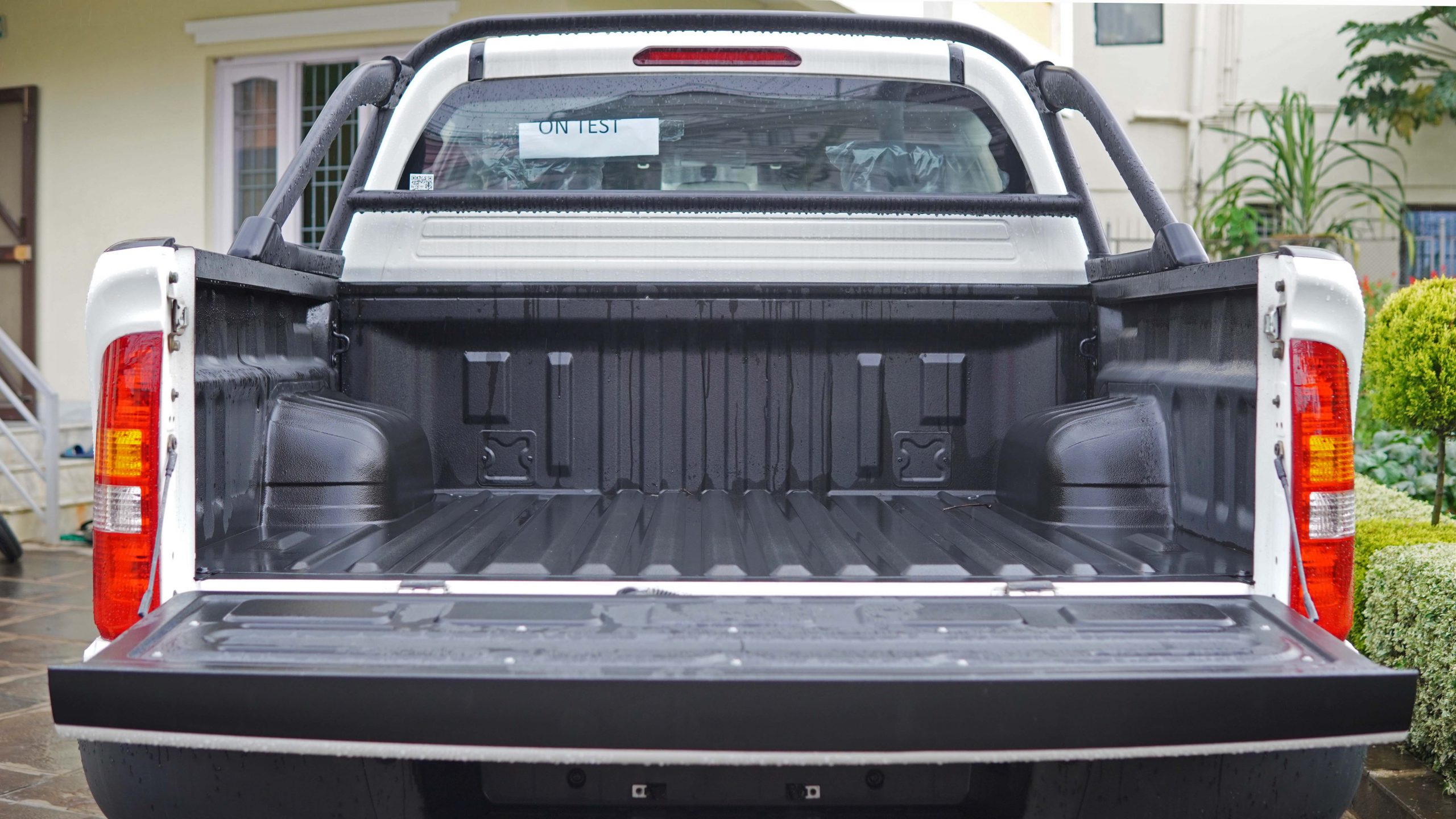 Previously, we tested out the cargo bed by placing the Suzuki Access 125.
Since the dimension and payload capacity are the same, E+ should be able to do the same.
Additional Features
Other interesting features include a Rear Camera, 4 Speaker System, Central Locking, Child Safety Lock, GPS Navigation System, Electric Adjustable Rear View Mirror, and Keyless Entry.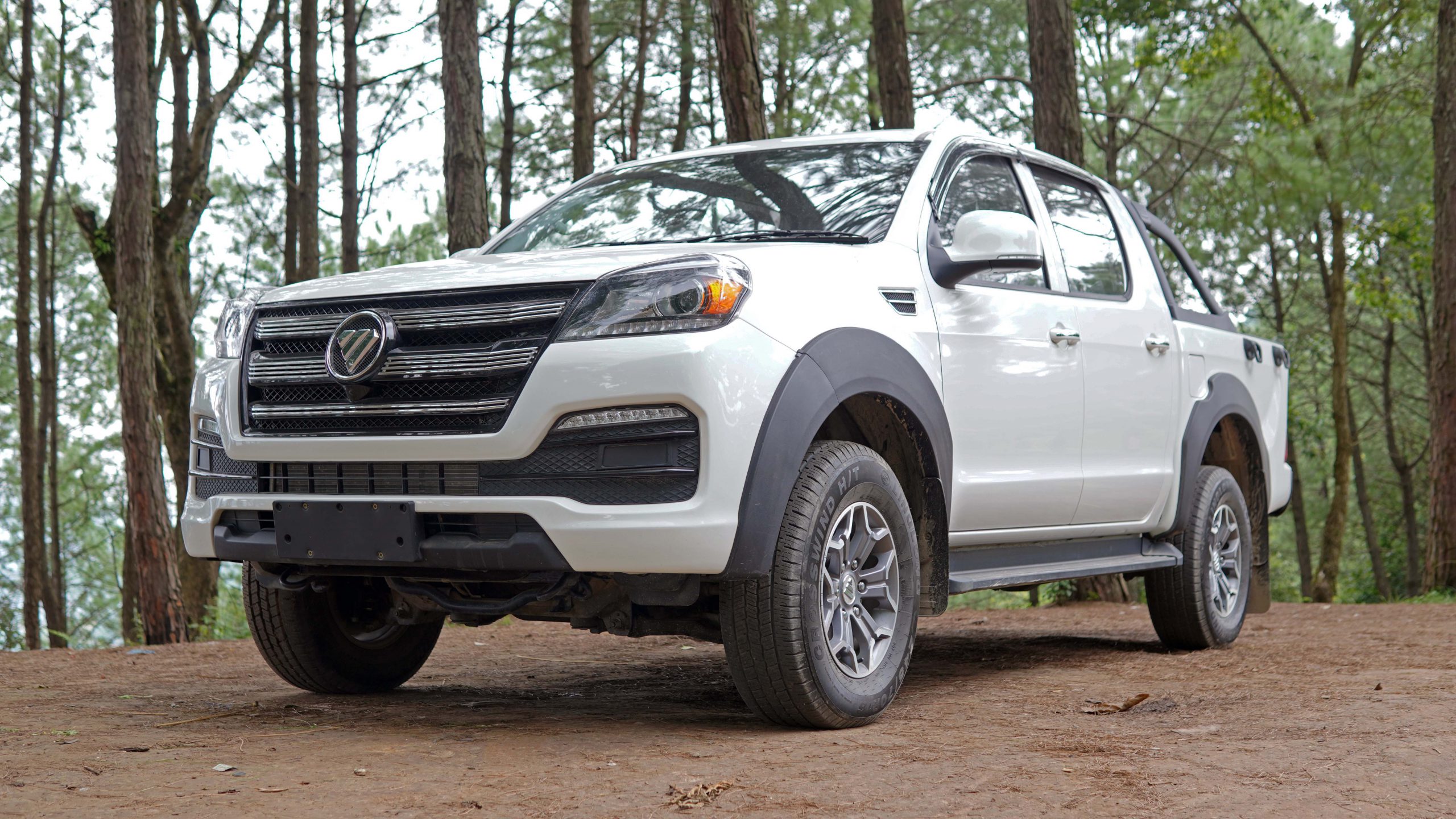 Foton Tunland E+ is available only in a single variant.
So, there are no additional accessories or upgrades available.
Foton Tunland E Plus Features Highlight
2.0L Turbo Diesel Engine
Muscular and Modern Pickup Styling
6-Speed Transmission
Chromed Grille
Projector Headlamp with LED DRLs
Central Locking System
Manual AC
Touch Screen Infotainment System
Bluetooth Connectivity with SD Card and AUX Support
GPS Navigation System
4 Speaker Sound System
Dual Airbags
ABS + EBD
Keyless Entry
Rear Camera
My Experience with Foton Tunland E Plus
Upgraded Performance
There is a noticeable difference between the Tunland E+ and Tunland E.
Despite the increase in the kerb weight, the performance difference is still noticeable.
Compared to its predecessor, the Foton Tunland E+ packs in a more refined performance. Moreover, the vibrations and engine noise are well-contained.
There is a slight delay in the initial acceleration.
However, the Tunland E+ does compensate for that by kicking off both power and torque simultaneously.
Moreover, the performance is an all-rounder.
It successfully takes on the variable terrains offered in Nepal. Plus, the 4×4 capabilities garner the drivers with unmatched confidence.
The gear ratio is tall, where the drivers do not require constant gear change.
The 6-speed transmission, while a welcome change, does not feel practical for the Nepali roads. Instead, Foton could have focused on smoothing out the stiffer transmission.
Nevertheless, the third and fourth gears are the most refined with a perfect blend of power and torque.
Real-World Practicality
Foton Tunland E+ is surprisingly fun.
It is a practical pickup in all conditions, from traffic to highways. The width is also manageable, which allows drivers to be alert from all sides.
It is manageable in tight city traffic for a pickup truck. Moreover, the refinements still hold strong at higher speed.
The Tunland E+ remains stable without losing any focus.
However, Tunland is still the most fun during off-roading. Frankly, it feels like at home.
It still maintains a strong road presence like before.
It falls short in a few features when compared to other Japanese rivals, but it still manages to be a practical one.
Adding to that offering, it is still priced as aggressively as before.
Battle with Competition
Foton Tunland E+ rivals ISUZU Hi-Lander.
Both pickup trucks are priced at the same price bracket, offering a similar level of features.
However, the Tunland E+ comes across as a more polished offering than the Hi-Lander. Tunland has a better exterior, revamp the interior, better headlamp setup, and more.
Sure enough, the ISUZU might have a more well-known engine. However, Tunland E+ comes with a plethora of accessories and goodies as standard.
It is a perfect alternative for those looking for a good pickup with few sacrifices.
As for the reliability, Foton Nepal is working on that. It has successfully established dealerships and service networks across Nepal.
If this is a marathon, the Tunland E+ is bringing out its A-Game.
Conclusion
The all-new Foton Tunland E+ brings in exciting new features and a brand-new engine.
These changes directly address the shortcomings of its predecessor. It further enhances the value without losing out on its aggressive price point.
It was practical before. But now, it goes well and beyond.
There are a few issues to sort out in an otherwise excellent truck. Hopefully, that will be addressed in future updates.
Foton Tunland E+ is now a stylish, powerful, and feature-rich pickup.
This isn't just your average Tunland, this is the all-new Foton Tunland E Plus.