The world of pickup trucks is all about power, performance, and practicality. Sometimes those key characteristics come at a cost.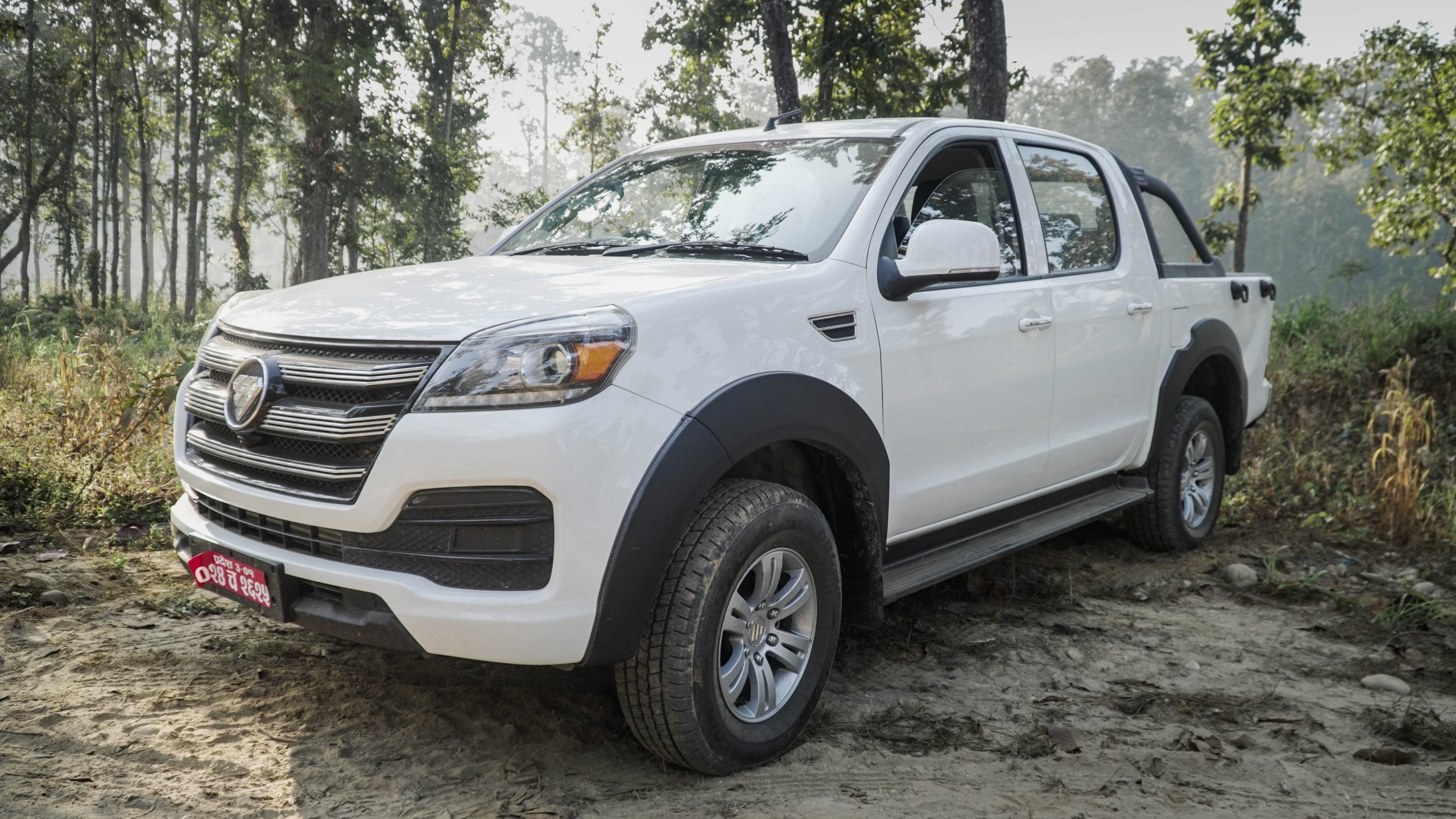 MAW Vriddhi, the authorized distributor of Foton commercial vehicles in Nepal, has launched the new Foton Tunland E.
Tunland E features all the bells and whistles expected from a standard pickup truck. However, it includes all that for a reasonable price.
Talking about the pricing, Foton Tunland E price in Nepal starts at Rs. 49.90 Lakhs to Rs. 59.50 Lakhs.
We are currently spending our day with the new Foton Tunland E, testing out the beast in the wild.
We are still busy doing that. But we have gathered enough experience for our First Drive Review of the new Foton Tunland E.
Foton Tunland E Specifications
Engine: 4 Cylinder, Common Rail, Turbo Intercooled Diesel
Displacement: 2771cc
Dimension: 5310 x 1880 x 1860 mm
Wheelbase: 3105 mm
Max Power: 113 bhp @ 3600 rpm
Max Torque: 280 Nm @ 1600-2400 rpm
Transmission: 5-Speed Manual
Drive Type: 4WD
Top Speed: n/a
Fuel Tank Capacity: 76 liters
Mileage: 14 kmpl
Front Tyre: 245/70 R16 – Disc
Rear Tyre: 245/70 R16 – Drum
Tubeless Tyres: Yes
Safety System: Dual Airbags, ABS, EBD
Suspension Setup: Independent Double Wishbone with Coil Springs and Soft Ride with Leaf Spring
Seating: 5-Seater
Payload Capacity: 1000 kg
Ground Clearance: 210 mm
Kerb Weight: 1785 kg
Colors: Black, Maroon, Grey, Blue, Light Grey, and White.
Foton Tunland E Price in Nepal: Rs. 49,90,000 (Base Variant) / Rs. 54,90,000 (with Accessories) / Rs. 59,50,000 (Full Option)
Foton Tunland E First Drive
Muscular Design
Starting with the exterior design, Tunland E features one of the more noticeable design elements.
It is a double cab pickup with both muscular and aggressive design aesthetics. However, it still manages to reserve a simple style with a dash of premium touches.
On the front, Foton Tunland E gets a muscular grille, complete with chromed three-lines and Foton's diamond logo.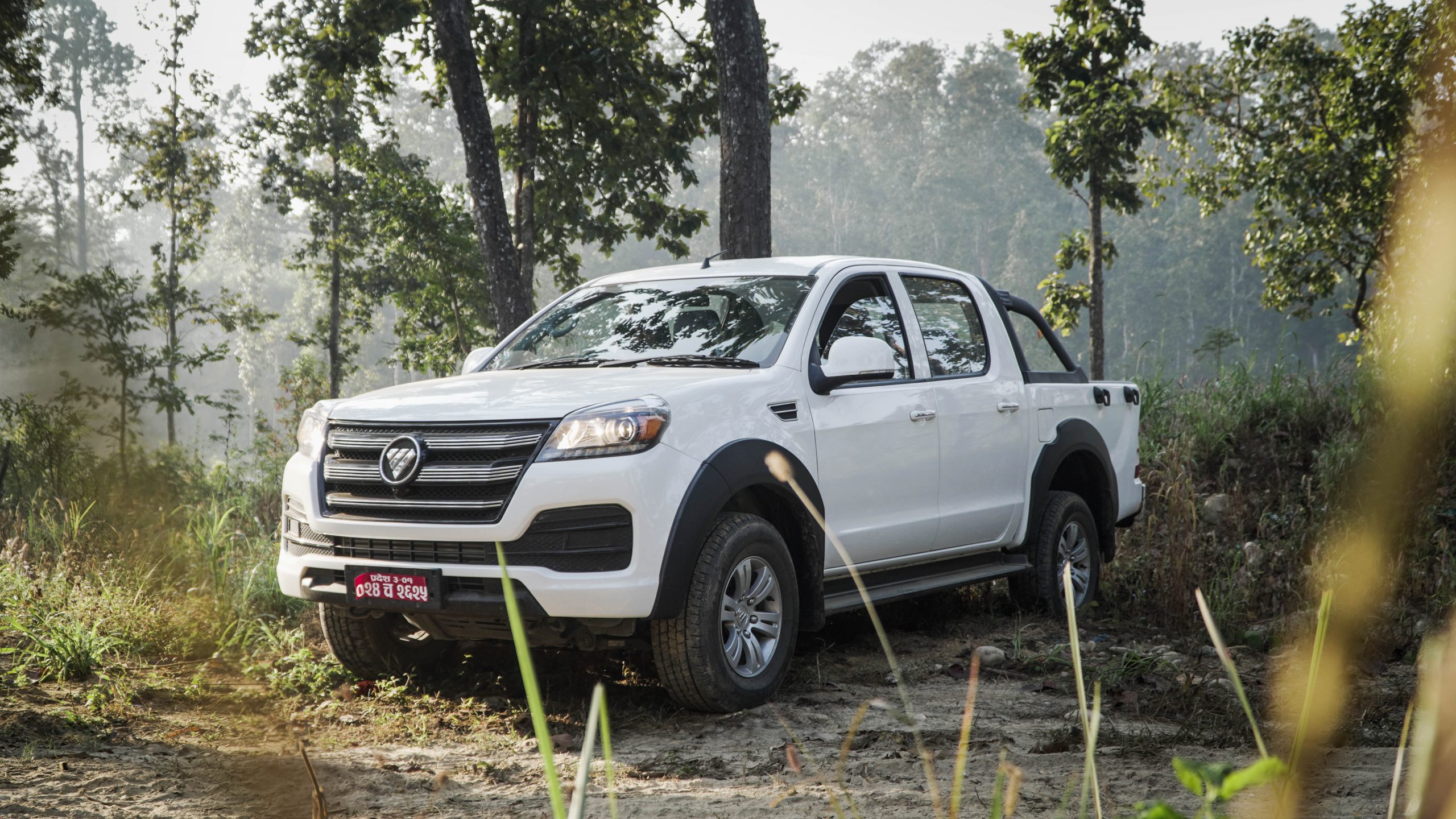 The projector headlamp adds yet another aggressive appeal to the truck.
Heading towards the side profile, the visual similarities continue with simple styling made more modern through the contrasting blacked-out wheel arches.
It feels premium through little touches like the chromed finishing on the handle, side indicator strips on the mirrors, and sidestep element.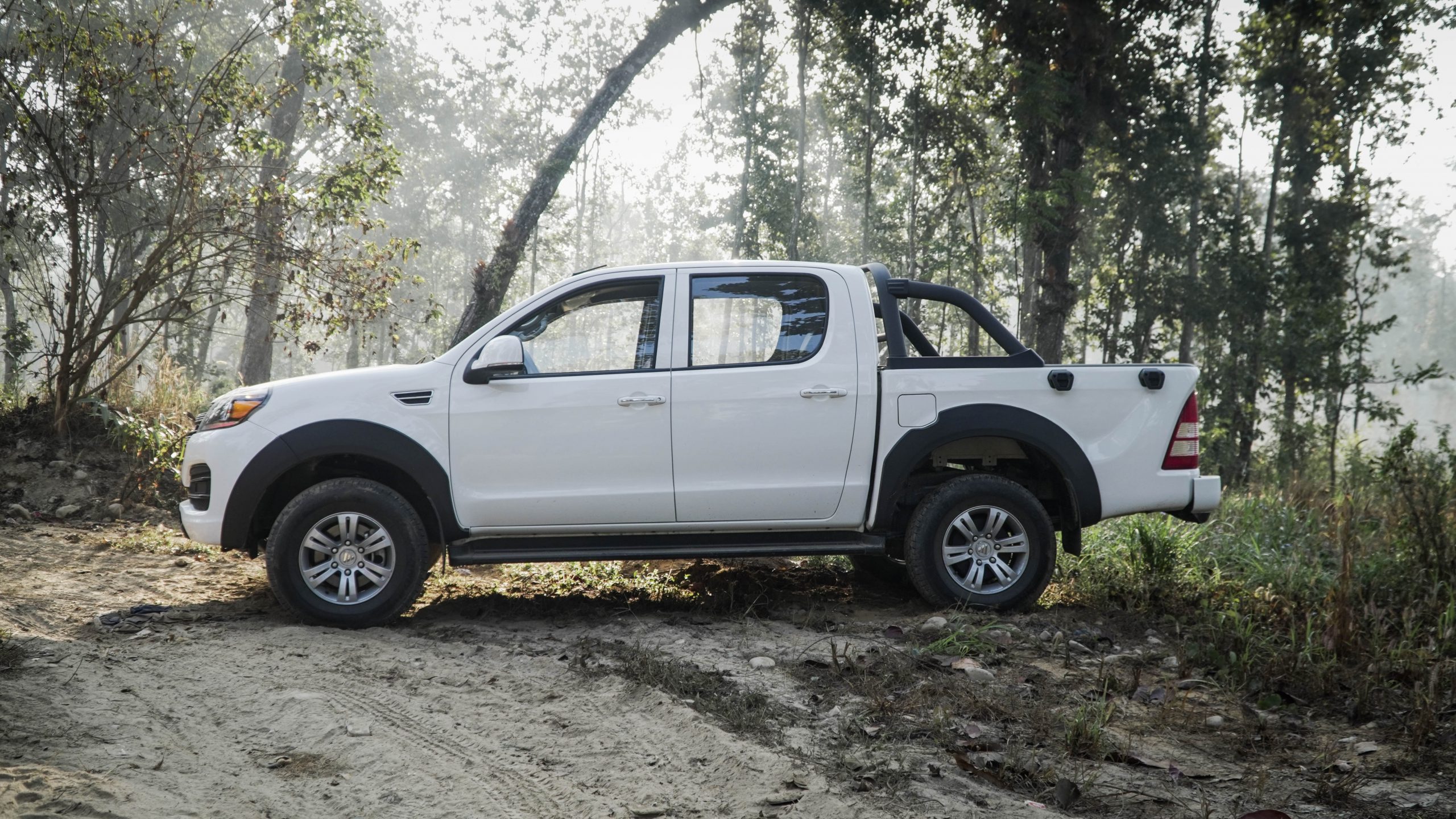 However, the side profile feels a little incomplete thanks to a jarring panel gap in the rear tyre section. This even makes the tyre feel small!
While Foton might have opted for future customizable options, the end result feels rather incomplete.
Interestingly, the rear section is comparatively simpler than the front one. So, there is not much to talk about.
Diesel Engine
Foton Tunland E is powered by a 2.8L, inline 4-Cylinder, Common Rail Diesel Engine. It can generate a max power of 113 bhp at 3600rpm and 280 Nm at 1600-2400rpm. Additionally, the engine comes with Turbo Charger and Intercooler as standard.
Moreover, it is mated to a 5-speed transmission with 4×4 capabilities.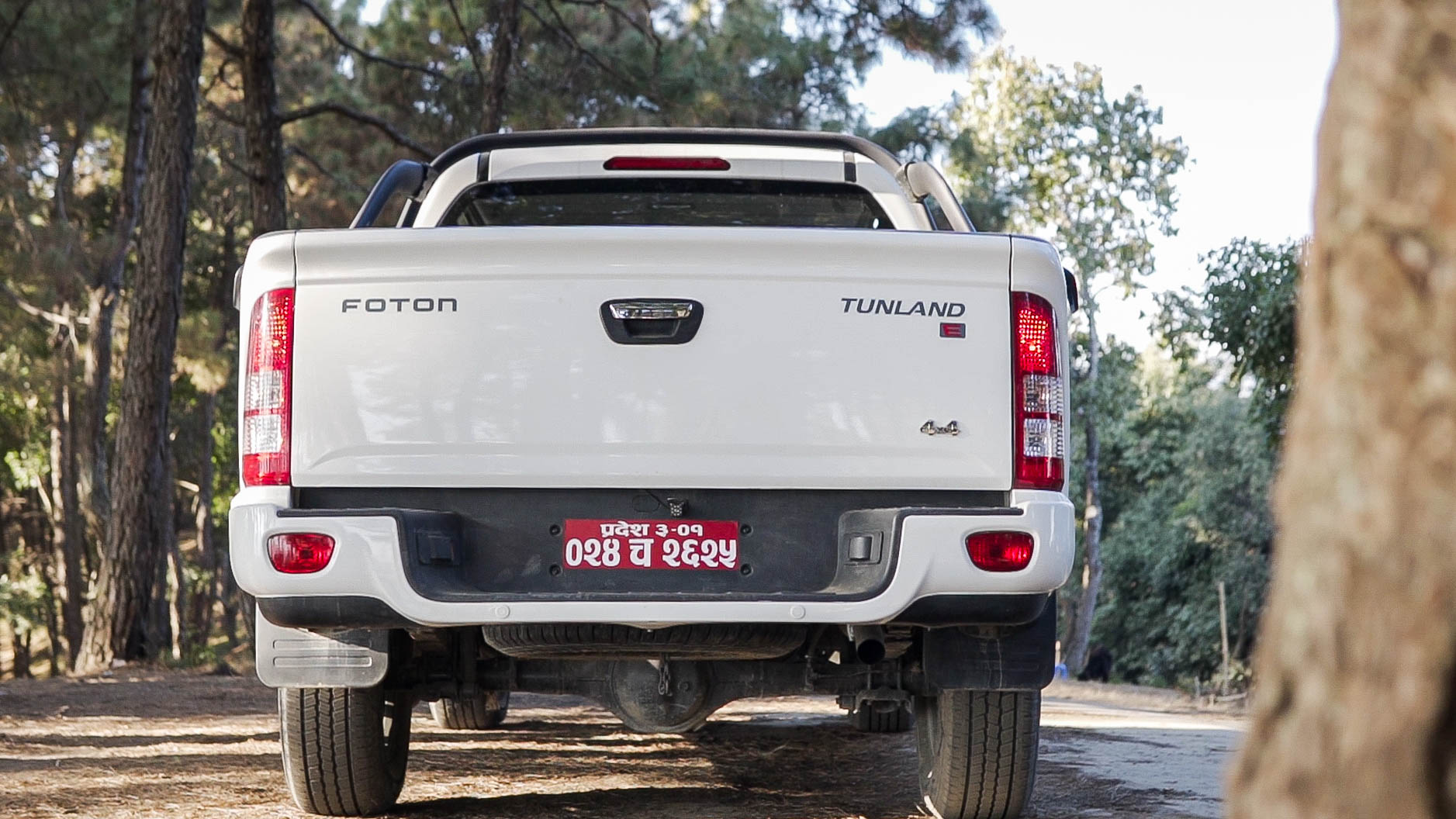 Talking about the suspension setup, it gets a Double Wishbone with Coil Springs at the front and Leaf Springs with Shock Absorber at the rear.
Moving on to the braking system, the Tunland E gets a standard Disc-Drum combo with ABS as standard. However, the inclusion of Electron Brake Distribution (EBD) will depend on the specific variant.
The Tunland packs in impressive performance numbers, acceptable for a truck at this price point.
Practical Features
Foton Tunland E is available in three different variants. While the exterior design and engine are almost similar, it differs in terms of few features.
However, Tunland E has included all of the essential key features. Here is a quick highlight of all the new features in the new Foton Tunland E.
Foton Tunland E Feature Highlights
Muscular Design with Stylish Exterior
2.8L 4-Cylinder Engine
Projector Headlamp Setup
Standard Dual Airbags
ABS with EBD
210mm Ground Clearance
1000Kg Payload Capacity
Analog Cluster with Center Digital Information Display
Automatic AC
Electric Rearview Mirrors with Side Indicator Strips
Power Steering
Central Locking System
Speed Sensing Door Locks
16-Inch Wheels (Alloy Wheels Optional)
Integrated Audio System with USB Support (Touchscreen Optional)
Rear Camera with 360 Camera (Optional)
First Drive Experience
So far, we have only gotten a day to spend with the new Foton Tunland E.
While it isn't enough time to fully experience the truck, it is just good enough to gather a sort of impression.
I'll be honest here.
Foton Tunland E managed to surprise us big time, surpassing our level of expectations in style, quality, and performance.
The look and feel of the truck emulate its rivals like the Toyota Hilux and ISUZU D-Max V-Cross.
It is one of the more stylish offerings at this price point, putting behind rivals like Mahindra Pickup and ISUZU Hi-Lander.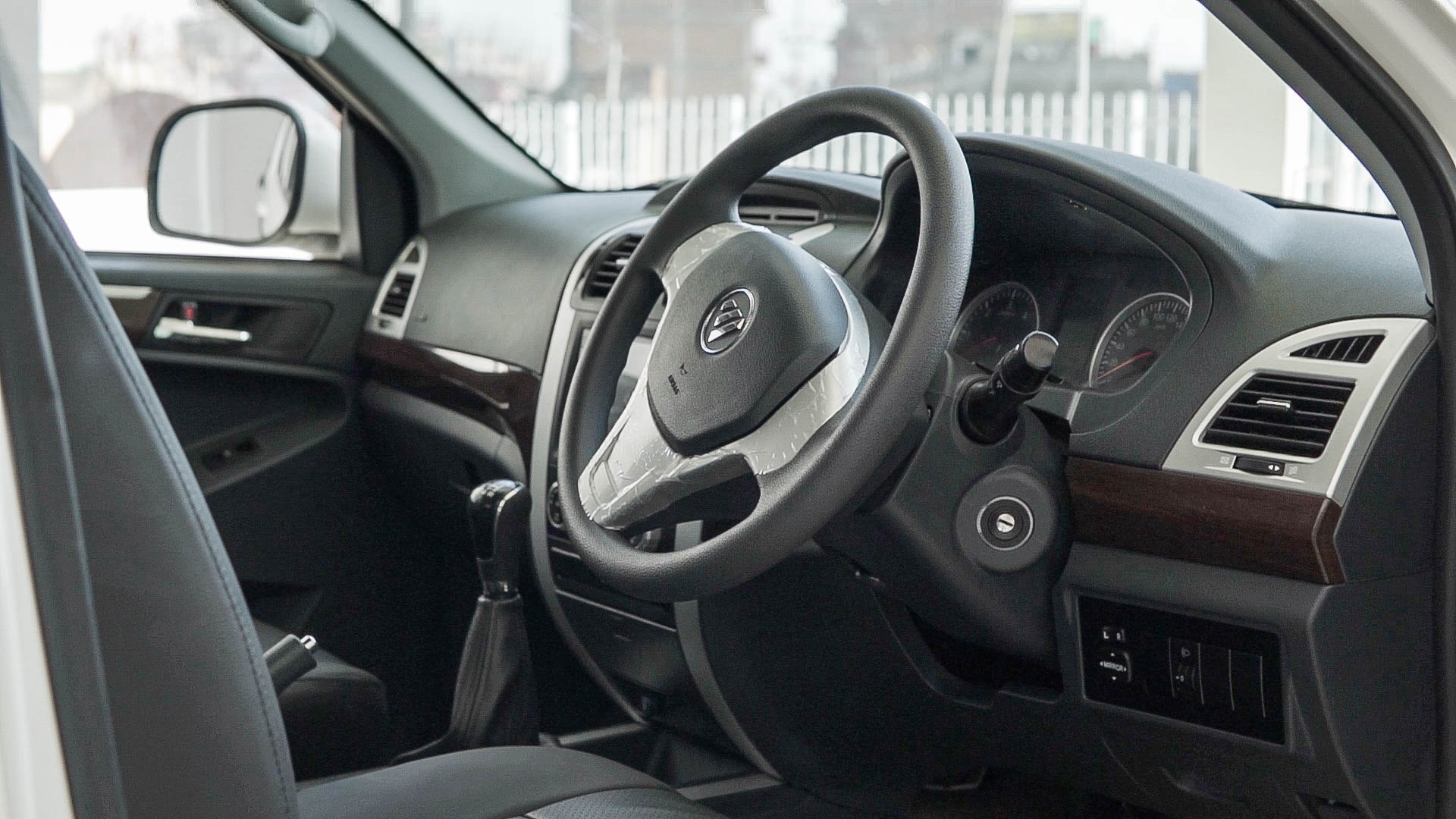 That being said, the truck fails to create the same magic on the inside, as it did on the outside. The interior feels neglected, finished off with cheap plastic materials, and poor build quality.
Foton had to cost-cut somewhere to bring down the cost. Like it or not, the interior section was the only reasonable place to do it.
Nonetheless, Foton tries to give a sort of premium experience inside as well.
With a wood panel finishing, the interior possesses a hint of a premium feel. Moreover, the Tunland E tries to feature as much storage space as possible.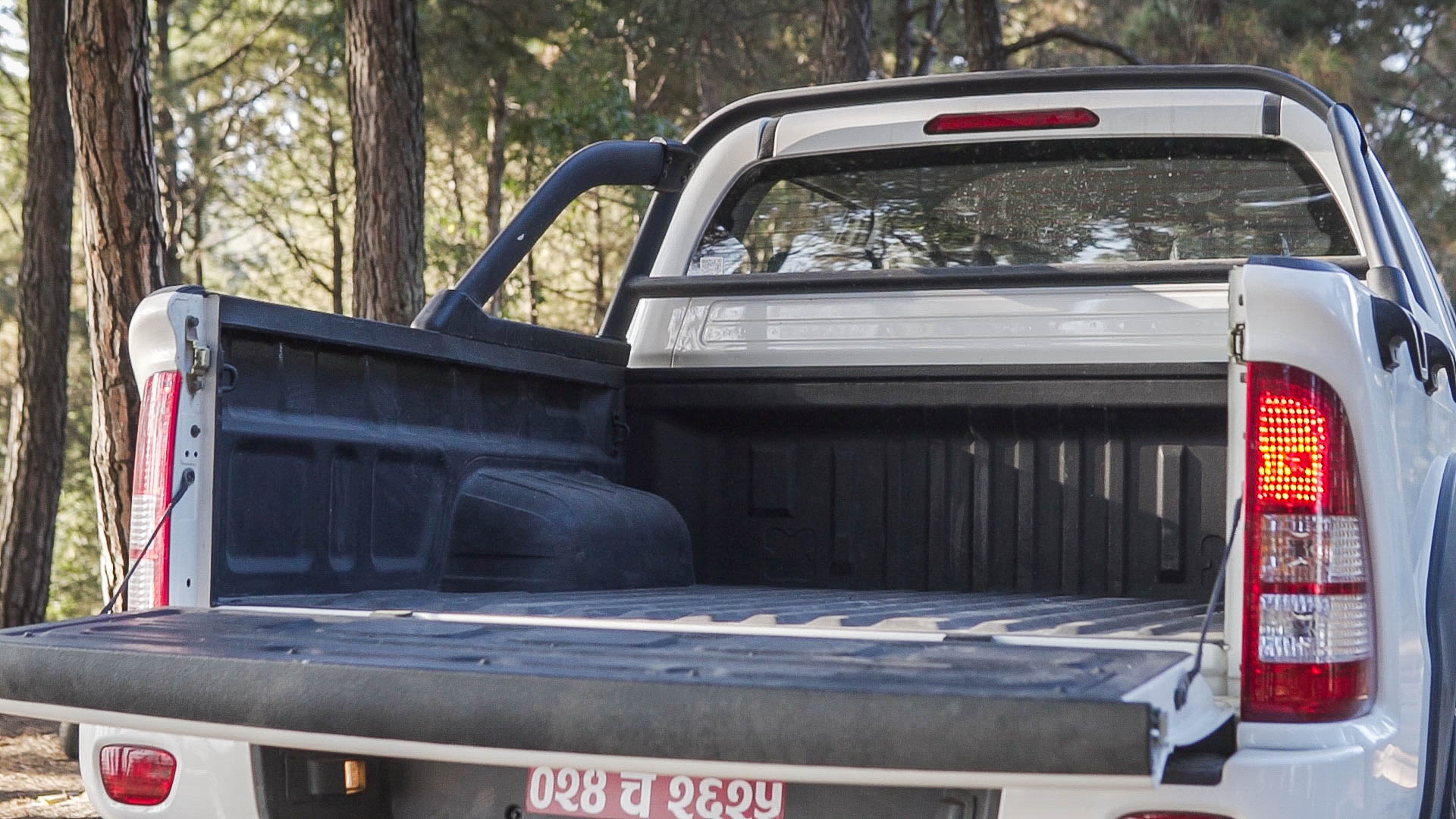 Moving on to the performance, the engine feels refined.
While the engine roars on top of its lungs, the vibrations are kept at a minimum. Additionally, the on-road experience feels fine, with no hint of any underlying problems.
The suspension feels a little stiff for a pickup truck.
When you sit on the driver seat, the viewing area falls in an elevated position. The viewing from the truck feels confident enough.
Talking about the driver seat, it features front-back manual controls without any height adjustability. The seat comfort is decent, although I had high hopes for a softer cushion feel.
However, Tunland E tries to overcome its shortcomings with spacious legroom and headroom.
It is an interesting combination.
Tunland E has both good and bad aspects. However, it goes an extra length to mitigate those bad aspects with additional good features.
Again, we should not be so quick to judge since we still have a few more days to spend with the all-new Foton Tunland E.
This has been our first impression, we will be back with our Full Review soon enough!
READ NEXT: ISUZU Hi-Lander 4×4 Launched in Nepal for Rs. 56.90 Lakhs