e-Commerce companies around the world have been keeping the supplies flowing during all these crisis. If we see the global trend, e-Businesses are growing as a strong pillar to reduce the risk of new infection because of its contactless delivery mechanism. But, e-Commerce companies in Nepal have been seeing a lot of disruption during the home delivery of essential goods.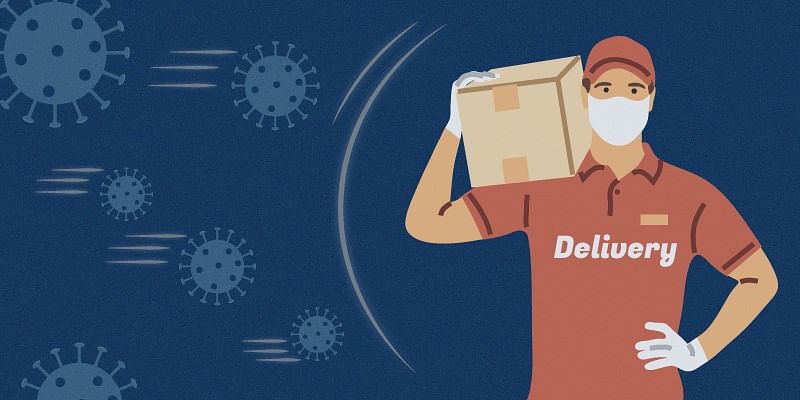 Sagar Dev Bhatta, founder of MeroKirana, says that the State is not yet clear on permitting the e-Commerce companies or home delivery of essential items during the restrictive orders.
The entrepreneurs share that they have been facing disruption because of unnecessary interruption and interrogation from traffic police and even stopping vehicles for 6-8 hours.
Anil Basnet, co-founder of MetroTarkari shares that the delivery persons of MetroTarkari faced interrogation from traffic police a few times while returning from delivery and while going to purchase vegetables in the early morning at 6.

"The van was held for three hours in the evening of May 1 and on the next day, they halted the vehicle for the whole day," says Basnet. MetroTarkari has been delivering vegetables, fruits, and meat products.
Bhatta shares that they have not been able to deliver the grocery items smoothly due to the unclear provision in the notice. "However, we deliver in case of emergency," he says. MeroKirana home-delivers daily grocery items.
e-Business Association, Association of e-Commerce businesses in Nepal had submitted a letter last week to the Chief District Officer of Kathmandu, Bhaktapur and Lalitpur, Covid-19 Crisis Management Centre (CCMC), and Ministry of Industry, Commerce and Supplies requesting them to allow smooth home delivery of essential and non-essential items. But nothing helpful has come out of it till now.
Timing is an issue 
Recently, the District Administration Office (DAO) of all three districts of Kathmandu valley and the Department of Commerce (DoC) and Supply Management has published a notice which mentions that essential products including vegetables, fruits, milk, dairy products, and groceries will be allowed to deliver only before 10 AM.
As per DSP Sunil Shah, Nepal Traffic Police, the traffic police have been holding the vehicles if they operate after 10 AM.
Bhatta shares that delivery is time-consuming as it takes a lot of time for sanitization. "It is impossible to cater to the demands in such a short period," he says.
ALSO READ: Danphe Care: This Telehealth Platform is Providing Remote Consulting to Covid-19 Patients
Basnet from MetroTarkari shares that an online delivery company can't deliver in 2-3 hours. "We need to deliver in different places outside the valley. The time allocated for delivery is not enough," he shares.
Lino Ahlering, managing director, Daraz says that though they have been delivering only in the morning, this is not a long-term solution. "We must have a clear operating rule to deliver throughout the day." he says.
Ahlering views that as the restriction will be there for a while, we need to design sustainable solutions to fill the gap in the market. Currently, Daraz is only delivering essential items as categorized by the government.
Though the companies share their concerns regarding disruption, the traffic police have their challenges. According to DSP Shah, initially, there were many cases where the vehicles operated haphazardly in the name of online delivery. "So, now, we are strict with the time when it comes to grocery and delivery of other food essentials," says Shah.
No clear directive for online delivery
Even though the grocery shops and department stores are allowed to open and deliver items for certain hours, the government hasn't mentioned specifically about the e-Commerce deliveries in any notice. There is no clear directive for online delivery from the DAO.
"I have no idea about e-Commerce, but we have set a particular time for vehicles with essential products to avoid unnecessary movement in the daytime," says Dhundi Prashad Niraula, Chief District Officer of the District Administration Office, Lalitpur.
In August 2020, during the prohibitory order, Nepal Police had arrested a number of e-Commerce entrepreneurs for violating the restriction which was implemented to curb the Covid-19 infection. However, the issues were resolved later and the companies were allowed to deliver smoothly. But this time, the issue still looks unresolved.
Responding to all these, Prakash Paudel, director-general of the DoC (Department of Commerce), has requested the DAO and Traffic Police to allow seamless essential deliveries. He says that an online delivery company that has been operating legally will be allowed to deliver following the rules by DAO.
"Most of the entrepreneurs have been facing interrogation while returning from the delivery. In this case, one must show their bills and PAN registration document. At this time, they have to carry all the official documents with them," says Paudel.
Also, e-Commerc companies should deliver within a specific area, opines Paudel. They have to register their vans or bikes and collaborate with the local unit to deliver in a particular area so that they can finish on time without hassles, he shares.
Confusion regarding 'essentials' and 'non-essentials'           
Another problem is the category of goods that have been considered as 'essentials'. The government has restricted the delivery of non-essentials. But at a point in time, where everyone is confined at home, a basic necessity from one person to another is viewed differently. For instance, for those who are working remotely, repairing a laptop has to be considered essential.
"Students require stationaries, tablets, notebooks, crafts for their online classes. Corporates who now work from home might require mobile, chargers, laptop and accessories and other essential household items," writes the letter submitted by e-Business Association.
"The government must reconsider what it has categorized as 'essential and non-essential'," shares Ahlering from Daraz.
"We understand that measures have to be taken. But, it is evident that e-Commerce and home delivery has been filling a gap by keeping the flow of supplies and saving businesses and jobs of people," he says. In Daraz only, we have more than 5,000 sellers. Hence, the government needs to understand that e-Commerce supports the economy.
As of May 7, there are 368,580 active coronavirus cases in Nepal. Already 3,529 people have passed away due to the pandemic and 2,92,490 individuals have recovered.
Ecommerce entrepreneurs claim that they have been promoting safety measures. They share that the delivery is contactless.
"We sanitize delivery vehicle and the cash used for transactions, use mask, follow social distancing and do the contactless payment," says Basnet from MetroTarkari.
Basnet from MetroTarkari says they have been encouraging the consumers to do the digital payment. "80 percent of our customers pay online," he shares.
READ NEXT: Denied of Unified License, CG to Launch Fiber Internet Service in Nepal