Dish Home is one of the oldest DTH TV service provider in Nepal. Now, they are expanding their service by providing fiber internet service.
Right now, the service is only available in limited areas of Kathmandu valley like Bhainsepati, Kapan – Boudha area, and Tinkune – Baneshwor area.
Before this, Dish Home was also planning to launch internet service via satellite service (VSAT). This service would mainly provide internet service to remote areas where the expansion of fiber internet is difficult. However, the COVID outbreak has delayed this project.
Dish Home Fiber Internet
Dish Home has not been able to go ahead with their satellite internet plans but they have launched FTTH (Fiber To The Home) service.
Currently, it's only available in selected areas but they plan to expand its service outside of Ring Road within 2077 BS. They expect to attract 12,000 customers during this phase and then they will expand its service inside the Ring Road.
Dish Home Fiber Internet Packages
Right now, Dish Home offers two bandwidth packages: 25Mbps and 40Mbps. You can choose either of these packages on a monthly, quarterly, semi-annually, and yearly basis. Dish Home and SimTV users will get a slight discount if they choose to go for an annual subscription.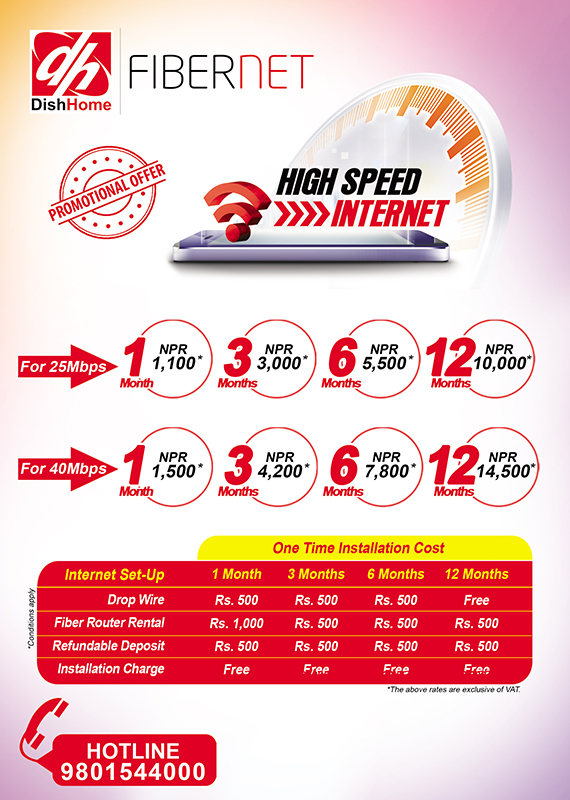 You have to pay for drop wire, fiber router rental, and refundable deposit as a part of installation cost. But, they are not charging extra installation charge as of now. Also, you don't have to pay for drop wire if you subscribe to the annual package.
Below are the packages and prices exclusive of VAT.
| Internet Package | 1 Month | 3 Months | 6 Months | 12 Months |
| --- | --- | --- | --- | --- |
| 25 Mbps | Rs. 1100 | Rs. 3000 | Rs. 5500 | Rs. 10000 |
| 40 Mbps | Rs. 1500 | Rs. 4200 | Rs. 7800 | Rs. 14500 |
Below are the details for a one-time installation cost. Prices are exclusive of VAT.
| Internet Set-Up | 1 Month | 3 Months | 6 Months | 12 Months |
| --- | --- | --- | --- | --- |
| Drop Wire | Rs. 500 | Rs. 500 | Rs. 500 | Free |
| Fiber Router Rental | Rs. 1000 | Rs. 500 | Rs. 500 | Rs. 500 |
| Refundable Deposit | Rs. 500 | Rs. 500 | Rs. 500 | Rs. 500 |
Furthermore, it's mentioned that there are no FUP (Fair Usage Policy) restrictions right now.
Dish Home Fibernet Availability
Dish Home FTTH service is available within Kathmandu Valley specifically in Bhaisepati, Bungmati, New Baneshwor, and Tinkune area. It's good to see new internet service offerings in Nepal. This could help to drive competition which is always good for the end customers.
We shall wait and see if Dish Home's FTTH service can rival the likes of NT FTTH, Worldlink, and Vianet in upcoming days.
For further details contact 9801544000 or visit the nearest Dish Home dealer.
ALSO READ: NEA Starts Installing Smart Electricity Meters in Kathmandu