Daraz, the biggest e-commerce marketplace of Nepal has introduced a new feature for its customers. The new feature is a 0% EMI facility which allows customers to purchase products from daraz on the monthly installment option.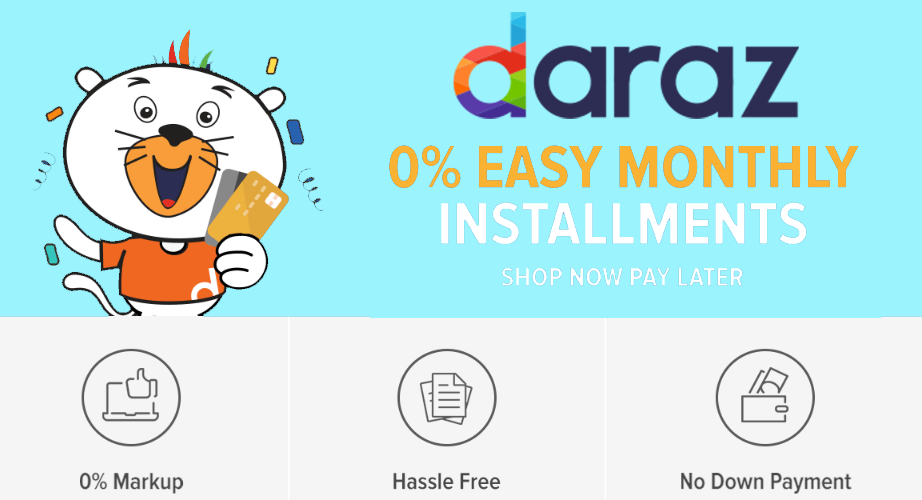 This service is available via select banks and there are some details that you need to take a look at. So, let's take a brief look at Daraz's new 0% EMI facility.
Daraz 0% EMI Facility
First, 0% EMI (Equated Monthly Installment) is a fixed payment amount made by a borrower to a lender each month without any interest. The EMI plan can have a variable payment duration from 3 months to 6 months.
Normally, you would need to make a downpayment on an EMI plan but Daraz is offering 0% downpayments along with a 0% interest rate.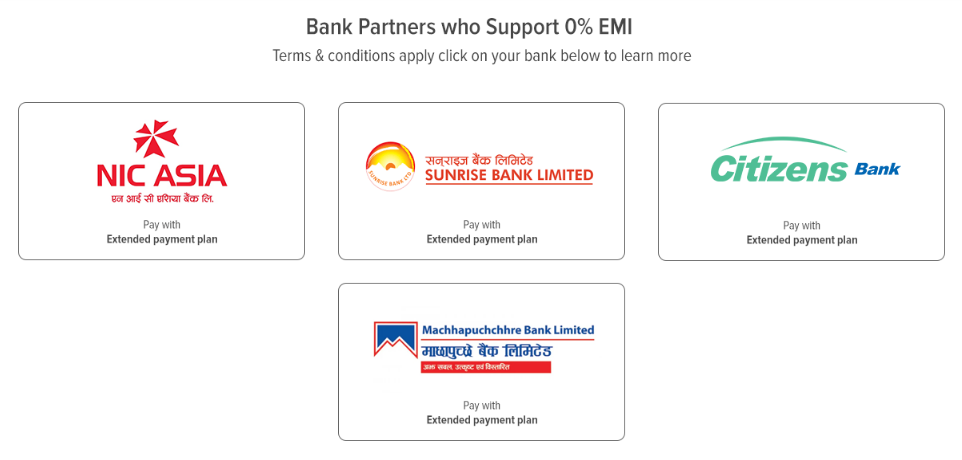 So, if you purchase a product worth Rs. 60,000 with Daraz's EMI facility with a 6 month period then, you will need to pay Rs. 10,000 each month for 6 months. There are no extra interest rates or hidden costs.
ALSO READ: Infinix Note 8i with Helio G80 Launched in Nepal Exclusively via Daraz
However, this facility is only available for credit card holders of select banks and you will need to pay certain credit card charges. Do note that the full outstanding payment will be blocked on your credit card.
As of now following four banks support Daraz 0% EMI.
NIC Asia
Sunrise Bank
Machhapuchchhre Bank
Citizens Bank
How to Convert to EMI Payment Option?
First, you need to make sure you have a single product in your cart. Also, the individual item worth should be at least Rs. 15,000 or Rs. 10,000 depending on the bank. Then make payment with the credit card of the aforementioned partner banks.

After that, you will need to call the respective bank to convert to EMI. For NIC cardholders you can simply fill the EMI request form. You will also include the details like the tenure of the EMI plan (eg: 6 months EMI).
Then the bank will convert your payment to EMI as per request. You will receive an SMS from your bank once this is done. Note that the tenure, min item value, and max item value are different according to the partner banks.
| Bank | Tenure | Max. Cap | Min. Value |
| --- | --- | --- | --- |
| NIC Asia | 3 Months | Rs. 140000 | Rs. 15000 |
| Citizens | 3/6 Months | Approved Limit | Rs. 10000 |
| Sunrise | 3/6 Months | Approved Limit | Rs. 15000 |
| Machhapuchchhre | 3/6 Months | Approved Limit | Rs. 15000 |
What Are The Terms and Conditions for EMI Facility?
For EMI transactions to be approved there are 3 major conditions.
Your cart should have only one item and the total card value should be equal to or less than the available credit limit on your credit card.
0% EMI is applicable on the individual products and not on the total cart value. The minimum cart value is Rs. 15,000.
A call to the bank has to be received within 15 days of making the payment.
Once you request Bank to convert your payment to EMI, it will take up to 7 working days for the installment to reflect on your credit card statement.
Also, you cannot convert a partial amount of your order onto the EMI plan. So, if you're buying a TV worth Rs. 30,000 then the whole amount will be converted to an EMI plan as there's no downpayment option.
This service is already in place and you can enjoy the full benefit of 0% EMI on all kinds of products. For more information, head to the 0% EMI page of daraz.
---
Also, watch our latest Samsung S21 review in Nepali.