The Central Investigation Bureau (CIB) of Nepal Police has warned against engaging in cryptocurrency, hyper funds, or digital networking.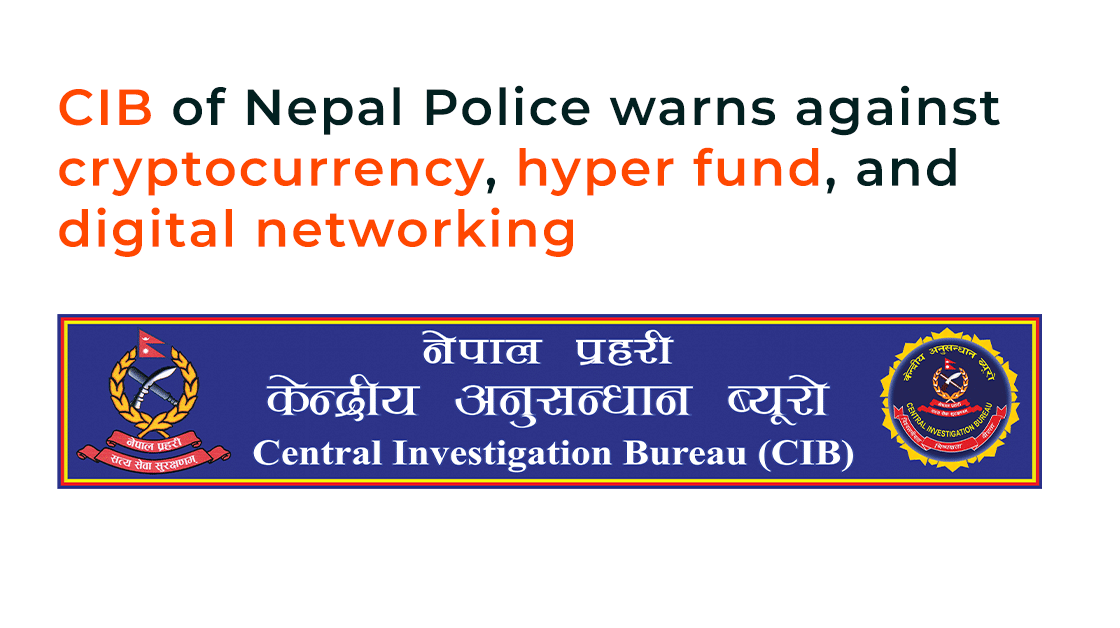 All businesses and transactions involving cryptocurrency, hyper funds, or digital networking are illegal in Nepal. The CIB issued a press release on February 13, 2022, stating such transactions are prohibited.
The CIB stated that it is monitoring such illegal activities and has taken action in the past against those involved following an investigation. Therefore, the bureau strongly advises against engaging in such businesses or transactions.
The CIB also warned of taking strict legal action against those who are part of such illegal activities in any way. Additionally, if anyone is aware of individuals or institutions engaged in such illegal activities, the CIB requests them to inform it.
The press release mentions that the people who are involved in such activities are fined up to three times the property value or imprisoned for up to three years, or both punishments shall be given by confiscating the property related to that crime.
If there is a condition that the property cannot be fixed while punishing, a fine of up to a maximum of one million rupees or imprisonment of up to three years, or both the punishments shall be given by looking into the extent of the crime.
READ NEXT: Banks in Nepal Can Now Offer Digital Loans of up to Rs. 5 Lakhs
Virtual Currency, Cryptocurrency, E-money, and Digital Currency
On February 8, 2022, Nepal Rastra Bank, the country's central bank, also issued an educational notice on cryptocurrency and network marketing in an effort to improve financial literacy.
The notice explained the definitions and differences between virtual currency, cryptocurrency, e-money, and digital currency. It mentioned that there are two types of virtual currency: centralised virtual currency and decentralised virtual currency.
A centralised virtual currency is controlled by a single administrator, and payments can be made in fiat currency.
Decentralised virtual currency is called cryptocurrency. It is secured by cryptography and is not managed by a central authority, but by a decentralised system based on blockchain technology. It is prohibited in Nepal.
Electronic money, abbreviated e-money, is distinct from cryptocurrency or virtual currency. E-money is a digital version of fiat currency that is used to transfer the actual value of the currency.
The term "digital currency" can mean both virtual currency and e-money. Instead of paper currency, the central bank can issue digital currency called central bank digital currency (CBDC).
Network Marketing and Pyramid Scheme
The notice explains that network marketing, also known as multilevel marketing (MLM), is a business strategy that encourages existing members to recruit new members, promote and sell products or services.
While not all multilevel marketing schemes are fraudulent, many of them are illegal pyramid schemes. Membership recruitment is the main source of income for these types of schemes, not product sales.
The notice warns that businesses such as Jocial, Crowd1, and Solemax Global are pyramid schemes claiming to be marketing companies.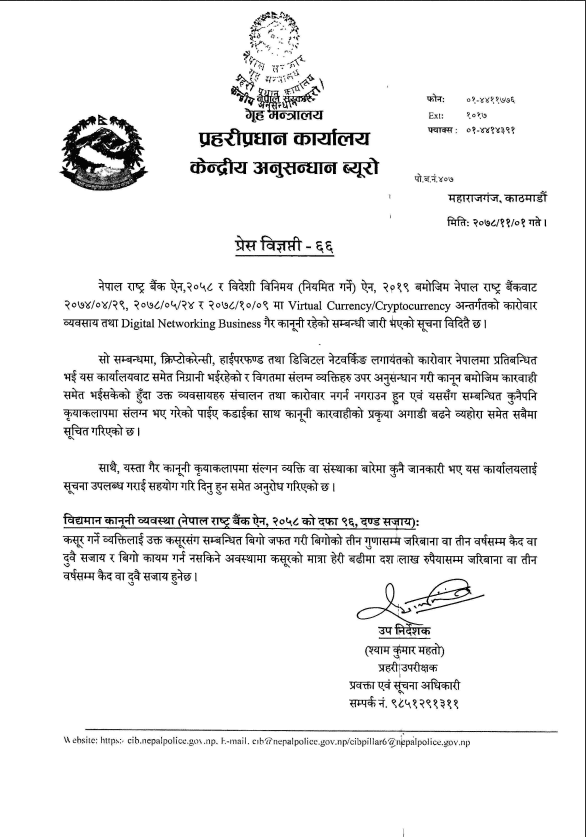 READ NEXT: NRB Directs Digital Payment Providers to Implement Interoperability in Nepal