CG NET, a relatively young but rapidly growing Nepali ISP that is also a part of Chaudhary Group (CG Corp Global), has introduced a new 50Mbps internet package at just Rs. 649 per month.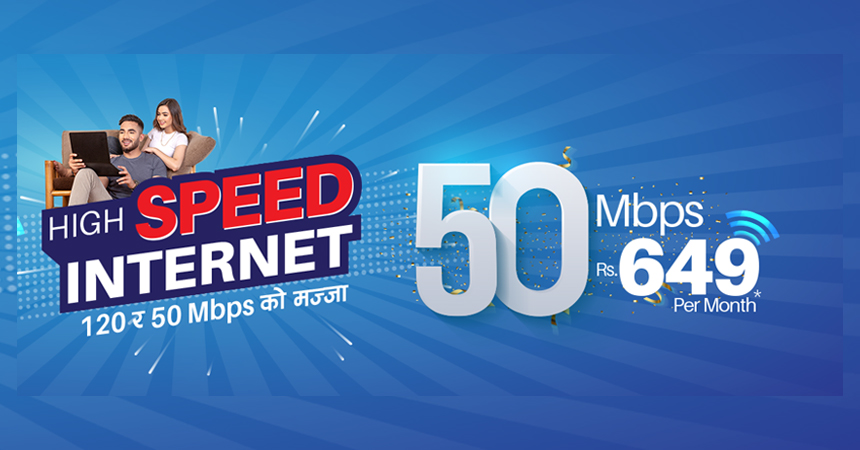 The ISP acquired popularity in a relatively short period of time after launching the 120Mbps package, which was the fastest internet speed option at the time, for just Rs. 999 per month. The company has now announced an even more affordable 50Mbps plan.
So, let's see in detail the pricing, FUP, and availability of the CG NET 50Mbps internet package in this article.
ALSO READ: WorldLink Introduces 300Mbps Internet Package with Mesh Wi-Fi System
CG NET Package and Prices
If the customers decide to pay monthly, they only need to pay Rs. 649 per month (Rs. 733.37 including 13% VAT) for the 50Mbps package. This is by far the most affordable 50Mbps internet service in Nepal in 2021. For comparison, I pay WorldLink Rs. 1,549.56 per month (Rs. 1751 including 13% VAT) for 30Mbps (30Mbps download / 20Mbps upload).
One-time set-up fees are the same as the 120Mbps package, with the exception that the dual-band router is not included for free even if you subscribe to a yearly plan, which was not the case with the 120Mbps plan.
Plan 
1 month
3 month
6 month
12 month
50 Mbps
Rs. 649
Rs. 1,947
Rs. 3,894
Rs. 7,788
One time Set-Up charge
Installation Charge
Free
Free
Free
Free
Drop Wire Charge
Free
Free
Free
Free
Single Band Router
Rs. 2,500
Rs. 2,000
Rs. 1,500
Free
Dual Band Router
Rs. 3,500
Rs. 3,000
Rs. 2,500
Rs. 2,000
Refundable deposit
Rs. 500
Rs. 500
Rs. 500
Rs. 500
*Note: The prices are TSC inclusive and 13% VAT is applicable on the prices.
CG NET Coverage Area
The CG Net was initially only available in a few locations, including Jawalakhel, Jhamsikhel, and Ekantakuna. However, the ISP now serves a variety of places throughout Kathmandu and is rapidly expanding its coverage area.
To see if the CG NET has arrived at your location, click here.
CG NET's Fair Usage Policy (FUP) for 50Mbps
Fair Usage Policy, or FUP, is a policy that ISPs use to throttle consumers' internet speeds if they consume too much of the ISP's bandwidth.
The CGNET Fair Usage Policy (FUP) only applies to individual subscription packages. Data usage is calculated every month by combining download and upload data. Below is the table of CGNET's FUP for the 50Mbps package.
| FUP Level | Data Usage Quota | FUP Speed Policy |
| --- | --- | --- |
| Original Data Bandwidth | Data Consumption to 1300 GB | 50 Mbps Original Speed |
| Level 1 | Data Consumption 1300-1400 GB | 50% of original |
| Level 2 | Data Consumption 1400-1500 GB | 30% of original |
| Level 3 | Data Consumption More than 1500 GB | 10% of original |
There are three levels of speed throttling based on the customer's usage throughout the course of a monthly cycle. When clients exceed the Level 1 Fair Usage Quota threshold (1300-1400GB), their speeds will be throttled to 50%, 30% when they exceed the Level 2 threshold (1400-1500GB), and 10% when they exceed the Level 3 threshold (>1500GB).
READ NEXT: Vianet Purple Pack Offer Brings Internet and TV with Free Data and Talk Time
If a subscriber's FUP quota has been reached, their data consumption counter will be reset on the first of each month, and their internet speed is restored.
What do you think of the 50Mbps plan? Would you install it in your home? Let us know in the comments!