This year has really turned out to be really challenging for us Nepalese. Problems have been in fully ready condition to test our patience in every possible way. We were gradually recovering from the earthquake and returning, but the unofficial blockage by India has again caused a huge crisis. But, amongst all these problem something really innovative and exemplary practice and has been introduced among us, i.e. Carpooling. As they say, necessity is the mother of invention, the fuel crisis and has given birth to a practice of giving and taking lifts. This exercise has been really helpful to many people.
This practice firstly got popular through a Facebook group named "Carpool Kathmandu", started by Sumana Shrestha. In this group, people could both ask and offer lifts by specifying the destination and time. People got highly involved in this group and currently there are more than a hundred thousand members in the group, who ask help when needed and also offer when they are able to. They also share their wonderful experience about carpooling.
Also of Interest: KLL Visualizes Development of Nepal
But, as the group got more popular and with involvement of many people, it started becoming harder for the users to get their required information. However, the problem was solved as the Fawesome apps created a mobile application targeting the Carpoolers. This app is also named as "Carpool Kathmandu". It is an android based application which makes the process of carpooling easier.
How to use Carpool Kathmandu App

Login with your Facebook account and complete the profile to start using the app. You can select if you can make offers or not. If you have a vehicle and can make offers, then, click yes and select the vehicle type.
View the asks and offers listed by fellow Carpoolers. View their details and connect it matches your route. You can also search by location.
If the asks and offers do not match your route, add your own.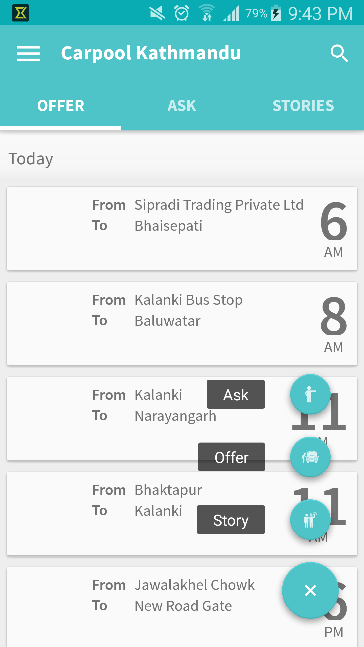 Read the inspiring stories and write our own stories to inspire others.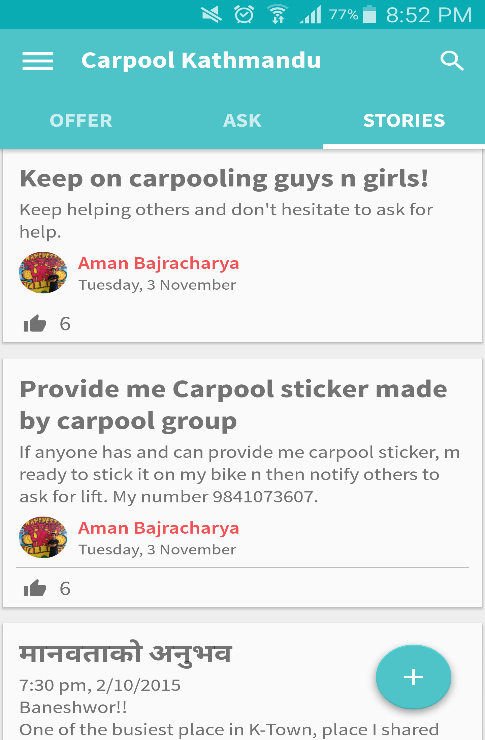 You can also view your profile to track your activities.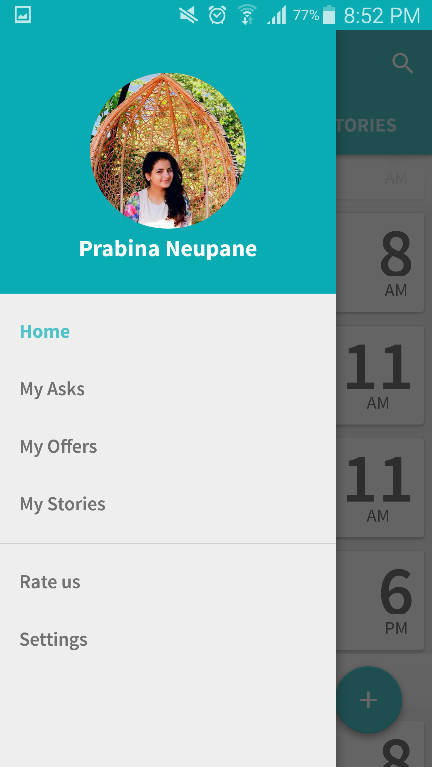 Overall, this is an interactive application and is also easy to use. Moreover, it has brought all of us together and built a habit of helping each other in need.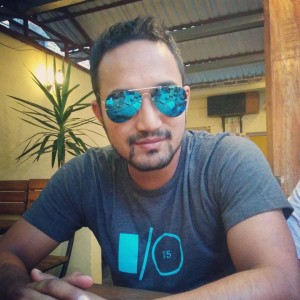 We asked some question to one of the main person behind this app Mr. Anish Shrestha to share his views about the whole idea of carpooling. Anish is Co-founder and CEO of Fawsome apps.
What is your view about the whole idea of carpooling in present context?
Ride sharing concept has been taking some pace in recent years globally. As for Nepal, this was the idea born and implemented in the heat of the necessity. It's really amazing to see how the community has contributed in helping people to commute and make inspiring stories out of it. Personally, I am very excited with the Carpool Kathmandu and looking forward to see many inspiring stories.
At your point of view what points should be considered to continue compiling even after this issue ends?
The major concern regarding carpooling is making it easy, real-time as possible and making it trustworthy. The feeling of helping hands which we are seeing currently might fade away after fuel supply gets normal. So, we are brainstorming for ourselves about the future of Carpooling in Nepal but we want the voices to come from the community itself. We are taking surveys (survey link) and preparing an event on 28th Nov.
Also Read: 5 Interesting Quora Discussion on Startups in Nepal that you should not Miss
What are the other application created by fawesome apps?
Fawesome Apps is the mobile app development division at YellowNepal. The Fawesome Apps takes a vision of creating amazing apps that can cater the global users. It's been couple months we've been striving to make the products that touches lives. Carpool Kathmandu App is our third app. Our initial two apps were. 1. Instameme (Instant Meme generator app) and 2. Dublr (A cool way to dub your voice over the popular videos)
At last, on a personal note, we would like to say, at this point of time nation needs us. Thus, we need to contribute in every way possible. Thus, keep carpooling, keep helping.