WordPressers, listen up! WordCamp Kathmandu will make its debut on 19th November 2016.
If you don't already know what WordPress is, it is the most popular blogging and website content management system, supporting more than 60 million websites. It was first released on 2003 by Matt Mullenweg and Mike Little, and has quickly gained followers and has enjoyed greatest band strength of any open-source content management system. TechLekh is using WordPress as well.
About WordCamps
WordCamp is locally-organized, annual conference about WordPress. It hauls together WordPress community members from all over the world at a common place. It provides a great chance to share insights and experiences, conduct business and make connections and most importantly, talk about WordPress.

WordCamps have been conducted in Nepal since 2011 under the name WordCamp Nepal. However, WordCamp Kathmandu is a new thing. According to WordPress Nepal, the concept of WordCamp Kathmandu has been initiated to encourage the other smaller communities in the country.
This will not be the first ever WordCamp in Nepal though. WordCamps in Nepal were organized under the name of WordCamp Nepal and had been since the formation of WordPress Nepal in 2011. But starting this year, in order to encourage other smaller communities in the country as per an unofficial announcement by WordCamp Central, the concept of WordCamp Kathmandu was born.
Tickets
WordCamp Kathmandu tickets are already available. You can use online payment sites like eSewa, PayPal, Bank transfer, Cash Payments. For registration, you need to fill the form here. The ticket pricing is Rs. 2000 per individual.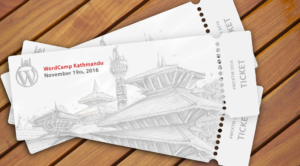 Where & Why
WordCamp 2016 will be conducted at Nepal Administrative Staff College, Jawalakhel. Everyone who has an interest and can afford should attend the event. I'd have preferred if there was some sort of student discount on the pricing, but I guess it's meant for professionals only. You can end up meeting with like-minded people, share your opinions and ideas and also have lots of fun along with good food.
For more details about the workshops taking place, the sponsors, the speakers and their topic, please visit WordCamp Kathmandu 2016.
If you want to have a glimpse of WordCamp Nepal 2015 then check the video below.