The first Tech Titans Futsal tournament was completed this past Saturday on 1st December. Out of 24 teams that participated in the event, CloudFactory emerged victorious after winning a very tense final that ended in a penalty shootout. IME Motors became the first runner-up of the tournament.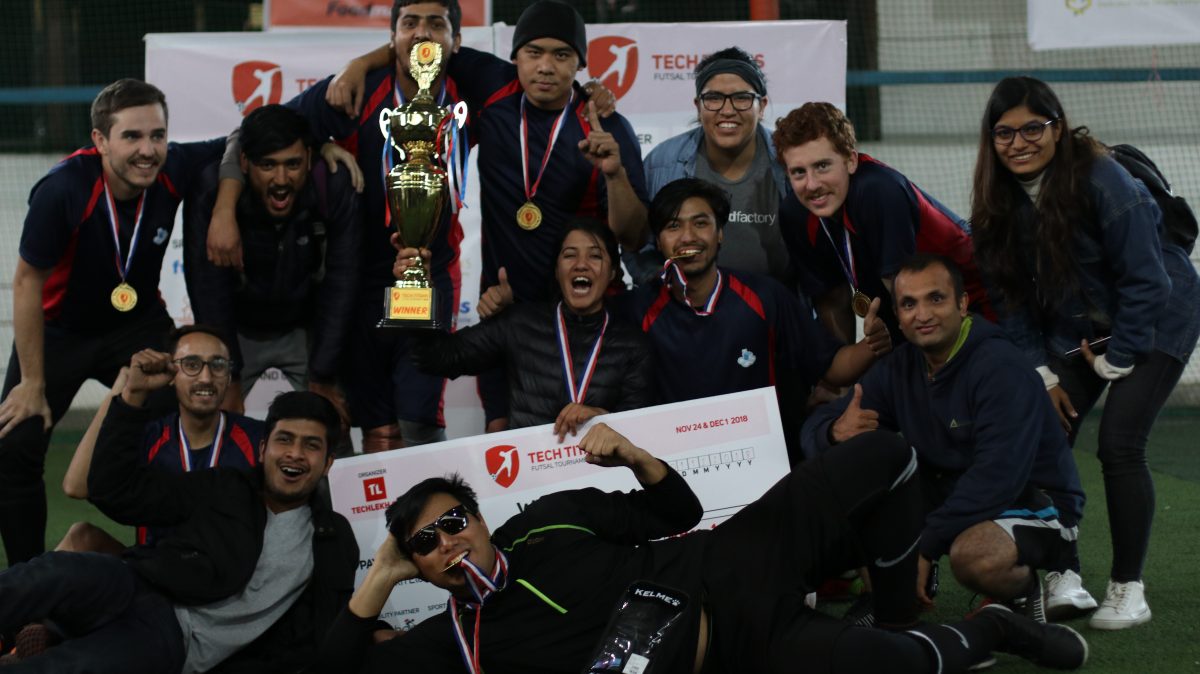 Kiran Gurung from IME Motors was named the best player of the tournament. Roshan Lama from CloudFactory won the award for the best keeper. Roshan saved a vital penalty which led CloudFactory to victory. The award for highest scorer of the tournament went to Suman Thapa from Team Deerwalk. There were 2 other players, Krishna Bista from Deerwalk and Ajay Tamang Lama from Naksha, who tied with Suman's goal tally of 7. But, Suman Thapa was awarded the highest scorer because of the important goals which helped his team qualify rounds after round.
This slideshow requires JavaScript.
The winner of the Tech Titans Futsal tournament won the grand prize of Rs. 1,11,111 along with a trophy, certificates, and medals. The runner-up took home the grand cash prize of Rs. 55,555 along with a trophy, medals, and certificates.
Thank You All!
This tournament wouldn't have been possible without the support of all the participating teams and the audience that cheered relentlessly for their teams. We would like to thank all of you for your enthusiastic contribution to the success of this event.
Also, we can't forget our sponsors. Without them, we wouldn't have braved to plan this tournament at all. We would like to thank all of them for there constant encouragement and financial contribution.
At last, we hope the people who attended the tournament made some lifelong friends along the way. You probably recognize some emerging faces in Nepal's everchanging tech-landscape. That was our main objective when organizing the event, to bring the tech community of Nepal together. We hope we succeeded.
We are looking forward to organizing the second Tech Titans Futsal tournament next year. All of you who participated this year and the companies who didn't participate this year are invited to take part next year. If you have any suggestions for improvement and thoughts on the first Tech Titans Futsal tournament, please feel free to contact us. Until then, enjoy the winter.