Amidst the launch of all the new SUVs and Hatchbacks, we have something totally different from a totally different category.
Well, there's a new luxury pickup truck in town! But that's not the complete story! It is from Ssangyong where the new pickup truck is called Musso Grand. As for the pricing, the Ssangyong Musso Grand price in Nepal is Rs. 73,99,000. Furthermore, it is brought in Nepal by IMS Motors, the authorized distributors. Currently, the pre-booking of Musso Grand is open and as per the reports the pickup truck is expected to get an official launch at NADA Auto Show 2019.

Yes, Ssangyong has been active for a while, bringing in some excellent premium SUVs in Nepal. However, this might be a first-premium pickup truck, paring it against Ford Raptor, Toyota Hilux and ISUZU D-Max.
If you think that the name of the both, the brand name and the pickup model, sounds weird, you're not alone. Since the brand is based in South Korea, these kinds of peculiar names are kind of their forte.
Ssangyong Musso Grand Overview
Okay, let's get obvious out of the way. Ssangyong Musso Grand—it is big, and it is premium. Although it is not the first brand to do a premium pickup truck, it is a brand with significant experience in the premium category.
This slideshow requires JavaScript.
As per the reports, Ssangyong Musso Grand is powered by a 2.2L diesel engine, which can generate a max power of 181HP and max torque of 420Nm. Furthermore, it comes in three different variants: 4×2 MT, 4×2 AT, and 4×4 AT.
Likewise, you will get all the standard features like advanced Infotainment System (with Apple CarPlay and Android Auto), Auto Headlamps (with adjustable leveling), Auto-dimming Rear-View Mirror, Dual Zone Climate Control, Speed-sensing Door locks, Sunroof, and so much more.
Ssangyong Musso Grand: When Will It Launch in Nepal?
Yes, Musso Grand is all set to launch in Nepal! Now, the only question that remains is… When? Well, soon.
If I had to point out the exact launch date, it is expected to launch at NADA Auto Show 2019 along with other highly anticipated Upcoming Cars in Nepal. According to IMS Motors, the exact launch date will be revealed soon after the unveiling at NADA Auto Show 2019.
Should You Buy Ssangyong Musso Grand in Nepal?
Whenever people think about pickup trucks, they usually imagine Toyota Hilux or Isuzu D-Max. Because of that trend, lesser know trucks don't even stand a chance.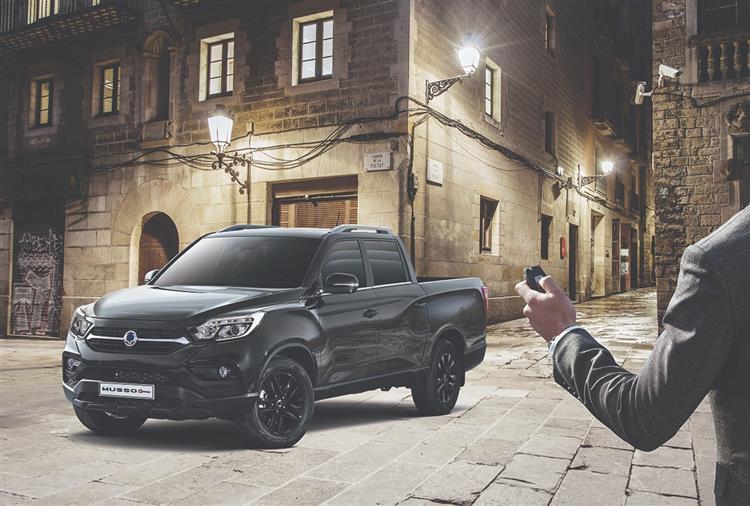 However, things might change for the better. Since Musso Grand is currently available for preorder, there is a considerable number of perks to entice customers. Moreover, Musso Grand is available for pre-booking for just Rs. 2 Lakhs!
If you pre-book it now, you will get 1-year Road Tax, 5-years Servicing, 3-years Warranty, and Accessories worth Rs. 25,000 for FREE!
Yes, the overall offer sounds exciting. But I must see it in-person and a whole lot of details are yet to be known. So, the answer to the "Should I Buy?" question, will take time. Don't worry, we are going to see it in-person soon, maybe even review it! However, going by the pricing, a premium pickup truck for just Rs. 73.99 Lakhs sounds like a steal! Until then, stay tuned!