Do you want to solve the problems of Kathmandu Metropolitan City? If you do, then take part in Smart Urban Technology Challenge 2018. Smart Urban Technology Challenge 2018 is an initiative of KMC (Kathmandu Metropolitan City) to explore the entrepreneurial heads within the Nepali community to address the current/future problems related to urban development.
To get started you just need to submit your idea before 14th Jan 2019. Read further to know what your idea should enclose and convey.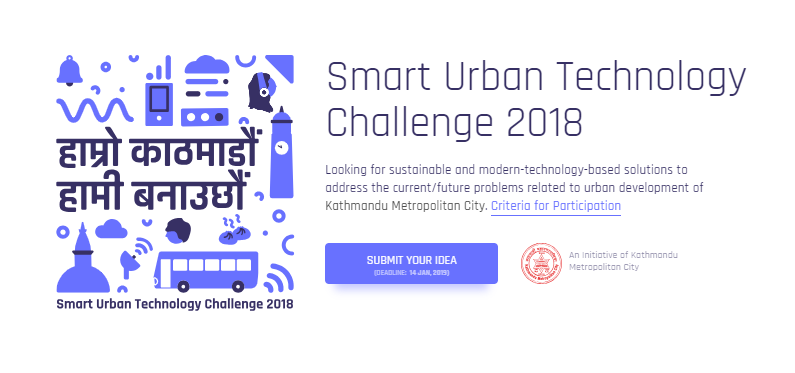 ---
How Does This Work?
First of all, you need to identify one of the problem areas of the Kathmandu City and then submit your idea that works towards solving that specific problem. Well, you won't have a hard time finding the problems in KMC. But you can submit your ideas based on the following categories:
Community and Environment
Urban Infrastructure
Municipal Community Services
Metropolitan Public Administration and Management
In the next phase, organizers will select 100+ ideas on basis of participating criteria and judging criteria. The selected teams will then go through 8 different seminars and training which will focus on product/prototype development. This will be followed by teams developing their prototype. 24 finalists will be selected based on the prototype and will head on to the Grand Finale.
Grand finale will be held on April 25, Friday. During the day, Selected finalists will pitch their ideas/products to an invited audience and members of the jury panel. And, based on the selection criteria, the jury will select category winners, runner-ups and overall winner. Check out the judging criteria on their website.
Why Participate?
You'll get tons of rewards and opportunities. Some of the mentioned benefits are as follows:
Get an opportunity to turn your innovative idea into reality.
Get an opportunity to test your solution in the field in collaboration with the KMC.
Get priceless global and local knowledge, an experience of creating innovative solutions and art of founding innovative business from experts over seminars and the grand finale.
Get inspired by expert mentors and coaches.
Get an opportunity to receive financial packages as winning prizes and seed investments.
Possibility of getting into KMC incubation program to further strengthen their solution.
Criteria For Participation
You can enter this competition only with a team. The team should at least contain two members.
The idea, concept or product that is submitted can be at any stage. They could be in idea conception phase, planning phase, development phase or implementation phase provided the product is not in the market for more than 2 years.
The idea, concept or product that is submitted must have the features of novelty, innovation, and creativity. We are not just looking for a local version of existing ones.
The submitted idea must have a strong component of technology. We are not looking for ideas that are very promising but does not have an emphasis on using technology solutions; either low or high fidelity described above.
Individual teams have to take the total responsibility for any infringement of intellectual property or other legal issues related to their submissions and KMC shall not be held liable for any issues arising thereof.
The competition is open to the teams of individuals who are Nepalese citizens; residing in Nepal or elsewhere.
---
Each of the solutions will have inherent technology element that will support KMC to foster a culture of adopting smart urban technology solutions. The technology used in the challenge does not necessarily have to be hi-tech and could be simple enhancements of process and practices for better and tangible results.
Visit their website to know more: https://kathmanduchallenge.org/