Show Time Nepal is an application that gives user information about all the show time of movies in different Cinema Halls inside the Kathmandu Valley and some outside. It is an attempt to provide the audiences with the latest show time in different cinema halls of Nepal at one place. It is available in both mobile and web that can help you to find out the recent movies and upcoming movies.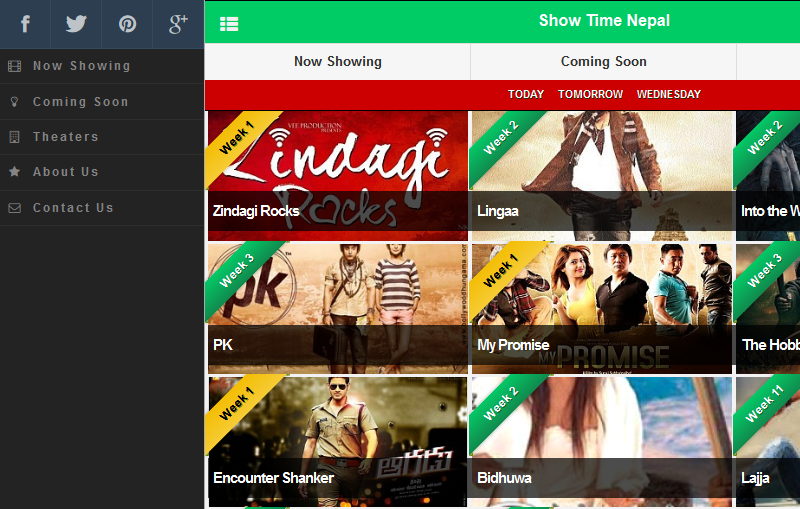 Some of the key features of the app are,

You can watch the trailer of movies that has been released or upcoming.
You can get the list of movies that are being showing time.
In mobile app you can get to know how many weeks has the movies been released.
In order to use this application you need to be connected to internet. Till now this application has been downloaded by 1000-4000 people and has been rated with 4 stars in google play store. In short time it has gained popularity among the users since it is easy to use and saves time.
This app could have been better if there was additional feature of online ticket booking system.  This application is very lite with size of only 1.3M and it supports on android devices from 2.3.3 and up. But, the detail information about the developer is still been missing and has been offered by Show Time Nepal.
There is also a website showtimenepal.com built by same team. In this website you can also find the review about different movies with review in their home page. There are also other pages like upcoming movies, ticket price, cinema halls and review. This site is solely made for those who want to watch movies but don't know suitable cinema hall and price of the hall in order to watch movie. You can also find review about halls, briefly explained in the site along with the ticket price and the time.
You can download the android app from google play store. Here is the link to app store, https://play.google.com/store/apps/details?id=ways.showtimenepal.main