Pros
Futuristic and Minimalistic Styling
Bright Headlight Visibility
Excellent City Riding Experience
Dual Disc Braking with Regen
Massive Under Seat Storage
Cons
Low Ground Clearance
Struggles When Riding with a Pillion
Poor Off-Road Performance
This is a detailed review of the Segway E100.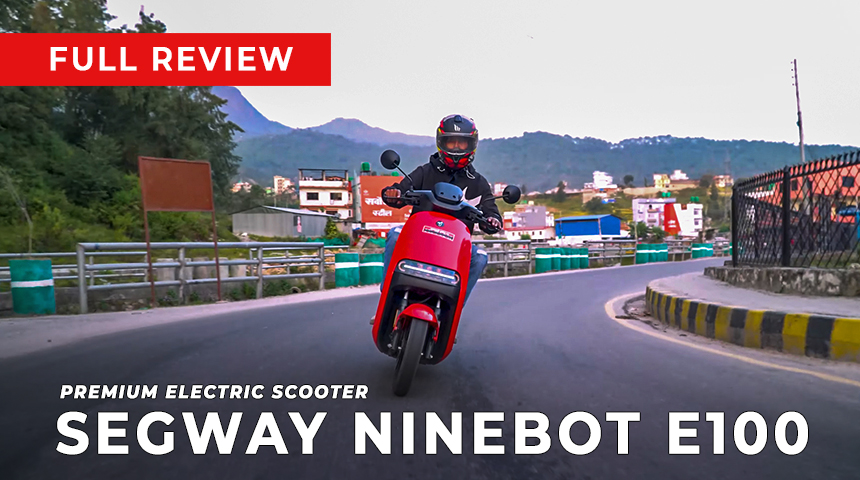 Electric vehicles are all the rage these days.
It has started to gain traction, with more people shifting towards cleaner mobility. Compared to the last few years, there are more EV brands with several different offerings.
Among them, the Segway Ninebot is one of the high-end Chinese brands.
I Hub, the authorized distributor of Segway scooters in Nepal, offers different Segway scooters at a different price point.
Segway E100 puts itself as the most affordable yet premium scooter priced at Rs. 2.91 Lakhs.
It has been a while since we brought in an EV for review. Taking that into consideration, we have brought in the Segway E100 for review.
Segway has continued to gain in popularity for being a premium offering. In this review, we will try to explore the real-world practicality of this scooter. 
Will this scooter be a perfect replacement for its fuel-driven counterparts? More importantly, are the features on offer perfect for the price?
Today, we find out!
This is the Segway E100 review.
Segway Ninebot E100 Specifications
Motor: 1800W
Battery: 72V20Ah (1440Wh)
Peak Power: 2400W
Peak Torque: 150 Nm
Battery Type: Lithium
Range: 60-100 Km
Top Speed: 58 Kmph
Charging Time: 7-8 hours
Tyres: 10-inch Anti-Skit – Dual Disc
Tubeless Tyres: Yes
Braking Type: Standard
Ground Clearance: 130 mm
Loading Capacity: 150 kg
Weight: 80 kg
Colors: Red, Black, Blue, White
Segway Ninebot E100 Price in Nepal: Rs. 2,91,000
Segway E100 Review
Design
EV segments always boasted untraditional styling.
And, it remains true here as well.
Segway E100 is both futuristic with premium aesthetics and modern design. It has a unibody styling, especially with a good bright color combination.
The front section comes with a Matrix LED Headlight setup. It gets a 6-LED lens, the top three for the Low Beam, and the bottom for the High Beam.
It is neatly separated by a DRL strip. The LED side indicators have been integrated within the housing as well.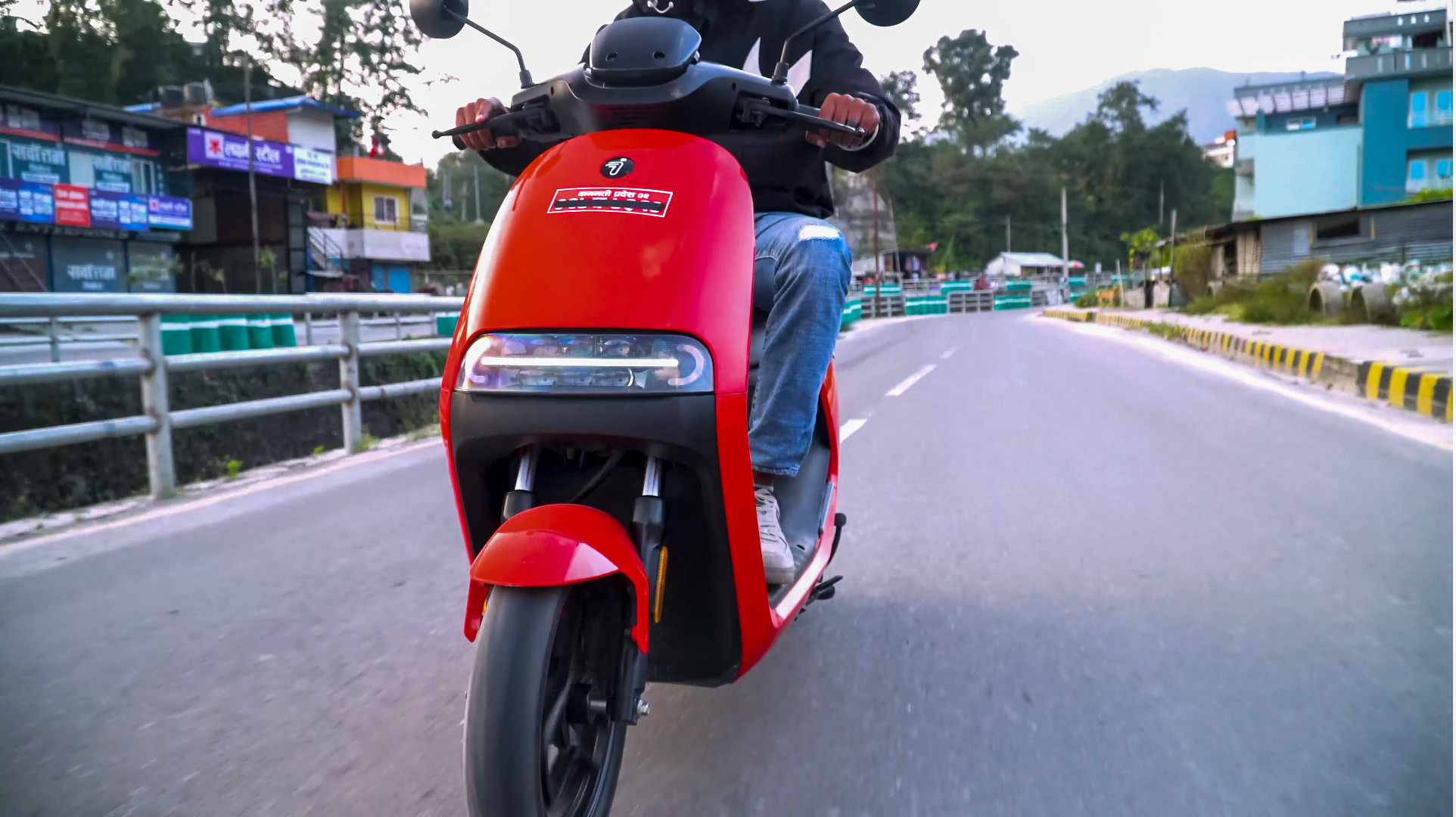 The nighttime visibility is very nice.
However, the circular mirrors do not provide sufficient visibility.
While the high beam isn't wide enough, it does provide good visibility. Interestingly, the headlight can be Automatically Turned On-Off.
The front profile is clean and sleek.
It includes a Front Storage pocket with an additional USB Charging port. The storage pocket is deep enough to fit a standard water bottle.
The same can be said for the side profile as well.
It gets a Flush Passenger Footrest which goes well with the unibody theme.
The rear styling has been kept simple compared to the front.
It includes a single-piece grab rail with a strip-type LED Taillight. Moreover, the LED indicators have been integrated into the housing.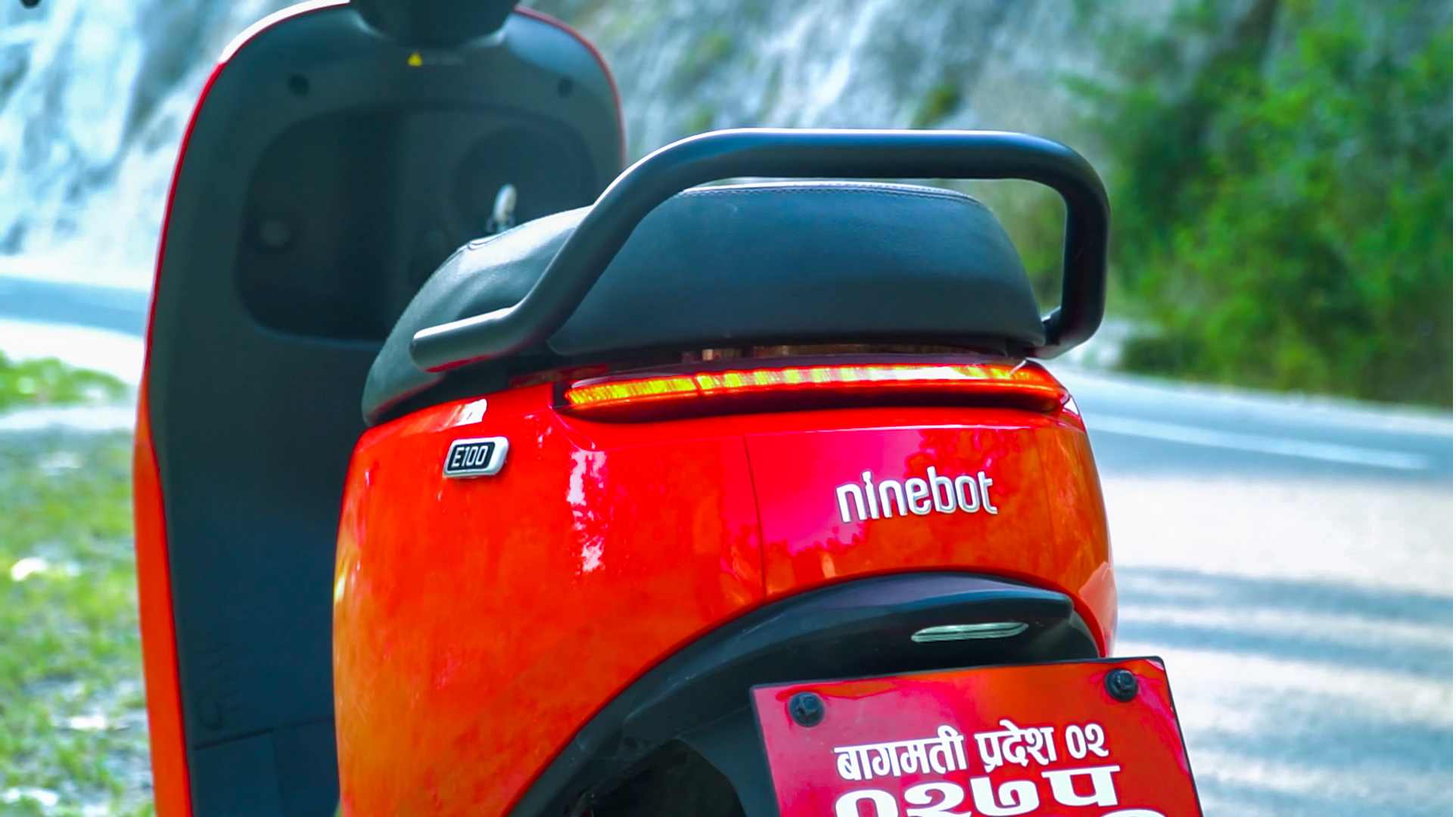 Additionally, the Segway E100 comes in four different colors: Red, Blue, White, and Black.
Performance
Segway Ninebot E100 is powered by a 1800Watt Tailored Brushless Electric motor. It can generate a max torque of 150 Nm with a claimed top speed of 58kmph.
It comes with a 72V20Ah (1400Wh) Lithium battery with an expected range of 60-100km. Moreover, the average charging time is 7-8 hours.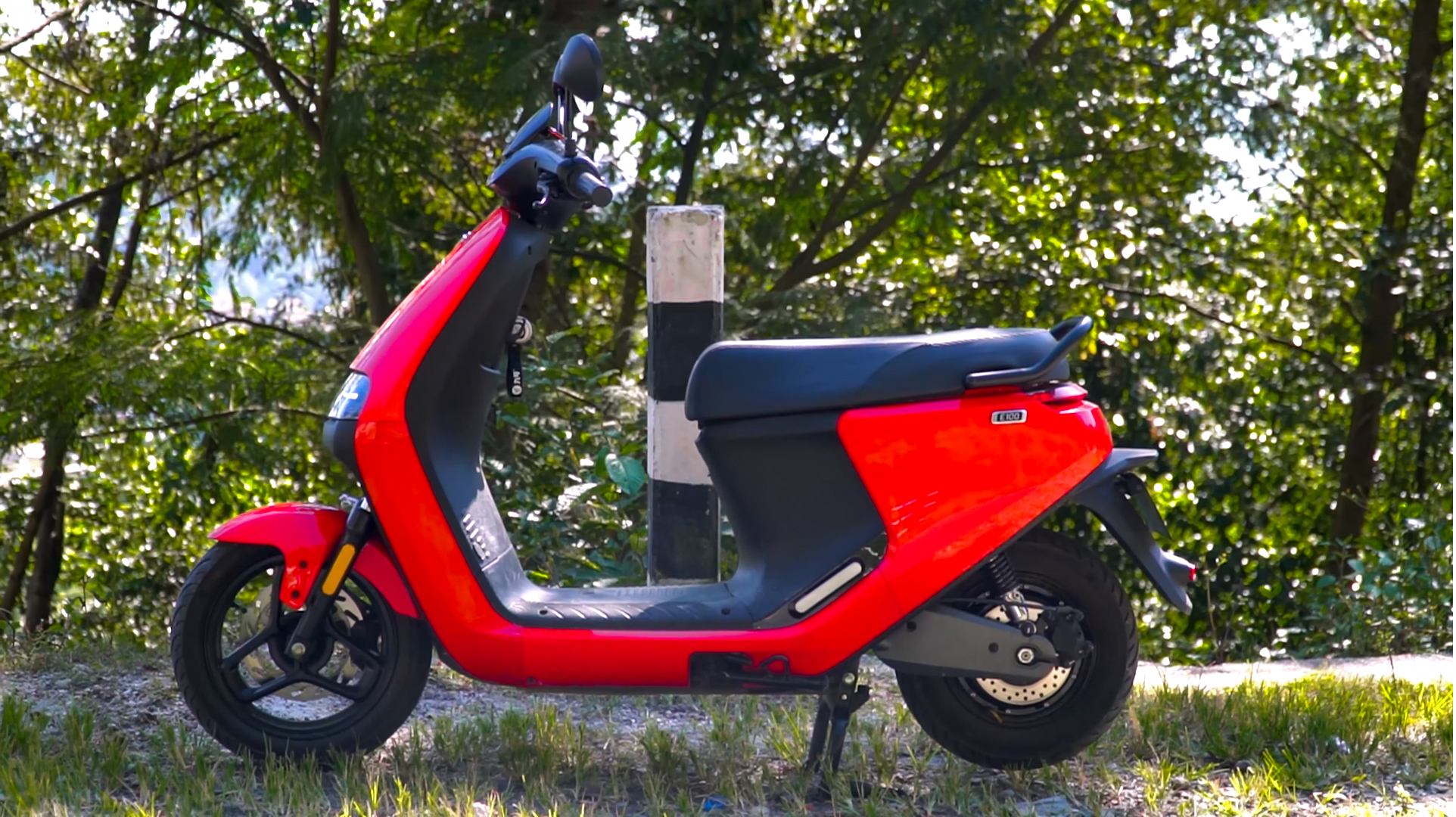 It includes Cruise Control, Hazard Light Switch, Riding Modes, and Reverse Button as standard.
The scooter gets IPX5 protection.
Additionally, Segway E100 comes with a 3-Year Warranty on Battery and a 2-Year Warranty on the Motor.
Additional Details
The dimensions are 1755mm in length, 675mm in width, and 1135mm in height. Moreover, the wheelbase is 1235mm.
Segway E100 gets a 130mm ground clearance.
The net weight (including the battery) is 80kg. And, the max loading capacity is 150kg.
Features
Segway E100 gets a plethora of features.
We have seen most of the features in another electric scooter. Nevertheless, Segway tries to put a unique take on it.
Braking Performance
Segway E100 gets Dual Disc Braking.
Unfortunately, there is no CBS.
However, Segway has included Regenerative Braking as a standard. The strength of the regen can be set via an App connection.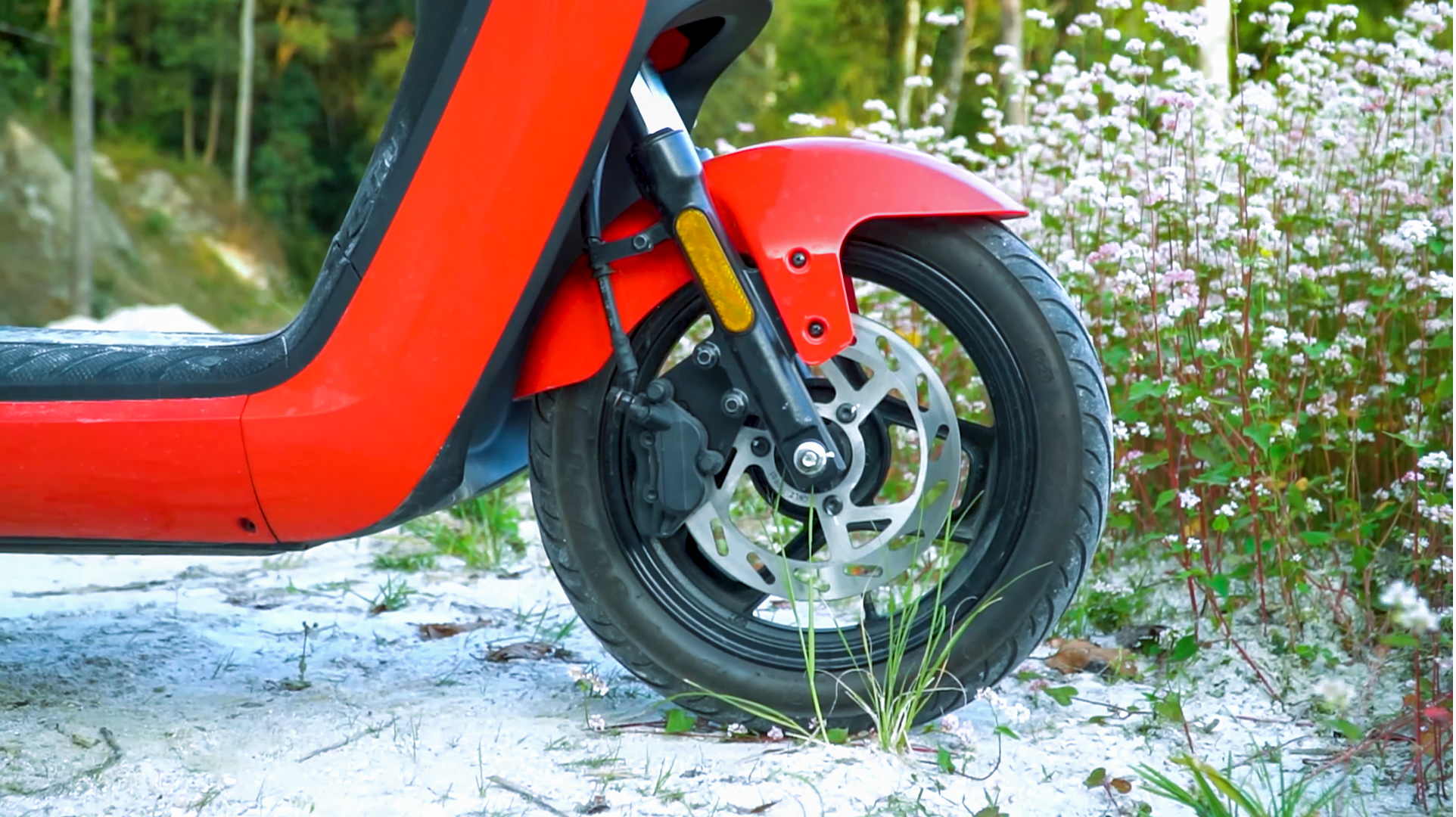 As far as the braking goes, the front brake provides a good bite. However, the rear brake easily locks the rear tyre.
When used together (as one should), it provides good stopping power.
Nevertheless, Segway should have included Combined Braking System considering the price.
Tyres
Segway E100 gets a 10-inch tyres.
These are Anti-Skid Tubeless tyres with stylized alloy wheels.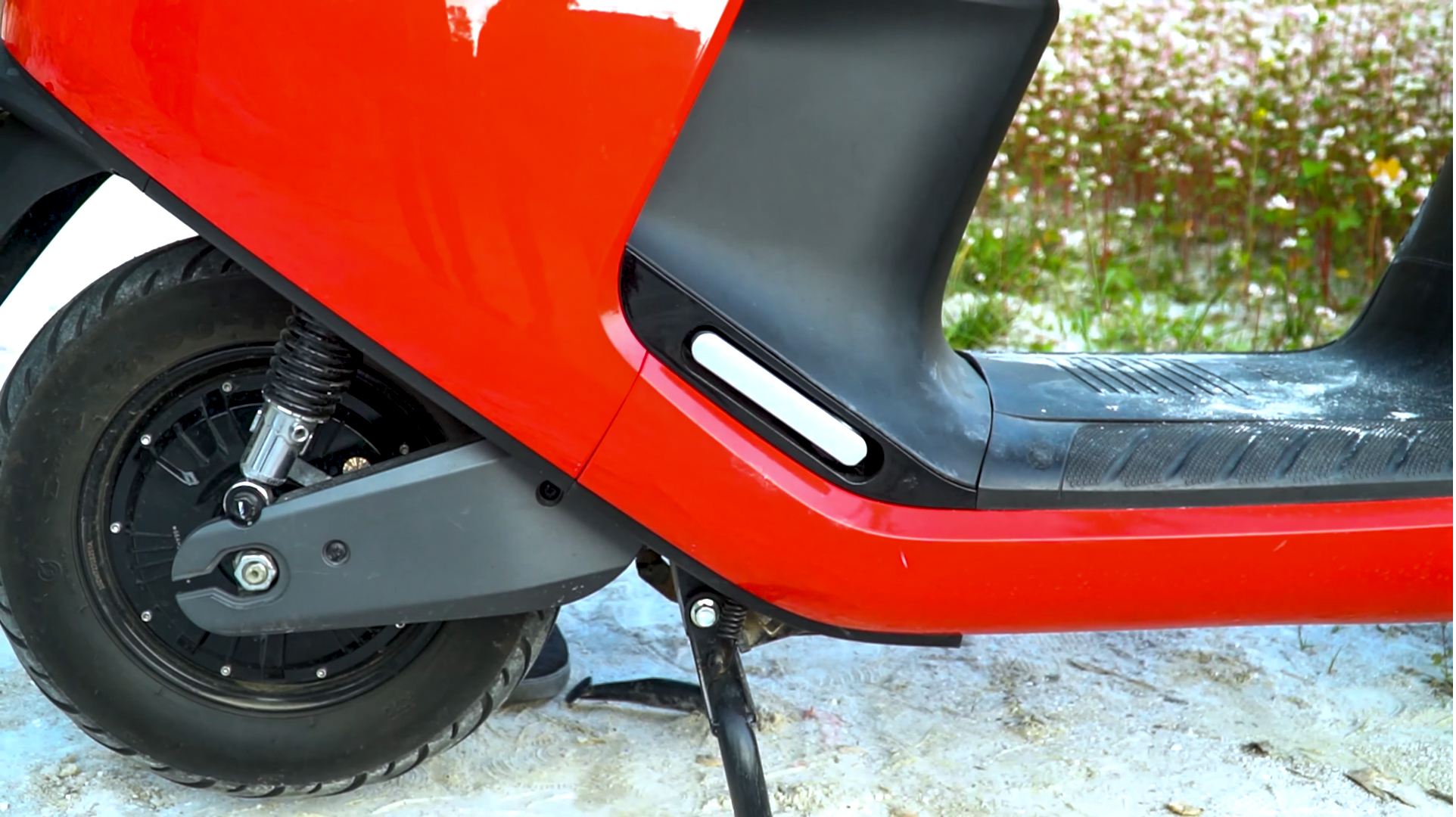 It provides good enough traction while remaining fun and super confident-inspiring in tight corners.
However, I do wish Segway could have included a slightly beefier tyre. Considering range is more important than looks, it is acceptable.
Suspension
It sports a Hydraulic Spring Damping system for both the front and rear.
The setup has a softer feel, easily absorbing most road bumps. Although, this setup can feel a bit annoying during off-road conditions.
Adding to that, the low ground clearance does hinder the on-road experience.
I kept avoiding even the smallest plot holes and road bumps.
Seat Comfort and Pillion
Segway E100 gets a single-seat setup.
The build and stitching are great. Plus, the cushioning is on the softer side.
Despite the appearance, the seat accommodates both rider and pillion.
It maintains that comfort on longer rides. It should be noted that both the Ground Clearance and Performance suffer a bit when riding with a Pillion.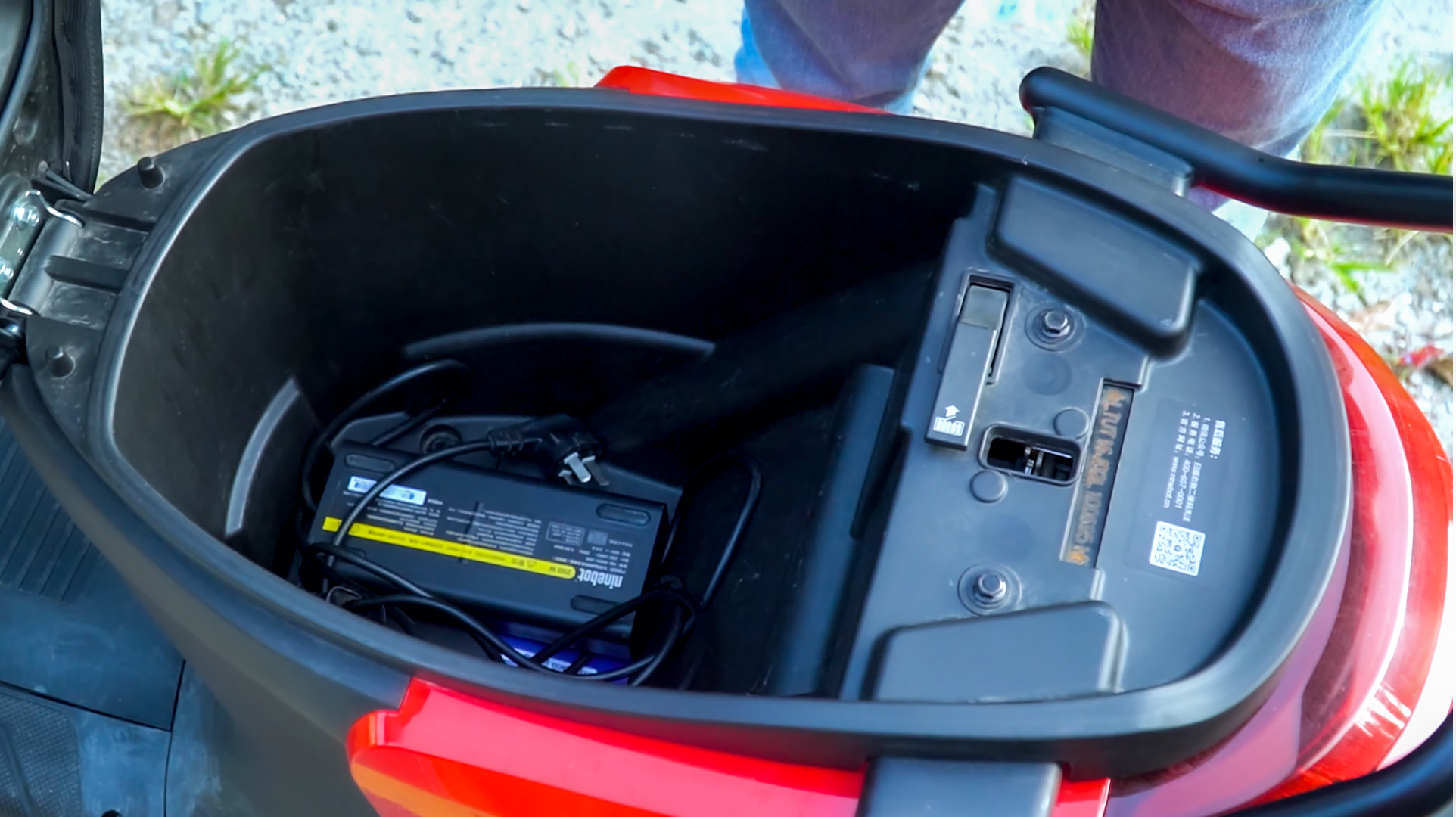 There is a 22-liter Under Seat Storage capacity. Interestingly enough, it can easily store a Full-size helmet.
This surprised me a bit.
Digital Meter
Coming to another feature set, the Full Digital Meter.
It gets a sleek LED Digital Display with plenty of information like Battery Indicator, Odometer, Clock, and Modes.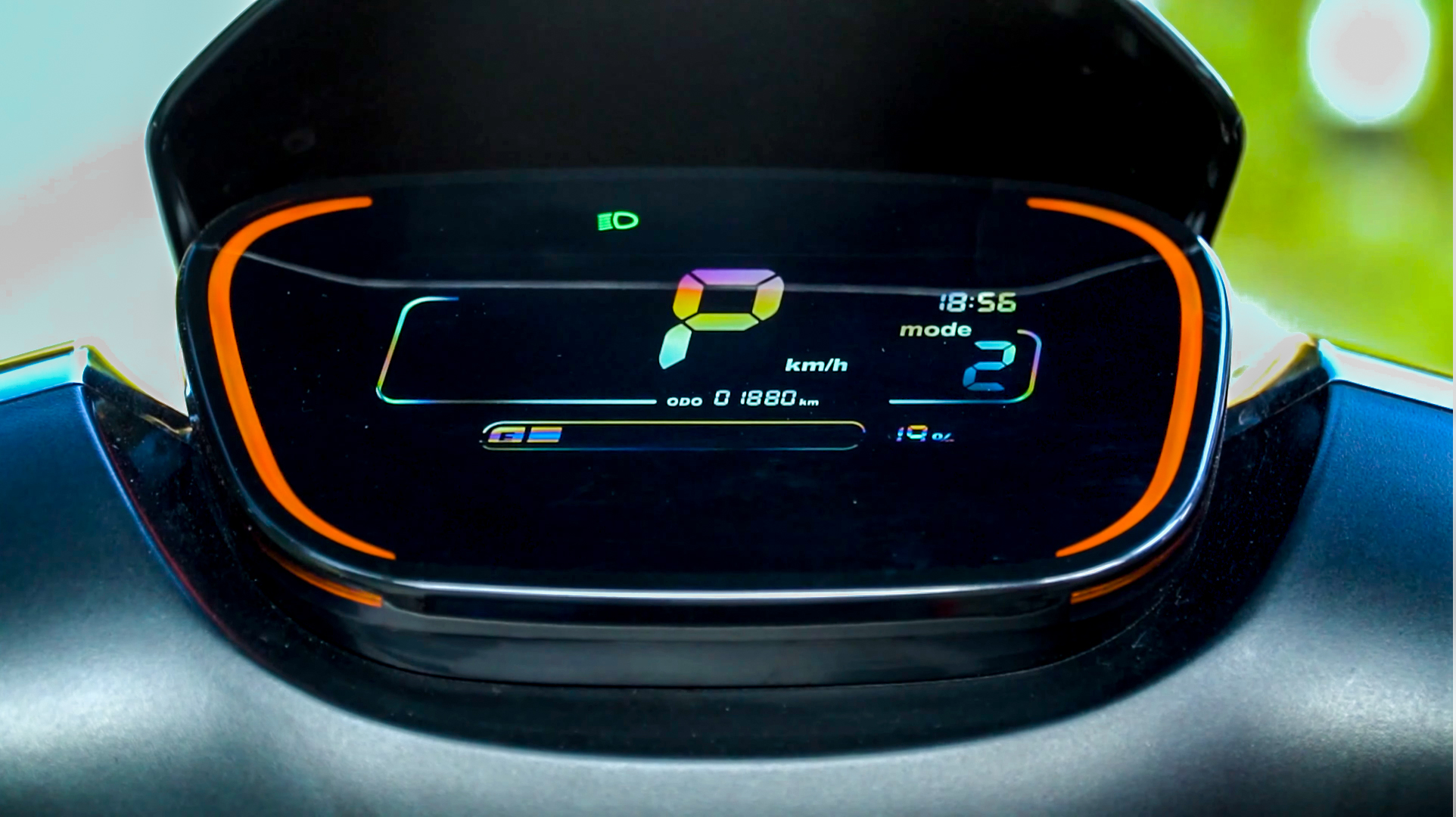 And, it provides additional information with the help of Accent Colors.
Orange Accent is for Parking, Blue-Purple is for Riding, Green is for Regen Activation, and Red is for any Errors.
Doing this, Segway cleans up the display for a minimalistic look.
App Connectivity
Segway E100 can do much more!
You can connect the scooter to your Smartphone via Bluetooth connectivity.
Riders can turn off the Seat Sensor, set the Level of Regen Braking, Customize Sound Levels, Reverse Mode, and so much more.
Segway Nepal will set this up for you.
Anti-Theft Security System
Segway E100 hosts an interesting set of Anti-Theft Security measures.
There are two different ways to access the scooter: Traditiona Key or Key Fob. With the Key Fob, the riders can wirelessly Lock-Unlock or Start the E100.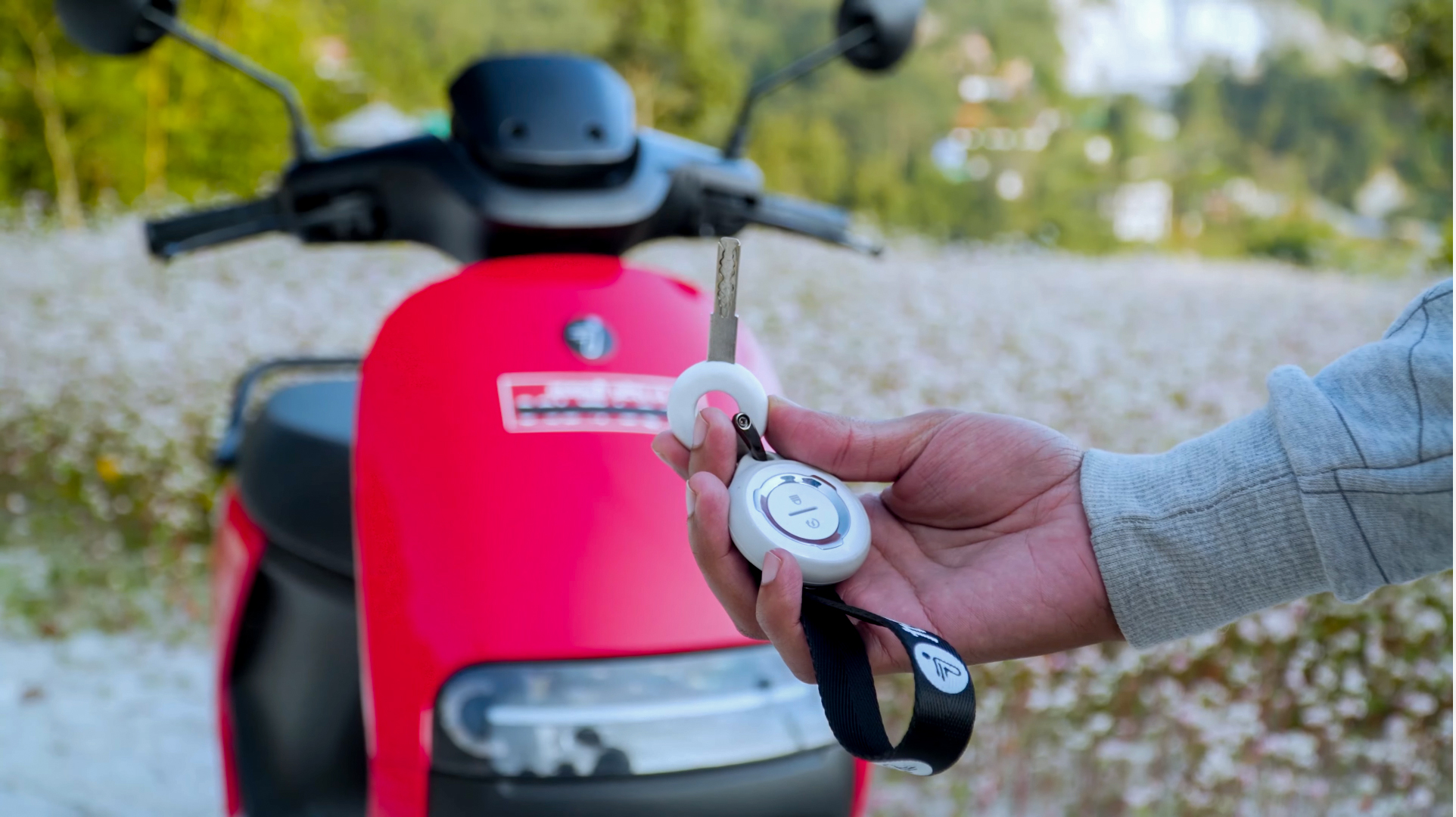 When locked, the scooter automatically detects any unauthorized movements.
After that, the scooter locks both wheels while sounding the alarm. Interestingly enough, when riders lock the scooter via the Key Fob, it also automatically locks the handle electronically.
It was very interesting to find.
Segway E100 Feature Highlights
Futuristic Design
1800 Watt Brushless Electric Motor
72V20Ah Tailored Lithium Battery (Removable)
Matrix LED Headlight and LED Tail Light
Integrated Side Indicators
Digital Display
Cruise Control
Riding Modes
Hazard Light Switch
Remote Key Control
USB Charging Port
22L Under Seat Storage Space
IPX4 Ratings (IPX7 for Battery)
My Experience with Segway E100
Battery
Segway E100 sports a 72V20Ah Tailored Lithium Battery. The company has enhanced the water resistance by bumping up the protection to an IPX7 rating.
The battery is stored on the footrest board.
Riders can easily access it by pulling on the lever switch located at the under-seat storage.
This gives access to the battery compartment.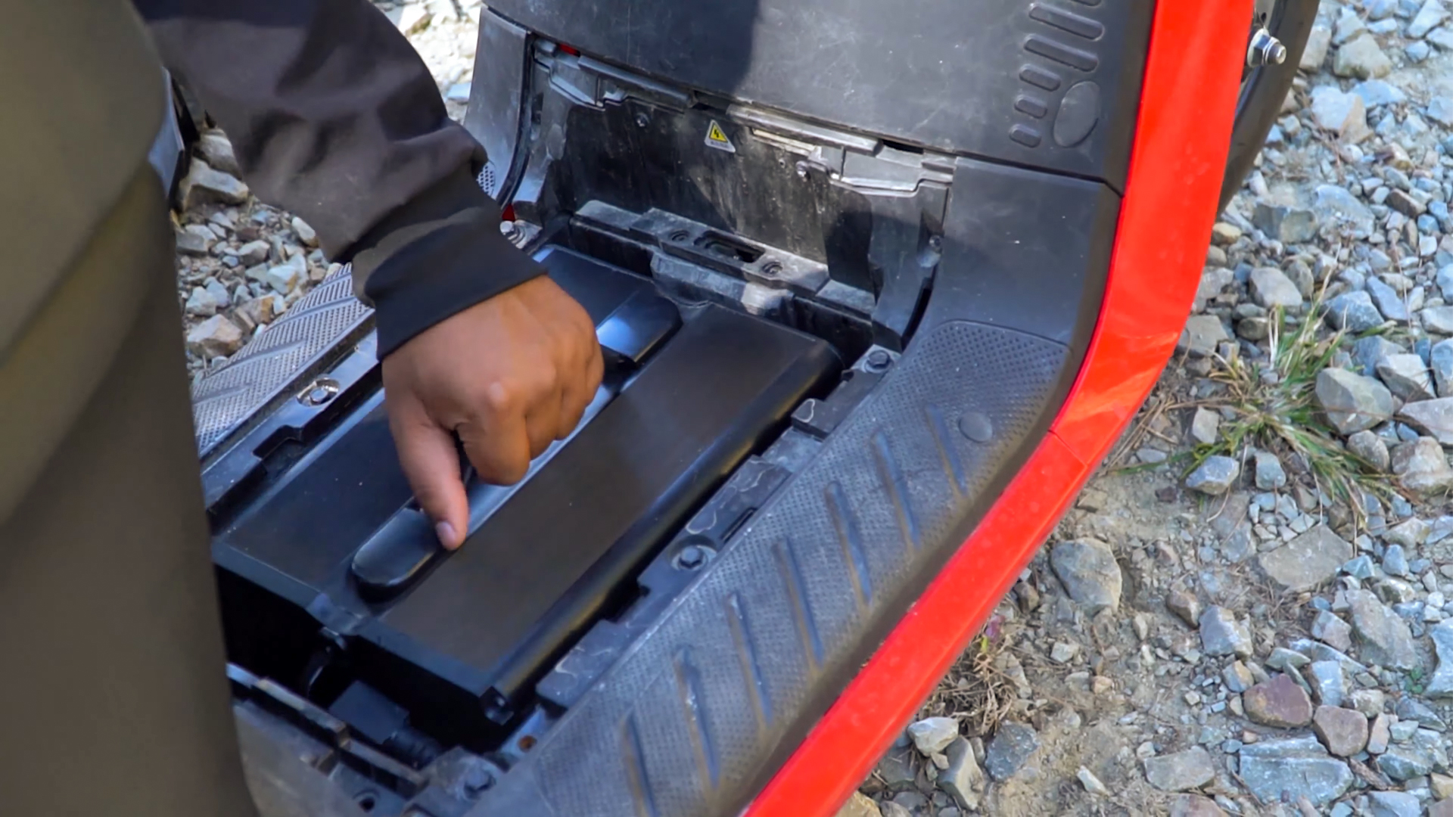 It supports Dual-Battery Capacity if interested. Customers will have to pay Rs. 1 Lakhs extra for the battery.
You can charge the battery by removing it from the compartment. Also, you can directly charge it via the socket without removing the battery as well.
We charged the battery from 0% to 50%, and it took us around 3.5 hours. So, it will fully charge around 6-7 hours as per the company claim.
And, it took 1.5 Units to Fully Charge.
If you put the cost of electricity around Rs. 10, then Segway E100 costs Rs. 15 to fully charge.
Range
How much range does it give for just Rs. 15?
The company claim is around 60-100Km on a Full Charge. It does live up to its claim.
We wanted to finish the Full Charge as fast as possible. So, we rode the scooter in Mode 2 and Mode 3 only with a mix of single riding and riding with a pillion.
At the end of the day, we got around 55Km.
Theoretically, the riders can achieve around 60-80Km range with a more economical riding style.
Segway Nepal did its separate range test on each mode. The following table represents the information.
Please note that the test was done Inside Kathmandu Vally with a Single Load.
| Modes | Claimed Range |
| --- | --- |
| First Mode | 81 Km |
| Second Mode | 68 Km |
| Third Mode | 55 Km |
Mode Performance
Segway E100 comes with three Riding Modes.
The performance and pickup differ by Mode. Higher the mode, the Higher the performance and riding thrill.
Mode 1 should be perfect for alleyways or bumper-to-bumper traffic.
This mode restricts both performance and pickup. Moreover, the performance takes time to build up in a rather linear fashion.
Mode 2 should be perfect for city commutes and short rides.
It should provide a good balance between fun riding and range-saving techniques.
Mode 3 is the most fun to ride!
It provides the punchy performance EVs are known for. The pickup is almost instant, making overtaking more confident than in other Mode configurations.
Mode 3 also gives off good feedback from its motor, making the ride more engaging.
The following table represents the tested max speed that can be achieved in a specific mode.
| Modes | Max Speed |
| --- | --- |
| First Mode | 30 Kmph |
| Second Mode | 45 Kmph |
| Third Mode | 60 Kmph |
Uphill Performance
Segway E100 shines the most in the city riding conditions. It handles almost everything without breaking a sweat.
The lightweight body also helps a lot in this situation.
The scooter can be steered into control anytime riders need it to be. However, the scooter isn't that perfect.
There were times when it struggled on a sharp incline.
This was true for the single load. However, the problem was mitigated after switching to Mode 3.
However, the situation was quite different for a Pillion. Even Mode 3 wasn't enough to pull the scooter with a pillion.
During those conditions, the pillion had to get off to continue uphill. As expected, it also increases the consumption of the battery.
If you constantly ride in such uphill conditions, it is something to think about before making the purchase.
Other than the uphill, the Segway E100 tackles most road conditions with relative ease.
Conclusion
Reviewing EVs has always been interesting.
It is still a growing class of scooters with their quirks and features. While it is getting there, there is still room for improvement.
It has developed enough to be a good option for short city rides and daily office commutes.
Nevertheless, we will still have to rely on Fuel-driven products for a few more years.
All in all, Segway E100 is a good electric scooter.
It is an affordable premium scooter in the Segway lineup. There are plenty of nifty features on offer to keep people busy until the next generation ultimately arrives.
---
Also, don't forget to watch the Segway Ninebot E100 review video!