Things I Like
IP68 Water Resistance
Wear OS 3
Elegant Design
Plenty of Tracking Features
Samsung has unveiled its Galaxy Watch 4 series with some major changes. For one, the "Active" moniker is gone and we get the "Classic" version with a rotating bezel.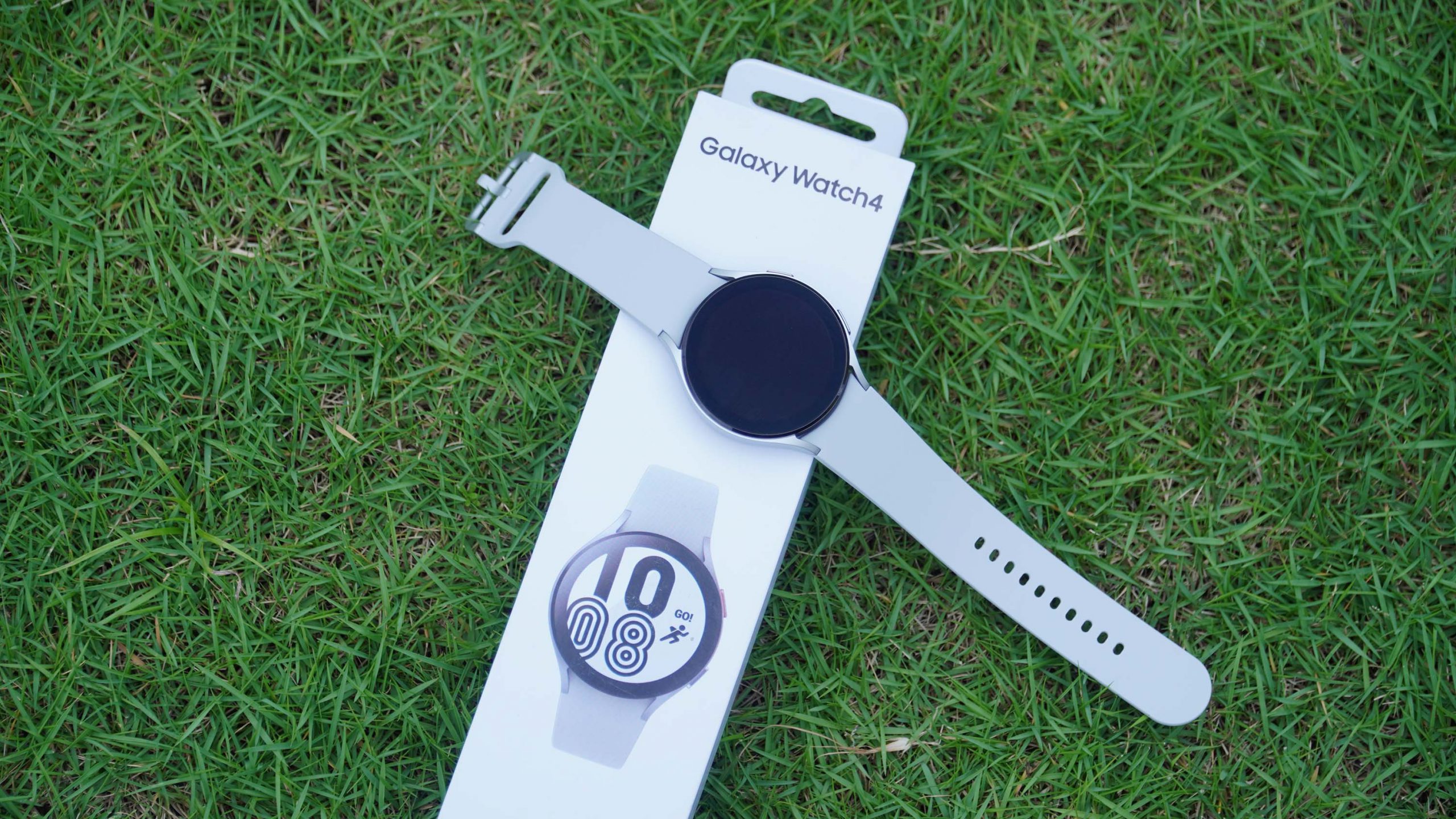 Samsung Watch 4 price in Nepal starts at Rs. 34,999 whereas the Watch 4 Classic starts at Rs. 46,999. The LTE models of both the Watch 4 and Watch 4 Classic are not available in Nepal.
I used both of these devices for a few hours and this is my impression of the Samsung Watch 4 series.
Samsung Galaxy Watch 4/4 Classic Specifications
Body: Watch 4: 40mm and 44mm, Watch 4 Classic: 42mm and 46mm
Display (Watch 4): 40mm: 1.2-inches Super AMOLED / 44mm: 1.4-inches Super AMOLED
Display (Watch 4 Classic): 42mm: 1.2-inches Super AMOLED / 46mm: 1.4-inches Super AMOLED
Chipset: Exynos W920 (5nm)
RAM: 1.5GB
Storage: 16GB
Connectivity: LTE (available in select models)

Bluetooth 5.0
Wi-Fi b/g/n
A-GPS/GLONASS/Beidou/Galileo
NFC

Battery Capacity (Watch 4): 40mm: 247mAh / 44mm: 361mAh
Battery Capacity (Watch 4 Classic): 42mm: 247mAh / 46mm: 361mAh
Sensors: Samsung BioActive Sensor, Accelerometer, Barometer, Gyro, Geomagnetic, Light
Software: One UI Watch 3
Charging Port: WPC-based wireless charging
Samsung Galaxy Watch 4 Price in Nepal: Rs. 34,999 (40mm), Rs. 36,999 (44mm) | Rs. 46,999 (42mm Classic), Rs. 49,999 (46mm Classic)
Samsung Galaxy Watch 4/4 Classic Impressions
Design
Watch 4: 40mm and 44mm, Watch 4 Classic: 42mm and 46mm
IP68 Dust/Water Resistance
Aluminum Frame (Watch 4), Stainless Steel Frame (Watch 4 Classic)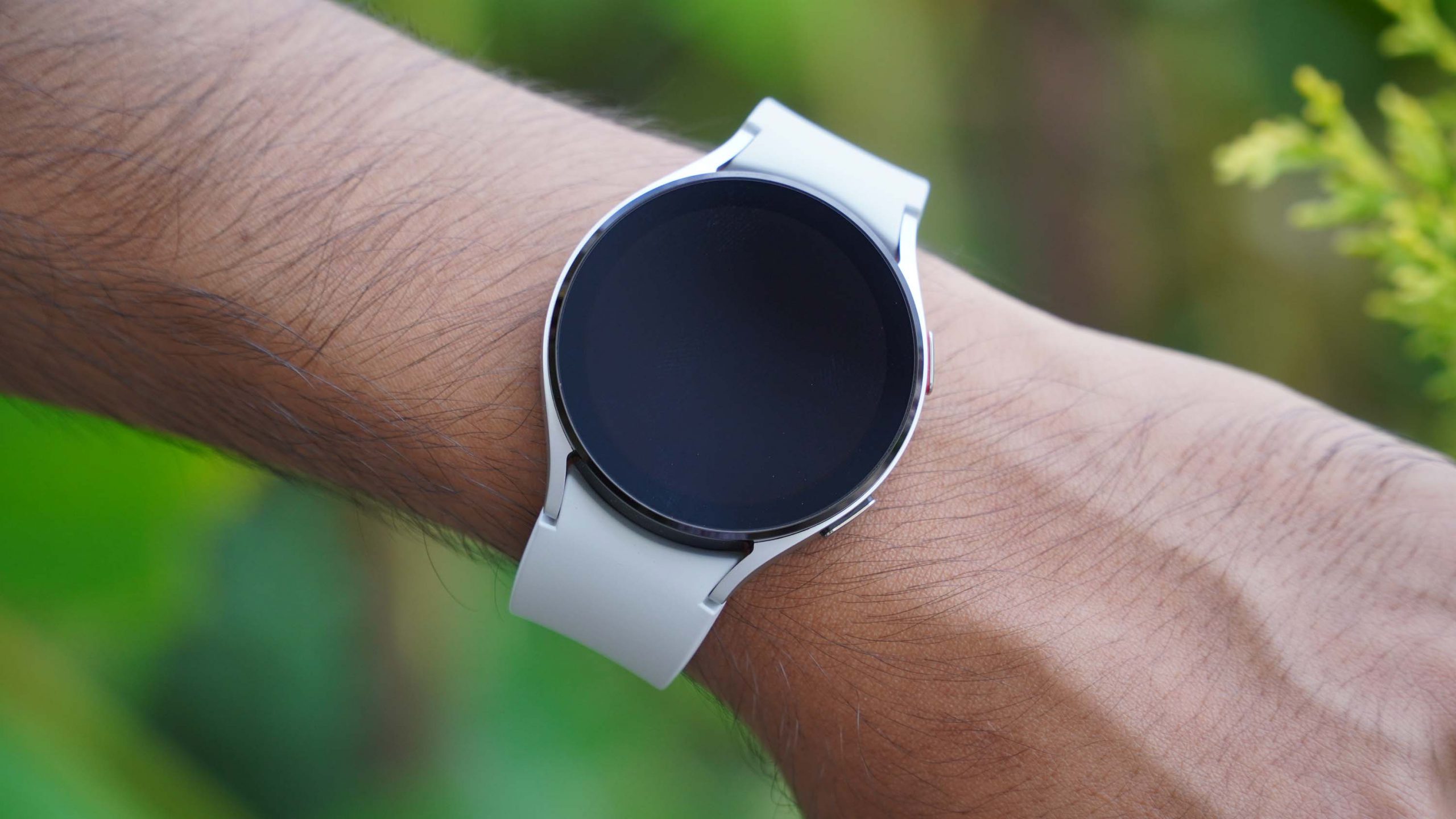 The Watch 4 comes in two sizes: 40mm and 44mm and the Watch 4 Classic comes in slightly bigger 42mm and 44mm sizes. The physical rotating bezel makes the Classic version a bit bigger than the standard Watch 4.
The Classic version looks a bit bolder and rugged whereas the standard Watch 4 looks a bit more trendy and stylish. I personally prefer the standard version over the Classic variant. This will come down to your personal preference. However, the Watch 4 classic gets a stainless steel frame compared to the aluminum frame of the normal Watch 4.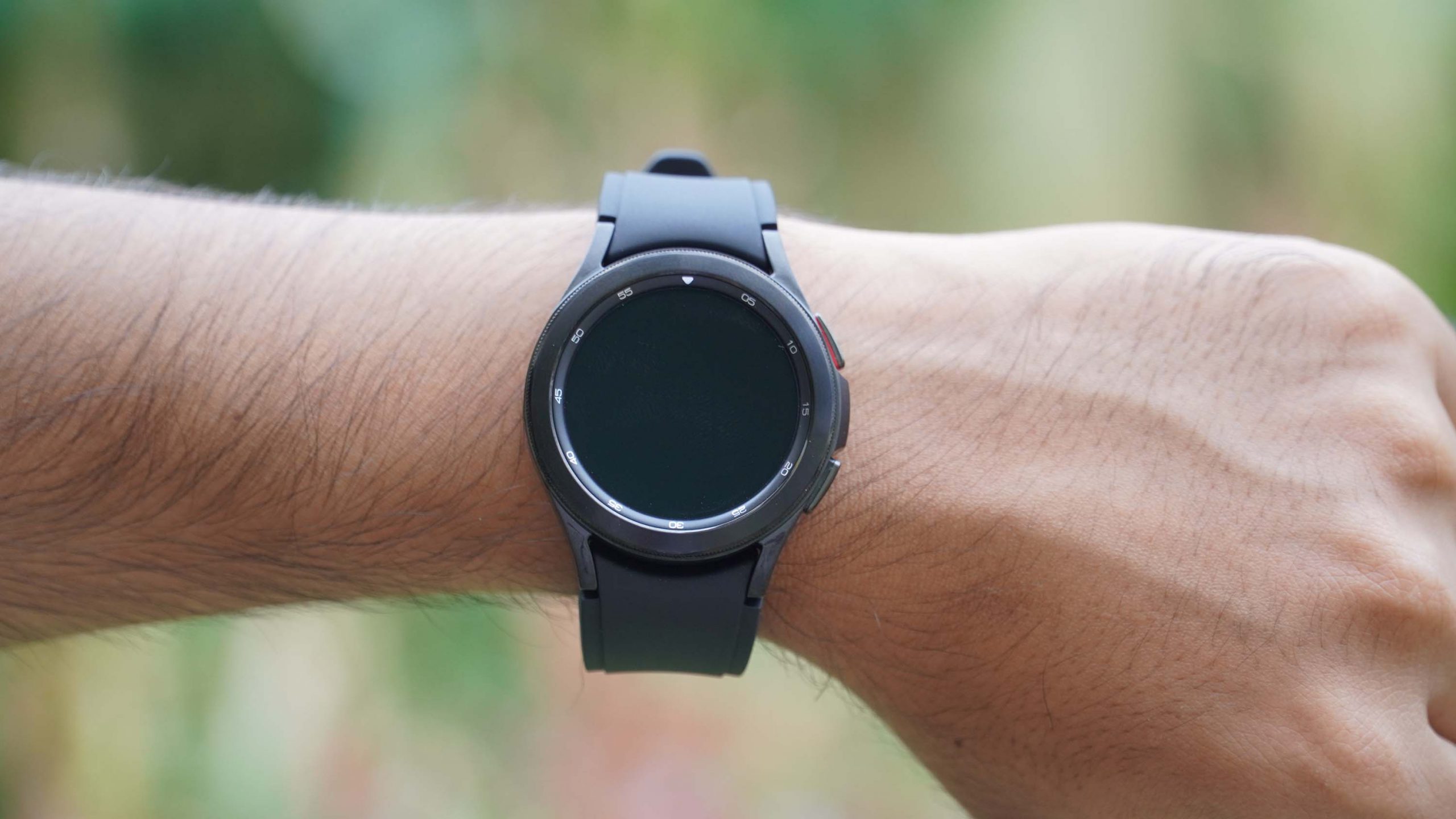 The Galaxy Watch 4 series come with a simple silicone strap that is comfortable to wear all day. But, these straps have angled connectors which makes it look a bit bulky.
ALSO READ: Samsung Z Fold 3 Impressions: The Good Gets Better!
Both of these watches also come with 5ATM and IP68 Dust/Water resistance.
Display
40mm: 1.2-inches Super AMOLED / 44mm: 1.4-inches Super AMOLED
42mm: 1.2-inches Super AMOLED / 46mm: 1.4-inches Super AMOLED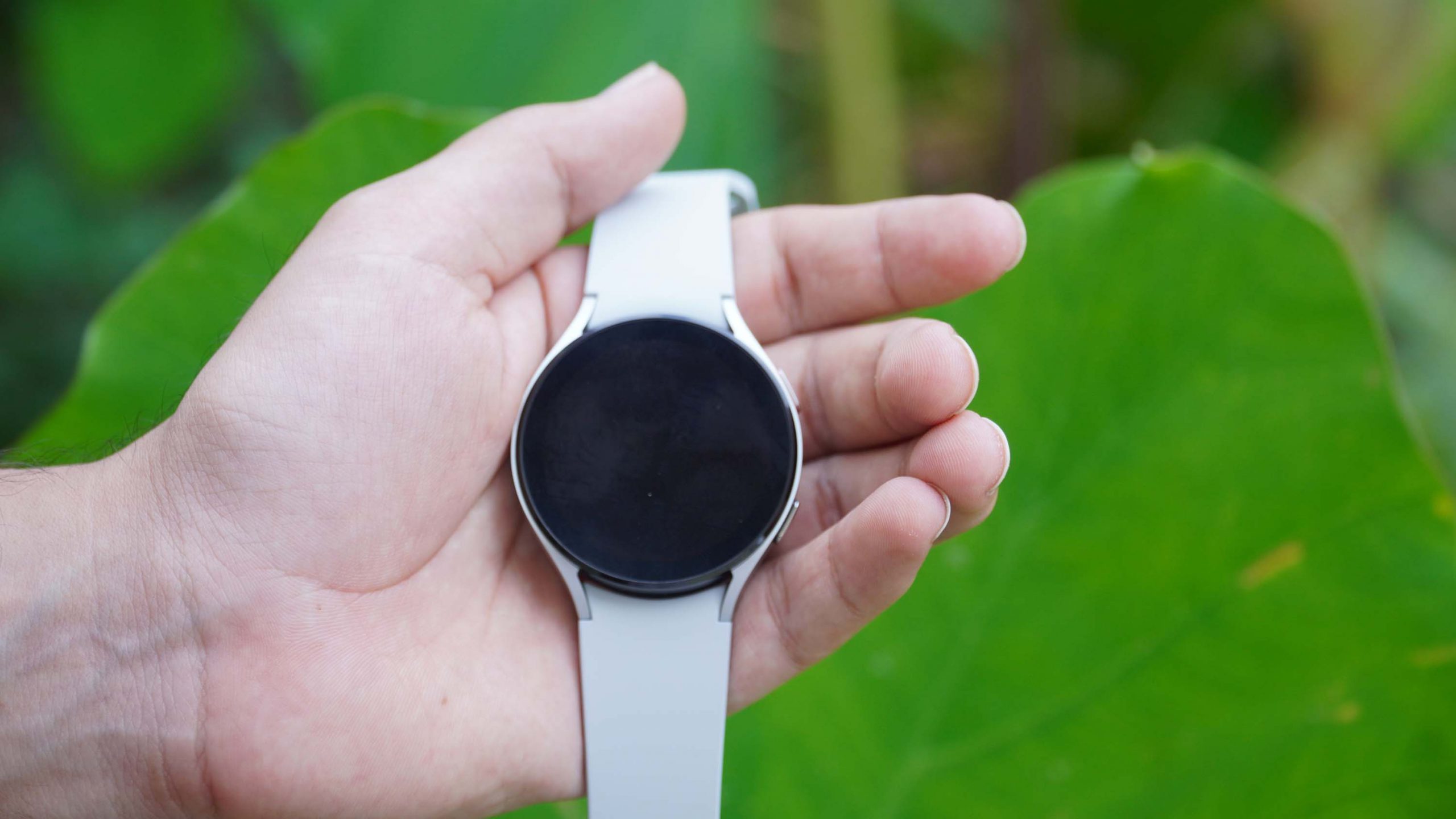 For display, the 44mm Watch 4 has a 1.4-inch AMOLED panel whereas the 40mm Watch 4 has a 1.2-inch display. Similarly, the 46mm and 42mm Watch 4 Classic have similar-sized displays respectively.
The display panel is bright, colors are punchy, and offers very good viewing angles. They do have an ambient light sensor for auto brightness adjustment as well.
Hardware
Exynos W920 chipset
2 Cortex-A55 cores
Mali-G68 GPU
1.5GB RAM
16GB Storage
The Watch 4 series is also using a new Exynos W920 processor designed for smartwatches and other wearables.
The Exynos W920 has 2 Cortex-A55 cores and a Mali-G68 GPU. And, it also includes a dedicated Cortex-M55 processor for always-on display. Samsung claims that this chipset provides 20% better CPU performance and 10 times better GPU performance than its previous wearable chip.
Moving on, these watches have 1.5GB RAM and 16GB internal storage. During my short usage, these watches felt smoother and faster than the previous generation.
Fitness and Health Tracking Features
Samsung bioactive sensor
ECG, Blood pressure, SpO2
Sleep monitoring, Body Composition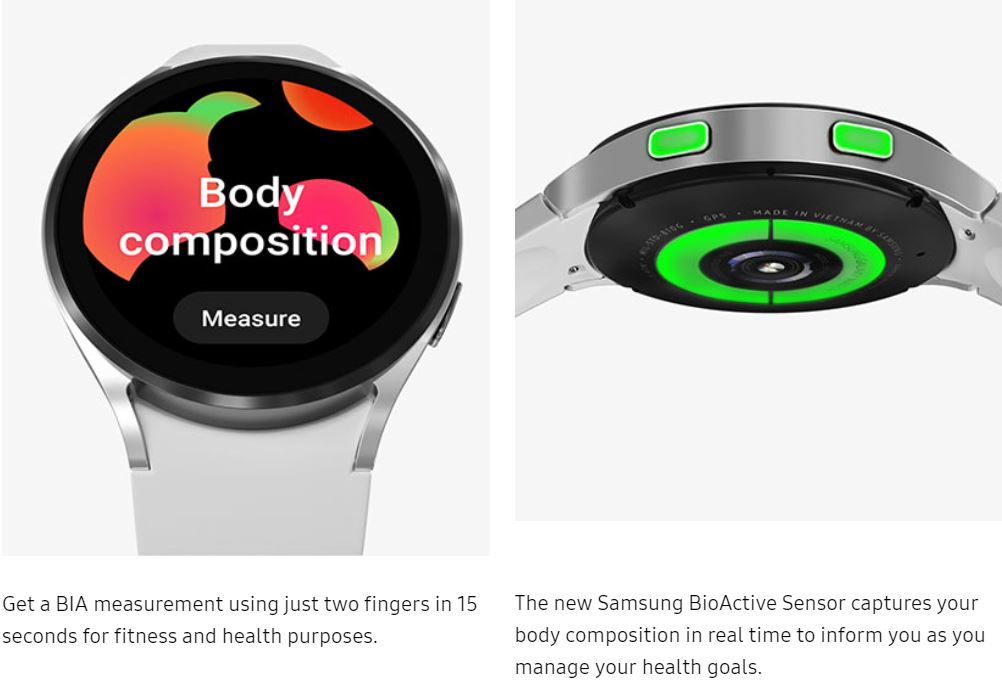 Samsung is debuting its BioActive sensor that can measure ECG in real-time. The BioActive sensor is a 3-in-1 sensor that uses a single chip to precisely run 3 health sensors – Optical Heart Rate, Electrical Heart, and Bioelectrical Impedance Analysis. This helps users to monitor their blood pressure, detect irregular heartbeat, and measure blood oxygen levels.
There's also a new feature called Body Composition which measures things like skeletal muscle, basal metabolic rate, body water, and body fat percentage. The two buttons on the side also act as an input to check your body composition.
Furthermore, the Watch 4 series has advanced sleep tracking that can also detect the sound of your snores using a compatible smartphone. It also measures your blood oxygen level when you're sleeping for advanced sleep scores and analysis.
The Watch 4 series is packed with health and fitness tracking features. But, things like ECG and blood pressure measurement won't be available in regions like Nepal.
We will dive deep into all of these features in our review.
Wear OS 3
Samsung has made the switch to Google's Wear OS 3 and Samsung is calling it the Wear OS powered by Samsung. Basically, it feels like a Galaxy Watch with Samsung software sprinkled with Wear OS elements.
The Watch 4 uses a Samsung One UI Watch overlay on top of the Wear OS 3 with Samsung apps and services. But, the Google Map support is a welcome addition with updated navigation support. Samsung has also opted to keep the Bixby instead of the Google Assistant.
ALSO READ: Samsung Galaxy F22 Review: A Decent Budget Phone with a High Refresh Rate
Likewise, the availability of the Play Store brings plenty of software support to the Watch 4. Some of the popular titles like Sleep Cycle, Adidas Running, Strava, Swim.com, Period Tracker, and Calm will be launching all-new Wear OS experiences starting August 20.
Battery & Others
247mAh battery (40mm/42mm)
361mAh battery (44mm/46mm)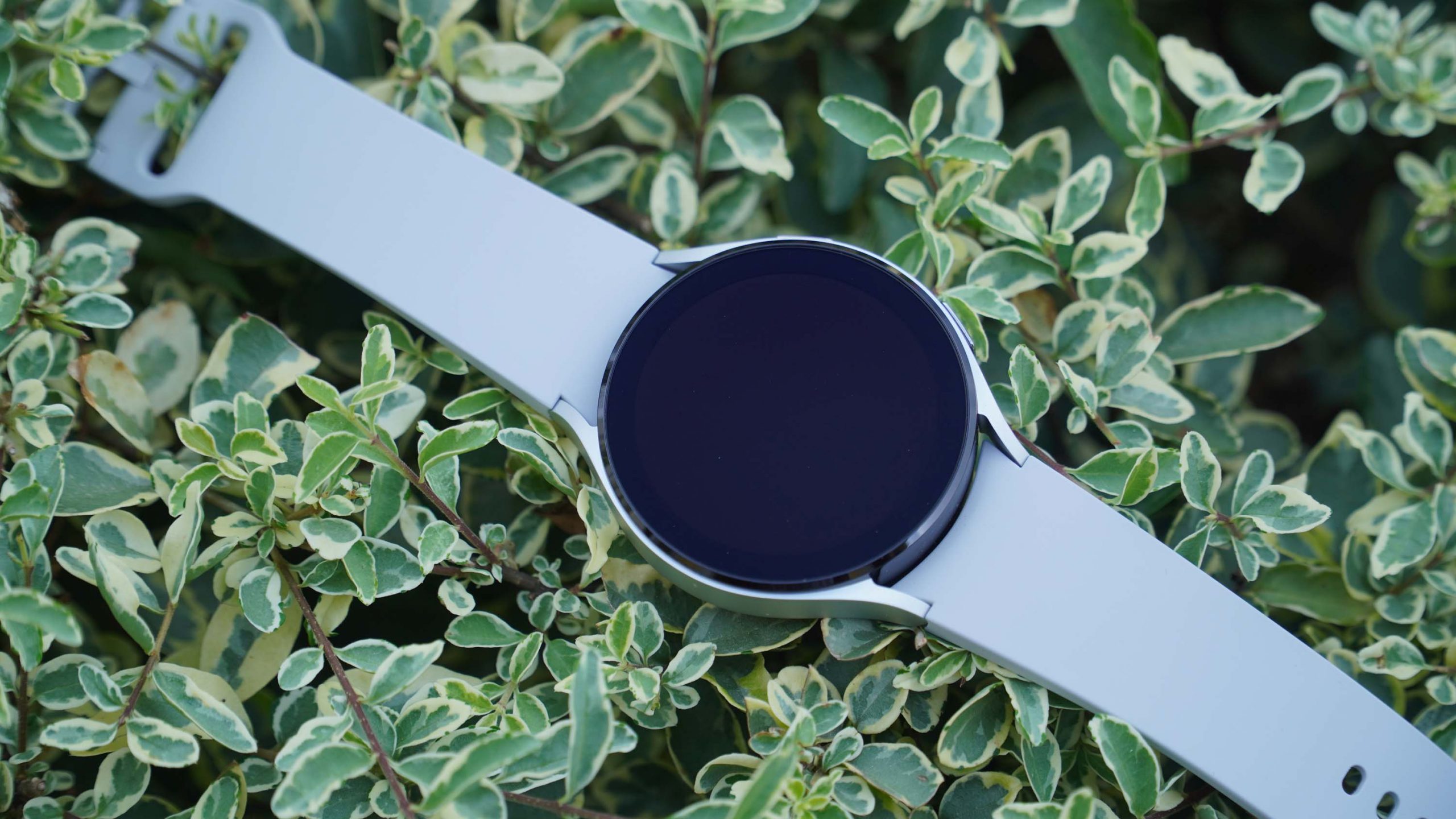 As for the battery, the 40/42mm models feature a 247mAh battery. Whereas the 44/46mm models feature a 361mAh battery. Both models support WPC-based wireless charging.
Samsung claims 40 hours of battery life on a single charge and charging the battery from 0 to 100 takes under 2 hours.
Other features include dual-band Wi-Fi, Bluetooth 5.0, built-in GPS, and NFC for Samsung Pay and Google Pay.
Follow Up
The Galaxy Watch 4 series looks very good. Samsung's spin on Google Wear OS 3 looks swift and practical. On top of that, Samsung has added lots of cool health tracking features such as Body Composition.
Even though, this is just an impression of the Watch 4 series. I can say that this is the best wearable from Samsung to date. For the price, it is looking really top-notch.
This is just an initial impressions article after a few hours of usage of the Samsung Watch 4 series. I'll revisit what I talked about here in my full review.
---
Also, watch our impressions of the OnePlus Nord 2 in Nepali.