The launch event for Samsung Galaxy Note 10 and Note 10+ sure was spectacular, wasn't it? Premium range smartphones that contains almost everything that we've been looking for in 2019.
Up until yesterday, the devices were available through only pre-booking in Nepal. But don't get upset thinking you missed the chance. Because the Note 10 and Note 10+ have finally been launched in offline mode!
That means, now you can visit the official Samsung stores and buy yourself a brand-new Samsung Galaxy Note 10/10+. However, since pre-bookings are over you won't be getting the offers that came along with the pre-booked devices. It's a bummer actually but you still get the Note 10 or Note 10+ you were hoping for.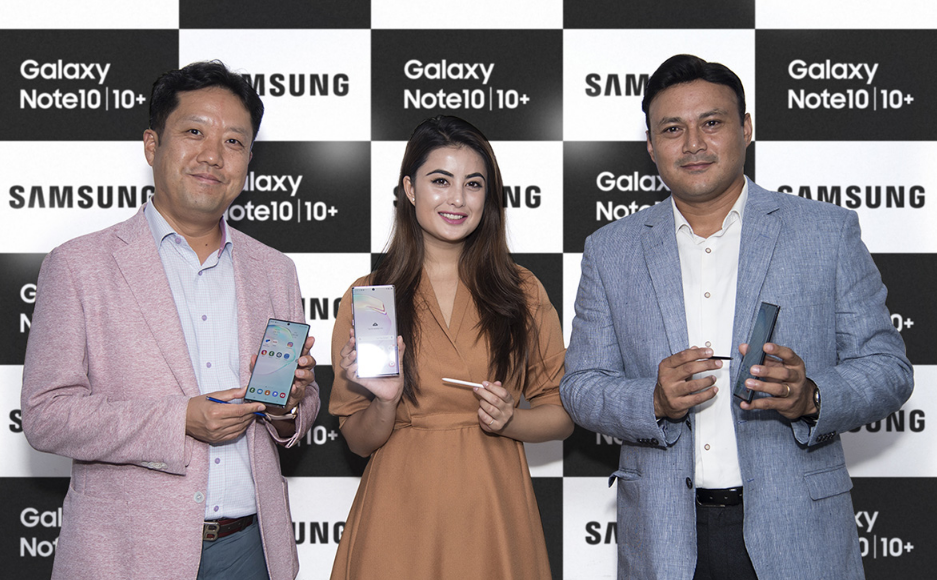 Regarding the pricings, the Samsung Galaxy Note 10 Price in Nepal is set Rs. 1,16,000 and Samsung Galaxy Note 10 Plus price in Nepal is set Rs. 1,35,000.
Now, if you're really interested in buying the device, how about a quick look at the specification of the device you'll be buying.
Galaxy Note 10 and Note 10+: Specs Run-Down
The Note 10 stands at 6.3" tall while the Note 10+ stands at 6.8". A huge difference in size but the no compromises in the AMOLED display screen in either of these devices.
Both these variants contain the top-end Exynos 9825 processor. These processors are the kings in their categories so best performance is certain. At 12Gb or 8Gb, there's no compromises in terms of RAM management as well. The massive 4300 mAh battery in Note 10 Plus backed by a 45W fast charging should also back the performance pretty well. But the 3500mAh with 25W fast charging in Note 10 even though is great does fall short a little.
While the amazing video capabilities of the 3D depth sensor in Note 10+ has showed great potential, the Note 10 not having the depth sensor feels a little incomplete. Other than that, remaining cameras have the same outstanding capabilities of delivering great photos.
Both have relinquished the headphone jack. My condolences to the headphone jack. Beside that all the Note 10 and Note 10+ have inherited the best features from the S10. IP68 certification, wireless and reverse wireless charging, surrounded speakers, Micro SD everything is still there.
Well both these phones are amazing devices with stupendous capabilities. Should you choose to buy it, I guarantee that you'll be satisfied. For now, the phones are out there in the wild. Go and grab yours before they run out of stock! And do share with us what you think of the device in the comments below.