The list of new smartphone companies entering Nepal is getting harder to keep by the day. New companies are flooding the market, especially with budget phones. A month hasn't passed since Tambo and Bluboo launched their phones. Now, there's a new phone from a new company, Ryte. Ryte U60 is available for Rs. 9760 and as its price suggests, it is a budget smartphone.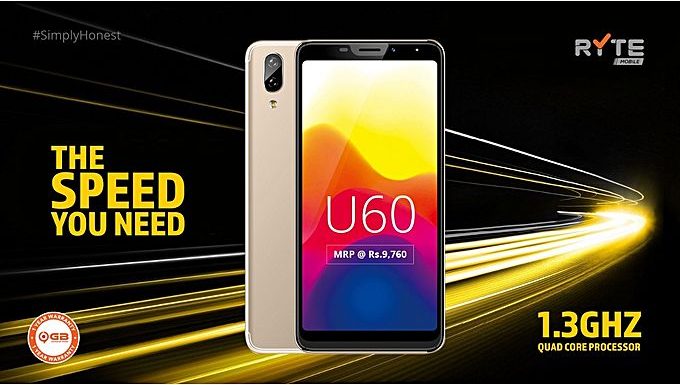 Ryte U60 doesn't look its price. It looks far more premium except for the large RYTE logo on the back. As we haven't held it in our hands, we don't know how it feels. Inside, the phone has a 1.3 GHz quad-core processor possibly from MediaTek or Spreadtrum. This processor is paired with 1GB RAM and 8GB internal storage. So, this phone is made for users with a light use case, for people who use their phone mostly to call and text. If you like to play games on your phone, even if it's just temple run, the phone is not for you.
Also, the OS isn't Android Go which means the available storage out of the box for users to store their files will be low. You will have to invest in a micro-SD card if you have a large music collection. The Android version you are getting is Android Nougat 7.0. The phone has 5MP cameras on the front and the back. A 5MP snapper isn't going to click amazing photos. It is functional and will click the photos of things or people you want. The battery inside is 2900 mAh. This may be enough to last you all day as the phone has low-powered internals.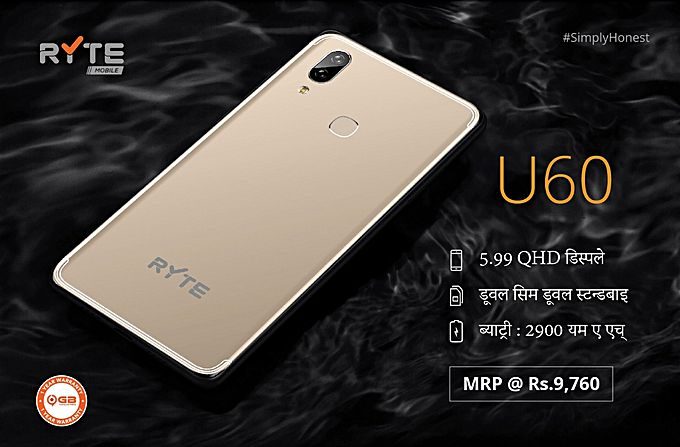 Weirdly, the facebook post about the availability of Ryte U60 says that this phone has a QHD display. QHD display means higher resolution than an FHD display found on phones like Nova 3. So, we are thinking it isn't a QHD display but rather a qHD display. That seems reasonable for the price. A qHD display is lower resolution than an HD display.
One other cool thing about Ryte U60 is the availability of a fingerprint sensor.
Ryte U60 is a good enough phone for the price. It looks good and probably will perform good enough. But with the likes of CG OMEGA 6 offering better features for the price, it would be tough to sell this phone to the public.