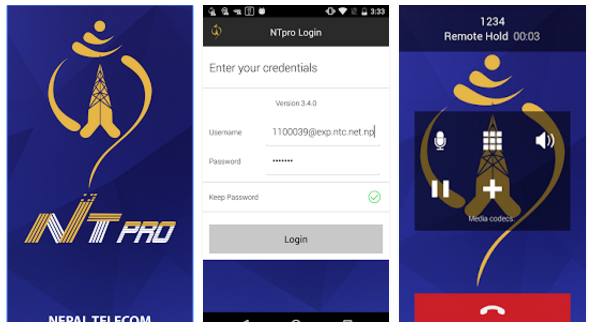 Nepal Telecom has recently launched NTPro app. The app allows NTC postpaid mobile users to make and receive phone calls all over the world, even if there is no GSM network. But, they should have access to the Internet.
When a customer is out of the network, call forwarding to a specified number is required to receive calls in NTPro.
Since, the calls are made over the internet, it cannot be assured that the calls will be reliable as of the network. Call quality will be affected for certain if you are running its service under low connectivity.
According the company, user are required to open an account in order use the app. Users can open an account by using their mobile number.
The calls from the app are not free for sure. The cost to the calls are linked-up with the main balance of the GSM SIM. You make the call using the app, the amount for the call will be deducted from the SIM balance. But, it is not necessary that you should check your balance before every time you make the call, this makes things automated.
Features
Voice call (Outgoing/Incoming) to any number from NTPro from Data Network (useful for roaming customers)
Can receive and make calls using same GSM post-paid mobile numbers
Free calls from NTPro to NTPro
Free Instant Messaging from NTPro to NTPro
Free Video calls from NTPro to NTPro
Ad-hoc Conferencing
Meet Me Conferencing
Call Wait, Call Forward, CLIP etc
The app is only available to GSM postpaid users. According to the statement published by Telecom, it is not mentioned anywhere about the availability of this service to prepaid users. As prepaid users holds a big portion of customers for Nepal Telecom, we can hopefully assume that Nepal Telecom may facilitate its prepaid users this service too.
You can find the more detailed information about the NTPro app from NTPro NTC webpage.
The app is available in both Google and Apple store. You can download the app at immediate from these links, for Android, for iPhone.
Try out the app! Let us know your insights on the app.