After a successful test of 4G in all the 77 districts of Nepal, NTC has now launched VoLTE in Nepal.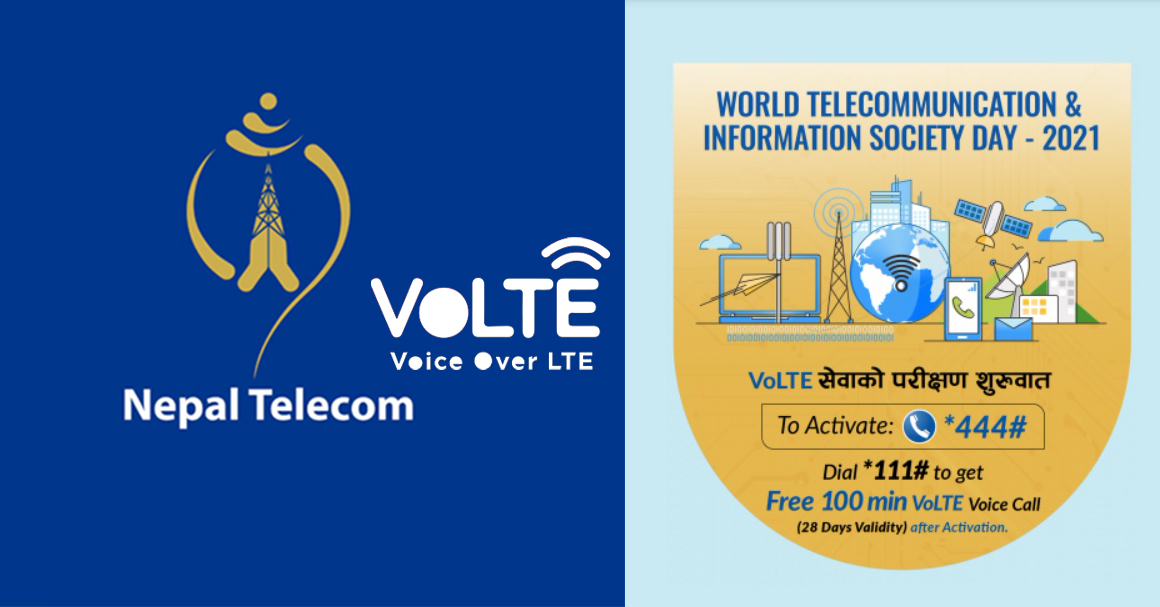 VoLTE (Voice over LTE) is an advanced technology that makes use of the 4G network to deliver high-quality HD voice calls. As the name suggests, VoLTE can deliver ultra-clear voice quality with reduced background noise by using the 4G network to make voice calls.
So, let's see all the features of NTC VoLTE.
NTC VoLTE in Nepal
NTC had started the test of VoLTE in Nepal during the expansion of its 4G network to more cities and rural areas.
As they have been successful to extend its LTE (4G) coverage to all 77 districts, they have begun testing VoLTE from May 17, 2021.
What is VoLTE?
VoLTE short for Voice over LTE is the next-generation voice service that uses an LTE (4G) network instead of a traditional 2G/3G network to deliver superior voice calls.
ALSO READ: Covid-19 Vaccination Online Registration in Nepal Opens for 18+: Here's How-to Register
Furthermore, it also allows you to browse the internet and uses data-driven apps while on a call. You can think of this as the feature that we see on platforms like Viber, Skype, Messenger. But the difference here is you can make voice calls using your own number through the 4G network.
What are the advantages of VoLTE?
Some of the advantages of VoLTE are as follows.
 HD voice calls with clear sound, low noise, and low latency.
The call setup time of VoLTE is much faster than that of traditional networks.
VoLTE calls also consume less battery compared to traditional calls.
Does my smartphone support VoLTE?
To use the VoLTE service, your phone should also have support for VoLTE. NTC has only provided support to a handful of smartphones as of now. You can check all the supported devices at this link.
If your mobile supports VoLTE then you will also need to enable it via settings.
 First, go to mobile networks in your phone settings.
Then enable the VoLTE option on supported NTC SIM.
How to activate Nepal Telecom VoLTE service?
To activate your sim card for VoLTE service, you need to do the following.
First, dial *444# on the keypad.
Then the USSD response will provide you with 3 options.
To activate VoLTE, select the "Activate VoLTE" option by dialing 2 on the keypad.
This will enable the VoLTE service on your NTC SIM.
NTC VoLTE Offer for Early Birds
For early adopters of VoLTE, NTC is providing a free 100-min VoLTE service valid for up to 28 days. It will only be applicable inside the NTC network. Also, you will need to dial *111# after activating VoLTE to claim this offer.
ALSO READ: It's Official! POCO X3 Pro with Snapdragon 860 Finally Launched in Nepal
VoLTE is at an early stage in Nepal but it's a good news that Nepal is finally getting VoLTE service. This will hugely improve voice call quality. Furthermore, upcoming telecoms like UTL, CG Telecom, Smart, and others can directly provide VoLTE network over 4G network without investing in 2G/3G network.
However, NTC VoLTE is in the trial phase and there are very few devices that support NTC VoLTE right now.