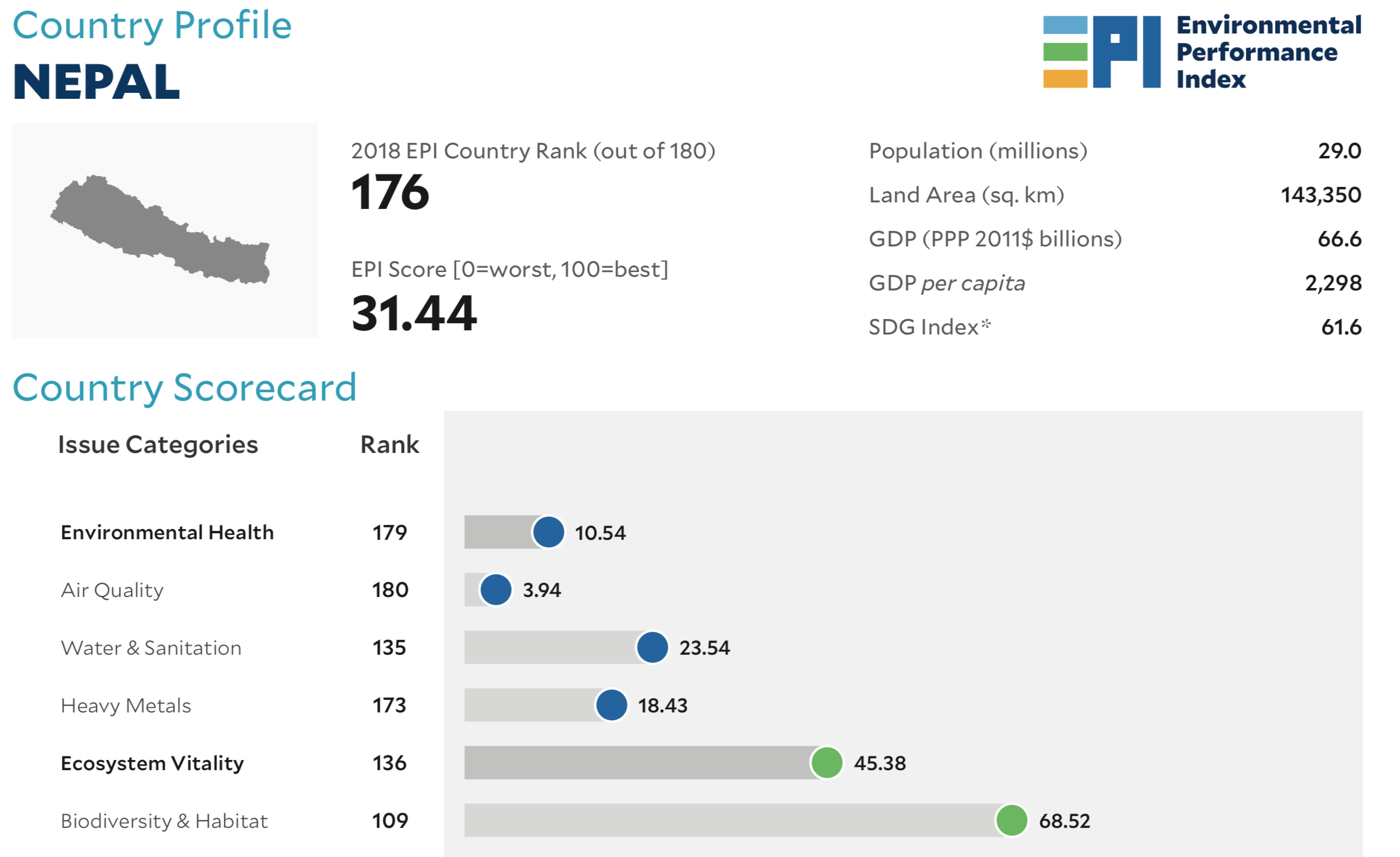 The latest Global Environmental Performance Index (EPI) was released on Tuesday by Yale University and Columbia University in collaboration with the World Economic Forum. According to the report, Nepal's air quality is the worst among the 180 countries included in the report.
Why it matters:
The EPI report ranks the countries on 24 indicators across 10 categories, covering environmental health and ecosystem vitality. Environmental health also includes two other components of water and sanitation and exposure to heavy metals.
The report had measured Household solid fuels, PM 2.5 exposures and PM 2.5 exceedance for measuring air quality of countries included in the study.
The report makes all the countries aware of their environmental performance.
The Stats according to EPI report:
Nepal was ranked the last for air-quality among 180 countries.
Australia secured the highest ranking for clean air while the United States ranked 10th.
Among Asian countries, Nepal stands at 24th place on the EPI.
Key takeaway:
Nepal ranks at 176th place, among 180 countries with a score of 31.44.
Nearly all countries at the lower end of the global rankings for poor air quality are from Africa or Asia.
Nepal's air quality score of 3.94 indicates that it is in worse condition than other countries in the region.
The report shows Nepal's overall performance as "poor" in terms of EPI.
The report says:
"Low scores on the EPI are indicative of the need for national sustainability efforts on a number of fronts, especially cleaning up air quality, protecting biodiversity, and reducing GHG emissions. Some of the lowest-ranking nations face broader challenges, such as civil unrest, but the low scores for others can be attributed to weak governance, they note,"
"These metrics provide a gauge at a national scale of how close countries are to established environmental policy goals. The EPI thus offers a scorecard that highlights leaders and laggards in environmental performance, gives insight on best practices, and provides guidance for countries that aspire to be leaders in sustainability,"
"The overall EPI rankings indicate countries' best performances against the array of environmental pressures that every nation faces."
Best and Worst Countries as per EPI

| SNo | Best Five Countries | EPI Score | Worst Five Countries | EPI Score |
| --- | --- | --- | --- | --- |
| 1 | Switzerland | 87.42 | Nepal | 31.44 |
| 2 | France | 83.95 | India | 30.57 |
| 3 | Denmark | 81.60 | DR Congo | 30.41 |
| 4 | Malta | 80.90 | Bangladesh | 29.56 |
| 5 | Sweden | 80.51 | Burundi | 27.43 |
You can view the shareable report for Nepal here.