Nepal Bhasa has touched the lives of many. Those who are immersed in it know and love the language. Those who have seen it and heard it are alluded by its mystery. And those who know it (but only a little bit) are often exasperated by its difficulty. Seriously, I can count five meanings of "waa" right here and now.
To grant the wishes of all these people and many others, Pawan Raja Maharjan and Ananda K. Maharjan have come up with an interesting app called Nepal Lipi—Type Newa.
With this app, people can type Newari texts in Nepal Lipi and share it on social media or send image messages to friends. The texts can be shared as a status on Facebook and other social media. And the images can be self-made using built-in stickers and fonts. The application allows users to create different pictures in different styles, color and save it or share it on social media.
Nepal Lipi app is dependent on Nepali Keyboard. It converts texts typed in Devnagari to Nepal Lipi. So you need to have any Devanagari Nepali Keyboard installed. The Unicode used is the Nepal Lipi Unicode font Aakha by Nepal Lipi Guthi. Though it also supports texts in English, it does not convert it to Nepal Lipi. The written text is manipulated through sliders to control size, alignment, and shadow.
The app has a good range of stickers courtesy of Bigyan Prajapati, Ananda K. Maharjan, Ashlesha Maharjan, Bukesh Maharjan, and Aba ko Creations.
The application also features a Learn Nepal Lipi button that redirects it to Nepal Lipi videos on Youtube. The Learn Nepal Bhasa button contains tutorials and worksheets in different scripts.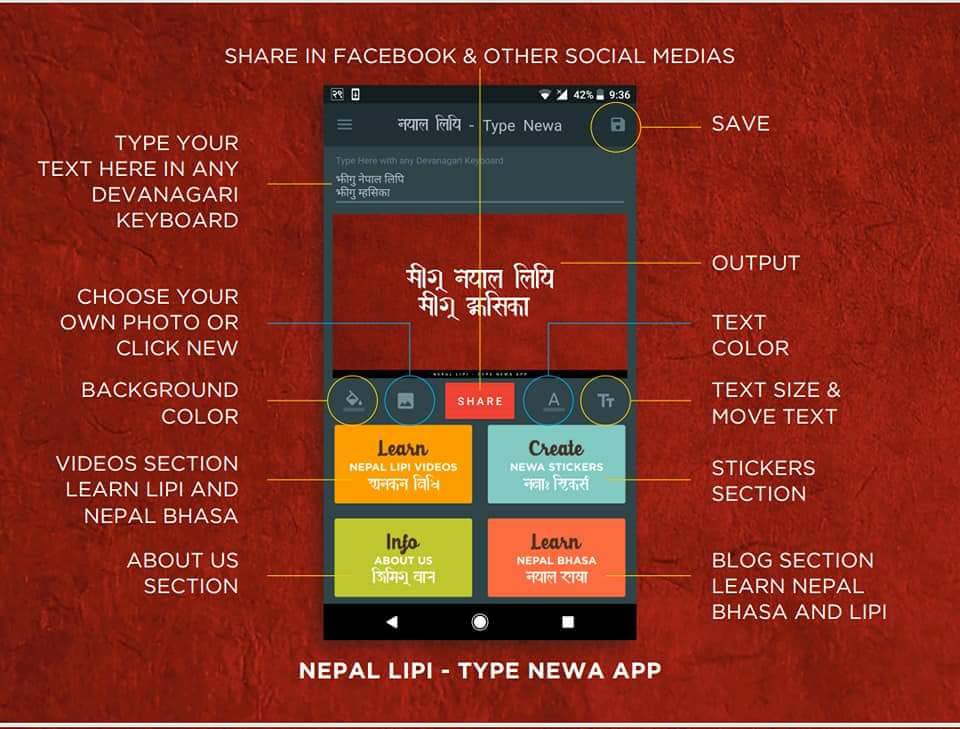 This is not the first application aiming to promote Nepal Bhasa. There have been other apps such as Lipi Keyboard, Nepal Bhasa, Learn Newari, Nepal Lipi, and Ranjana Lipi among others. This is, however, the first application that mixes Nepal Bhasa education with user creativity. Users learn while they custom build their stickers and quotes.
Overall, not only is the application beautifully designed, it is also very user-friendly. Even people unaccustomed to applications can use it easily after a while. The stickers though limited to 6 options are more than enough for a wide range of creative ideas. People will definitely love to share self-made pictures and posts in genuine and generic Nepal Bhasa.
It is a sweet application and definitely worth a try!