Neo Store, a multi-brand outlet (based in Kathmandu) for genuine electronic products is providing special offers on mobiles and laptops. There are various mobiles and laptops on offer with which you will receive a free insurance and warranty of one year on the purchase. The offer is set to run until the new year, 1st Baisakh 2074.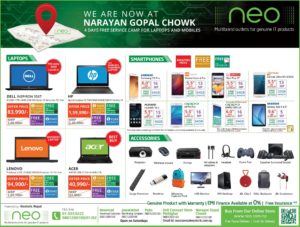 Laptop Deals
There are altogether seven laptops on special offer incorporating laptops from Dell and HP. Dell 5567 is one of the noticeable laptops that comes with the 7th Gen i5 processor for the price tag of Rs. 82,990 but still it's not the best deal you can find in Nepal. Though this might be a good deal if you think you need an insurance for your laptop. Well, Neo provides free insurance on any laptops/mobiles you purchase from the Neo Store. Thumbs up! to Neo for this service.
See: Dell Laptops Price List in Nepal Along With Key Specifications | 2017
HP Spectre with 7th Gen i5 is available for Rs. 1,59,990 and at the other end of the spectrum (in terms of price) Dell's Inspiron 3458 and Inspiron 3558 are available for a decent price tag of Rs. 40,990.
Except the Dell 5567 and HP Spectre, there are not any other trending laptops available on offer which is kind of boring!
Click here to check out all laptop deals.
Mobile Deals
A bunch of mobile phones is on special offers but OnePlus 3T for Rs. 56,000? Oppo F1s for Rs. 31,990? Really? Special offer? Other smartphones from Colors, Samsung and Videocon are also available but you might as well look somewhere else for better deals. Though the deals are not good enough, Neo is generous enough to provide you a Logitech Z50 Speaker for free on purchase of mobile phones.
Click here to check out all mobile deals.
See: OnePlus Mobiles Price List in Nepal Along With Key Specifications | 2017
So, Neo's special offer is just another disappointing sale after Kaymu's Mega Electronic Sale last week. Offers on some products are almost laughable; One Plus 3T's official price is Rs. 54,900 but you can get it for Rs. 56,000 at Neo Store; see how special their offer is? If they think a free speaker (which is not even a Bluetooth speaker) on the purchase of every phone justifies the so-called "Special Offer.", they're wrong!
Grow up Neo. We expect better from you.
Edited By – Awale Sushil