With internet usage at an all-time high, Ncell has introduced a new service called Ncell Wirefree+. It's available for pre-booking right now via PrabhuPay, Prabhu Kiosk, and Prabhu Remit counter.
Ncell makes claims that this will be an alternative to ISPs that provide wired internet services. And, they have been pretty vocal about it via their marketing strategy which aims a dig at ISPs.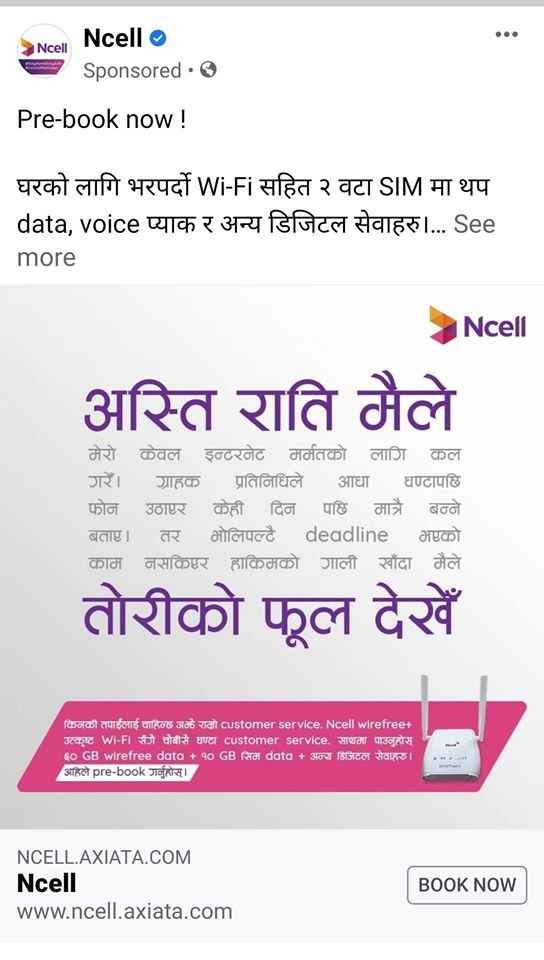 If you head on to Ncell's Wirefree+ website, you will see that they are promising a lot via this service. Internet experience like never before, service that not just breaks free from inconvenient cables but also from everything that was hampering Nepal's internet experience.
So, let's see what is this Ncell Wirefree+ all about.
Ncell Wirefree+
Ncell Wirefree+ is a wireless service but they haven't mentioned if it's something like Wimax or a 4G hotspot.
But, we think it's a 4G hotspot service via a router. I reached out to Ncell to get more details about it but they directed me to the same page which doesn't have all the answers.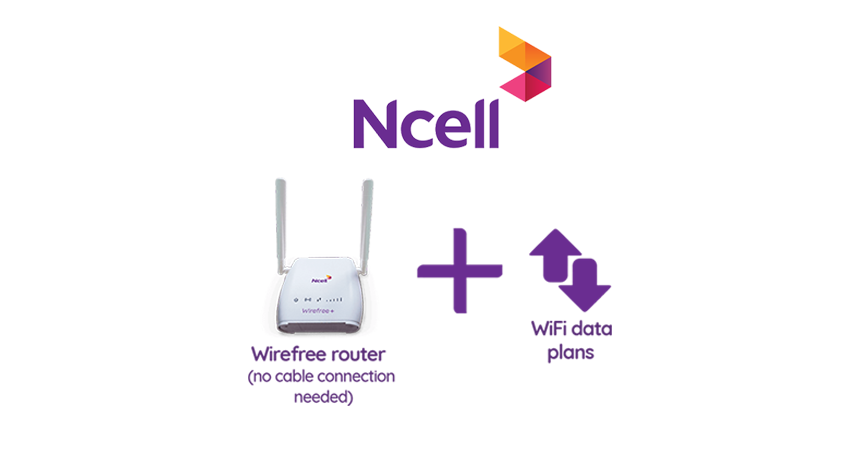 Well, it's a wireless service which is likely a 4G data service which we use on our mobile phone. The only difference here is that there's a dedicated router now.
This is not the first time Ncell is bringing this kind of service though. They also have Ncell Pocket Wifi which is a special sim card for data usage. But, they don't provide you a router with it.
What do we get with Ncell Wirefree+?
Ncell Wirefree+ service is free of cable and all you need is a wire-free router to access the internet anywhere. But the service is only available in selected locations and those locations are not mentioned on the website as of yet.

Except for the router you are getting following things as bundled offer:
2 SIMs each with 5GB Data and Voice Pack
Subscription of Prabhu TV, Shemaroo and more
Digital contents like Mobiplex, Hungama Music, and Daami Music
And, as part of their early bird pre-booking offer, they provide 425 min of free Ncell to Ncell voice calls for 2 SIMs each.
What about Ncell Wirefree+ Subscription Packages?
Well, there are three packages on offer; Gold, Platinium, and Diamond.
Since it's not an unlimited internet service, you get data packs with these packages:
| Gold | Platinium | Diamond |
| --- | --- | --- |
| 60GB Data | 85GB Data | 100GB Data |
| 200 mins Voice | 500 mins Voice | 1000 mins Voice |
| 5GB Data for 2 SIMs each | 10GB Data for 2 SIMs each | 10GB Data for 2 SIMs each |
| Rs. 799 | Rs. 999 | Rs.1099 |
| Rs. 1020 (After 13% TSC and 13% VAT) | Rs.1274 (After 13% TSC and 13% VAT) | Rs. 1403 (After 13% TSC and 13% VAT) |
The validity of the package is monthly. Resources will not accumulate and will expire every 30 days. Furthermore, you have to take a 6 months subscription or a yearly subscription according to their early bird pre-booking offer.
The price seems similar to our regular ISP's prices. But ofcourse it's not an unlimited internet. My daily internet usage is about 20GB per day. So, if I use the diamond package of this service, then the data will be spent in 5 days. Thus we can say that it's not a replacement for our normal ISP.
You can pre-book this service via PrabhuPay mobile app by paying Rs. 500. But, be aware that the product will be available only after commercial flight resumes in Nepal.
The Good
Ncell is trying to target existing ISP's customers via this service. They have been advertising that it can replace the internet from ISPs.
Well, I'm not sure about that part but it surely has it's benefits and cons.
The most relaxing thing about it is that it's portable. There are no cable connections so you can easily move it to different rooms in the house. Or, you can even take it to your business place.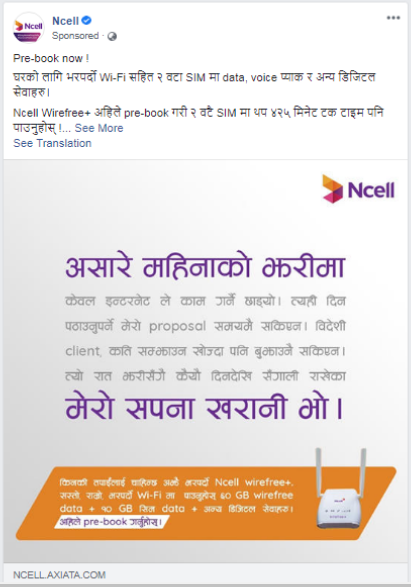 Except then this, it's pretty much sure that the internet will work until there's a mobile network. And, at this point in time, Ncell's mobile network is pretty good in cities but it surely is not consistent everywhere.
The Bad
Now, what are it's downsides?
Basically, it's a 4G internet service so it won't have the bandwidth to compete with the internet services of ISPs and it's not an unlimited internet service either. So, it should be fast enough for an individual but it might not be able to handle multiple users.
Next up, it's a wireless service, and no matter what Ncell says, wired connections are faster and more reliable. However, the reliability of ISPs in Nepal also raises a question mark.
Price starts at Rs. 999 for the 60GB subscription pack and will I pay this price? No! I can get unlimited internet service for this price and 60GB will merely last me 3-4 days at max. Yes, you get 2 sim cards with additional data and all the other misc services but I would not go for this. This is not for me.
At last, I would say that this service is appealing to a specific group of people. It's good for people who travel a lot and want an instant internet connection wherever they go.
We have pre-booked this service and we look to test out this device in the future when it's available.
So, what do you think about Ncell Wirefree plus? Can it compete with existing ISPs in Nepal?
Share your thoughts in the comments below.