A multi brand international mobile showroom is opened at Lalitpur Mall in joint collaboration of Lalitpur Mall and Lalitpur Mobile Complex. A mobile expo has been held from September 11  to September 20 at the second floor of the mall. The expo brings together mobiles from many different brands. The second floor of Lalitpur mall houses 40 showrooms with a wide variety of mobile phones from a magnitude of brands.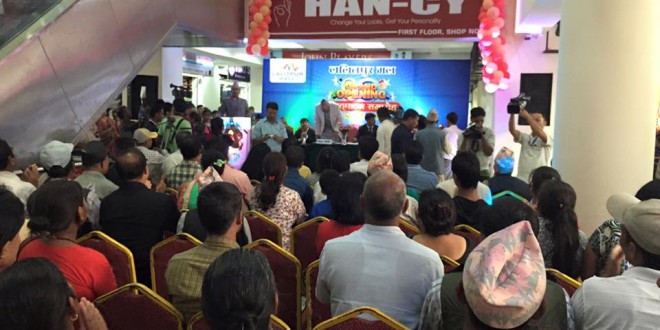 At the inauguration of the expo President Purushottam Basnet said that, this expo and the showroom is the first of its kind. He also said that the show room provides a seal packed device as well as a guarantee service. The showrooms will be able to provide service to over 4000 customers at any given time.
At the expo President Basnet also said that customers can get from 7% to 70% discount, win lots of attractive prizes and win the bumper prize of Rs. 1 Lakhs, with the purchase of any phone. During the expo, 100 mobile phones will also be handed out to lucky winners.
It is estimated that Rs. 10 Lakhs will be collected and transaction of around Rs. 13 Crores will be made at the showroom.
The brands that will be included in the showroom are Samsung, iPhones, Huawei, Gionee, Micromax, HTC, DTC, Lava and many more.