KTMJS Developers Meetup Episode #8 is going to be held on December 30, 2017, at Fusemachines Nepal, Kamaladi, Kathmandu. The event will run from 11 in the morning till 3 PM in the evening.
The Meetup is being organized with an objective to bring like-minded people together and share their acquaintance and expertise in JavaScript and related web technologies. KTMJS Developers Meetup is not only for techies of JavaScript but also for those people who have a desire to know about the JavaScript and want to be part of this community. This event is helpful for everyone who want to increase their potentials in JavaScript.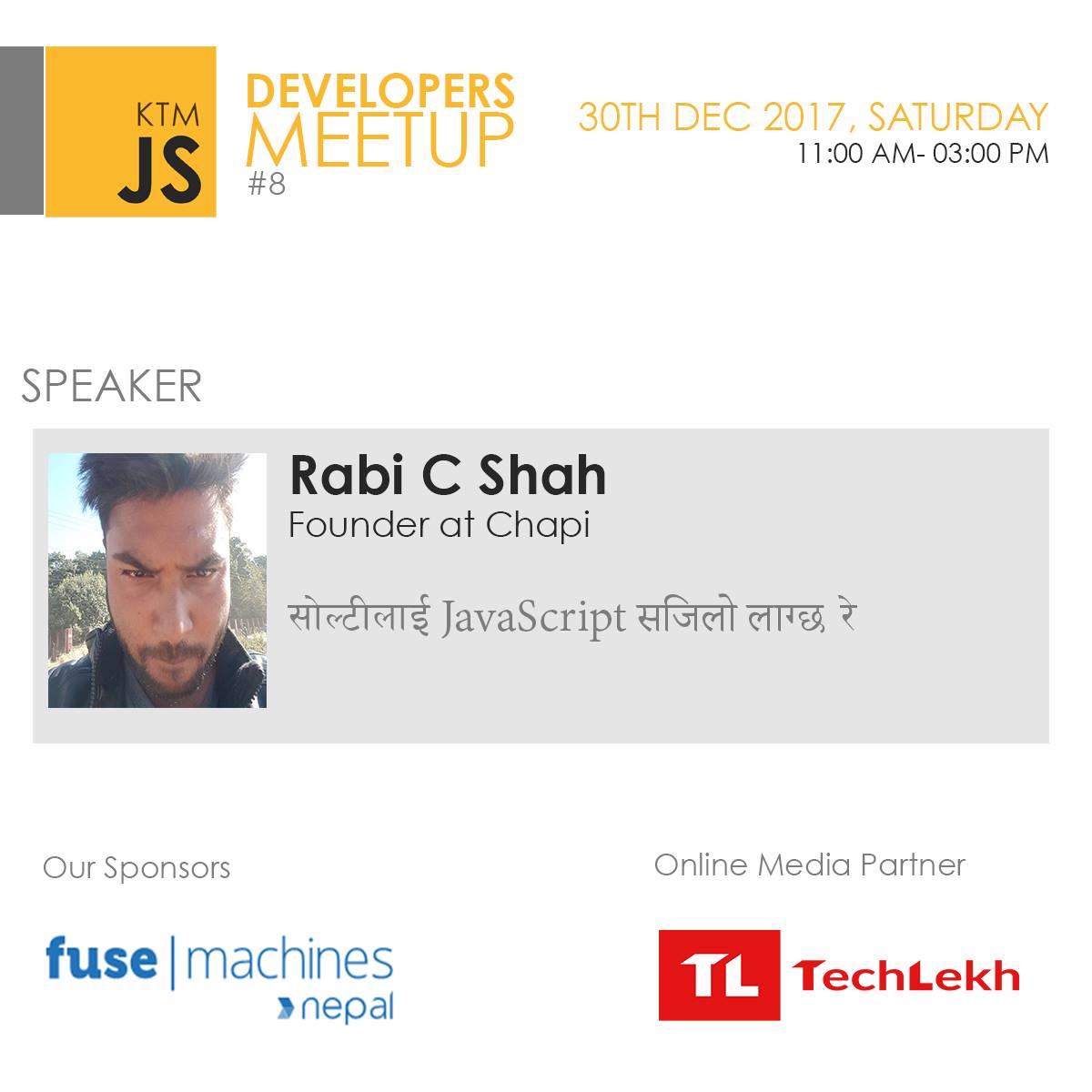 There will be five talk programs in the event.
Details About Talks
React-Native: Comparison with Ionic, by Damodar Lohani, Technology Consultant at Lohani Tech.
Kotlin JS: Up Klose and Personal, by Rakeeb Rajbhandari, Developer at Evolve Asia.
Ionic: My experience developing apps with Ionic, by Prasun Jajodia, Developer at Knockout System Pvt. Ltd.
सोल्टीलाई Javascript सजिलो लाग्छ रे, by Rabi C Shah, Founder at Chapi.
Ensuring JS code quality, by Jay Raj Mishra, Developer at Braindigit.
The meetup is being sponsored by Fusemachines Nepal, and TechLekh is the official media partner for the event.
It is an open event; you do not need to register. You can, however, follow the event on Facebook.
If you are literally interested in JavaScript, don't let yourself get away to join this meetup. These meetups are the best way to get close with the like-minded people and build up your network with them.
Event Details
Date: December 30, 2017
Time: 11:00 am – 3:00 pm
Venue: Fusemachines Nepal, Kamaladi, Kathmandu
Registration: FREE