Komaki XGT X5 is now in Nepal at an attractive price!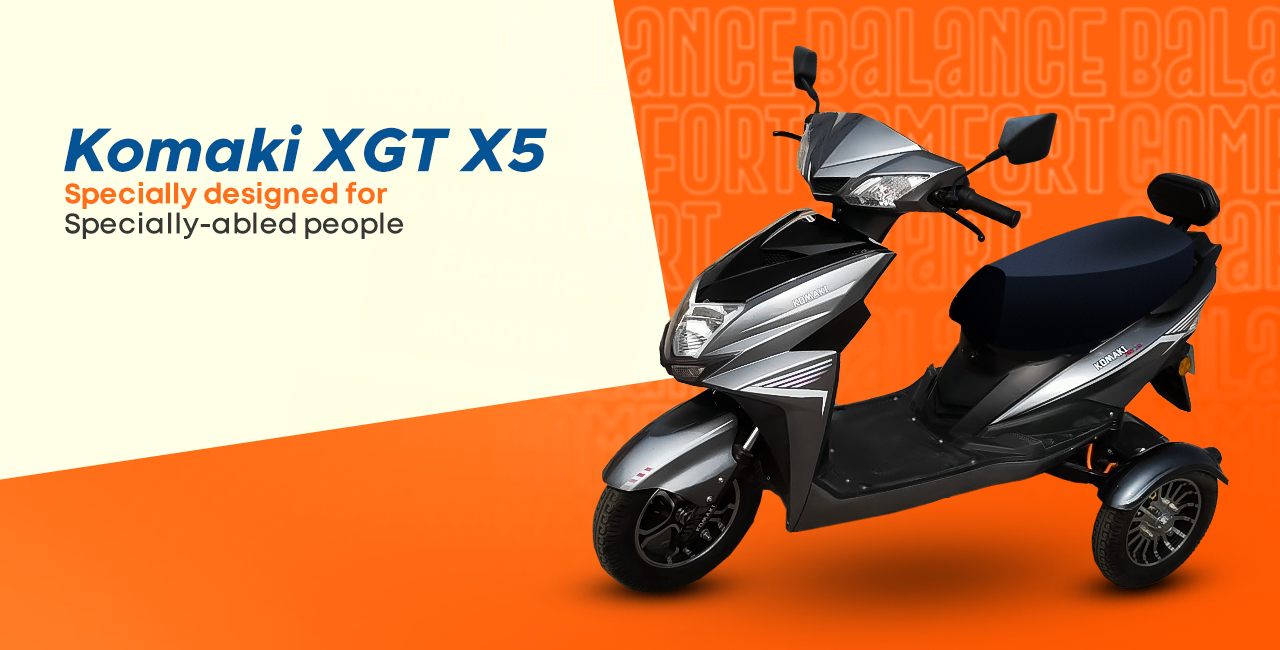 Unity Trading, the authorized distributor of Komaki electric scooters in Nepal, has unveiled an interesting scooter designed especially for differently able people and the elderly.
It is a tri-wheel self-balancing scooter.
It makes the EV more accessible to those who were not able to before. Plus, there are no compromises in its features and attractive price.
As for the pricing, the Komaki XGT X5 price in Nepal is Rs. 2.59 Lakhs.
Komaki Nepal has been dashing out feature-rich electric scooters with balanced prices and features. By the looks of it, the Komaki XGT X5 will continue doing the same.
With that said, let's take a quick look at the Komaki XGT X5 price in Nepal along with its key specifications.
Komaki XGT X5 Specifications
Motor: 1200W BLDC
Battery: 60V35Ah
Peak Power: 1800W
Battery Type: LiFePo4
Range: 100 Km
Top Speed: 45 Kmph
Charging Time: 4-5 hours
Tyres: 90/100-10 – Disc
Tubeless Tyres: Yes
Braking Type: Synchronized Braking Technology
Ground Clearance: 170 mm
Colors: Red, Black
Komaki XGT X5 Price in Nepal: Rs. 2,59,000
Komaki XGT X5 Overview
Design
Komaki XGT X5 has a more preserved styling.
It does not go crazy with the overall styling. Rather, it plays it safe while injecting design cues traditionally expected from an electric scooter.
The front gets a large LED Headlamp neatly integrated at the apron.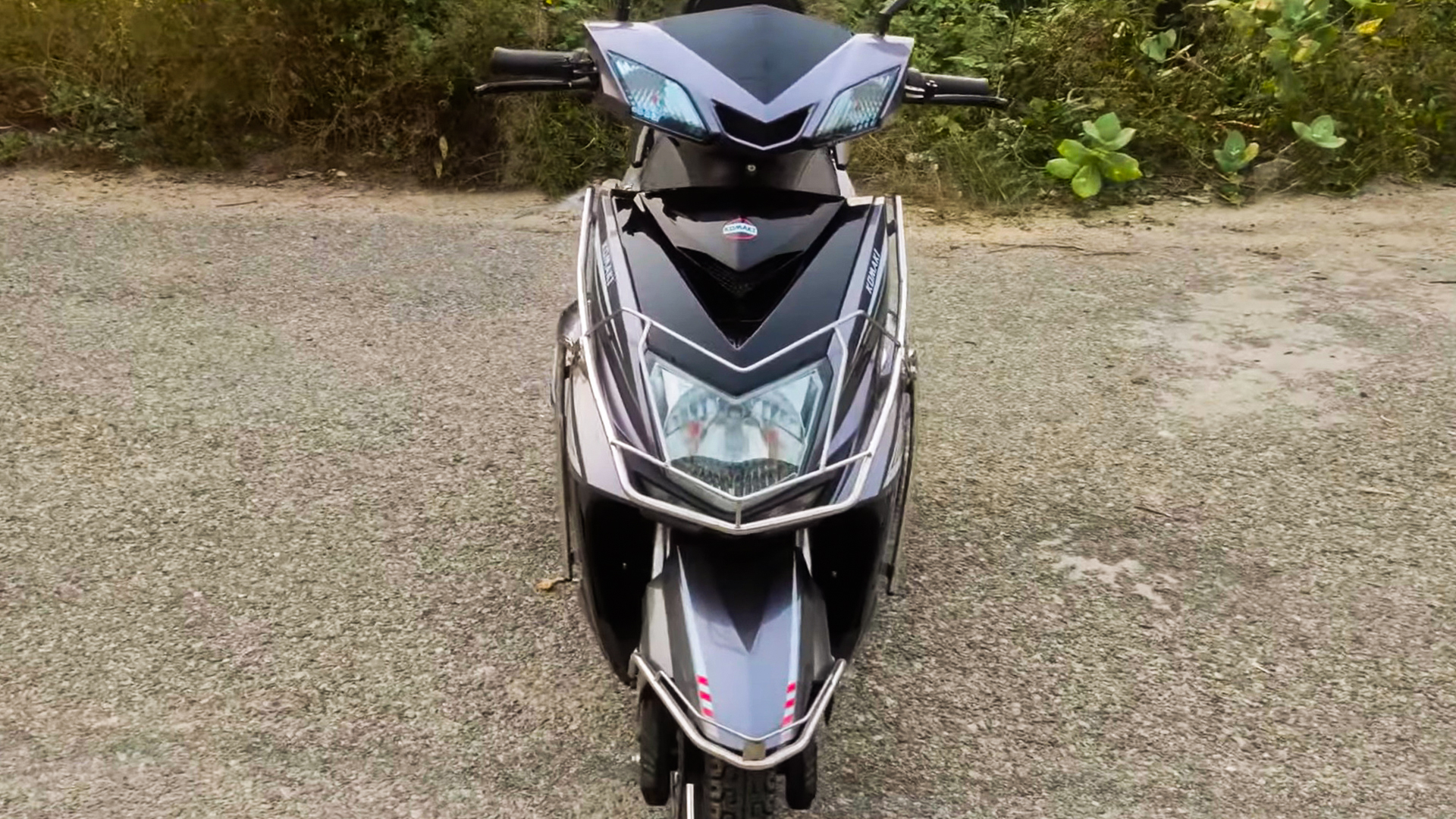 And, the side indicators are positioned at the handlebar.
There are air vents present at the handlebar and the body apron. However, these are there to enhance the look of the scooter, rather than being functional.
ALSO READ: TAILG Electric Scooters Price in Nepal: Features and Specs
The side profile has sculpted aesthetics, especially with its colorful stickers and stylish rims. It includes a convenient backrest for the passengers.
Moving to the rear profile, it sports a large bulbed taillight along with bulbed indicators.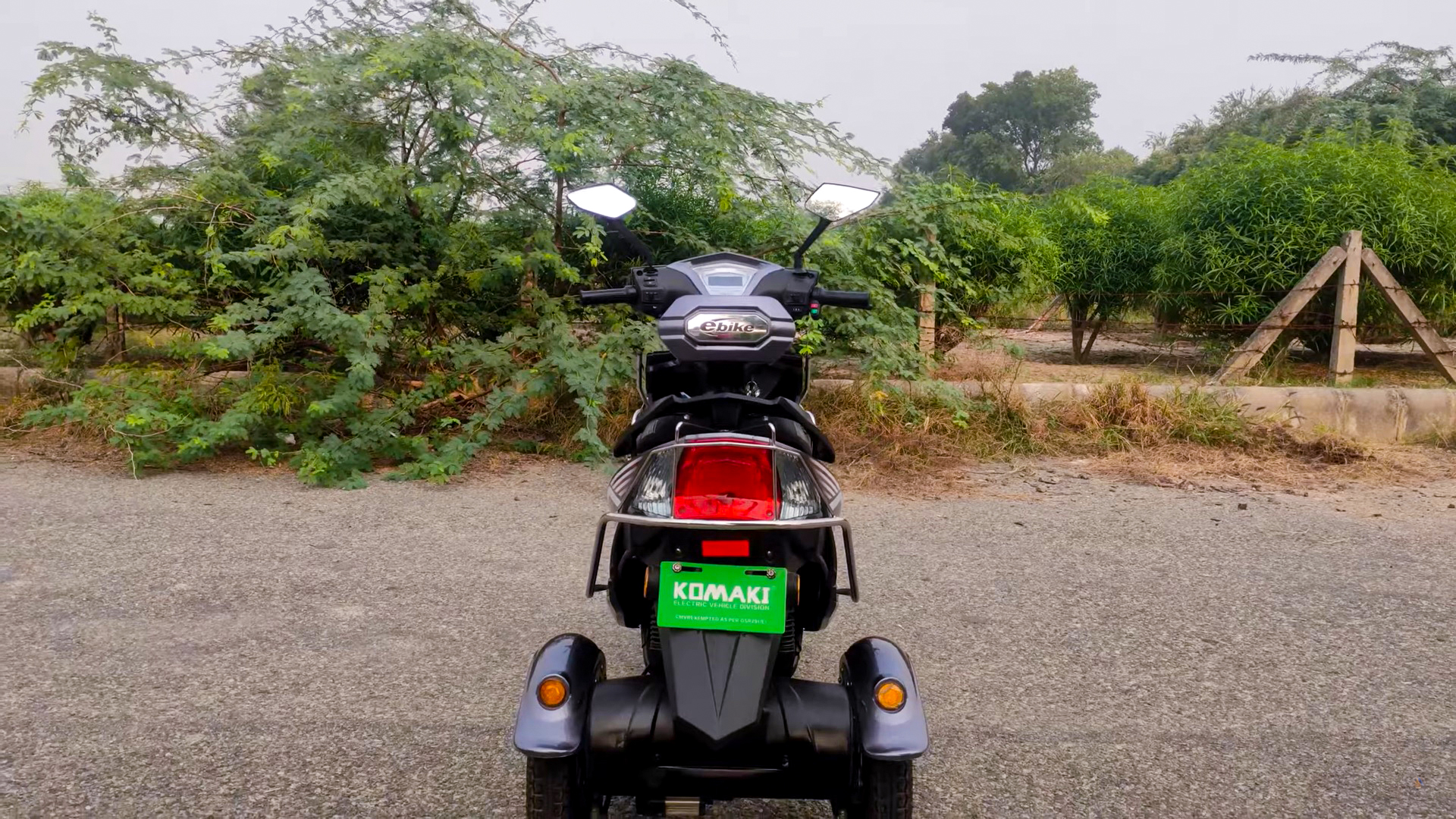 Additionally, Komaki XGT X5 is available in Grey and Red color.
Performance
Komaki XGT X5 is powered by a 1200W Electric BLDC Motor. It generates a max power of 1800W and a max torque of 60Nm, capable of a top speed of 45Kmph.
It is supported by a 60V35Ah LiFePo4 Battery. Moreover, it can fully charge in 4 to 5 hours, claiming a range of 100 km per charge.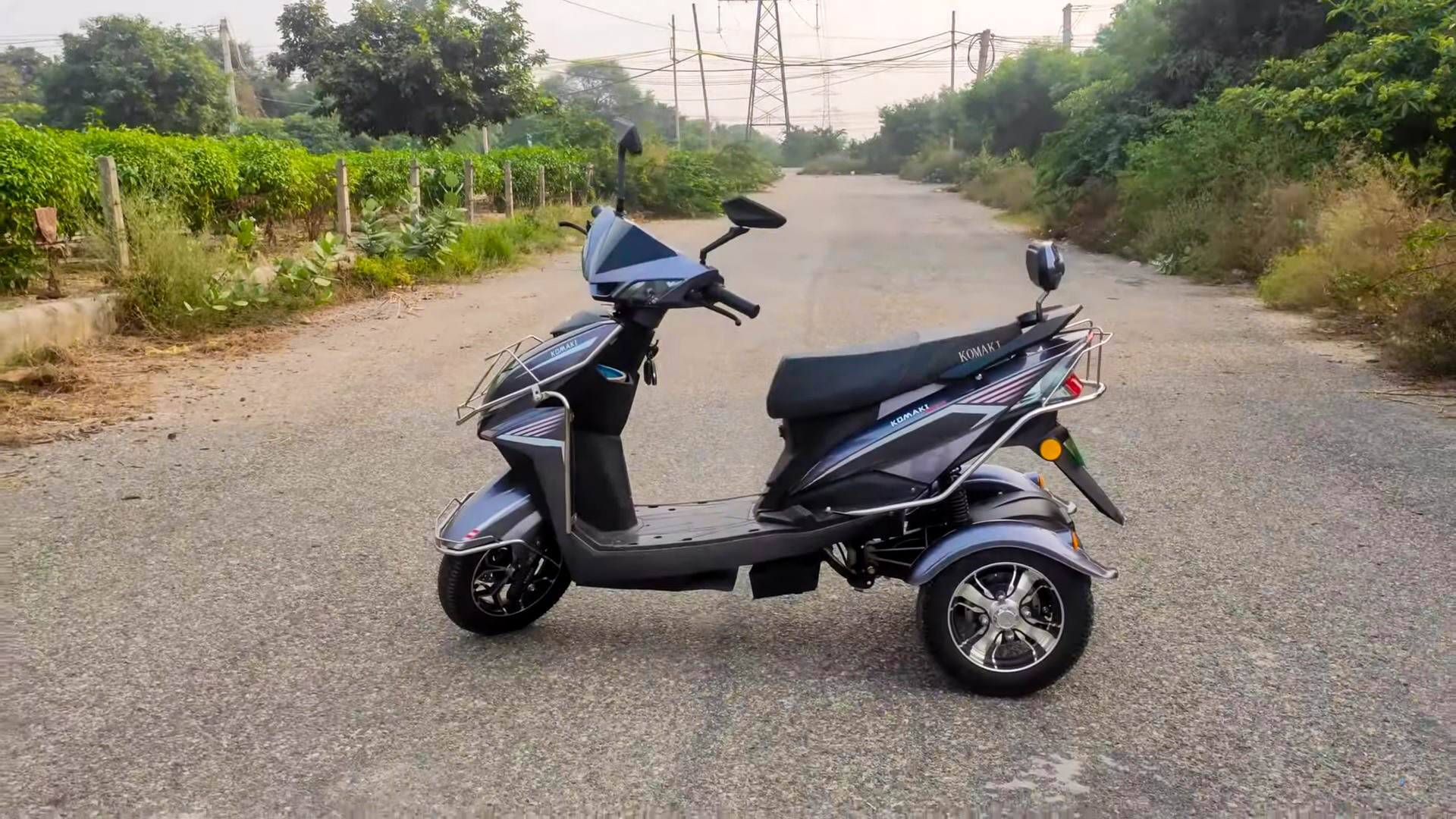 It consumes 2 Units per Full Charge. And, it supports up to 2000 Charging Cycles.
Additionally, it has an app-based Battery Management System.
The app-based connectivity uses location-based services to allow drivers to easily find, access, and check the battery status.
Additional Details
Hydraulic shock handles the suspension duties.
It comes with 10-inch 90/100-section tyres. Moreover, all three tyres are equipped with Disc brakes with Synchronized Braking System (SBT).
Komaki XGT X5 gets a 170mm ground clearance. 
Other Komaki features like Anti-Theft Lock, Reverse Mode, Multiple Sensors, Self Diagnosis, Wireless Updates, and Emergency Repair Switch are still present.
ALSO READ: Komaki Ranger, Electric Cruiser Bike, is Now Available in Nepal!
Features
Here is a quick feature list of the Komaki XGT X5 in Nepal.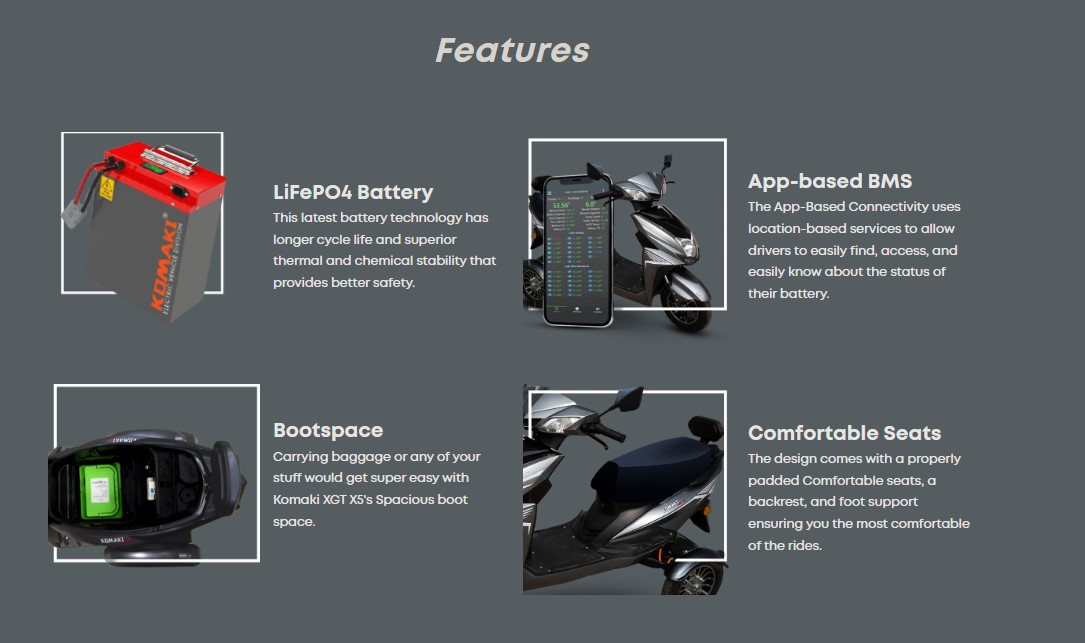 Komaki XGT X5 Features Highlight
1200W Electric BLDC Motor
60V35Ah Lithium Battery
3-Wheel Self-Balancing Scooter
LED Headlamp
Colored Smart Display
Keyless Unlock
Storage Cubbies
USB Charging
Under-Seat Storage
Triple Disc Brakes
Synchronized Braking System
Anti-Theft Lock
Reverse Mode
Multiple Sensors
Self Diagnosis
Wireless Updates
Emergency Repair Switch
2 Units Electricity Consumption
2000 Charging Cycles
Komaki XGT X5 Price in Nepal and Availability
Talking about the price, the Komaki XGT X5 price in Nepal is Rs. 2.59 Lakhs. It is only available in a single variant.
Interested individuals can contact the nearest Komaki showroom for additional details.
| Komaki XGT X5 | Price in Nepal |
| --- | --- |
| Komaki XGT X5 | Rs. 259000 |
ALSO READ: Komaki Electric Scooters Price in Nepal: Features and Specs
Komaki XGT X5 is factory fitted with a three-wheel setup. Hence, it completely removes the need for custom-fitting from an unreliable third party.
Interestingly enough, the Komaki XGT X5 has maintained a good balance of performance, style, features, and affordability. Plus, it helps people with special needs get into the world of EVs.
It will be interesting to see how the market will react to an interesting EV product like this one.