Khalti, one of the popular digital wallets in Nepal is offering 10% instant cashback on mobile top-up.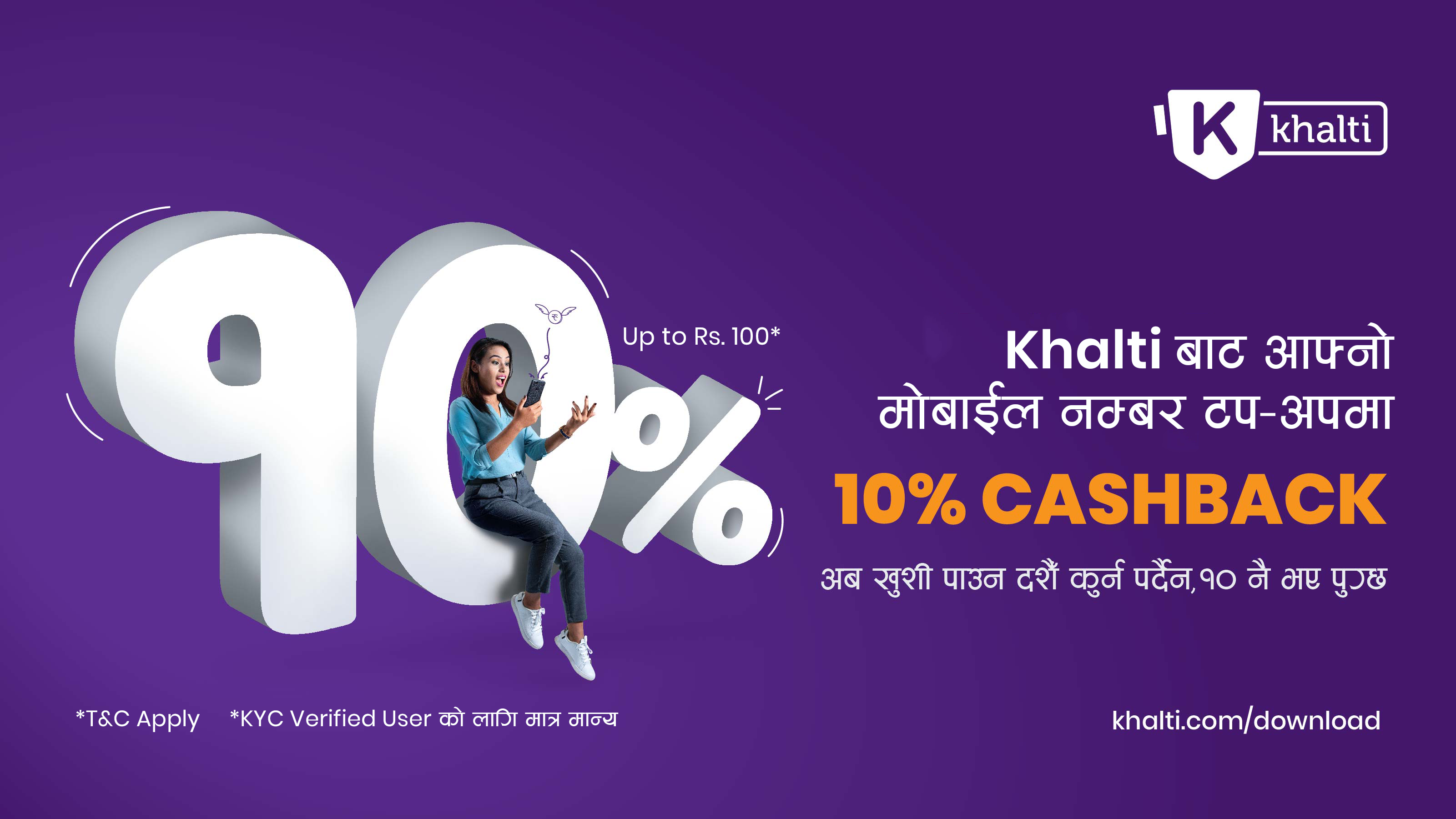 The offer has been launched to make it easier for customers to recharge phones from the comfort of their homes and save their precious time and money.
This offer is for a limited period of time and is applicable only for Khalti KYC verified User ID.
Khalti 10% Cashback Offer on Top-up
This offer is only applicable for Ncell, Namaste, and Smart users. During this offer, users can use Khalti to top up their balance and get up to 10% (max Rs. 100) cashback.
"In the spirit of DIY (Do it Yourself), we have launched this mega cashback offer for our users on mobile Top Up.

Now, parents do not need to wait for their moody teens for the topup or even buy scratch cards. Simply, Topup your phone number and get 10% cashback. We believe our users will love this offer,"

– Sirish Shrestha, Brand and Marketing Manager, Khalti
How to Top-up and Receive 10% Cashback from Khalti?
To top-up and recharge from Khalti, you need to follow the steps below:
Go to the Khalti app and tap on the Top Up icon
Enter your Mobile Number Registered to Khalti and the total desired Amount
Then, click on the "Done" button to get an instant 10% cashback
NOTE: While recharging, one may not see the whole cashback on the cashback section, however, once the top-up is complete, they'll be able to see it in the Transactions list.
Khalti Cashback Offer Duration and Validity
Any Khalti KYC Verified consumers can avail of this discount by recharging their registered mobile number with Khalti.
The maximum cashback in a month as per the Nepali calendar is Rs. 100. When the cashback amount is exceeded, the user will receive the usual cashback, i.e. 1%, just like while recharging other numbers.
LATEST: Sunrise Bank launches Cardless Withdrawal, Get Cash without using an ATM Card
Khalti has not mentioned the specific duration of the offer but it will be valid for a limited period of time. So, hurry up and make the most out of this offer.
Will you top-up your balance via Khatli during this offer?