Khalti, the second largest mobile wallet, payment gateway & service in Nepal has crossed 500,000 app downloads on Google Play store. In just 2 years of its inception, Khalti has been able to gather a huge user base. We would like to congratulate Khalti Team on reaching this milestone.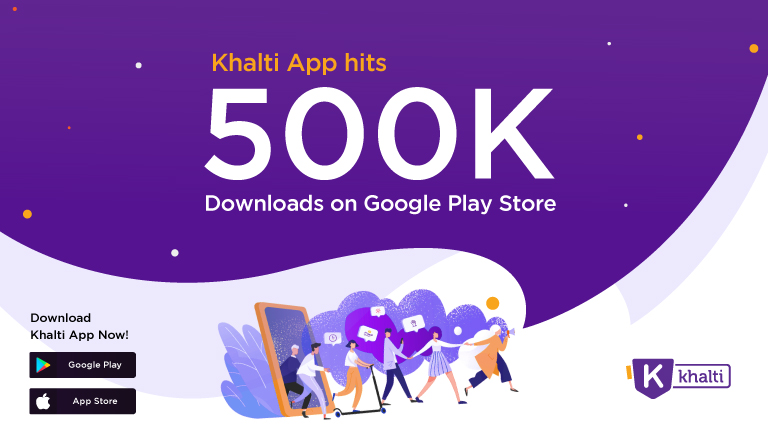 Elated by the achievement in this very short period, Manish Modi, Managing Director of Khalti said,
"Every day, tens of thousands of users load money to their Khalti wallet and consume it to make various digital payments. Similar to Android app users, feedback from Khalti's iOS app and web users is also equally exciting. We are working to create digital payment habits among all Nepalis. We are extremely overwhelmed and excited to get love and support from users like this. Now we have a lot more responsibility added on us. We feel this is dopamine given us to bring lots of services to our platform and take Khalti to the next level."
More about Khalti app
For those of you unfamiliar with Khalti, it's an online digital payment system that started in Jan 2017. Since then, it has been providing facilities of online payment facilities through its mobile and web app.
It allows users to pay for a range of services like basic utility payments, hotel bookings, movie and domestic flight tickets, events and many more. It is operated and owned by Sparrow Pay Pvt. Ltd., a parent company Janaki Technology, which has been in the software product industry since 2010.
Frankly, I'm not yet a Khalti user. However, my friends and other members of my family have used Khalti app. And from their experience, I can at least say that this app is very reliable and useful. And I understand how they've grown to be appreciated and trusted by people all around Nepal.
So far, Khalti's service has reached 70 districts of Nepal. Furthermore it is still in progress to make it available to people in the farthest corners of Nepal. If they're able to do so, each and every Nepali citizen would have easy access to banks through their smartphones.
Again, everyone from here at TechLekh would like to congratulate Khalti on its huge achievement and wish them an even brighter future ahead.