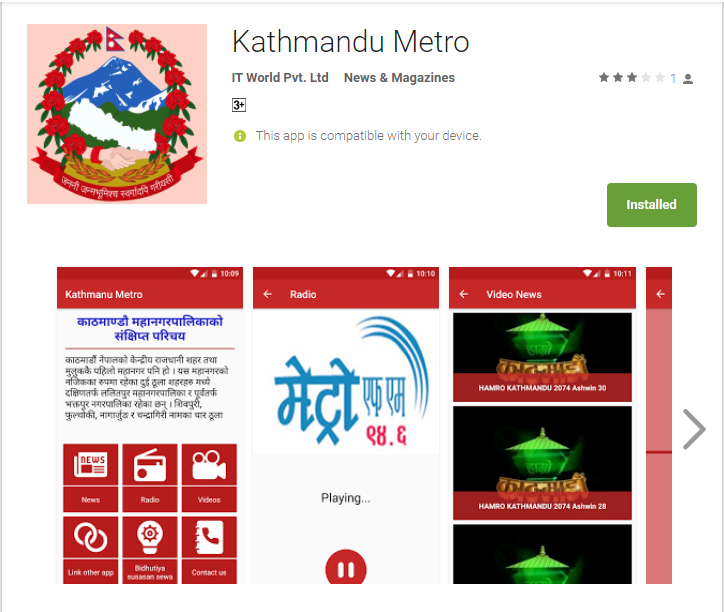 The Kathmandu Metropolitan City has launched the 'Kathmandu Metro' app. The app is developed to promote transparency of information through the use of information technology.
The app was launched by KMC mayor Bidya Sundar Shakya during a programme organized on November 6.
According to mayor Shakya, the app will play an important role in delivering information to people about the development works by the metropolis quickly and realistically. With the help of this app, people of Kathmandu can find the facilities and services provided by the Kathmandu metropolis.
Deputy mayor Hari Prabha Khadgi (Shrestha) mentioned the need for this app to promote information technology to spread information. KMC Executive Officer Dhaniram Poudel also pointed that this app is just the beginning of the use of IT in this sector.
Brief Review
Kathmandu Metra App has an easy-to-use interface. The app has features divided into section: News, Radio, Videos, Bidhutiya Susasan Sewa, Contact Info and even option to link other apps.
All of the information in this app is present in the Nepali language which makes it compatible with the majority of the citizens. However, if the information were also present in the English language it would be even more convenient.
If this app will successfully deliver the pieces of information then it will be the most useful and reliable source of information. This app should be promoted and used by the citizens to be aware of their metropolitan.
---
Editor's Recommendations
View the latest articles on Apps