ICT Meet Up V.4.0 2016, the fourth version of the event is one of the mega event in the Nepalese ICT field which is set to be organized by Prime IT Club on June 4-5, 2016, Saturday and Sunday. ICT Meetup V4.0 2016 with the theme "ICT Academia – Industry Collaboration: Understanding the Difference" provides a platform for ICT practitioners, developers, IT students, freelancer including different niche IT companies who are scrutinizing themselves, their talents, innovation and projects in the Information Technology field.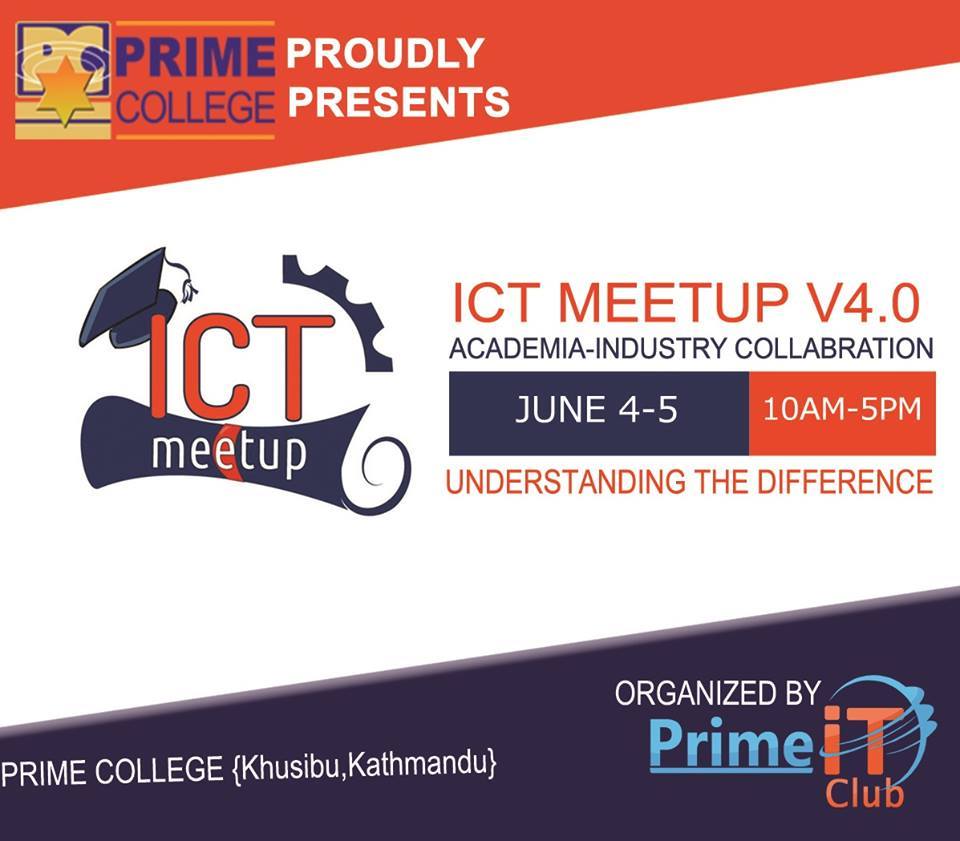 This year, the organizing team is more focused on a hybrid platform that is Business and Technology, which is the latest trend in the global as well as local market. The primary objective of the event is to bridge the gap between the academy and industry which also provides a platform for students, developers and entrepreneurs of Nepalese Market to showcase their project, bring innovative ideas and bestow new opportunities to current aspiring students.
This event will act as synergism between deserving ideas of students and emerging IT companies resulting progression of venture capital concept in our market. This event will ultimately help students become professionals in no time, contribute to work and expand in their own country.
To make students as realize the gap between academic knowledge provided by the universities and current market demand.
To focus on the problems and solutions to those problems of novices in IT as well as the business field.
Various emerging platforms for innovative ideas in IT and Entrepreneurship.
To enhance IT as well as Entrepreneurship: BizTech, an emerging concept of Nepalese market.
To help students realize that ICT field Nepal is widening and they can work together with professional to expand to a higher level.
The event is supported by NTA, MOST, Ministry of Science and Technology, IOST, Department of IT in Nepal, Information Technology Society of Nepal, WISTEM, ISOC Internet Society and niche IT Companies like  NLocate, Parewa Labs ,edusala.com, Lishn, Sastra Pvt Ltd., Kulcha Pvt. Ltd., etc.
The venue for the event is Prime College, Nayabazaar, Khusibun, Kathmandu.
The Inauguration ceremony will be held on June 4th, and the event will formally begin afterward.
The first day(June 4th) will be focused on Information Technology sessions and the second day(June 5th) will hold Entrepreneurship sessions. This event will benefit both the technical and business undergraduate students as the sessions will combine both business and technology and the speakers will try to reflect the current scenario of current trends and economy.
The Major attractions of ICT Meet Up V4.0 are:
Sessions on latest IT and Entrepreneurship topics by experts
Interaction program among professionals, entrepreneurs, industrialists, students and stakeholder.
Presentation program of innovative ideas of participants
Video conference with international professionals.
Talk show about Academia and industry which will include people from the industry and the education sector of Nepal
Career orientation to students by renowned personalities
Stalls and booths for interested sponsors
Event Details
When: Jun 4 at 10 AM to Jun 5 at 5 PM
Where: PRIME COLLEGE, Naya Bazar, Khusibu, Kathmandu
Guest Author
Sudeshna Pradhananga is President at prime IT club. She is currently studying BSc.CSIT and is in 7th semester of her studies. She acquires good programming skills in JAVA and PHP. She can be reached on facebook.