Tell me, what is that you, as a fitness buff look for in a tracker? Sleep Tracking, Heart Rate Monitor, Stress Tracking, In depth fitness data? Well, if you're looking for all of this and I can't stress this enough, Way More!!!, then my friend, Honor's Magic Watch 2 may just the tracker for you.
Magic Watch 2 is the successor to the infamous Watch Magic that apparently never made it to Nepal at all. Well, forget about the Watch Magic, the descendant i.e. Magic Watch 2 is already here in Nepal. It was just announced with an introductory price tag of Rs 25,999 for the 46mm model.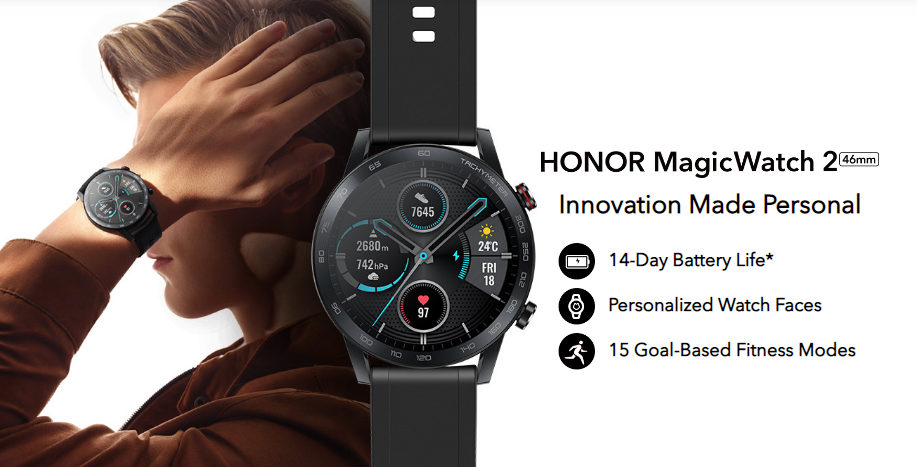 So, what's magical about this 46mm fitness tracker? Well, let's find out in this quick analysis of the Magic Watch 2.
Design and Display
As it is with every other smartwatch, there's two sections in the design frontier. The removable straps and the main circular display frame. There are two variants for the frame: a 46mm and a 42mm; and we'll only be seeing the 46mm.
With 46mm comes a slightly bigger screen, a bigger battery life that's claimed to last twice as much, longer Bluetooth range and a built-in speaker and microphone for calls and stuff. Of course, the bigger screen also means that the watch is going to slightly hefty.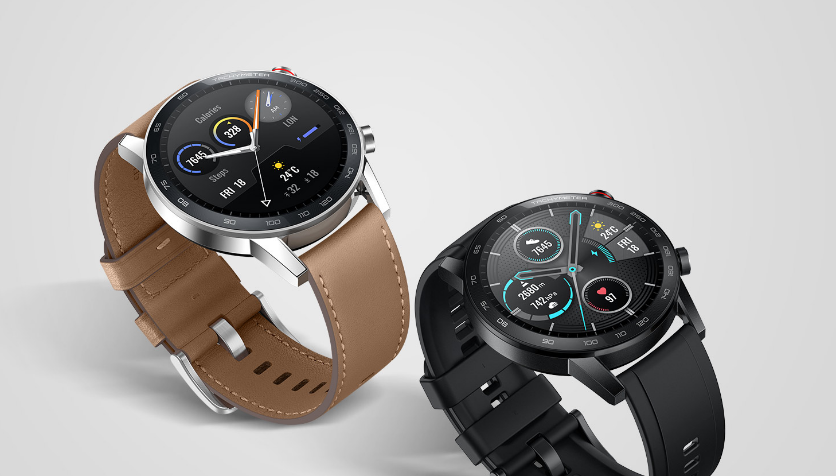 On the lower part of the circular frame, you get all the sensors and charging pins, to the side you get two buttons out of which one is customizable. And the other brings out menu, lifestyle feature and Yada yada.
On the 46mm, the Honor Watch 2 sports a 1.39" AMOLED display that reaches up to 800 NIT's in brightness. There's the always on display here through where you can check out the time without waking up the device.
Fitness
Here's where the Honor Magic Watch 2 shine a lot brightly. There is a wide variation of fitness models within the Magic Watch 2. I mean it's a figurative amusement park in here. From basic running trackers complex triathlon options, you get an extreme list comprising of each and every tiny little detail.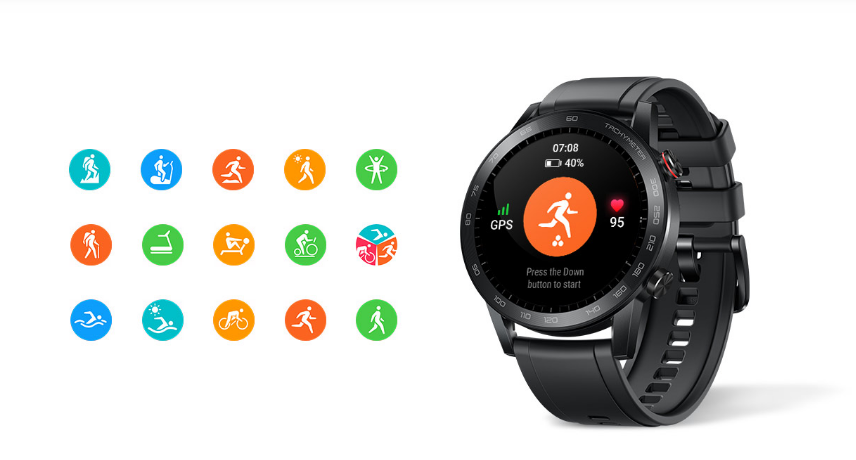 As expected from a fitness tracker, it is water resistant and that too up to 50m, if you were wondering. In addition, it comes in with 15 fitness modes ranging all the way from running to rowing.
There's a 24-hour heart rate tracking system, distance tracker, calorie tracker, stress tracker and lots more. Other than fitness, you get basic features like alarms, timers, notifications, and sleep tracking. 
Battery
I did mention earlier that the 46mm variant has a slightly larger battery size. Well, it a total of 455mAh and get this, Honor estimates that it will last for two whole weeks on a single charge! According to Honor, the long-lasting battery backup is due to the built-in Kirin A1 chipset that has a bunch of power saving algorithms in it.
For charging, you get a circular magnetic dock where you can just place and watch and voila, its charging.
Now, who should buy this?
Well, after overall analysis its pretty obvious that this watch is for fitness buffs who, constantly need update on their body. Because this device was made for fitness purpose, its only plausible for those fitness buffs. Or, if you don't like charging it that often, it could be useful.
But, frankly if you're not in exercise or fitness a lot, you'd just be wasting your money. And so that concludes this article. Would you consider this watch over other fitness trackers in the market? Do let us know in the comments down below.