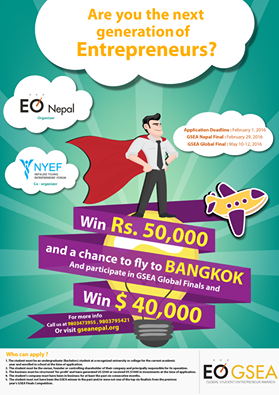 Entrepreneurs Organization (EO) Nepal Chapter, in collaboration with Nepalese Young Entrepreneurs Forum (NYEF), announces applications open for Global Student Entrepreneur Award (GSEA) Nepal.
The Global Student Entrepreneur Awards (GSEA) is the premier global competition for students who own and operate a for-profit business while attending college of university. Nominees compete against their peers from around the world in a series of local and/or national competitions in hopes to qualify for GSEA Finals. Founded in 1998 by Saint Louis University, GSEA is now an Entrepreneurs Organization program.
If you win GSEA  Nepal, GSEA national competition, then you take away Rs. 50, 000. Winning GSEA Nepal will also book you a ticket to BANGKOK, where you will compete with several national winners and if you win the finals you win a crock of gold, that's $40, 000.
How To Apply?
Fill out the online application form at http://www.gsea.org/apply.
After that please email scanned copies of the following documents to [email protected]:
Student ID from University / College
Letter from the college stating that the applicant is currently enrolled in a Bachelor's level program
Citizenship certificate
PAN registration document / VAT registration document of your company
Last audited report of the company
Company registration document
Deadline to fill up the form is February 1, 2016.
Who Can Apply?
On a second note, it is also not easy to participate. You must follow certain criteria and they are as follows:
The student must be an undergraduate (Bachelors) student at a recognized university or college for the current academic year and enrolled in school at the time of application.
The student must be the owner, founder or controlling shareholder of their company and principally responsible for its operation.
The business must be structured 'for-profit' and have generated US $500 or received US $1000 in investments at the time of application.
The student's company must have been in business for at least the past six consecutive months.
The student must not have been the Global Student Entrepreneur Awards winner in the past and/or were not one of the top six finalists from the previous year's GSEA Finals Competition.
If you do not understand any of these then you can message the organizers on GSEA Nepal Facebook.
For further details about this competition , visit www.gseanepal.org
It is a chance to shape your existing company and support you entrepreneurship career in one way or the other. This is not the only chance but a chance that you should  at-least give a try.