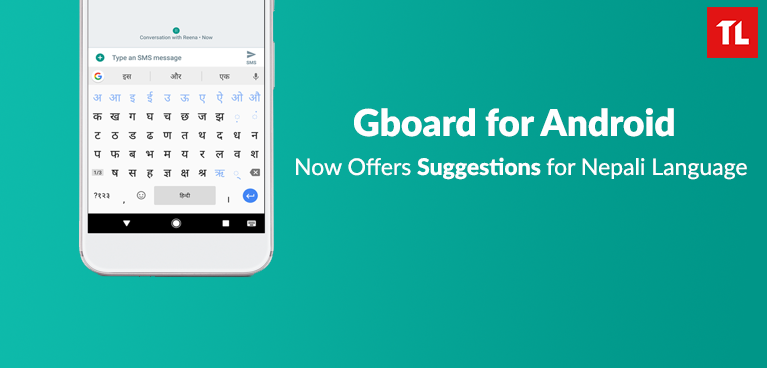 Gboard suggestions in Nepali is now available on all android devices. Gboard, a virtual keyboard developed by Google for Android and iOS, now offers suggestions and text editing mode for twenty-two Indic languages including Nepali.
The app which was developed on 2016 for Android, features Google Search, including web results and predictive answers, easy searching and sharing of GIF and emoji content. It also has a predictive typing engine suggesting the next word depending on context and multilingual language support. The new update is only applicable for Android users.
The full list of Gboard's new languages includes: Assamese, Bengali, Bodo (Devanagari, Bengali), Dogri (Devanagari, Arabic), Gujarati, Hindi (Devanagari, Hinglish), Kannada, Kashmiri (Devanagari, Arabic), Konkani (Devanagari, Latin), Maithili (Devanagari), Malayalam, Manipuri (Bengali), Marathi (Devanagari), Nepali (Devanagari), Odia, Punjabi (Gurmukhi, Arabic), Sanskrit (Devanagari), Santali (Ol chiki, Latin), Sindhi (Devanagari, Arabic), Tamil, Telugu, and Urdu (Arabic).
Gboard has now enabled glide typing and suggestions in more than 185 languages with the aid of machine learning. Gboard includes the QWERTY layout for transliteration as well as supports each language's native scripts enabling the users to spell words phonetically.
Apart from new languages, Gboard also comes with a new text editing mode enabled with buttons for easy cursor control and facilitates to select text, cut, copy, and paste right from the keyboard itself.
Along with the transliteration update, users can now resize and reposition the keyboard layout as well. In the quick features menu, click "More", and click the one-handed mode button. From here, users can adjust the size and position of the keyboard.
In order to use this feature of Gboard, you need to update or install Gboard for Andriod from Google Playstore.
Edited By – Giriraj Khatri