Do you feel like your Facebook and Instagram feed are not saturated enough with news about celebrity gossip? Do you want to know which movie is coming to Nepali movie theaters this winter? Do you want to know which film scored the highest box office collection this week? If you answered yes to these questions, then we have found the right app for you. It's called Filmy Fuche, Fifu in short. This app will make your life much much easier.

FiFu is an app that accumulates all the news on Nepali, South Indian, Indian, and English movies and brings it to you in a single place to make it easier for you to read them while in your commute or while eating your breakfast. Fifu aims to be a go-to app for news on the entertainment industry with a special focus on the Nepali movies.
More about FiFu app
This app will give you fresh news, info on upcoming movies, reviews for newly released movies, lists of the Oscar nominations, insight into the lives of your favorite celebrities and more. The content is available both in English and Nepali language. There is even a photo gallery of different celebrities included in this app so that you can admire your favorite celebrity whenever you want and wherever you want.
Fifu also updates you on any new trailers or a song of a movie that has been released and lets you play them with one click on YouTube. You can even watch an entire movie from this app on YouTube. If there is an entertainment video trending in Nepal, you can watch that in this app too.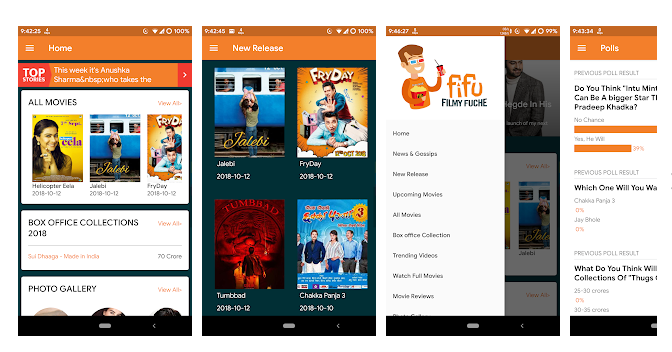 This doesn't even cover all the features available in the app. There are Filmy polls, film trivias, film memes, etc that you can see in the app. If you even remotely like or have an interest in the Nepali movie industry, you will like this app.
I have used several movie-related apps these past few months but Filmy Fuche has been the most complete and intuitive one till date. However, this doesn't mean that this app is perfect. It is far from it.
I still find the design a bit generic and not that tasteful. And there is a weird stutter when scrolling in the home screen of the app. The same stutter persists when expanding the hamburger menu. But these issues can be easily fixed with a software update in the future.
All in all, I like this app and its cute name 'Fifu'. It's easy to use and feature-packed. For those of you who have ample time to waste reading nonsense like these, this is heaven. At least, it's better than ludo.