Oliz Store has launched the DJI FPV in Nepal. DJI FPV was launched on 2nd March 2021 globally and is already available in Nepal for purchase.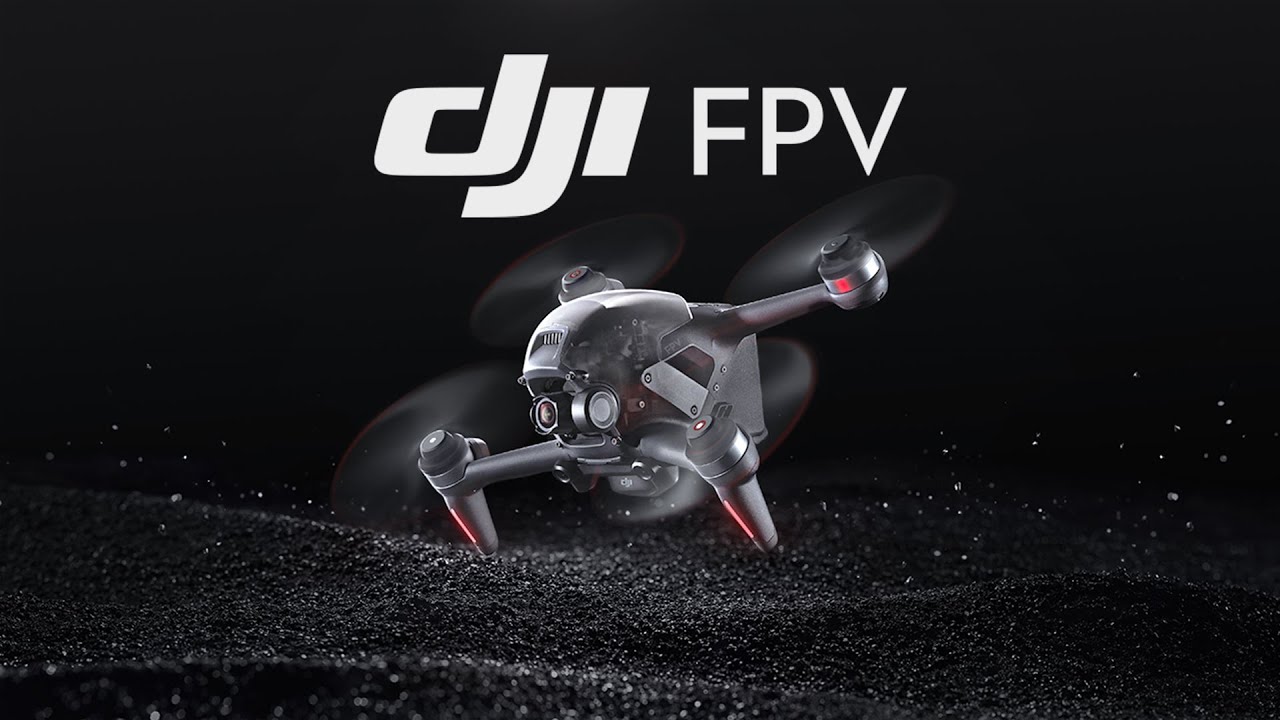 DJI FPV price in Nepal is Rs. 1,98,000 and it is available via Oliz Store with limited stock. The combo also includes the FPV Goggles V2.
DJI FPV is the first FPV drone from DJI. With the DJI FPV, they are trying to bring the FPV drone experience to the masses.
So, what are the features of DJI FPV? Let's see!
DJI FPV Specifications
Body: With propellers: 255 x 312 x 127mm (L×W×H), Without propellers: 178 x 232 x 127mm (L×W×H)
Camera: 12 MP
Sensor Size: 1/2.3″ CMOS, f/2.8 aperture, 150° FOV
Video Resolution: [email protected]/60fps, [email protected]/60/100/120fps
Memory: microSD (up to 256 GB)
Maximum Speed:

140 kph; M mode: 39 m/s
S mode: 27 m/s
N mode: 15 m/s

Maximum Ascent Speed: M mode – No limit, S mode – 15m/s, N mode – 8m/s
Maximum Descent Speed: M mode – No limit, S mode – 10m/s, N mode – 5m/s
Maximum Flight Time: Approx. 20 mins (measured while flying at 40 kph in windless conditions)
GNSS Support: GPS, GLONASS, GALILEO
DJI FPV Price in Nepal: Rs. 1,98,000
DJI Mini 2 Overview
Build & Design
Unlike the normal drones from DJI, the DJI FPV cannot be folded. But, its propellers are removable and easily replaceable in case you destroy them.
DJI FPV weighs approx 795g with propellers and is only marginally lighter than the DJI Mavic 2 Pro.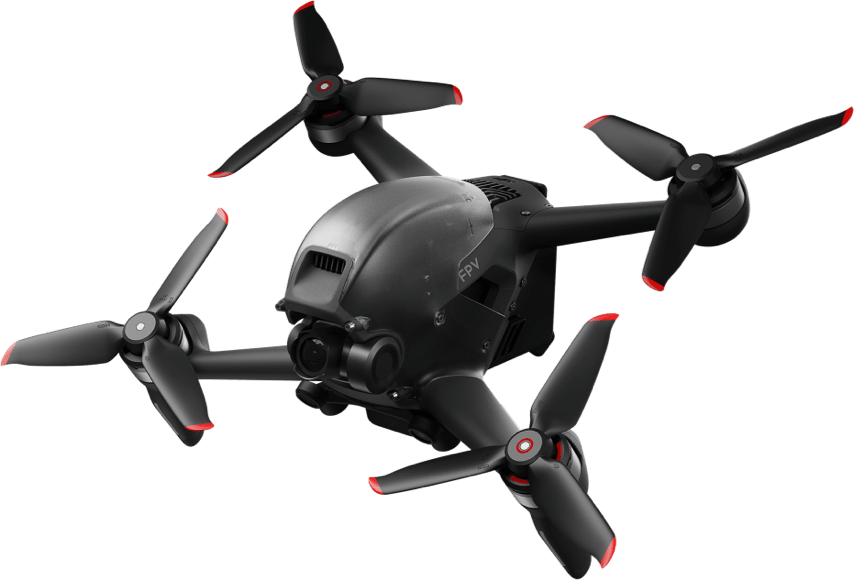 DJI FPV isn't large or heavy but its fixed design means that it will be a good idea to invest in a bag or case for the FPV, controllers, and DJI Goggles.
DJI FPV Goggles V2
Why goggles you might say?, but this goggle is what makes the DJI FPV an FPV drone. DJI FPV Goggles V2 comes with a battery that attaches to a cable and can be stored in your pocket while in use. The battery is rated at 1800mAh and provides up to 110 mins of backup.
DJI FPV uses digital data transmission and the goggle provides long-distance/low-latency transmission.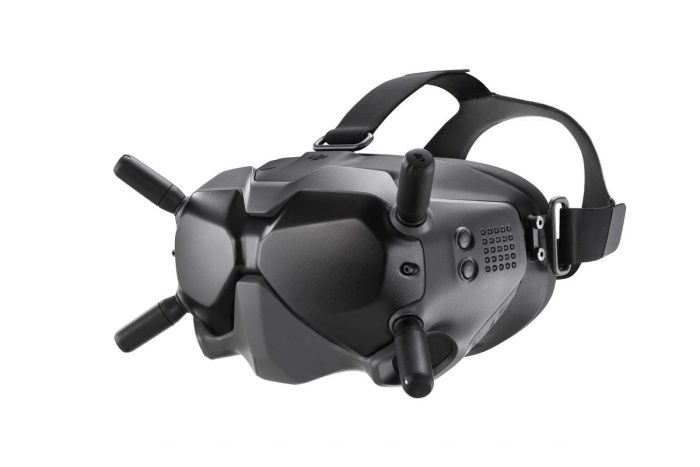 It uses O3 transmission technology that offers a 10km transmission range, auto-switching dual-frequencies, a high bitrate of 50 Mpbs, and state-of-the-art anti-interference methods to ensure a reliable feed.
There are various transmission modes that change the quality and latency of the transmission. The High-Quality mode offers 1440p resolution in 60 fps with 142° Field of View (FOV) or 50 fps with 150° FOV. In this mode, latency is as low as ≤ 40 ms. Likewise, there's Low latency mode with latency as low as ≤ 28 ms.
DJI FPV Remote Controller 2
Well, it's a basic controller for controlling the DJI FPV. It has a minimal design with large buttons. It weighs around 346 g and is powered by a battery that can provide approx 9 hours of battery life.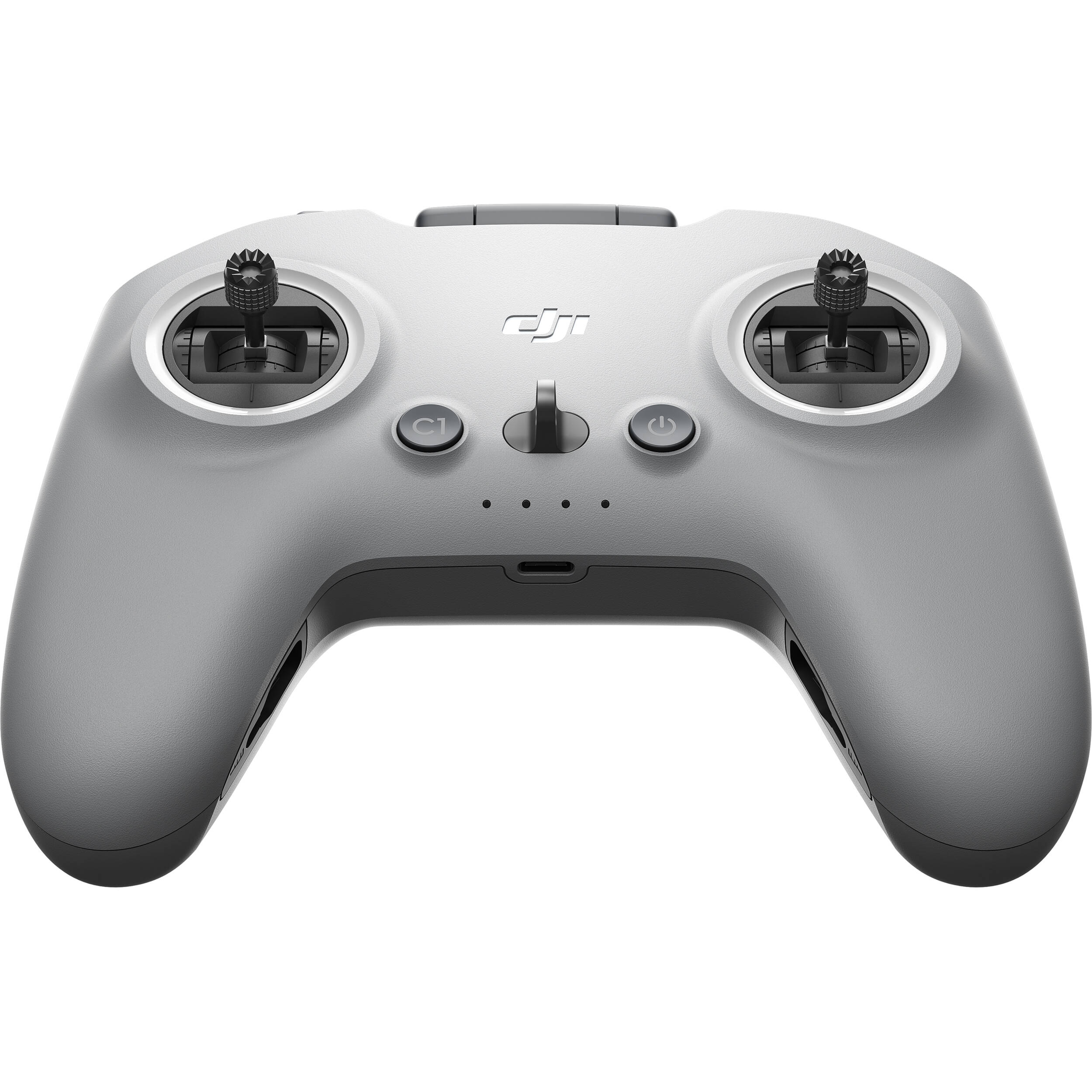 Camera
DJI FPV has a bigger 1/2.3-inch sensor that can capture videos up to 4k 60fps. And, it can take 12MP images.
The integrated 4K/60fps 120 Mbps camera is on a single-axis gimbal, providing stability during intricate maneuvers while rotating vertically for unique angles. Additionally, RockSteady stabilization technology smooths shaky footage and eliminates the rolling shutter effect when filming fast-moving scenes.
ALSO READ: DJI RS 2 and RSC 2 Handheld Gimbals Now Available in Nepal
Pilots can record footage in 4x Slow Motion in 1080p and 120 fps to relive epic moments in every detail. Footage can now be stored in H.265 or H.264 which uses less space on the memory card but preserves fine details during compression.
DJI FPV Flight Features
DJI FPV 2 comes with 3 flight modes. The N (normal mode) is for beginners. During N mode operation, DJI FPV operates similar to other DJI drones, hovering in place with the use of GPS and/or visual positioning systems (VPS) on the bottom of the drone. This mode also allows an obstacle detection system to warn the users.
Likewise, you can take full control of the drone in M (Manual Mode) where all the sensors and hovering features are disabled. Then there's the Sports (S) Mode which blends the M and N mode to offer some dynamic movement capability along with some key safety features.
A dedicated Emergency Brake and Hover feature is available in all flying modes to make the drone stop and hover in place at any time during the flight. Failsafe Return to Home is another important feature that will bring the drone back to its home point automatically with a press of a button or in the event that transmission signal is lost.
ALSO READ: DJI Mini 2 with 4K Video Support and 31 Minutes Flight Time Now Available in Nepal
DJI FPV Price in Nepal and Availability
DJI FPV price in Nepal is Rs. 1,98,000 and is available for purchase via Oliz Store. The combo includes the drone itself, remote controller, battery, and FPV goggles. This combo doesn't include the motion controller.
DJI FPV is the first attempt from DJI at an FPV drone. FPV drones are usually used by pros but DJI wants to bring the FPV fun to the general audience with the DJI FPV.
What do you think about the DJI FPV? Let us know in the comments!
---
Also, watch our latest review video of Alcatel Tablets!