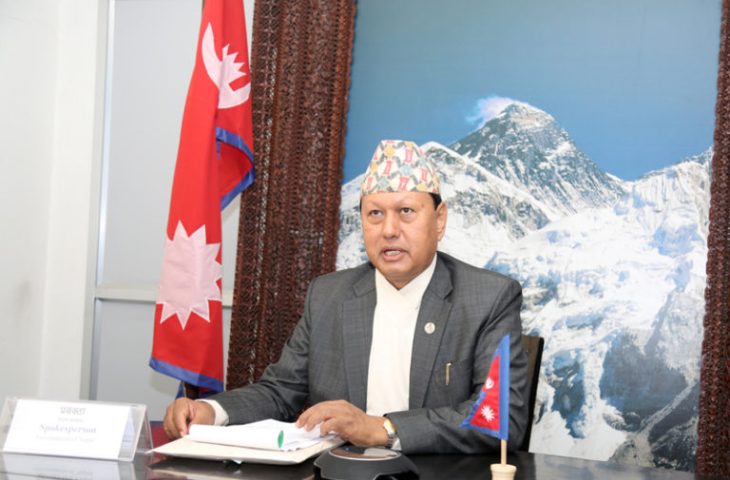 Minister of Information and Communications, Mohan Bahadur Basnet has returned home on Sunday after taking part in the World Telecommunication Development Conference (WTDC) in Buenos Aires, Argentine.
Talking to journalists at the Tribhuvan International Airport upon arrival home, Minister Basnet said the conference held important discussions on the new technological advances in the telecommunication sector in various countries, successes, and exchange of practices.
Minister Basnet, who led the Nepali delegation to the WTDC, had delivered his statement to the conference on October 10. In his address to the conference, he maintained about the progress Nepal has made so far in telecommunications, the present problems, and challenges.
He also appreciated the International Telecommunication Union (ITU) for the cooperation it has been extending Nepal so far and urged for its continuity.
The Minister for Information and Communications said emphasis has been given on infrastructure development and the use of information technology to transform Nepal into a 'digital Nepal' by 2025.
He had also drawn the attention of the WTDC to the need of the member countries of the ITU to use the knowledge developed by ITU after studies and research to the maximum extent, of connecting development and use of information and information technology to development, of making special initiatives for reducing the price of international Internet bandwidth and of laying special stress on cybersecurity.
Participation in such conferences that the ITU organizes every year helps promotion of international economic and technical cooperation in this sector in the country.
In the discussions among the ministers from the least developed countries, land-locked, developing and small island countries on the first day of the conference, the progress made by Nepal in the telecommunications sector was appreciated as well as how these could help in achieving the objectives of the Sustainable Development Goals.
On the occasion, Minister Basnet held high-level meetings with ITU general Secretary Houlin Zhou and Burkina Faso's Digital Finance Minister, Hadja Fatima among others and discussed the progress, challenges, and possibilities in the telecom sector.
He said that he informed the conference regarding the Government of Nepal's emphasis on e-governance, the planned installation of optical fibre throughout the country and expansion of the Internet facility further. He had informed the conference that the use of information technology and digital technology in improving the health and living standards of the people would ultimately contribute to achieving the SDGs.
Minister for Information and Communications Basnet stated that the WTDC was focused on how the information and communications technology could help in achieving the sustainable development goals.
Deputy Prime Ministers, ministers and state ministers as well as senior officials from the ministries of telecommunications and related organizations from more than 60 out of the 193 ITU member countries participated in the conference.
The conference began on October 8 will continue till October 20.