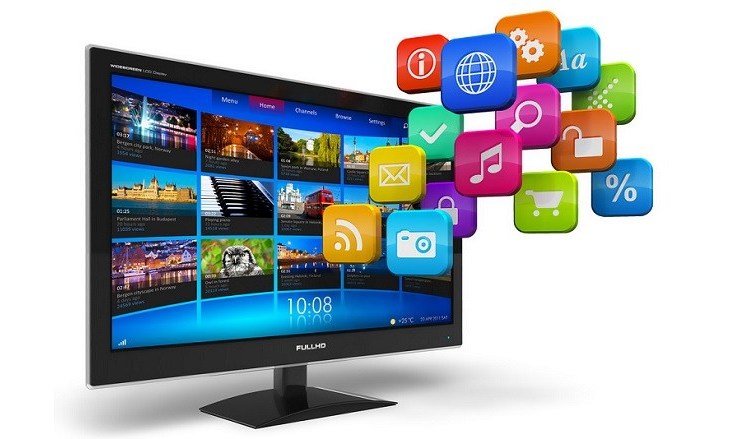 Analogue cable television viewers are mandatorily required to switch to the digital system from November 15.
All cable television operators will have to completely switch to the digital broadcasting format starting from Kathmandu metropolitan.
Prem Kumar Shrestha, acting secretary of the Ministry of Information and Communication said, "We had given enough time to cable service providers and the customers to migrate to the digital television system as it is a gradual process. However, the government will now monitor cable service providers from Wednesday to check whether or not the cable viewers have switched to digital format or not."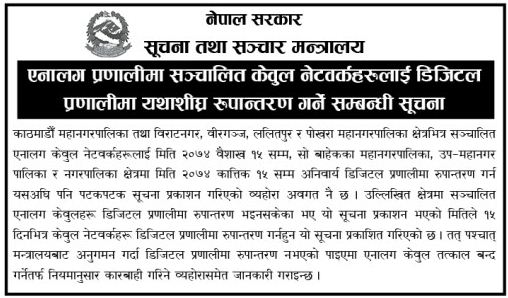 The government had started this work of conversion to digital TV from 2069 B.S.
And this is not the first time the ministry has released such a notice. However, the cable TV service providers did not take heed to the notice. Eventually, the ministry too failed to take action against the cable service providers. This time, Shrestha says that the government will initiate action against cable operators not digitizing television broadcasting.
Compared to Kathmandu, all other cities have made much progress. The ministry spokesperson Ram Chandra Dhakal said that 90 percent of the metropolitan cities including Biratnagar, Pokhara have been able to transfer to digital technology.
Dhakal said that effective monitoring was difficult in Kathmandu as they are many homes. So, the team is now going to monitor TV channel systems.
Sudhir Parajuli, president of the Federation of Nepal Cable Television Association, said, ""We have been appealing to customers to adopt the digital cable broadcasting system as soon as possible. However, customers are still in the wait-and-see mode."
He added, "We are currently giving only 35 channels to those customers who have not switched to a digital system and have said to the government that will reduce five channels to such customers every week. However, the government should not direct cable operators to stop all channels to such customers at once as this will adversely affect more than 80 percent of cable subscribers in the country."
It is estimated that there are over 3.2 million cable subscribers in the country.
Meanwhile, cable service providers have said that only 20 percent of cable subscribers have switched to the digital broadcasting so far.
With the current analog technology, there is no way to verify where the analog cable TV operators pay the tax collected from the citizens. Citizens, in turn, take a cable for a single person and distribute it to the whole house.
After going digital, every TV will have a separate setup box. Having a separate setup box will help to identify the number of television in the nation. And the correct tax will go the government.