The united Developers Nepal Meetup is the first of its kind. This meetup is going to be held on the December 10, 2016 at Microsoft Innovation Center (MIC) Nepal, Unlimited Building, Khechapuchu Sadak. This meetup aims to create a platform for all developers to share their experiences and learn from each other.
Developers from different communities have come together to organize this event. Initiated by Geshan Manandhar, admins from Python (DN: Python Users Group Nepal) , JS (DN: KTMJS ), PHP (DN: PHP Developers Nepal), Ruby (DN: Ruby Developers Nepal) and Laravel (DN: Laravel Developers Nepal) are involved in the organization of the meetup.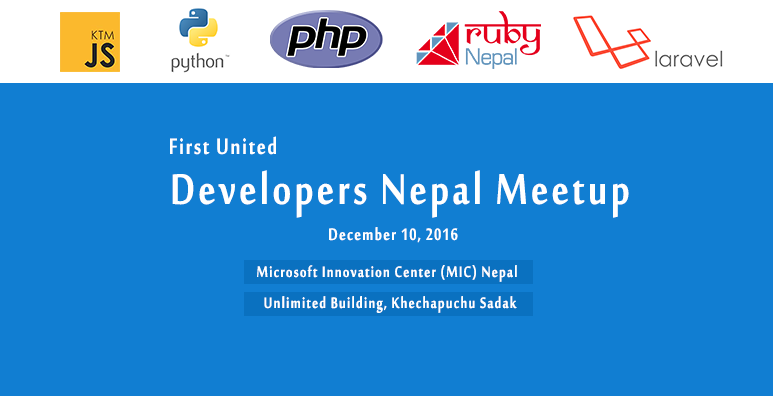 Before this, only meetups on a specific language such as Python meet, JS meet, PHP meet and Ruby meet had been organized. Though programming languages may be different, different people working on them have many things in common with each other like software engineering principles, use of databases and so on. So, despite the differences in languages they use, people can come together and talk about problems they face and the solutions they come up with.
[bctt tweet="First United Developers Nepal Meetup to be held on December 10, 2016″ username="techlekh"]
Since this is the first meetup, it is going to be organized on a small scale with a few talks and a panel discussion. But depending upon the results of this meetup, there are plans to organize such a meetup on a large scale with contributions from different companies in Nepal.
Sudip Kafle, who is representing the Python community in the meetup says, "We want to share what we know with each other and get an idea of what people are doing with technology in Nepal."
Kafle remarks that communication between different members of the team has been a major problem as everyone is volunteering their time and effort to organize this. And since it is difficult to know all people working in different sectors of technology in Nepal, there is also the issue of selecting speakers and panelist. Especially since this organizers are looking for topics that are interesting to people from all backgrounds.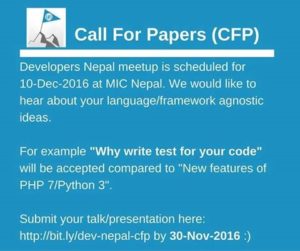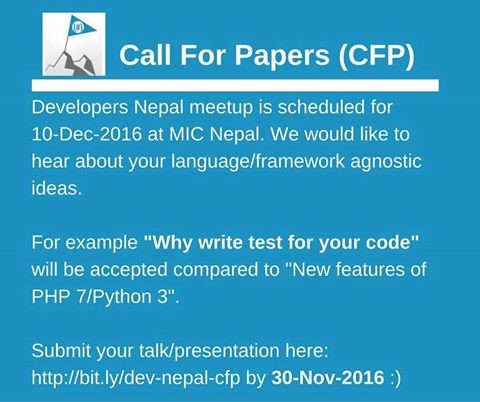 Developers Nepal has issued a notice for proposals on the 21st of November. The deadline for proposal submission is 30th November, 2016.
A developers' meetup is a great concept and a much-needed one in Nepal, a country that is still catching up to technology. In this meetup, developers can come together, learn from each other and take Nepal a step closer to being technologically proficient. We hope the united Developers Nepal meetup is a great success and paves the way to greater and grander meetups throughout Nepal.