HIGHLIGHTS
Deerwalk Institute of Technology is hosting its first-ever hackathon, DeerHack 2023, from May 5 to May 7, 2023, in Kathmandu.
The inclusive event aims to unite programmers, designers, and tech enthusiasts to collaborate and develop innovative concepts.
The hackathon has attracted major sponsorships and over 1200 registrations.
Deerwalk Institute of Technology is hosting its first-ever hackathon, DeerHack 2023, at Deerwalk Complex, Sifal, Kathmandu, from May 5 to May 7, 2023.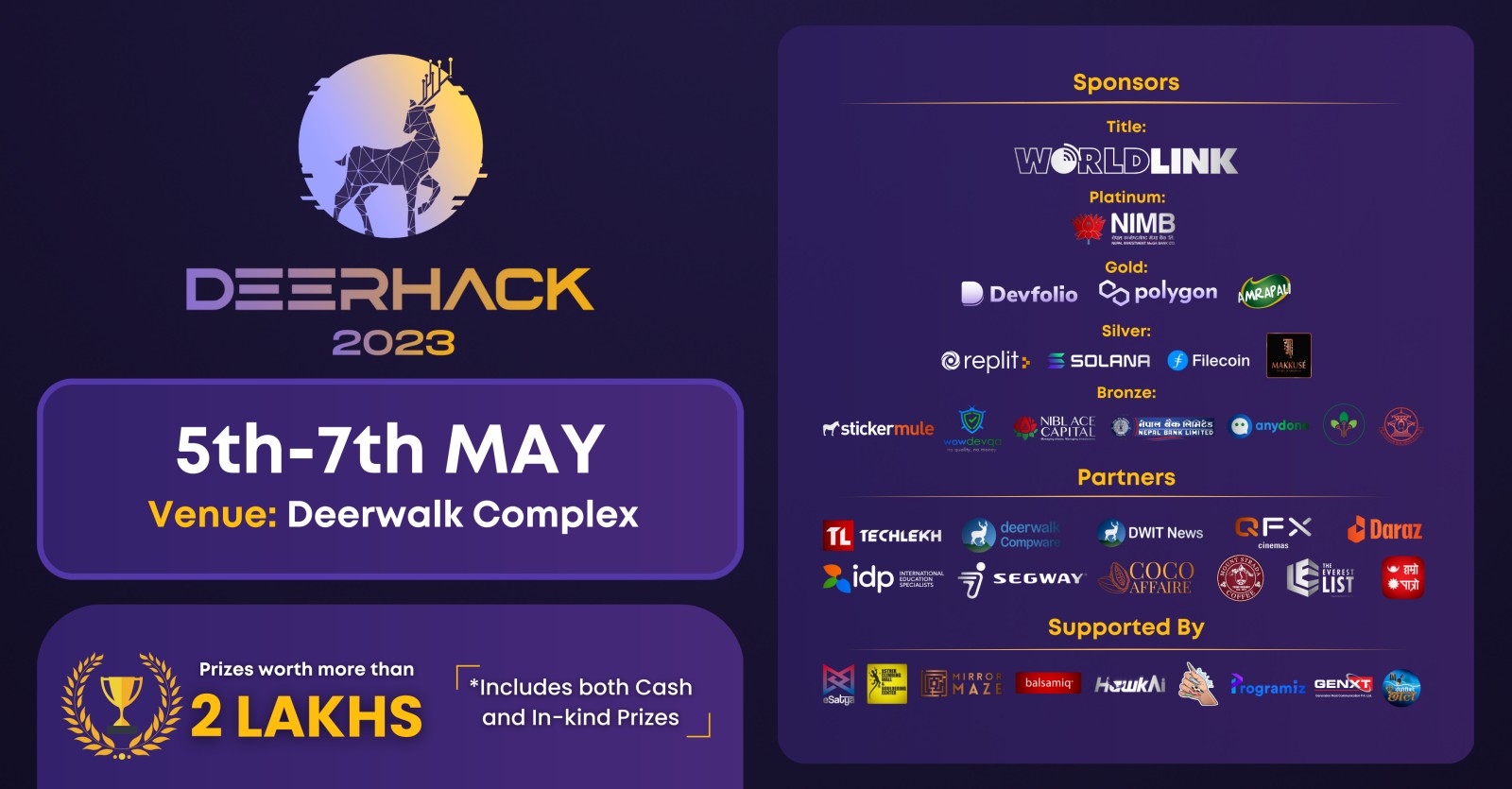 The event aims to unite programmers, designers, and tech enthusiasts from across the region to collaborate and develop innovative concepts that could lead to solutions for real-world problems.
DeerHack 2023 is a 48-hour event where participants can work on their ideas based on several predetermined themes. The event not only provides an opportunity for participants to showcase their talents but also serves as a networking venue for like-minded people who are passionate about related fields and want to make a significant contribution to society.
ALSO READ: Samsung Inaugurates Landmark Television Factory in Nawalparasi
According to the event co-lead of DeerHack 2023, Bipashree Aryal, "I see this hackathon as more than just a competition, but as a community-driven event that fosters creativity, collaboration, and growth. Our hope is that every participant leaves with not only a project but also a new perspective and connections that will last beyond the event."
To help participants develop and present their ideas to the best of their abilities, the organizing committee provides a wide range of resources, including a panel of highly experienced mentors, workshops, networking opportunities, and technical support.
The hackathon will come to a close with a final pitch competition, where the participating teams will have the chance to present their apps to a panel of renowned judges and compete for the top prizes.
DeerHack 2023 has already achieved great heights with the support of its sponsors, including Worldlink as the title sponsor and Nepal Investment Mega Bank Limited (NIMB) as the event's platinum sponsor.
Other sponsors committed to advancing Nepal's tech industry and fostering innovation include gold sponsors include Devfolio, Polygon, and Amrapali Beverages, while the silver sponsors are Solana, Filecoin, Replit, and Makkuse Nepal.
The event has numerous other partners as well, including the following: the bronze sponsor StickerMule, Nepal Bank Limited, NIBL Ace Capital, TreeLeaf, Anydone, Roadshow RealEstate, and WowDevQA; the e-commerce partner Daraz; the media partner TechLekh and the DWIT News; the training partner Deerwalk Compare; the app partner HamroPatro; the education partner IDP; the gifting partner CocoAffaire; the entertainment partner QFX Cinemas; the beverage partner Mount Strada Coffee; the mobility partner Segway; the academic partner Deerwalk Sifal School; the ranking partner The Everest List; and the community partners CSIT Association of Nepal, YISC Code for Change, Code for Nepal, COESIS, and Microsoft Student Learn Ambassador.
More than 1200 individuals have registered for DeerHack 2023, with over 75 individuals expected to be selected to participate in the event. With such an impressive number of registrations and support from sponsors, partners, and businesses, DeerHack 2023 is anticipated to be one of the most prominent hackathons in Nepal.
To find out more about DeerHack 2023, interested individuals can visit the event's website at deerhack.deerwalk.edu.np.
(Press Release)