Pros
Premium and Luxurious Styling
Power Packed Performance
Premium Leather Interiors with Stitched Finish
Aggressive Pricing
Cons
Less Comfortable Rear Seats
Rear AC Vents Lacks Power
New Auto Brand for the Nepali Market
Changan Hunter is Changan's first-ever pickup truck.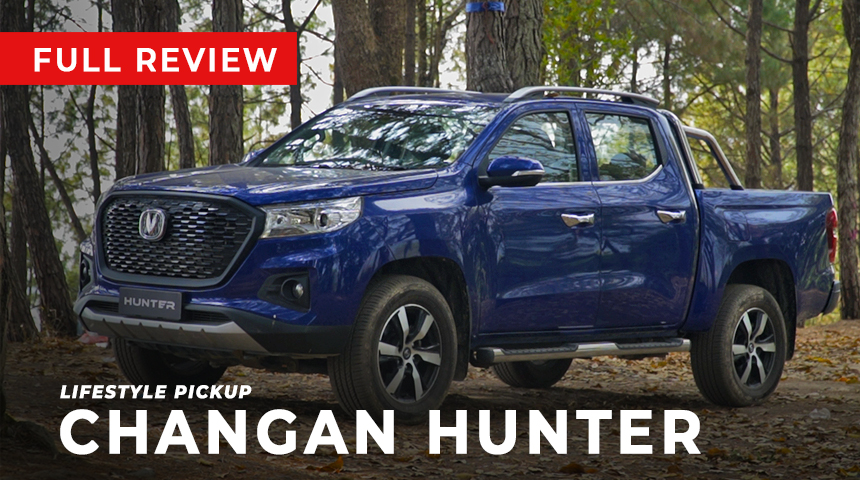 MAW Vriddhi made its debut with the Alsvin, a sedan. However, it is set to light up the pickup world with the Hunter.
The world of a Pickup Truck is quite different than the normal world of SUVs and Sedans. It is more about power and performance over style and features.
Interestingly enough, Hunter manages to put emphasis on all that. However, it takes it a step further by introducing the pickup at an aggressive price.
As for the pricing, the Changan Hunter price in Nepal starts at Rs. 66 Lakhs to Rs. 75.50 Lakhs. Moreover, it is available in two different variants: 2WD and 4WD.
We wanted to experience it in full with the Changan Hunter. This is our complete experience with the Changan lifestyle pickup truck.
Without any delay, let's get started.
Changan Hunter Specifications
Engine: 1.9L Turbo Diesel
Emission Standards: EURO4
Displacement: 1910cc
Dimension: 5330 x 1930 x 1835 mm
Wheelbase: 3910 mm
Max Power: 150 PS
Max Torque: 350Nm @ 1800-2800 rpm
Transmission: 6-Speed MT/AT
Drive Type:
Top Speed: 180 Kmph
Fuel Tank Capacity: 80 liters
Mileage: 11 kmpl
Front Tyre: 265/60 R18 – Disc
Rear Tyre: 265/60 R18 – Disc
Tubeless Tyres: Yes
Safety System: ABS, EBD, ESP
Suspension Setup: Double Wishbone and Plate Spring
Seating: 5-Seater
Cargo Capacity: 1000 kg
Ground Clearance: 230 mm
Kerb Weight: 2050 kg
Colors: Blue, Grey, and White
Changan Hunter Price in Nepal: Rs. 66,00,000 – Rs. 75,50,000
Changan Hunter Review
Aggressive Design
Pickup trucks are supposed to be aggressive and muscular. Fortunately, Changa Hunter is no exception in this regard.
It features a well-known pickup design.
However, several interesting characteristics serve to distinguish it from the competition. It has an imposing appearance as expected.
But, it combines a muscular stance with a sporting personality. This characteristic is more prominent in the front portion.
It has a huge mesh-like grille on one side surrounded by a chromed border.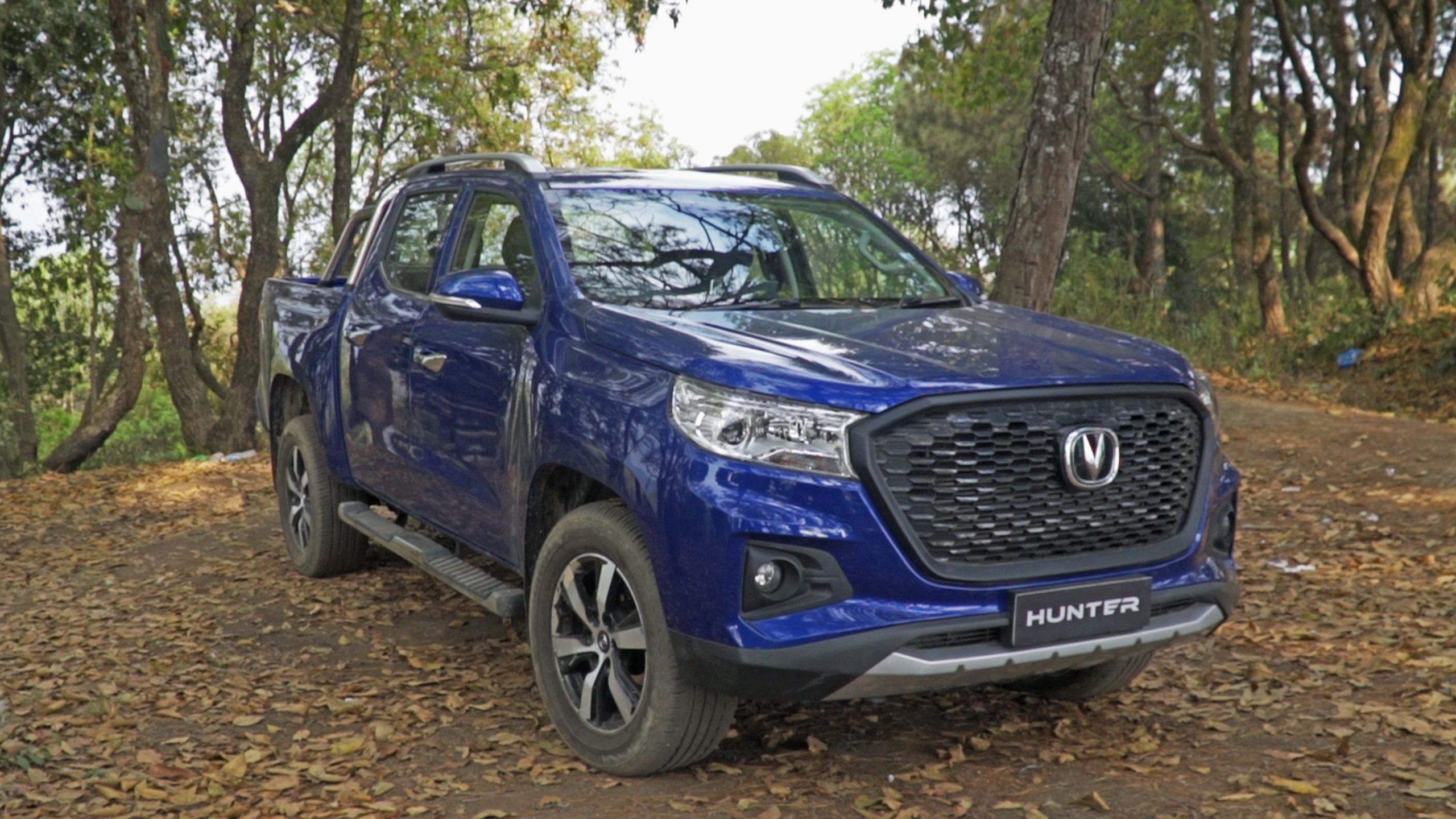 Changan has tried to maintain a high-end feel by introducing blacked-out elements. The bumper and hood have been reshaped to give it a more powerful appearance, which adds to its overall appeal.
When compared to similar pickup trucks, the hood is positioned a little higher. While this adds to the overall muscularity of the vehicle, it might limit front visibility for a few drivers.
There is an aggressive projector headlamp configuration. Instead of Xenon or white light, these are yellowish-colored lights, providing good visibility.
Other than that, the rest of the side panels and the back area have been kept rather straightforward.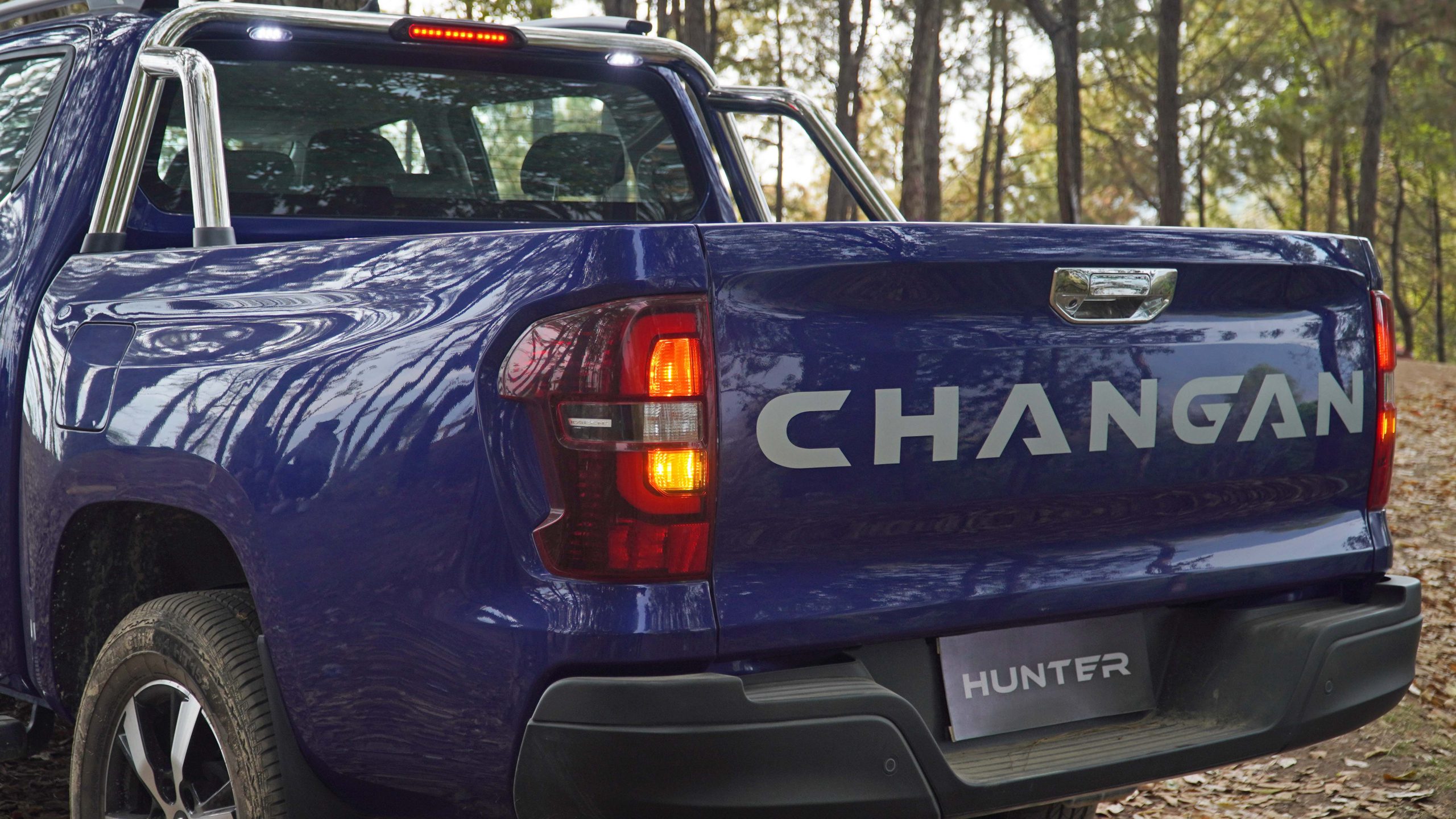 It has minor side creases and wheel arches.
Elements like 18-inch Alloy Wheels, Chromed Door Handles, Side Steps, and Roof Rails help elevate the side profile by a margin.
Similarly, the rear part is graced with a C-shaped LED tail lamp that is unlike any other. This works in conjunction with the halogen lamps to produce the desired effect.
The enormous "CHANGAN" emblem on the back part attracts major attention.
Luxury Undertones
Moving on the inside, the theme is more about luxury.
Changan does not go too crazy with interior styling. It tries to maintain an optimum balance between functionality and aesthetics.
Like Alsvin, the interior consists of high-quality plastic, leather, and fabric with stitched finishing.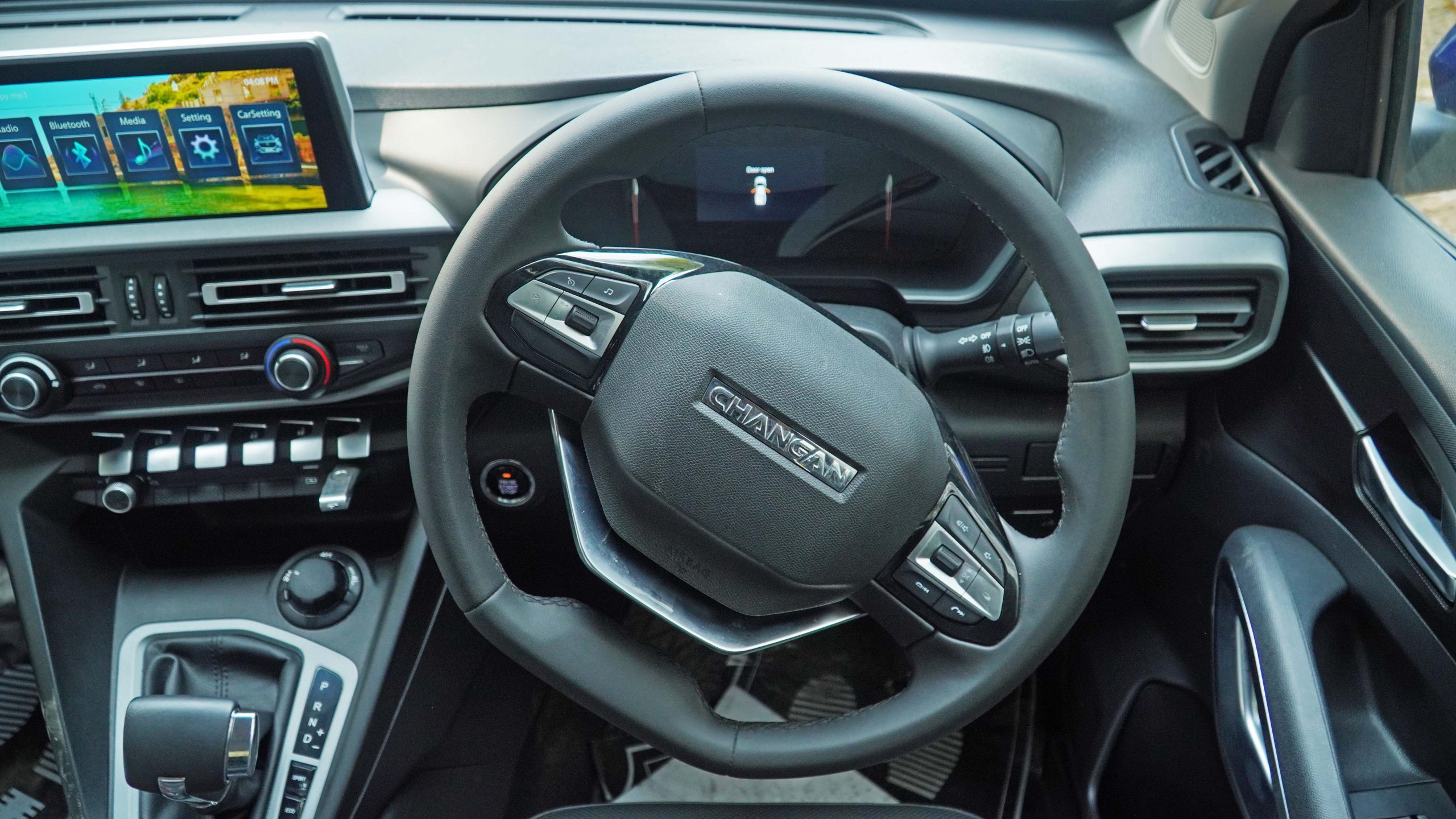 Hunter, on the other hand, takes things to an entirely new level. Every little component is well-paced, making it visually pleasing.
From the dashboard styling to button placements, it is well-integrated and uniform.
Honestly, nothing feels out of place.
Changan hasn't gone crazy with the interior, which is a good thing.
Even typically ignored elements like the interior door handles have a distinct style.
Power-Packed Performance
Changan Hunter is powered by a 1.9L CRDi Turbo Diesel Engine. It can generate a max power of 150 PS and a max torque of 350 Nm at 1800-2800pm.
Moreover, it is mated to a 6-speed MT/AT transmission with an 80-liter fuel tank capacity.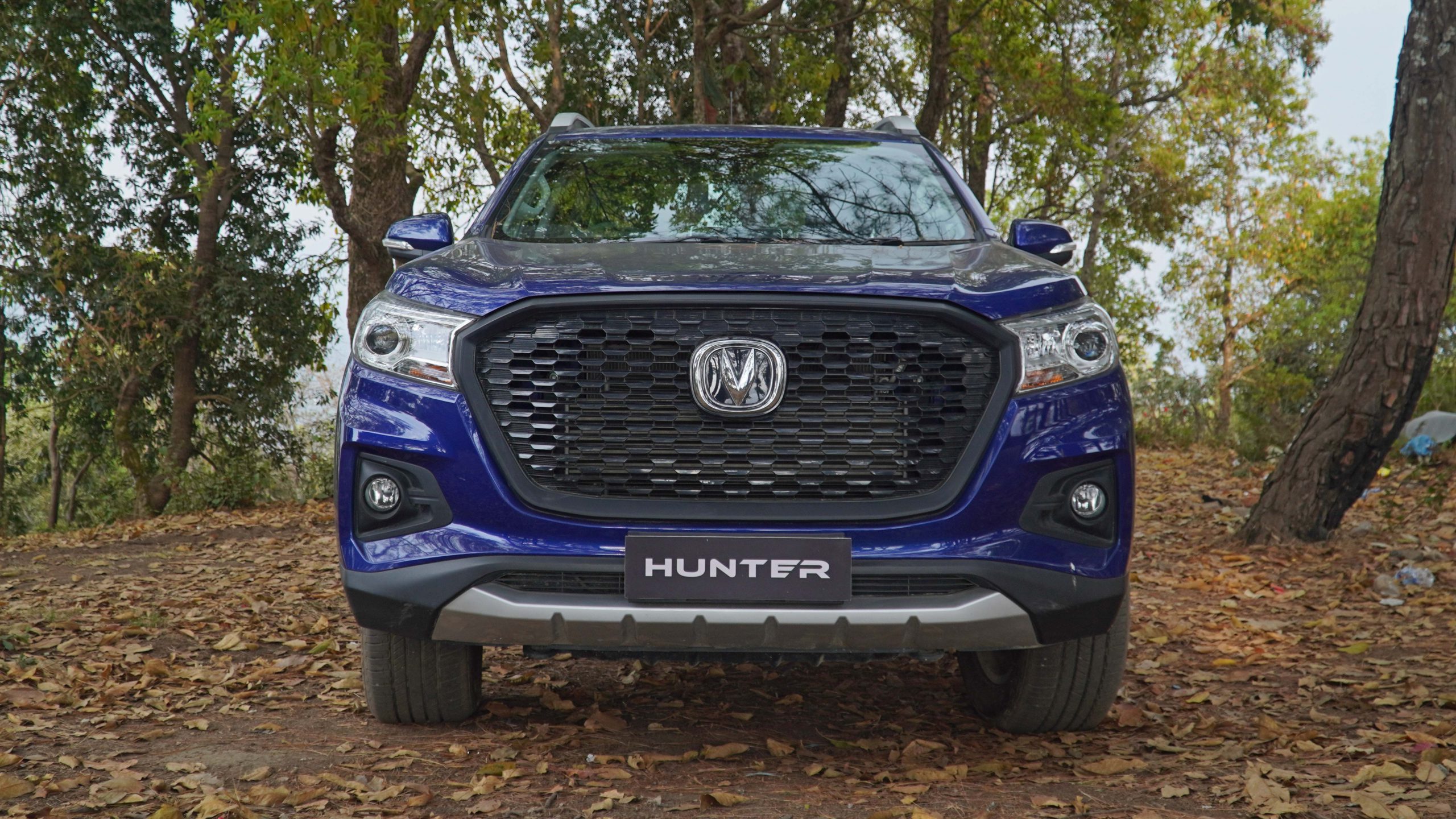 4WD capabilities like 4 High, 4 Low, Hill Descent Control, and Traction Control are present. These are easily togglable from its nifty switches.
Luxurious Features
Feature Loaded Dashboard
Changan Hunter packs in all the modern gadgetries and features.
It includes a 10-inch LCD Infotainment System, Digital-Analog Meter, Automatic Climate Control, Control Mounted Steering Wheels, 6 Speakers, and more.
The Infotainment System UI is the same as the one in Alsvin.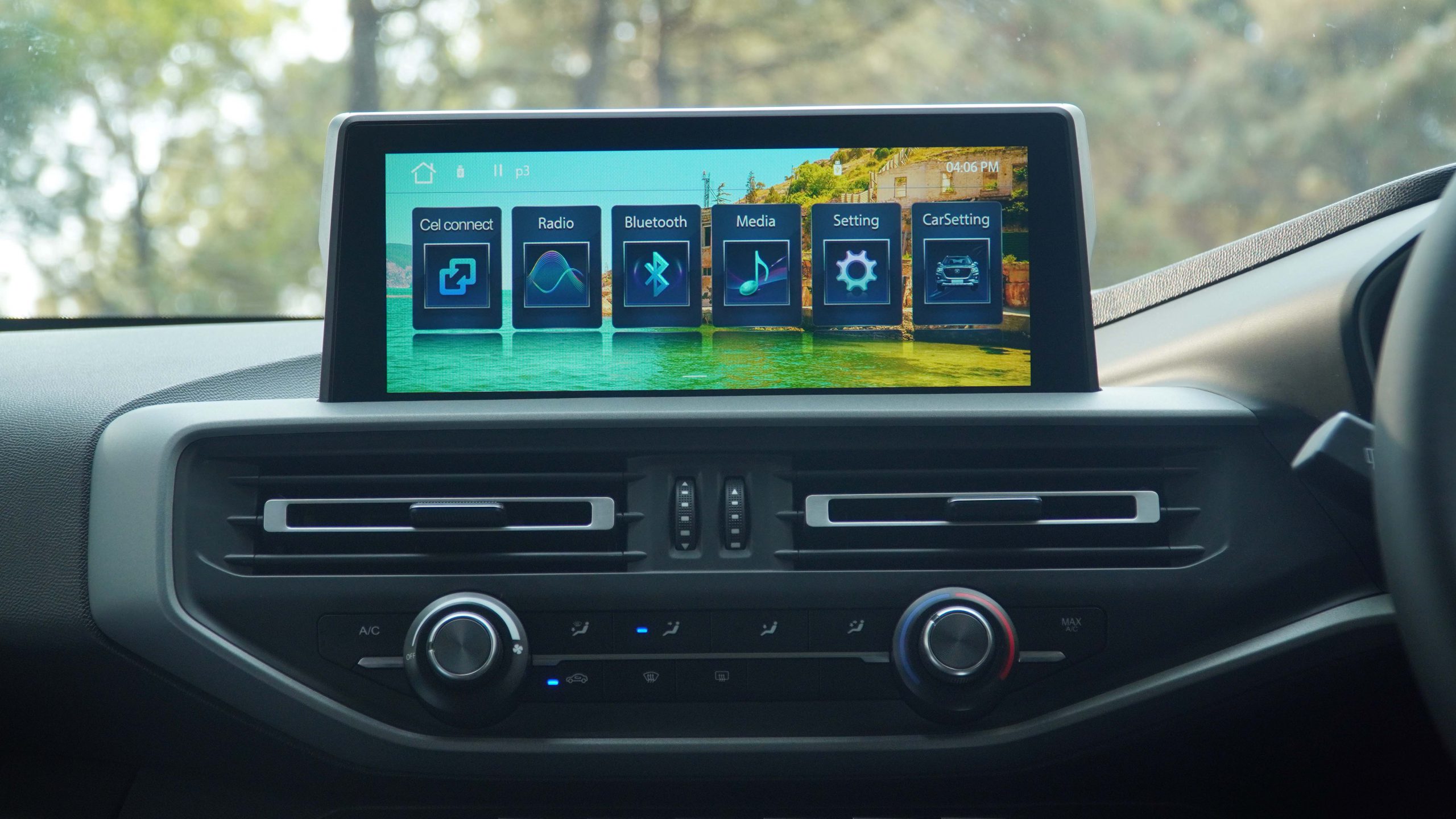 Users can customize various vehicle options as well. Interestingly enough, the Hunter allows for Smartphone Projection through a Mobile App.
Other safety features include Six SRS Airbags, Tyre Pressure Monitoring System, and Electronic Stability Program.
Braking
Changan Hunter sports larger 265/60 18-inch Radial tyres. On an interesting note, these are exceptionally larger tyres for the price point.
Moreover, Changan has tried to make it a bit more premium with its Aluminum-Alloy design.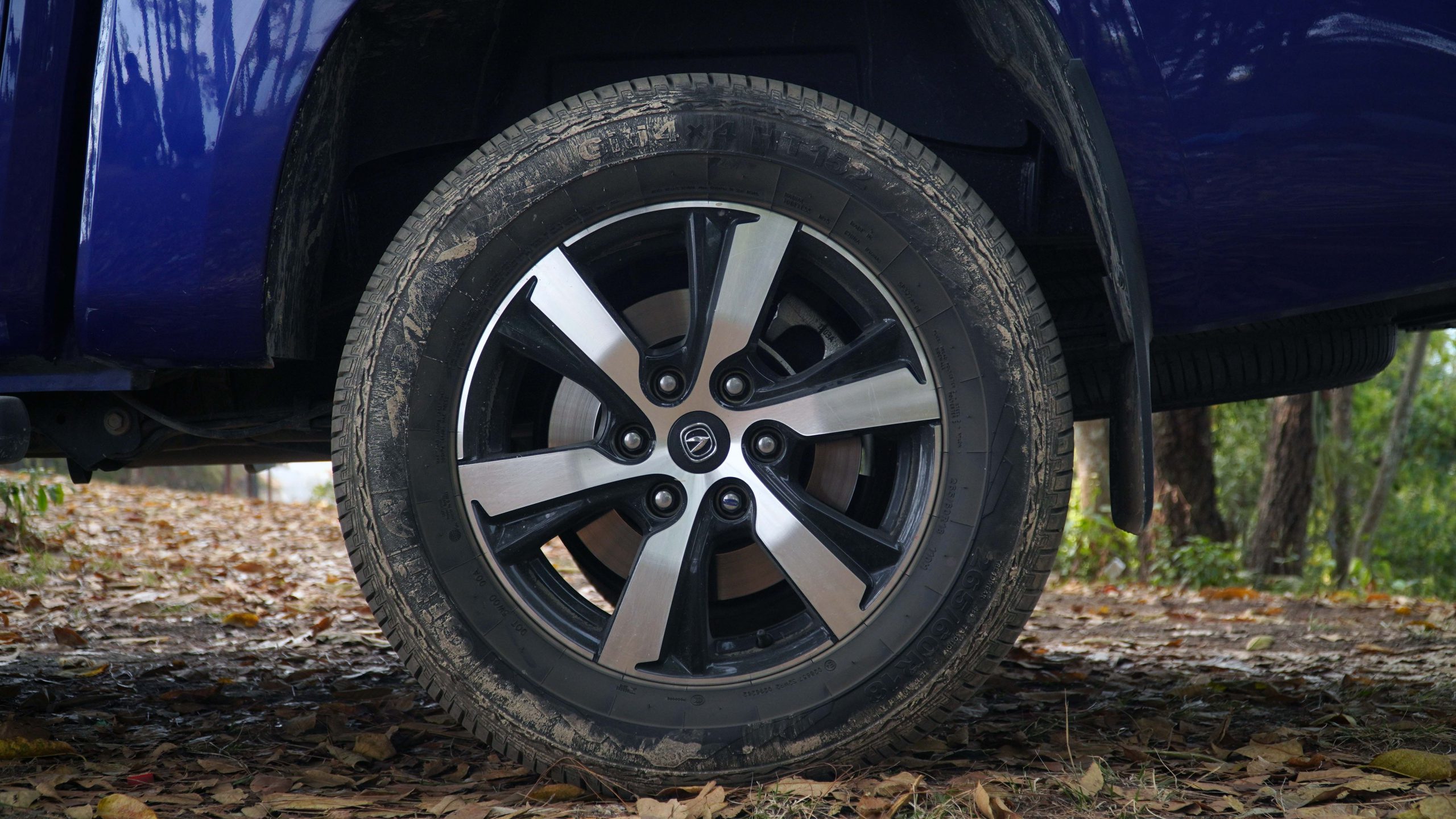 The front tyres get Ventilated Discs whereas the rear tyres get normal Discs. It comes with ABS, EBD, and BA for added safety.
As far as experience goes, these brakes inspire confidence. Moreso, it allows the driver to maintain full control over the truck at any speed.
Suspension
The suspension setup plays a huge role for a pickup truck. And, Changan knows this all too well.
It comes with a Double Wishbone at the front and Plate Spring at the rear.
The suspension feel is softer, helping it absorb the bumpiest plot holes. Plus, it gives enough confidence to go over most bumps with ease.
Even during the roughest off-roading conditions, the overall driving feel isn't jumpy as expected.
Off-Roading Capabilities
Changan Hunter is a true pickup truck, complete with all off-roading capabilities.
It comes with 4-Wheel-Drive (includes 4 High and 4 Low), Traction Control, Differential Lock, and Hill Descent Control.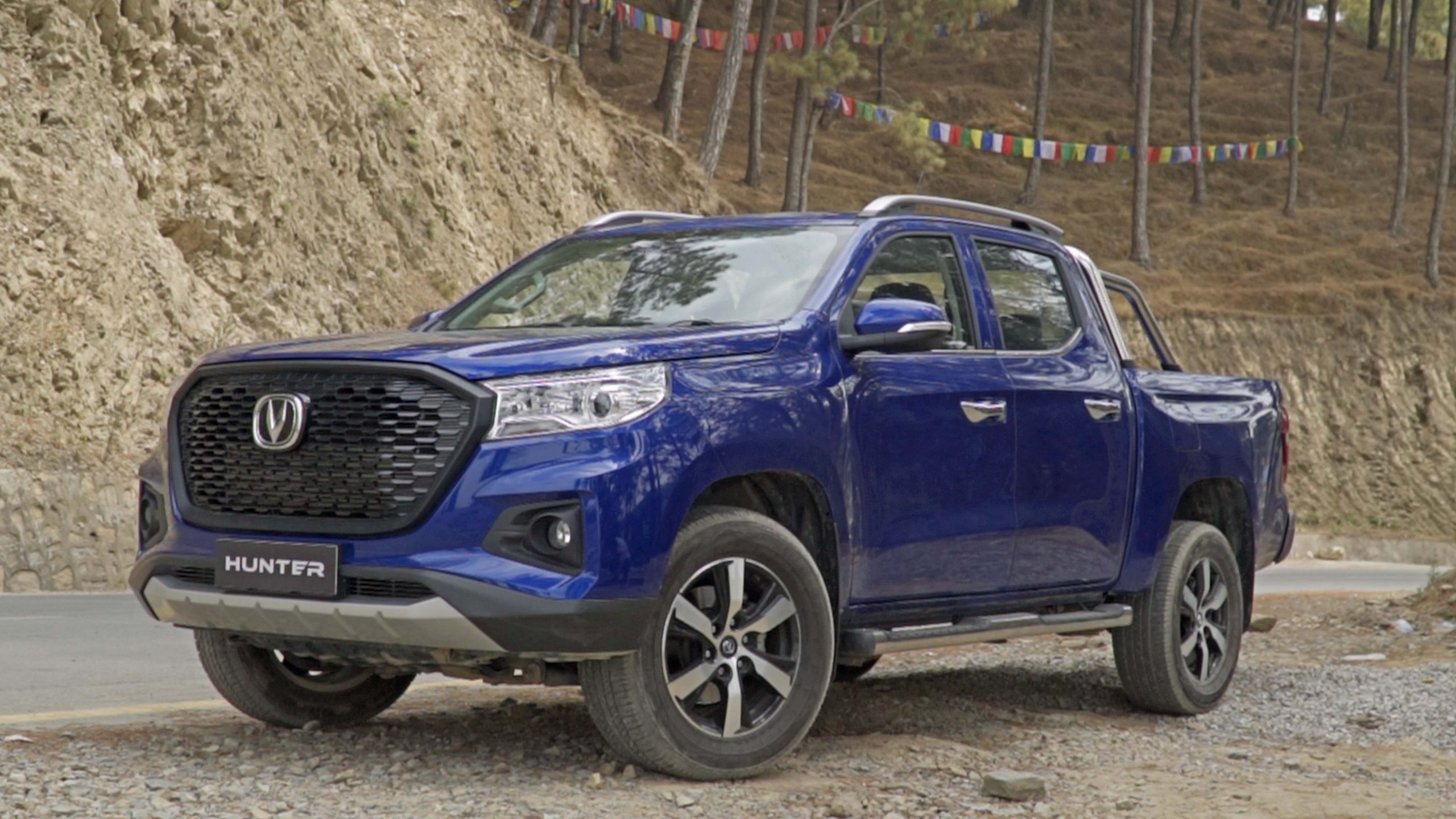 Hunter also claims the highest ground clearance, which further enhances its off-roading capabilities.
These can easily be turned on or off via toggle switches spread across the dashboard. Fortunately, everything is where it needs to be.
Seats
The large size of the pickup truck is more or less apparent.
Thanks to its size, there is ample legroom and headroom for both front and rear passengers. Moreover, the experience made even better leatherette seats.
The front seats are power-adjustable with additional lumbar support. Furthermore, there are adequate storage spots perfectly placed all over.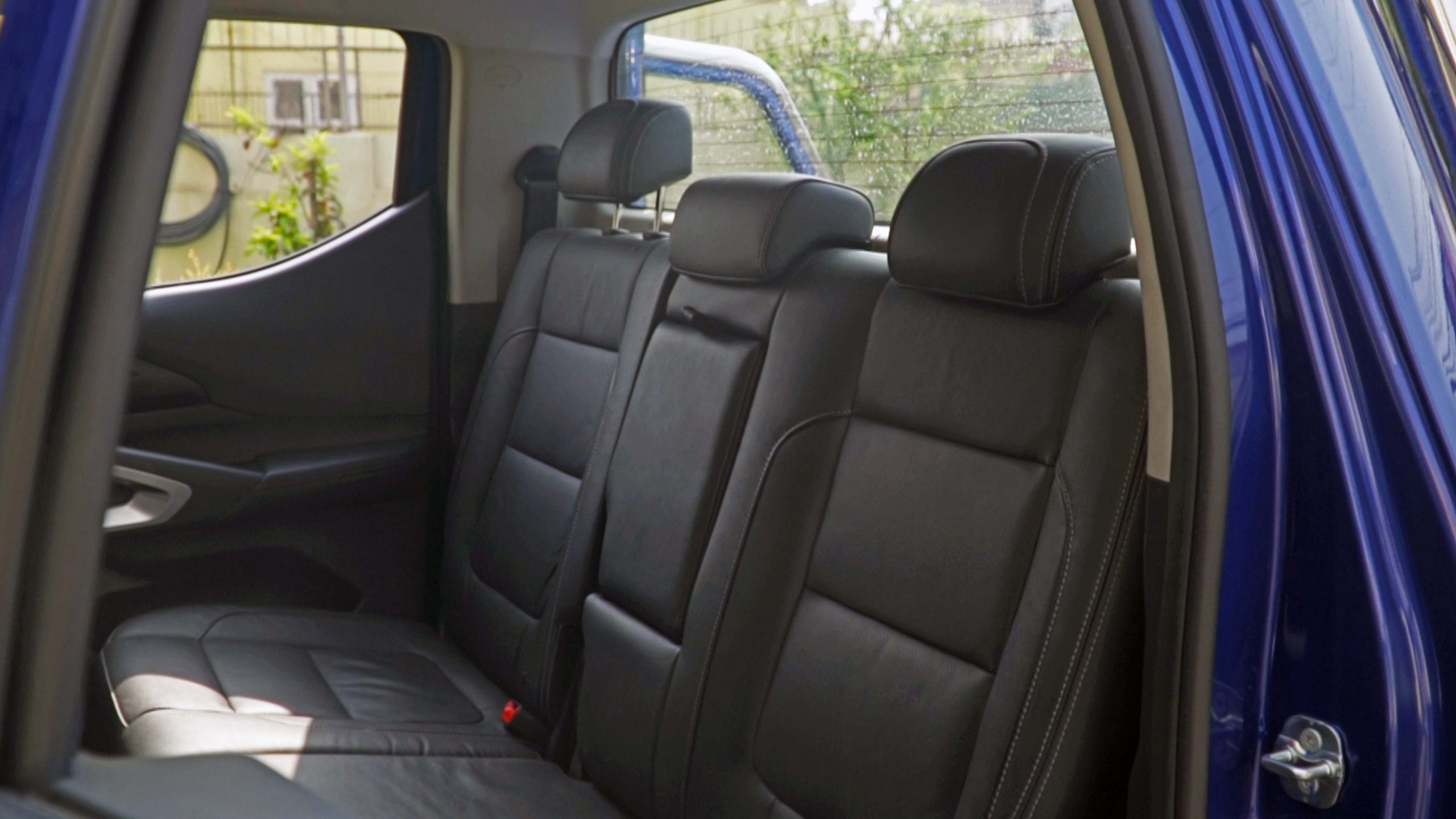 Unfortunately, the same cannot be said about the rear passengers.
Surely, the rear seats are spacious enough with an added armrest.
But, the seats lack proper thigh support. Furthermore, the rear AC vents don't feel as powerful as the front AC vents.
Fortunately enough, it is a pickup truck. So, the rear seats are used less often.
Cargo Bed
Changan Hunter can hold a 1000kg payload capacity.
The body-colored cargo bed offers ample room for most cargo.
Changan has included additional LEDs at the Anti-Roll Bar. It works as an Integrated Brake light and Cargo Bed illumination.
Standard Everything
Auto manufacturers reserve their most interesting features for the top variants.
While the Changan also does this, the overall approach is more simple. It offers two different variants: 2WD and 4WD.
2WD is the base variant and 4WD is the top variant.
Being a pickup truck, most will likely go with the 4WD option.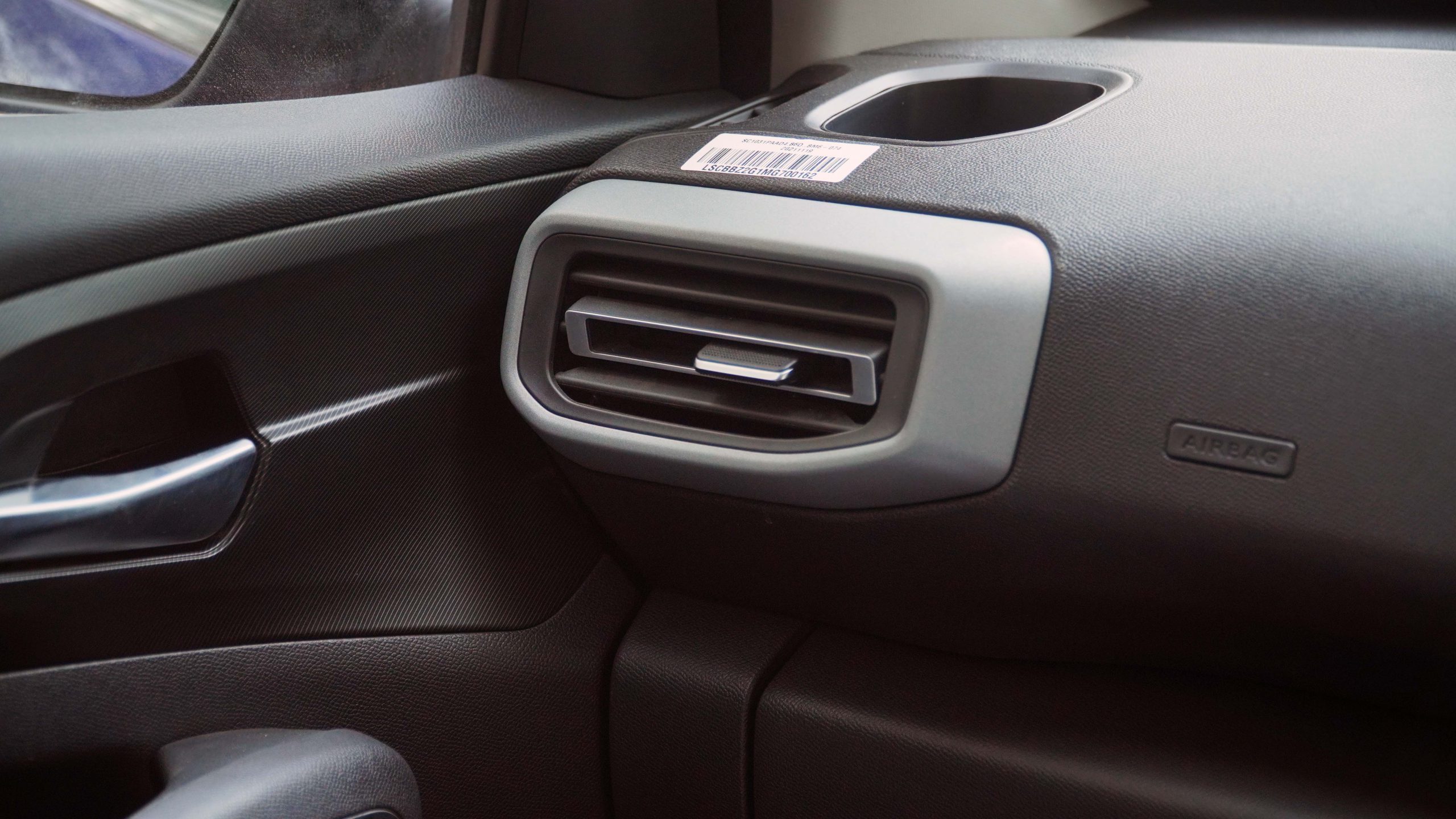 When doing so, you get all the promised features and luxury options as standard. There are no limiting features hidden behind variants.
Changa Hunter Features Highlight
1.9L Turbo Diesel Engine
Large Mesh-Like Grille
Projector Headlamp with LED Tail Lamp
Analog-Digital Instrument Meter
10-inch LCD Infotainment System
6 Speakers
Air Conditioner
Large Cargo Capacity
High Ground Clearance
Rear Differential Lock
ABS + EBD
Tyre Pressure Monitoring System
Electronic Stability Program
Six Airbags
18-inch Aluminum Wheels
My Experience
Real-World Performance
Pickup trucks are powerhouses in their class.
Changan Hunter lives up to it as expected.
The Turbo Engine provides enough performance without losing out on its refinement. The cabin remains comfortable even while pushing the pickup truck to its limit.
No vibrations or noise creak into the cabin.
That's why you don't notice the truck going at higher speeds despite the snappy pickup. It shines on highways and rough terrains.
As expected, the descent off-roading scenario made the truck even more fun. We can only imagine how fun it would be during extreme off-roads!
With enough breathing room, the engine and its performance shine through and through.
Cornering at a higher speed is manageable.
Changan has tried to introduce its unique twist to its performance. It has two modes: Eco and Sports.
If you want a decent fuel savings performance, you can choose Eco Mode. Otherwise, you can choose Sports Mode to feel the performance uncensored.
Sports Mode is our favorite model without a doubt.
Muscular Road Presence and Its Problems
Here's the tricky part.
A gigantic profile helps build a muscular road presence. However, it comes at a cost of certain practicality.
Hunter's colossal size limits its moving ability around the city. Due to this, the congested roads, tight traffic spots, and small cornering feel like a hassle.
So, the driver needs to be cautious all the time.
Similarly, the left turns might be imprecise at times. Nevertheless, it gets easier with practice.
Those who have driven a pickup truck might already be familiar with this. Nonetheless, it is still worth pointing out.
Competition
Changan Hunter rivals Toyota Hilux and GWM Poer.
The feature set and specs share similarities on paper. All three are premium lifestyle pickup trucks with variations in pricing.
However, this is an uphill battle for Changan.
It has to compete against Toyota Hilux, which is considered to be one of the best pickups on the market.
I do believe Changan Hunter has the goods to go against Toyota Hilux.
However, Changan Auto has to match up to Toyota's legendary legacy and reliability. While it isn't an easy task, Changan Nepal is heading in that direction.
Hopefully, we will see those changes soon.
Conclusion
Changan Hunter has managed to surpass our expectations.
This is a Hunter in its truest form, all by design, performance, and features. Like a fearless hunter, it has decided to hunt down legendary pickup trucks in Nepal.
While we do believe Changan Hunter is up to the task, it is solely up to Changan Nepal to nurture its products for dominance.
The company can do so by improving brand image or after-sales service or customer relations.
Nevertheless, Changan Nepal has to do it all for Changan Hunter to live up to its true potential.