GIST Tech-1 competition is an annual competition for Science and Technology (S&T) entrepreneurs from 136 emerging economies around the world. This year too, GIST Tech-1 is all set to welcome aspiring startups to join the competition.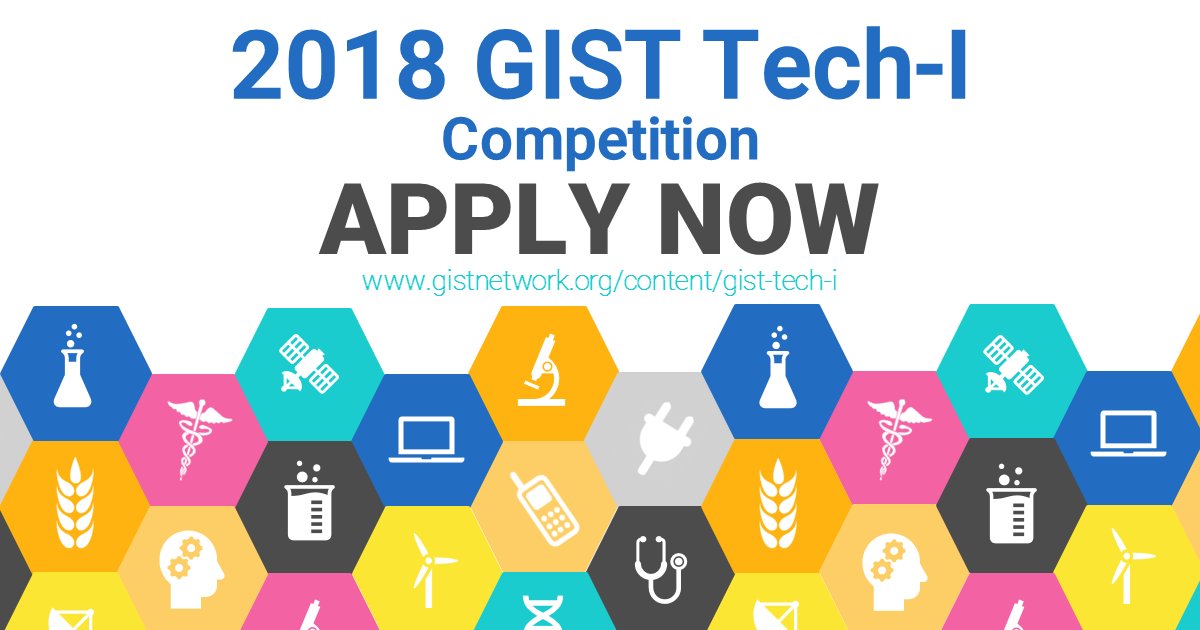 GIST Tech-1 is seeking startups from all areas of Science and Technology (S&T) innovation (such as agriculture, education, energy, environment, health, information communication technologies (ICT), oceans, and space science) who are still in early stage (example, companies that have completed some market analysis, have a launch timeline, have recently launched a product/service for distribution, or have a realistic strategy to sell a product/service).
The 2018 GIST Tech-I Competition offers young science and technology innovators and entrepreneurs an opportunity to compete for mentorship, training, and seed capital to advance their ventures.
The early stage science and technology startups will earn a spot by applying to join one of the over sixty GIST Alumni Mentors Tech-I teams.  Each GIST Alumni Mentor will select three startups to represent them in the global public voting, and the top ten startups and their GIST Alumni Mentors will receive a paid trip to the 2018 Global Entrepreneurship Congress (GEC) in Istanbul for the final round of the Tech-I Competition.
Finalists will gain International visibility from pitching their ideas at the 2018 GEC and compete for at least $10,000 in seed capital.  In addition, all finalists will receive extensive training and mentoring before the GEC, and up to three months of mentorship following the GEC.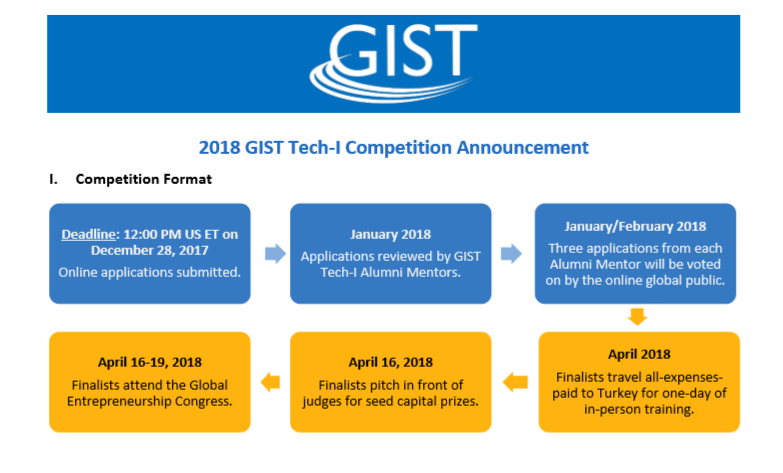 All interested applicants should submit an executive summary of their science or technology innovation along with a 90-second video explaining their idea or product/service at gistnetwork.org/tech-i.
The criteria for applicants are:
The applicant must be 18-40 years old by the application deadline.
The applicant must be a citizen of at least one of the 136 GIST-eligible emerging economies. Nepal is an eligible country.
The applicant must not hold dual-citizenship or permanent resident status in a non-GIST economy.
The applicant must not submit more than one application per GIST Tech-I competition year.
The applicant must not be a previous GIST Tech-I finalist who traveled to and competed in the GIST Tech-I Finals at GES.
The deadline for application is December 28. In order to apply, please visit Gistnetwork.org.
About GIST Technology Idea Competition
The GIST Technology Idea (Tech-I) Competition is an annual competition for science and technology (S&T) entrepreneurs from 136 emerging economies around the world. Up to thirty applicants are selected as finalists who receive an all-expense paid trip to the GIST Tech-I Finals, to showcase their ventures and to receive intensive training.
GIST Tech-I winners, selected by experts at the finals, win prizes as well as receive one-on-one mentorship and training. The Tech-I Competition is a part of the U.S. Department of State's GIST initiative and is implemented by the American Association for the Advancement of Science (AAAS).