NetTV, a Nepali IPTV and OTT platform, launched its own Android TV named "NetTV Streamz+" on January 17, 2022. It's an upgrade to its existing IPTV set-top box.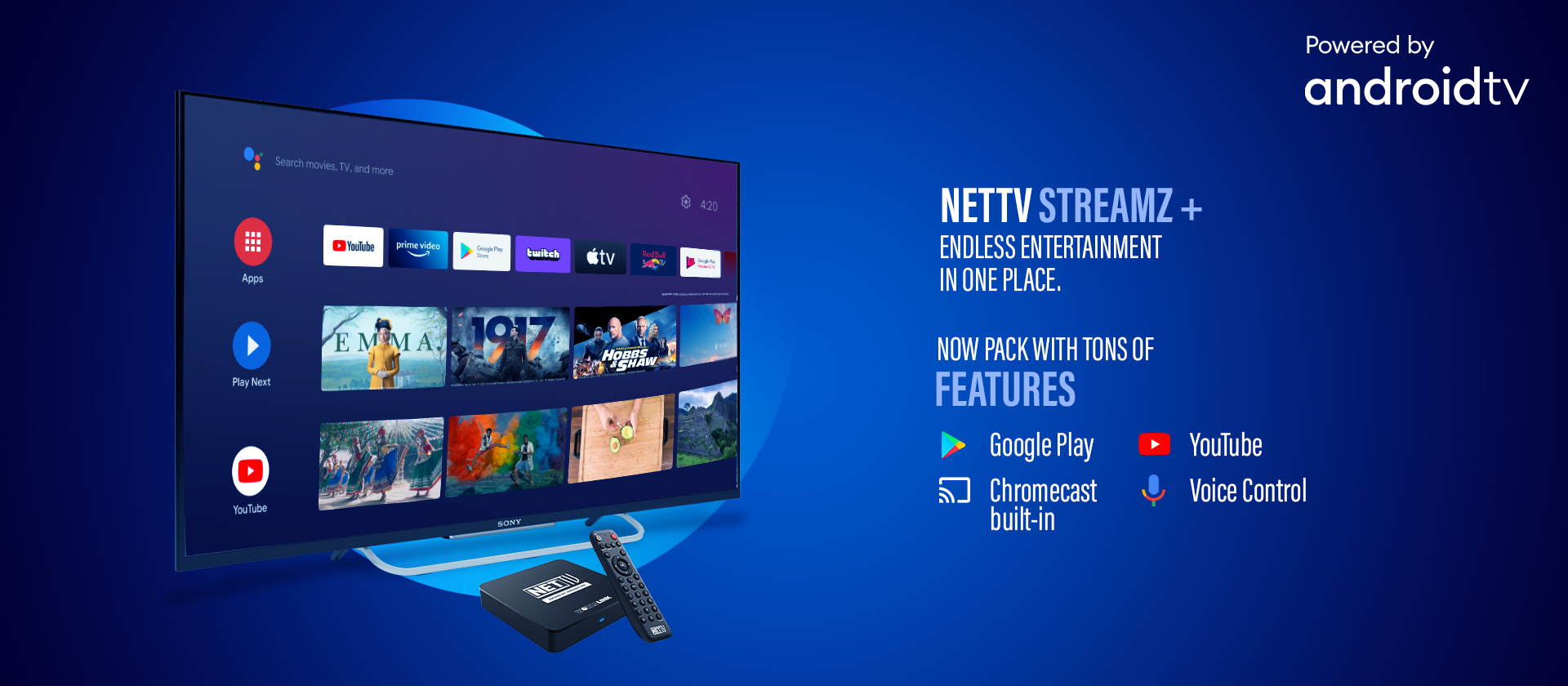 The NetTV Streamz+ price in Nepal depends on the subscription plan. The monthly plan will cost you Rs. 5,890 (without VAT) for the device, Rs. 3.390 (without VAT) for the activation, and Rs. 2500 as a refundable deposit. However, existing NetTV users can pay Rs. 1,500 (without VAT) to upgrade to the NetTV Streamz+.
With the NetTV Streamz+, in addition to live TV, users can now download apps from Google Play Store. Because it's a Google-certified Andoird TV, the apps you download will be optimized for TVs and you will get Google proprietary services like Chromecast built-in, allowing users to cast their phone's screen.
NetTV, which is under the company name 'NITV Streamz Pvt. Ltd', is a Google Certified Operator Tier, meaning company can distribute Android TV devices with custom applications aimed towards locals, such as live TV and NetTV Cine+.
Additional NetTV Features
The box comes with a Bluetooth remote as well, which, as the name implies, connects to the TV box via Bluetooth. The remote features a built-in microphone that can be used for voice commands using Google Assistant.
It also supports 4K HDR contents, but keep in mind that the TV must support it as well.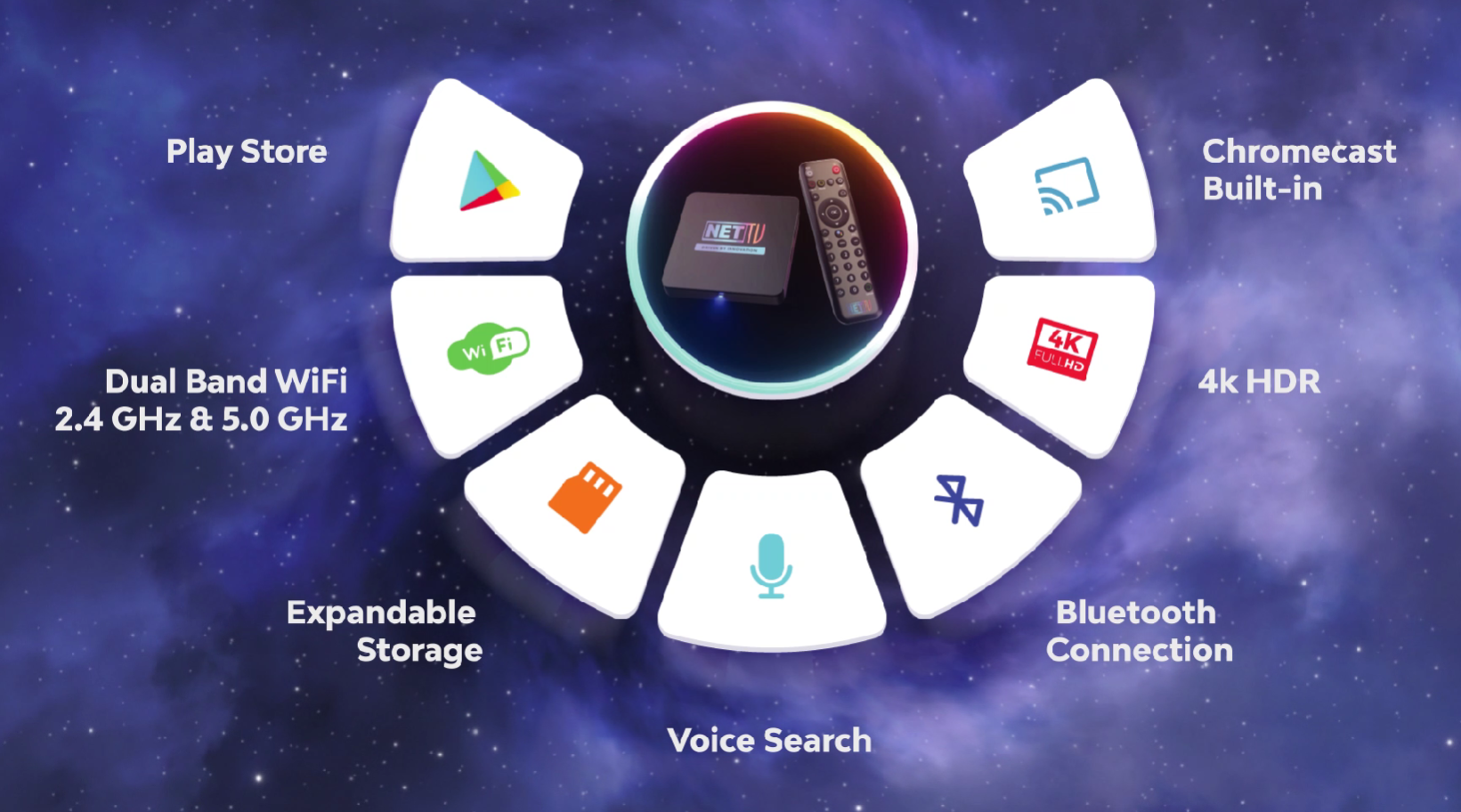 Focusing on gaming, NetTV has also partnered with AirConsole, a local multiplayer gaming site by startup N-Dream. It lets users play local multiplayer games on a TV, turning the player's smartphones into a game controller.
The console currently offers more than 180 games. You can click here to get the list of games it is offering. This partnership gives all NetTV customers AirConsole's premium subscription—Airconsole Hero.
Moreover, NetTv Streamz+ supports dual-band Wi-Fi. It also has a USB Type-A port, which can be used for expanding storage via a USB drive.
No Netflix
One of the advantages of getting NetTV Streamz+ over other Android TV devices available in the market is the local content, such as NetTV Cine Plus and live TV.
However, there is a disadvantage to this. It's that the popular OTT service Netflix is not available yet. But the company assures us that it will be available in the future.
NetTV stated that they are ready for the implementation, but they are awaiting approval from the Nepal government. The government is working on an OTT policy.
After the official implementation of those platforms, NetTV users will be able to easily purchase their subscription using local digital wallets, eliminating the need to have a dollar card, and it will also be much cheaper compared to international prices, according to the company.
NetTV Streamz+ Price in Nepal and Availability
NetTV is distributing NetTV Streamz+ via Worldlink branches. We contacted Worldlink. As per them, if you want to subscribe on a monthly basis, the one-time fee costs Rs. 5,890 for the NetTV Streamz+ (without VAT) device, Rs. 3,390 for the activation (without VAT), and Rs. 2,500 as a refundable deposit.
If you're already a NetTV user, you can add just Rs. 1,500 (without VAT) and upgrade your old NetTV IPTV to the NetTV Streamz+. The subscription costs Rs. 350 per month. NetTV Streamz+ is available at Worldlink branches throughout Nepal.
| NetTV Streamz+ One-Time Fee | Price | Activation Charge | Refundable Deposit |
| --- | --- | --- | --- |
| 1 month | Rs. 5890 (without VAT) | Rs. 3390 (without VAT) | Rs. 2500 |
The one-time fee for the set-top box is lower if you subscribe to a longer plan than a month. However, we could not get the exact price from Worldlink as their support team was quite busy.
We will update the price shortly when we get the full price details, so I suggest you bookmark this page.
READ NEXT: DishHome Launches its Own 4K Streaming Device in Nepal