What is an Affiliate System?
Online suppliers of goods or services make their money from sales via their website or social media ads and in order to generate the sales, they need traffic or members of the public clicking on their site or ad to buy their goods or services. In order for them to become 'visible' on the web for example, they will use a variety of marketing techniques. One way that many companies choose to do to increase their sales is to offer an Affiliate Programme and what this essentially means is that another person or company promotes and sells their product or service.
If sales are generated as a result of that, the 'seller' is granted an affiliate commission paid by the supplier of the goods or services. Different affiliate commissions are paid and it is up to the supplier of the goods or services to decide upon the amount that they are willing to pay. Affiliate commissions can also be tired and can go up if for example the 'seller' manages to generate a large number of sales. The 'seller' is known as an Affiliate Marketer. Many companies have many affiliate marketers and refer to their structure as an Affiliate Programme.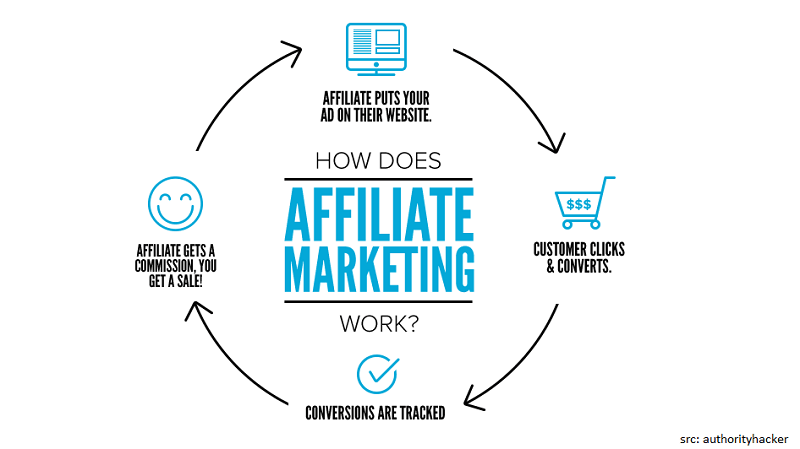 In order to generate commissions, the affiliate marketer must also be 'visible' and must attract customers to his / her website or ad and will also use a variety of techniques to do this. One attraction of affiliate marketing is that the affiliate simply sets up the process and the service or product is supplied and fulfilled by the company. The affiliate does not have to become involved in any of the processes which involve direct contact with the customer so any of the shipping or the delivery of material is taken care of by the supplier. Affiliate marketers often have affiliate agreements with several companies and therefore market more than one product as many prefer the hands-off approach to selling.
Obviously ,there are many skills and techniques required to be a successful affiliate marketer and  without the correct skills, an affiliate marketer is unlikely to make sufficient money to make it worth his / her while. Skilled affiliate marketers can earn significant amounts from their commissions. It is not simply a case of putting up a website or a Facebook ad for example and waiting for the sales to roll in. The adhas to be designed in such a way so as to attract potential customers and marketing and advertising techniques have to be planned and executed efficiently. The whole process requires skill and understanding. There are many tried, tested and successful strategies and unless you have experience, you are unlikely to be able to make the process happen. It can be very costly to try and test ads.
John Crestani Super Affiliate System is a programme or course which shares the techniques and strategies that you will need for success.
What is the Super Affiliate System?
The Super Affiliate System is a course for those interested in paid traffic and affiliate marketing. It is delivered and devised by John Crestani, an expert in the field, using tried and tested methods that actually work. There is a difference between courses which are created simply to make money and a course which has been put together by someone who has actually been very successful and John's course is the latter. John has a proven track record and comes with a wealth of experience. He has experience with Google Adwords, Facebook Marketing, Internet Marketing and so much more, so you are learning from an 'expert'. As there is so much involved, the course will take around 6 weeks to complete.
If you'd like to get another perspective on John Crestani's system then check out this article: jonaslindgren.net/super-affiliate-system-review/.
The Set Up
The course will take you through the basics of the set up that you will need and has templates for landing pages, ads, emails etc so that you do not have to go about creating everything from scratch. You have to be able to engage with a potential customer and often affiliate marketers have to try and test a number of landing pages and ads before they manage that engagement. Successful templates are her for you to use to save you time and expensive mistakes. You will be shown how to create Adwords ads, Facebook ads, YouTube ads and more.
Choosing Your Niche
The course will give you help and advice on choosing your niche. This can be a difficult area as what sometimes we imagine may work does not in fact work in practice. It is about mindset and finding out what works best for you.
Marketing and Advertising
You will be shown how to write a good heading for your advertisement and you will also be shown how to write effective content for your ad, all to maximise the engagement potential of the ad. You will be taken through the process of Google ads, Facebook ads, YouTube ads etc and all will be fully explained, their processes, their advantages and how to make the best use of them.
Weekly Webinars
The course offers weekly webinars which is always good for the new affiliate marketer. John also offers the opportunity to have him look at your plan and marketing strategy hence saving you time and money on what could potentially be expensive mistakes. This is in addition to 50 hours of recorded content.
Scaling
As your business develops, you will want to be able to use a scaling process to allow it to continue to grow. This will be explained and you will be able to learn by seeing real life examples.
The Super Affiliate System is a comprehensive course for anyone considering paid traffic in affiliate marketing. John has discussed terms with different affiliate networks and by being a part of this course, it means that you will be much more likely to be accepted as an affiliate on many of the programmes. Remember that if you are going alone on the process of affiliate marketing, ads cost money and therefore mistakes can be expensive so a course such as this could be a worthwhile investment, maximising your earning potential and saving expensive mistakes.
---